The BGN News Archive
October 19, 2009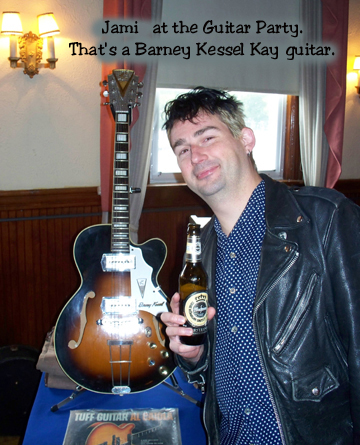 Hey folks, first I gotta say I was wrong about who was gone from Red Invasion...it's Iain...bye bye Iain, I'll miss your interesting hair-dos!......so glad Ryan is still with the band...I hear they are going on as a three piece...so check out the new Red Invasion next time 'round~and as a matter of fact they are doing an early show at 1PM on Sunday November 29th at the Middle East UP along with The Egos, The Spoilers, and the Murder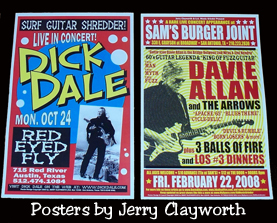 Blowfish says.....
It was an email from Cheryle Crane (Happy Birthday!!) that lead me to The Colonel's 1st Annual Super Dooper Guitar Party taking place in Pawtucket.. It promised displays of guitars along with live acts. That's a combo I couldn't resist and it did deliver.
It was a three day affair, I took in Saturday afternoon. There were some unique guitars to look at and Susquehannah Industrial Tool and Die were playing real old style rockabilly.
The only punker I recognized was Jami from the Midnight Creeps and the Sleazies. I assumed he wasn't getting too much out of the rockabilly band but he pointed out that he does the Scotty Moore part in an Elvis tribute band every now and then. You never know. Jami also has a plentiful collection of guitars.
Downstairs there were some clinics that I didn't get to but that's just another great idea of this guitar oriented festival.
Some cool posters caught my eye. They were done by Jerry Clayworth from San Antonio. He has great classic rock stlye along with great taste in music. If you want him to do a poster or some CD art you can contact him at www.atomicjukebox.com/.
This is the first year for this festival and the Colonel promises another one next year.
While I was in Pawtucket ,a neat looking mill town, I shot over to Luke's Record Exchange. He was having his 30th Anniversary celebration. Earlier he received a plaque from the city. Luke's is a great source of rock vinyl and CD's at great prices. I've been going there for close to 30 years myself.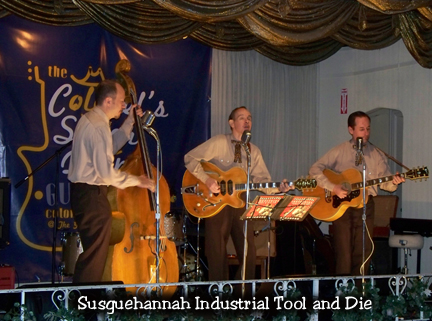 Hey this Thursday October 22nd The Port Charles Quintet are doing their 2nd gig, this time at the Plough & Stars in Cambridge....(they are also at Precinct on Friday, November 13th, which is when I will probably celebrate my actual real birthday...sorry for all the confusion on Facebook folks!! This at least gives you time to buy me a fabulous present!)...
This Thursday, October 22nd there's a good show at Great Scott's in Allston with Planetoid Vagiant, Razors In The Night and The Tenefly Vipers
Now to get you in the Halloween mood Friday October 23rd at TT's is Xmortis' Devil's Night ; DJ Chris Ewen spinning Goth & Industrial with some Horrorpunk, Psychobilly & Spook Rock mixed in! I believe this is one of those dress code nights so wear at least all black my friends!!! Sunday October 25th is a heavy duty show at Middle East down with Eyehategod , Goatwhore, A**l C**t, Strong Intention, Howl and Rampant Decay (he names are so entertaining!) - sponsored by Ammonia Booking and Narragansett this will definitely be a night in living hell!!
Down the street at The Cantab, on Thursday, October 29th, 5 Point is playing with a bunch of other bands at The Cantab..... Monday October 26th is Halloween at Charlie's Kitchen with The Coffin Lids, The Egos, and the Acrobrats...
And if you are up on the North Shore you have a swinging party you must go to: Halloween Costume Ball - Upstairs at the Franco American Club on Park St. in Beverly (Right next to The Depot) this is on Friday October 30th ...starts at 7:30 and goes all night... you can catch The Fabulous Ladies of Corolla DeVille and The Wonderful Boys of JT and the Hounds...it's $20.00 for tickets and it Includes OPEN BAR + All you can eat Hot+Cold Buffet, Prizes for Best Costumes, Raffles and more...why go elsewhere?
Saturday October 31st is a Nancy Neon Nite at the Cantab downstairs with The Varmints, The Coffin Lids, Spittz as The Cramps and Girl on Top
At Great Scott's in Allston on Halloween there's 10.30.09 Fri The Pill The Pill's 7th annual Halloween Show The Daily Pravda as Radiohead, the Televandals as The Clash, The Honors as The Smiths
......
And in case you still haven't had enough Halloween after the 31st there's Sunday Nov. 1 at the Middle East UP with Dark Sky Productions presenting: 6th Annual Mass Morgue featuring: Avariel, Lucretia's Daggers, Mortuus Ortus and Sans Nomenclature......ghoulie...................
and speaking of shows in November: on Friday Nov 6th The Marvels are at Church with The Curses, The Swindells (last night I dreamt Sean was coming to a party at my house! weird!) and the ubiquitous Muck & The Mires.
Ok folks, that's it for this week, be back next week with more info...email me ....let me know what's happening..thanks!! click and write me!.... Lyn