The BGN News Archive
October 19, 2020
We were totally sold on The Stigmatics at their opening slot for the Nervous Eaters at Pete's Grill in Quincy a year and a half ago. Write up here.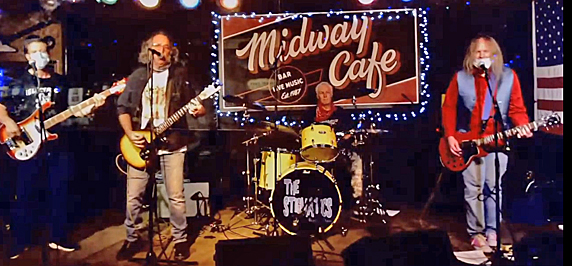 Stigmatics
The Stigmatics are four regular looking guys who just happen to write some excellent rock songs. They had their turn on the Midway stage for a live stream last Monday. The sound on any live steam is never optimal but their songs came through none the less. They cranked out their bar chord laden material.
The song "I Need More" is so rocking good. Brian Young has been playing it on his Crash Course for the Ravers show and that's what rock radio should sound like.
"American Dream" is one of their standout songs. It's "about crushed dreams" they say. It's an example of their material that is so good it sounds like it's a cover tune, maybe some obscure local garage nugget you think you know.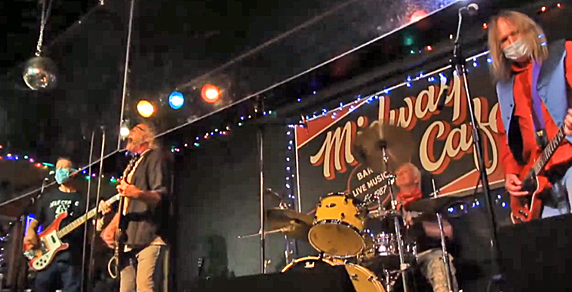 Stigmatics
They played a new song called "Perfect World" and that fits in the line up as another lurching garage rocker. There were some sharp solos all the way through. They always make sure that every song has a distinctive solo or hook. They ended with The Heartbreakers "Born To Lose"
This was a show that was going to be live…back in that other world that has been canceled. On the bill was the next group – Thigh Scrapers.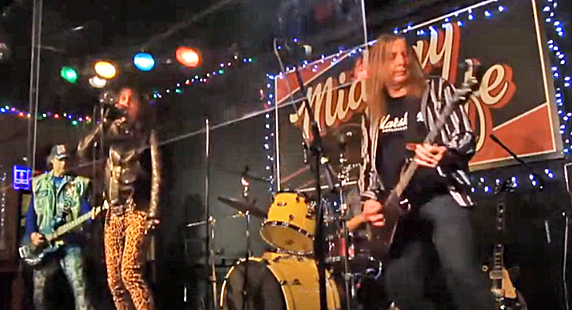 Thigh Scrapers
The Thigh Scrapers play a lot of cover songs that Brian Young plays the originals of on his show (Crash Course for the Ravers WMFO). Live or on the air you are going to hear some Johnny Thunders, and that's a good thing. This night it was "Can't Wrap Your Arms Around a Memory".
But no matter what they do, they have to (and did) do "On the Radio". Every group should have one dynamite tune like that. It never fails. When Jimmy starts whipping up those licks the song just shoots off. Brian has the perfect inflections for the rapid fire lyrics. Carmelita actually played the song on Bay State Rock on the Saturday before.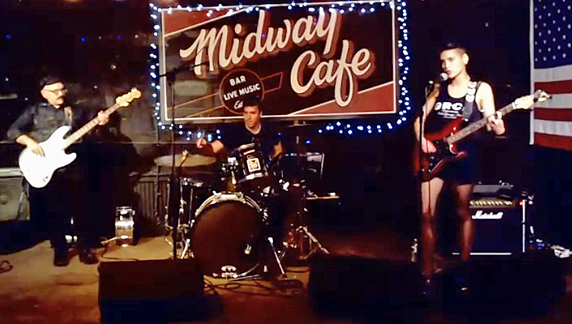 The Jacklights
We featured the new band Jacklights' album a couple weeks ago, this week they played a Midway live stream on Tuesday and for a new band's first gig, it was very good. You gotta think they will only get better and that will be something to see. The have the songs even now. As the group gets sharper the songs should even click more. All they need to hone the sound is more gigs. Of course in this quarantine situation gigs are anything but plentiful but their time will come. We are heartened to see a punk band starting up and trying against the current odds to make a mark.
We liked it best when the singer's voice was at the fore. That's when the group made their own unique sound. They did one cover of Husker Du song.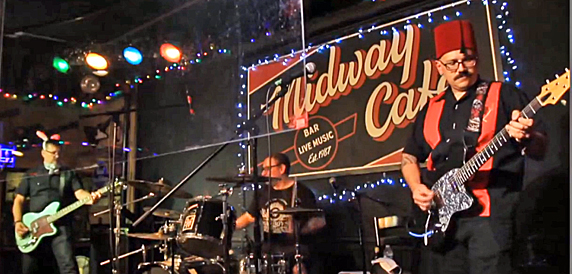 Instamatics
The Instamatics were the other band of the night. The Instamatics are an instrumental band that throws in some unexpected covers. They began with Link Wray's "Rumble" because it was Indigenous Persons Day and a salute to Link was appropriate. They did the "Theme song from Magnum P.I.". They like the TV songs and later did "Batman" and "The Munsters Theme". "The Model" by Kraftwork is one of their out of the blue picks for a song.
Then they do many original surf tunes that are a step above the average. They were having a lot of fun on stage during the set to. That was refreshing to see. Here's the link to the gig on Youtube.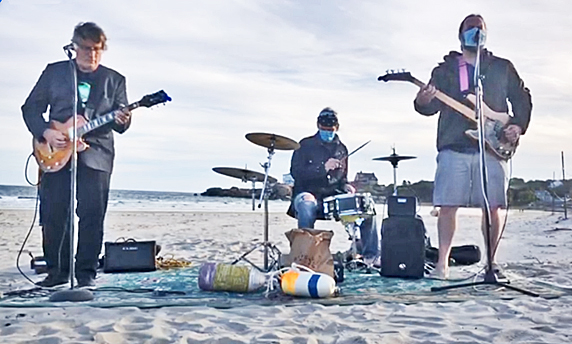 U-ey at the Buoy
Bob Cenci from Jerry's Kids did a U-ey at the Buoy live stream from a Gloucester beach on Sunday. Surprisingly U-ey are a bluesy group. He has a new song called "Two Milkskakes". Catch the U-ey at the Buoy like stream here. Carmelita played "Two Milkshakes" and on her Bay State Rock last week.
On Saturday night there was the KFUC album release on the Midway live stream.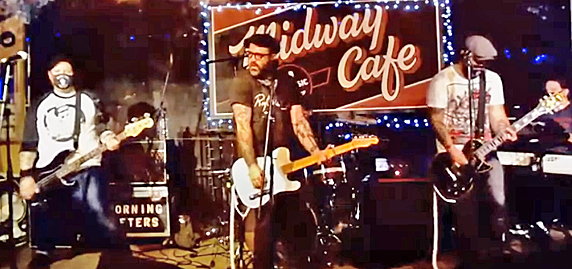 Michael Kane and the Morning Afters
Michael Kane and the Morning Afters did the opening set. They are one of the few bands that got a gritty live sound into the live stream. Kane's voice has so much character with its gravel tone. That voice worked for the Animals cover of "Bring It On Home to Me".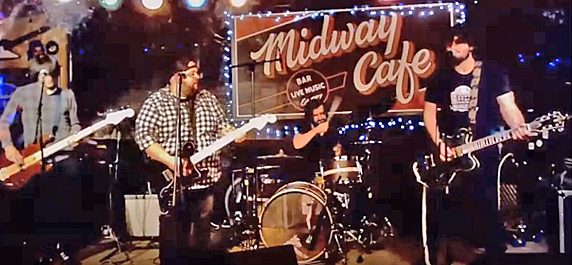 KCUF
KCUF did a welcomed faster punky set. We haven't seen a lot of that during this shutdown period. Mike from Loser's Circle is the guitarist for this band also. They were tight and that helped to get a better than usual sound out of the live stream. To get the fine points you should head to the Bandcamp page and get their album Every Day Is Winter Here. You can watch the stream on Youtube.
Crow Follow released "Wrong Devil" a while ago, and now they have a video to support it. The video is black and white with appropriate old movie footage for the retro sound of the song. The group accents the low sounds. John Keegan's sax bumps along the bottom coming up every now and then for a squeal. They have that Morphine sound going on. The guitarist only plays the low notes and that gives the song the feel of a soundtrack for a spaghetti western.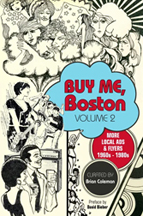 Buy Me Boston was an out of the blue book by Brian Coleman. It was a whole new paradigm for a book – just ads. Turned out that ads from Boston's last few decades were funny and revealing at the same time. Some info about Boston is only gleaned from ads. It turned out to be a whole world.
Now Brian is coming out with Volume2 which will be released in November. This time it's in color and has 600 ads. We can't imagine ... and can hardly wait for it. Buy Me, Boston Vol. 2 can be found here.
What's Patti Smith been doing during the covid-19 quarantine? She's hunkered down in NYC. A piece at Today.com reviews her situation. She talks about her new book Year of the Monkey. She confesses that she watches a lot of crime shows on TV like CSI: Miami and Law and Order. But if you've read her M Train you know how much she likes those BBC crime shows as well. She wrote an extra chapter in the Year of the Monkey paperback edition about them. Year of the Monkey on Amazon.
She also reflects on surviving, Mapplethorpe and the success of Just Kids. It's an update on her current NYC life. Check it out. If you follow Patti on Instagram you can see what she is up to and what she's thinking about.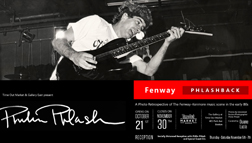 Philin Phlash is having an exhibit of his photos at the Time Out Market (in the Fenway) at the end of October. Entitled "Phlashback, A Photo Retrospective of the Fenway-Kenmore Music Scene in the Early 80's" it will run from Oct 21 - Nov 30. And there will be a socially distanced opening on Nov 5-7. Here is the event page. The how is curated by Gallery East/Duane Lucia.
There's another Great Scott article. This time it's on WBUR website. The story you know, with some new quotes.
CDs/Music.......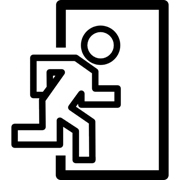 Before Covid 19 the word 'infectious' was most commonly used to describe the ska music of Bim Scala Bim. It's still true and you can decide for yourself by listening to their song "Exit Door" that they just released. You just want to get up and skip around the second it starts. It's a free mp3 download and it's a lost Bim track that you won't find on any of their albums. Listen here.
Videos.....Watch & Listen.....
Kurt Baker has posted another cut off his forthcoming album entitled After Party. This song "Outta Site" comes as a video. Check the video out here.
Linda Bean Pardee logs in episode six in her Linda's Garagecast! Linda has the help of Ad Frank and Jimmy Lepler. They take on Style Council's "Walls Come Tumbling Down", another great song choice. Linda calls Lepler her Secret Weapon and he is a suburb musician.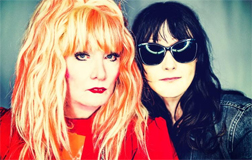 Jayne County has just recorded a new song "I Don't Fit In Anywhere" with AM Taylor. They also released a hilarious but rockin' video! Watch the video here. Stream the single here. Jayne says: "'I Don't Fit In Anywhere' is both a protest song and a chant for individuality! It's a song that I have written with Am Taylor that expresses a modern attitude toward one's self and the world around. Out of all the guitarists I have worked with, I have to say that Am Taylor is the best in translating my ideas." Jayne has been rocking for decades and had some great shows at The Rat and The Middle East.

The Brattle has the White Riot info on their Virtual Screening Room now: White Riot The area premier was Oct 16 but you can watch it now for $12.00, proceeds will benefit the Brattle. Tickets can be bought here.
The Damned Show returns with the Rockfield Special. This show has memories from the band about recording at the legendary Rockfield recording studios. Needless to say alcohol fueled antics are the main things that went on. There's a discussion of who was this tour's 'nut job!' and it was often Pinch. This segment is dedicated to him and includes hese are the last ever tracks he recorded with the Damned. Watch it here.

On the radio......Podcasts...

Steev Riccardo aka Twisted Rico has a podcast called Blowing Smoke with Twisted Rico. His latest is an interview with Rick Harte. He gives Rick the time to tell his stories. It's a true picture of Rick for those that are not familiar with him. His values come out and the immensity of his contributions to Boston Rock come out just as the groups and recordings are mentioned. If Rick was not there recording, what gaps would there be in the Boston punk story? We don't even want to think about it.
It ends with Ricks future plans if Covid 19 ever slacks off. It's a much worth listening to podcast. It's on several platforms. We like the straight forward AnchorFm site.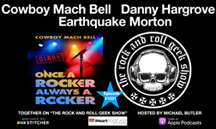 Rico's previous podcast was with Mach Bell who is talking up his book Once a Rocker Always a Rocker, his Joe Perry Tour Diary. Mach gives the details of doing the audio version and the problems he ran into. But any comment can trigger a Mach story of some incident in his long musical journey of life.
He had a new story that we hadn't heard before of an early Aerosmith show. One thing about Mach is that he's got a ton of rock stories. Listen to the Mach interview here.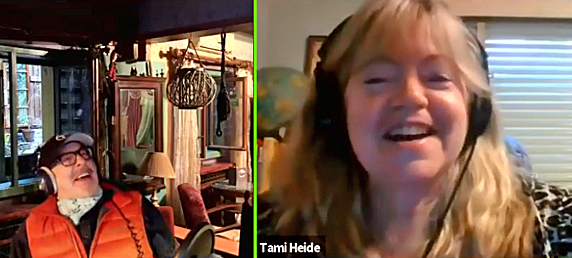 Bradley Jay and Tami Heide
Bradly Jay was already versed in social media when he was on WBZ. After WBZ trimmed their staff and Bradley was let go he has brought his talk show skills to Facebook live. Like his radio show his topics are all over. One session recently was with DJ Tami Heide. Tami started at Emerson's WERS, went to WMBR at MIT, next to WBCN and then hit California with KROQ where she is still.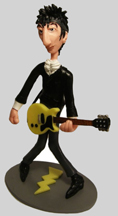 To listen to Tami Heide today go to KROQ HD2 Monday to Friday and 10 am to 5 pm. You can listen online here. Some nice photos on the KROQ HD2 website, check 'em out here.
You know how many of our fave musicians are big in Europe? Here a Johnny Tonerre (Johnny Thunders) figurine. Out of stock but they are making more!!
Bob Biggs founder of Slash Records has died. The label grew out of the famous Slash Magazine. Slash Records had Los Lobos, Germs, Fear, Faith No More, Dream Syndicate, Rank and File, Blasters, Violent Femmes, Chills…and more. The story in the Brooklyn Vegan.
Read....
John Cooper Clarke had his streaming book release of I Wanna Be Yours on Thursday. He looked very relaxed. Maybe that was because he had his longtime friend and road manager Johnny Green as his interviewer. We're so used to hearing JCC in manic performance mode that we expected him to even talk in that machine gun paced style but of course he doesn't. He read two of his poems and he went into poetry reading mode then.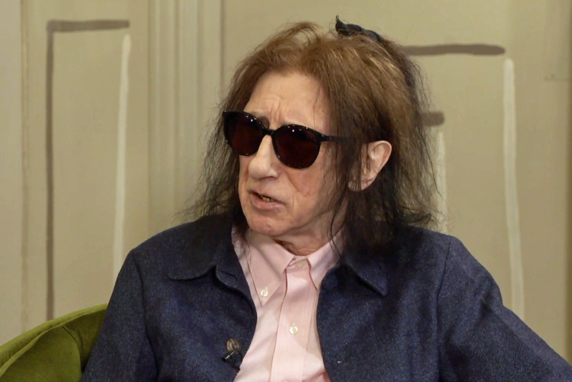 John Cooper Clarke
As the reviews of his book say, he was deeply engrossed in the culture and entertainment around him in England and everything he could glean from America. One of his poetic influences is the lyrics to the American Songbook, those songs from the 20s to the 50s that have stood the test of time. He also mentioned Willie Nelson, Smokey Robinson, Chuck Berry and Paul Anka. He always surprises with who he comes up with. There were a lot of influences by English artists whose names don't mean anything to us.
Of all the punkers he was most impressed with Robert Quine who he thought had immense intelligence as well as his own style.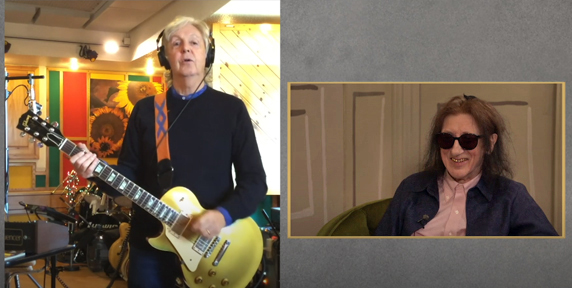 Paul McCartney and John Cooper Clarke
Looking around for a poet who could make a living out of poetry he could only find Baudelaire. In the modern day it was Pam Ayres, a poet who made many appearances on English TV.
Pam Ayres was a video guest on the interview session along with a few other poets and friends. The final video guest was none other than Paul McCartney! That shows the stature of Clarke over in England.
The interview was a pay for view. It is not available now but that could change later. He'll be touring England doing book release shows. If only he'd come to Boston again!! You can get the Kindle version of I Wanna Be Yours on Amazon.
Watch a vid of Dr. Clarke performing his poem I Wanna Be Yours.
Coming up.....
Virtual/ Streaming/Online Events.....
Dont forget to check out Linda Bean Pardee's Linda Garagecast every week.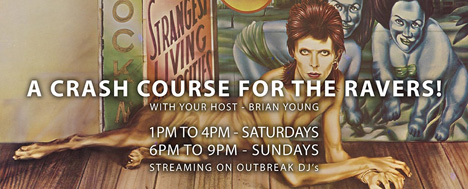 Wednesday October 21, 5PM - Philin Phlash's Fenway Phlashback (A Boston Punk Photography Retrospective) opens at Time Out Market FB event page.
Wednesday October 21, 7-9PM - Replay at the Midway
Saturday October 24 - The Town and The City Festival via Once Virtual Venue.... bringing more than a dozen acts together for the third year of the festival. The eclectic lineup will feature many past festival participants as well as new artists performing Americana, Folk, Rock, Blues, Poetry and Indie music including Chris Brockaw, Will Dailey, Walter Sickert. Tix and more info here.
Thursday October 29, 7:30-9PM - Walter Sickert & the Army of Broken Toys Halloween Happening at the Museum of Science ...special one-night-only virtual Halloween Happening! Kick off your spooky season with a digital edition of our annual evening of music, masquerade, and mayhem. FB event page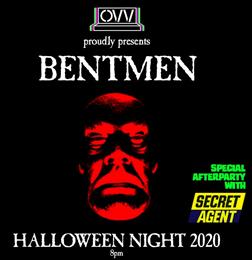 Saturday October 31, 9PM-1AM - The ManRay 15 Year Halloween Virtual Reunion on Twitch and Zoom... FB event page.
Saturday October 31, 8PM-10PM - The Bentmen performing on Once Virtual Venue 8-10PM. FB page.
In Person shows.....
October 28 (Wednesday) Einstürzende Neubauten - The Year of the Rat Tour - The Wilbur Theater Facebook Page
Thursday December 17 -7-9:30PM - Talkin' to Dracula and his Crew: Goth subculture and horror, a lecture - Miskatonic Institute of Horror Studies Brooklyn NY FB page
January 16, 2021 (Saturday) New Date - The Schizophonics, Muck and the Mires at ONCE Lounge Early Show: 5:30 PM – 8 PM
February 17, 2021 (Saturday) Rescheduled - Swans w/ Anna von Hausswolff at the Paradise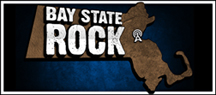 April 19, 2021 (Monday) Rescheduled - Dead Can Dance at The Wang Theater
April 29, 2021 (Thursday) Circle Jerks Plus Special Guests at the paradise (this is a reskedged show) FB page
CONTACT US AT....misslynbgn@yahoo.com Send us your gig listings, your anything else ya got!! You want your CD reviewed?? Contact us for that too.
---