The BGN News Archive
October 21, 2013
We stayed home this past weekend and were boring so no special photos or anything but....
Harold Lepidus did a lot of writing for Boston Rock back in the day, he had a column called the Boston Harold. (He was also one of Miss Lyn's roommates in Allston at that time) We just heard from him because he's involved with a new Tom Rush documentary that he's proud of. Tom was a folkie but got played mucho on WBCN in their heyday (late 60's).
And it looks like the Let's Go To The Rat movie should be out and available fpr purchase soon folks!! Andy from True Age Media has told us that "this Wednesday the DVD Master goes to Printer. If all goes well, we should have the finished DVD by Thanksgiving. After 4 years of blood, sweat and tears... I will give a Big Thanks indeed!" Congrats Andy and hey sounds like a great holiday Gift option!!!
October 25th - This Friday- Thalia Zedek 's band is at The Midway
Classic Ruins reunite with Jeff Crane on Oct.25 at Geno's in Portland (part of the Kip Brown birthday celebration). The Pontiffs and The New Technicians also on the bill.
And on Saturday Oct 26th Crash Course for The Ravers has Eugene Chadbourne and Dreadknot 1-4PM WMFO 91.5FM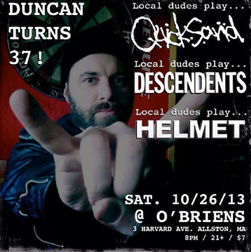 Coming up on Sunday October 27th it's Old School Game show night over at The Davis Square Theater OSGS is a live interactive theatre experience done with all the pageantry and analog style of a 1970's television game show. The show combines elements of pub trivia, variety specials, and comedy sketches to produce a completely unique trivia experience that tests players pop culture acumen. With influences as vast as vaudeville, Pee Wee's Playhouse, Andy Kaufman, and Battle of the Network Stars how could you go wrong? The entire show is backed by an amazing live band playing original music....sound pretty cool huh? Tix can be had at Brown Paper Tickets $15...if you want to be a contestant...$30.
And October goes out with a bang at O'Brien's!! Thursday Oct 31 they've got The Sprained Ankles, Squallie and The Chaotix , The Radicals and The Pity Whores
Then the next night Friday November 1st is Penis Flytrap, Kermit's Finger and Padded Hell
We have a Spooktacular!! This one is at The Middle East up on, you guessed it Halloween night Oct 31st its the Satanics...with Aquanutz featuring Michele Paulhaus as they do 80's hard rock send ups and Slim Lizzy which is members of Slim Jim and The Mad Cows doing Thin Lizzy songs...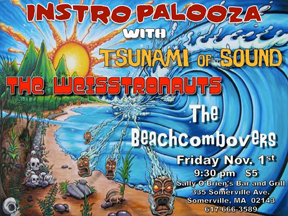 Saturday November 2nd White Dynomite has their Record Release Party at Great Scott...with Hey Zues, The Andrea Gillis Band and Suicide Dolls (who we raved about previously) .
Sunday November 3rd The Dickies are at Middle East up along with Duck & Cover and Burning Streets.
November 8th is Baker boys night at Radio down with The Kurt Baker Band and Tom Baker and The Snakes...
Saturday, November 9th don't miss the 360's on Crash Course for the Ravers 1-4PM - WMFO 91.5FM
And...yup The Flaming Groovies are at Radio - Thursday November 14th and note- since you do not want to miss anything that doors are at 7 and the show starts at 8PM sharp!! I'd say buy tix now for this one!! Andy Shernoff is also on the bill!
November 16th (the day before Miss Lyn's birthday) James Straight is having his birthday bash at Copperfield's...it should be a good party folks - on the bill is the always entertaining James Straight & The Wide Stance along with The Derangers, The Guns of Brighton and Nicole Alexander
The Smithereens are playing at The Old Town Hall in Salem on November 23rd...along with Pop Gun and Gyro Lula.... now folks get yr tix for this its very limited seating...
And really far in advance we're letting you know about John Surette's punk opera Tomorrow The World will be performed live at the Middle East, Saturday Dec 14.
EMAIL US AT.......misslynbgn@yahoo.com