The BGN News Archive
October 21, 2019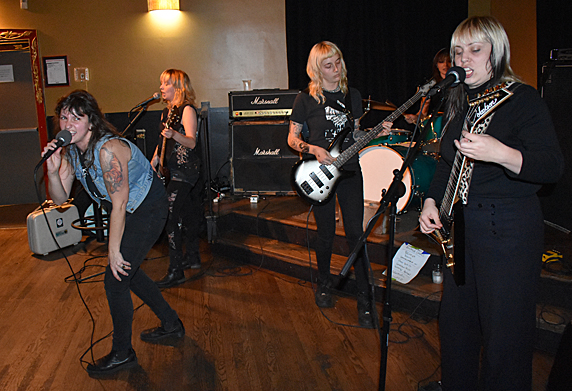 Alien Boys at Hong Kong
Photo: Blowfish
---
The Hong Kong has turned out to be a nice place to catch a show, they book a lot on Thursdays. We were there this week for a show that included Blasé Blue a band we saw just last week.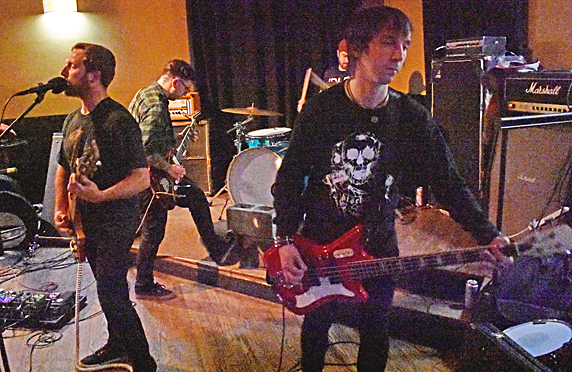 Blasé Blue
Photo: Blowfish
They hit us the same way they did at O'Brien's. Their first and third songs especially were killer. That first song was "Never Alone". Live it had pumping propulsive beat that drove it hard. At the same time the riffs grabbed the ear. We try to catch the lyrics which seem worthy from what we can hear. "Never Alone" goes for almost five minutes and a lot of their songs go that distance.
They describe themselves as "moody punk" and "shoegaze" but one could detect some seventies pop also. They reminded us of The Digs (disbanded now) who described themselves as "too rock for punk, too punk for rock". Blasé Blue were in that sweet spot too.
The third song was similar and the bass player had a simple figure that shaped the verses. Nice work and we were happy to hear it, and that's the way it is at the Hong Kong. There they do not mic the amps or drums. What you hear is more of what a band actually sounds like before the sound guy gets involved. The bass and drums are equal with the guitars and vocals. Gee, seems like a good idea; works at the Hong Kong anyway.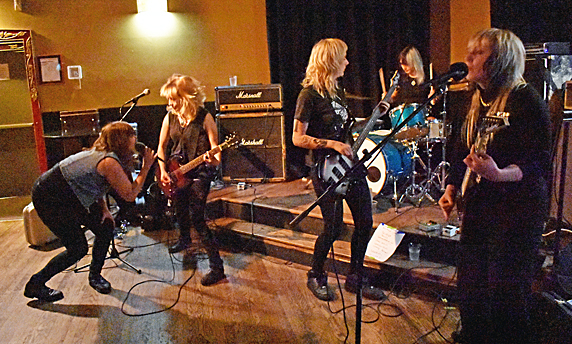 Alien Boys
Photo: Blowfish
Next up was Alien Boys from Vancouver, Canada. They play punk/metal with lots of personality in the mix. It was a fun set with the lead singer all over the floor, singing in people's faces and then back to the stage to roust the bandmates.
The songs refer to a lot of social issues and injustices. You can't catch the words in the rush of the set but you can tell that they are not pumping out vacuous platitudes. It was a bit more metal than our punk orientation usually goes for but we did enjoy the set a lot. There was some neat melodic guitar in the mix and you could see the band just loves playing together.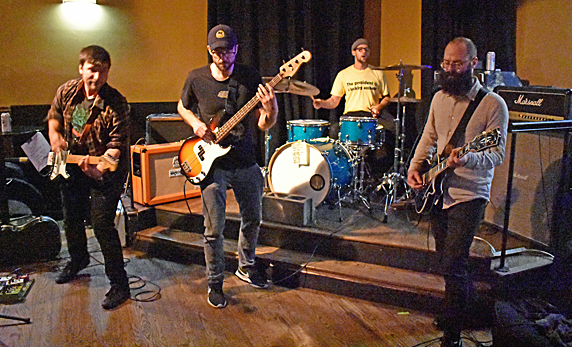 Kato Kaelin
Photo: Blowfish
Kato Kaelin, right off that's a crazy name for a band, was indie/punk. The guitars were grinding out an angular cutting sound. The intensity matched the vocalist who was going into paroxysms while delivering the lyrics.
They only have a demo out and that was released in July of 2019. We feel renewed when we see a band like this. They had a punk attitude. They put the rawness and the creativity out there and just let it lay. We live for this and it was nice to be there to see this band kicking it out.
We loved the spot in the video above where at 2:19 point the singer gave the cut sign to the band. He wanted to stop the song but the band ignored him. They were in the moment and liked it. The singer gave up and within a minute the song was in full swing again.
It was to O'Brien's the next night. The headliners were Bike Thiefs from Canada (second Canadian band in two nights) who we saw at O'B's in March of last year.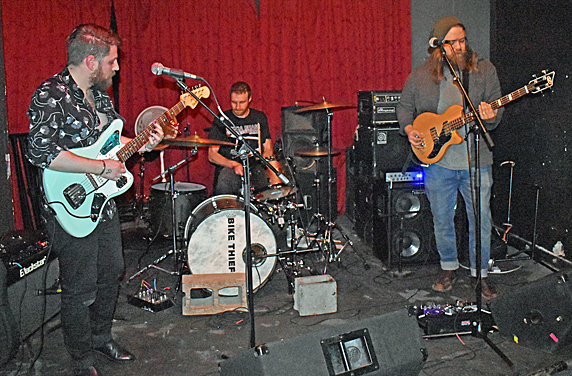 Husbands
Photo: Blowfish
The first band we saw was Husbands, such a domestic name. Their lyrics picked up on that by being very straight forward a lot of the time and seeming to deal with personal relations. Although the lyrics posted for "Space Cadet Blues" show some cynical turns. The name of their new album is New England Casket Co. also showing that there are some dark ideas floating around with them. They actually say that in their song "Clinomania" with the lyrics: "Got my mind in dark places, my mind in dark spaces."
Their sound was a moody shoegaze that did what it was supposed to, which was to put you in the similar frame of mind. The guitarist had some unusual fingerings and the bass had his own unique thick bass sound.
We've been overdue to see Lady Pills. They get a lot of attention. John Keegan caught them at Hasslefest #9.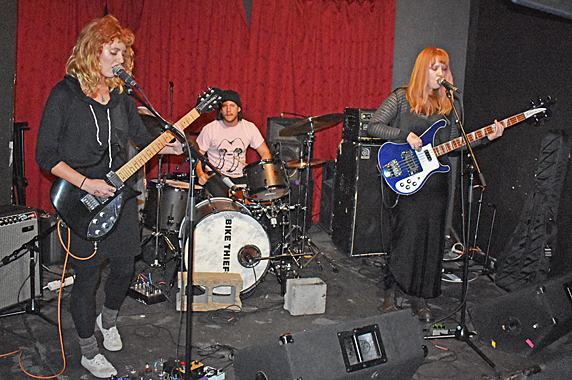 Lady Pills
Photo: Blowfish
Like Husbands they can claim the shoegaze label but they come to it via psych. We understand why they get attention because they do it so well. The songs were finely curated. The details were lined up with great taste and were dealt out with care. They didn't rock out or even get in a groove. The songs were parceled out in their course. Tempos were slow to middling.
The playing was top notch. The bass was exactly where it had to be and the guitar work was on the money. There were gorgeous psych lines all the way through and some unusual chord shapes. There was one point where it was an eastern scale going on and that was to die for. At some points Jefferson Airplane's sound came to mind.
All the guitarists this night showed that the modern guitarist plays the instrument and the pedals, both, it's all one. The drummer was doing detail work by keeping things low key and creative. Quite a set.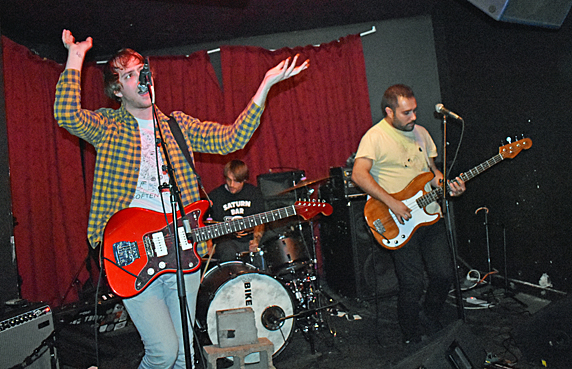 Bike Thiefs
Photo: Blowfish

Bike Thiefs took no time in showing up the one thing that Lady Pills wasn't doing and that was rocking the hell out. They did a set on the short side but it was packed with a lot of goings-on. Marko the singer doesn't just sing. He had his arms sweeping and his body swaying. He often sounds like Mark E. Smith of the Fall. He was half singing/half talking his way through the songs. Like the singer in Kato Kaelin when Marko is singing he inhabits that song and doing everything he can to make it hit as hard as possible.

The songs are full of characters ("Hockey Dad") and situations, not unlike Lou Reed in a way. Some lines would stick out. One song had something to do with America, and the Midwest. Those lyrics were pointed. They have a series of EP's but not much is online. Bandcamp has a few songs.

Click Here for more band photos.

John Keegan has been busy. He was at the Midway afternoon show for Martin, Morell and Fredette along with Triple Thick. The he was at the Lily Pad for Spectramotiv, Brandie Blaze, Bedouin Punk and Crow Follow.
Click photo below for review and photos.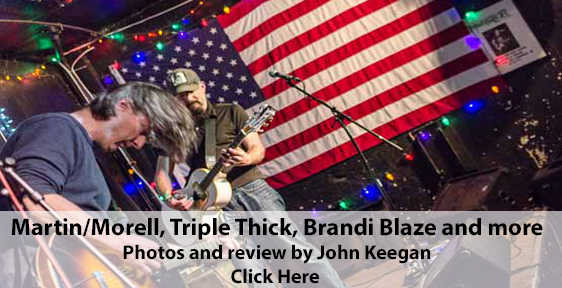 ---
And in other news.....
Brian James from The Damned, Lords of the New Church and other bands has come out with a new autobiagraphy: Bastard, The Damned, The Lords Of The New Church & More: The Authorised Biography Of Brian James. This book includes exclusive interviews and content from dozens of contributors and many rare, previously unpublished, photographs. He's having a book launch November 9 in London. You can go to John Wombat's page to order the book - I cant figure out how else to get it!!!
---
Mark you calendar for: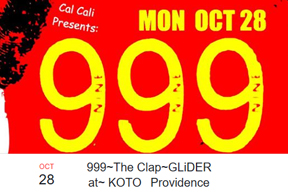 Thursday October 24 - Kenne Highland and Triple Thick do Roky Erikson tribute!!! Union Tavern
Saturday Oct 26- Fleshtones, Baabes, Muck & The Mires Glider at Once.
Monday Oct 28- 999, The Clap and Glider at Koto in Providence.
Tuesday Nov 5 - The Von Traps, Pretty Pleased (Chicago), Crunchtime at The Jungle- this is a FREE SHOW!!!
Saturday November 23- do you like The Monsieurs?? or Andy California?? are you titillated by Andy MacBain's antics on stage?? well check out Tunnel of Love cause that's where it all started my friends... Tunnel of Love etc at Hardcore Stadium Cambridge (more nelow in gig listings)
---
Here's some good shows coming up this week.....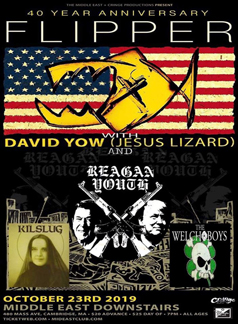 October 21 (Monday) Cherry Brat, Street Milk, The Wild Allegations at The Jungle
October 23 (Wednesday) Flipper with David Yow (Jesus Lizard) "40th Anniversary Show" at The MIddle East Down
October 23 (Wednesday) 999, The Clap, Vixen 77 at The Fire Philly PA FB Page
October 25 (Friday) Road Soldier, The Manglers, New American Good Time Boys at The Midway (night show)
October 25 (Friday) The "Scare" Root Halloween Show! with Justine's Black Threads, The Chelsea Curve, Little Billy Lost at the Square Root
October 25 (Friday) Flamin' Groovies, Richard Lloyd Group, Tiger Bomb at ONCE
October 25 (Friday) Nat Freedberg & No Brainer, Modern Day Idol, Oberon Rose at The Jungle
October 25 (Friday) 999, The Clap, the Parasitix, The Transmission Now at the Catasauqua American Legion 215 PA FB page
October 26 (Saturday) The Fleshtones, GLiDER, Muck & the Mires, Baabes at Once Ballroom
October 26 (Saturday) Pale Lips (MTL) with The Gala, Loretta, & Kathy Snax at O'Brien's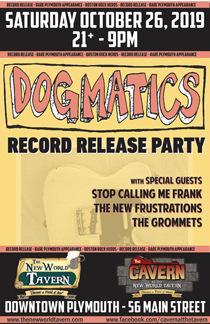 October 26 (Saturday) Stop Calling Me Frank, Dogmatics, New Frustrations, The Grommets at the New World TAvern Plymouth MA - FB page for info

October 26 (Saturday) 999, The Clap, The Bobby Lees, Blank Spots at Coney Island Baby in NYC FB page

October 27 (Sunday) a one day show of collage work by ruby viens-- as well as a small Store 54 pop up store at Gallery Poulet 613 Cambridge St, Cambridge, MA FB page

October 27 (Sunday) 999, The Pajama Slave Dancers and The Clap at the Hawks & Reed Performing Arts Ctr in Greenfield, MA TIX HERE

October 28 (Monday) Cycling w/ The Melted Chapstixs at The Jungle 5-8PM

And further out there is.....

October 29 (Tuesday) 999 & The Clap at Randy Now's Man Cave 134 Farnsworth Ave, Bordentown, New Jersey 08505 FB page

October 30 (Wednesday) Devil's Night at O'Brien's with Babes of Mutilation (as the Pixies), Fury Things (Dinosaur Jr. tribute), The Knock Ups as Hole, Queers of the Stoned Age, Corner Soul as The Stooges

October 30 (Wednesday) Graveyard Of The Atlantic, Husbands, Karate Steve at The Midway

October 30 (Wednesday) 999 (original UK punks), The Clap, Homisides, Speed Plans at Cattivo in Pittsburg, PA FB page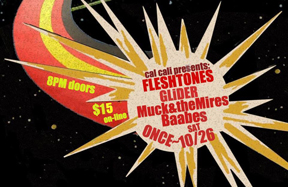 November 1 (Friday) Change Today (Joe Wood era TSOL), Covered In Bees & Tiger Bomb at Gino's in Portland ME FB Page

November 2 (Saturday) Shut Up (NJ), HIXX, The Guilloteenagers, A Bunch of Jerks at the Midway for a matinee show 3-7PM

November 2 (Saturday) Gene Dante & The Future Starlets, Cold Expectations (record release) and The Chelsea Curve! at Sally O'Brien's

November 2 (Saturday) Relapse, blindspot, Motel Black at the Middle East Up - 6PM show - all ages.

November 5 (Tuesday) The Von Traps, Pretty Pleased (Chicago), Crunchtime at The Jungle- this is a FREE SHOW!!!

November 5 (Tuesday) Rock n Roll Trivia with Erin and Bret at the City Winery. FB page.

November 8 (Friday) CE Skidmore, City Mouse, Stubborn Hearts at O'Brien's

November 8 (Friday) Wolftape, Doug McDonald Band, Crunchtime, Thigh Scrapers at Pete's Grill Quincy FB page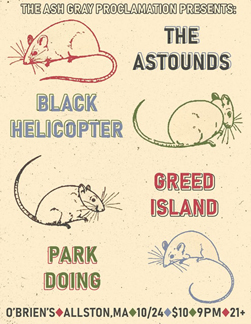 November 8 (Friday) Muck & The Mires, The Gotham Rockets, Tiger Bomb, Gene Dante at Alchemy in Providence RI FB page.

November 9 (Saturday) Muck And The Mires, The Downbeat 5, and Gotham Rockets at Sally O'Brien's

November 9 (Saturday) Black Helicopter, Baabes, blindspot, Jakals at Opus in Salem

November 9 (Saturday) Change Today: Joe Wood era TSOL at Ralph's Rock Diner Worcester.

November 11 (Monday) Samiam, Moving Targets, F.U.s, Rocking Bob, and Far Above the Ground at Once - All ages - starts at 6PM- 10:30PM!! FB page for tix etc.

November 14 (Thursday) Halshug (from Denmark), Corrode, Skinned Alive, Skrawl at the Dorchester Art Project

November 14 (Thursday) International Pop Overthrow Night 1- Union Tavern- with Dave Rave, The Eric Barao Band, Trick Wallace Trio, Glowbox, V As In Victor, Stuck Stars

November 15 (Friday) International Pop Overthrow Night 2- Union Tavern- with Corin Ashley, Richie Parsons, Hummingbird Syndicate, Kid Gulliver, Kris Rodgers & The Dirty Gems, CrunchTime, 1.4.5.

November 16 (Saturday) Brian Young's a Crash Course for the Ravers is featuring Greg Allen's Fringe Religion. 1-4PM WMFO 91.5 FM at http://www.wmfo.org/popout_player.php?bitrate=256

November 16 (Saturday) Rodentt (reunion) (mems of Medical Maps and Mente), Classic Ruins, TRiPLE THiCK, Musclecah at The Midway - 3-7PM matinee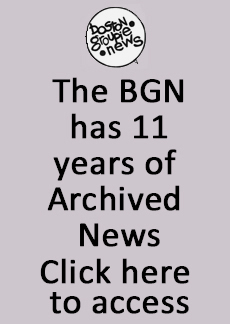 November 16 (Saturday) International Pop Overthrow Night 3 at Union Tavern...with Arthur Nasson, Dave Charles, The Shellye Valauskas Experience, Michael Oliver & The Sacred Band, Tiger Bomb, The Amplifier Heads, The Brigands
November 16 (Saturday) DJ Easy Ed presents: The Hi-Risers, Goons (mems of Rocky Velvet), The Bop Thrills, + Easy Ed's Record Hop! at The Midway (8PM)
November 20 (Wednesday) Randy Black & The Heathcroppers Plough & Stars Residency 6-8 pm
November 21 (Thursday) Robert Gordon with special guest Chris Spedding and Diablogato at Once
November 23 (Saturday) A Crash Course For The Ravers featuring A Bunch Of Jerks 1-4PM WMFO 91.5
November 23 (Saturday) Tunnel of Love, Nice Guys, Feminine Aggression, Song Birds, Swettes at Hardcore Stadium Bishop Allenm Dr Central Sq Cambridge FB page
November 23 (Saturday) The Knock Ups, blindspot, Lonely Leesa & The Lost Cowboys at Sally O'Brien's
November 23 (Saturday) "Love The Bands" @ ONCE Featuring: Smitty E. Smitty & The Feztones, PowerSlut, Corner Soul, The Rupert Selection - Doors: 8:30PM, Music 9PM
November 24 (Sunday) Johnny Cab, Kermit's Finger, The Negans, Baabes, Bernie's Garage at The Midway 3-7 matinee
December 7 (Saturday) Triple B Records presents: American Hardcore Fest 2019 with Magnitude, Wild Side, One Step Closer, Restraining Order, Method of Doubt, Anxious, Big Mack, Field Agent- All Ages, $25Advance / $30Day of Show, *NOTE* 12:00PM Doors- this is an early show!! FB page.
December 14 (Saturday) Baabes, The Von Traps, The Hi-End, The Stigmatics at the Midway Matinee Show 3-7Pm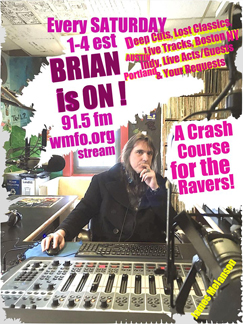 December 15 (Sunday) Thrash N Bang's 8th Annual Punk Pizza Party! with The Neighborhood Shit, Fast Times, The Ratz, The Hangovers at The Midway 3PM matinee - ony $5!!! and free pizza.
December 18 (Wednesday) Randy Black & The Heathcroppers Plough & Stars Residency 6-8 pm
December 21 (Saturday) MOTO, The Thigh Scrapers, The Thirsty Pirates (NYC) , The Montgomerys at The Midway for a Matinee Show 3-7:30PM
December 21 (Saturday) Mother Iron Horse, Tied to a Bear, Von Traps, Skytigers at Opus in Sale
January 10 (Friday) The Mercy Case, Bystander, blindspot, Foxes at Koto Salem
January 15 (Wednesday) Randy Black & The Heathcroppers Plough & Stars Residency 6-8 pm
January 18 (Saturday) Triple Thick, Crunchtime, 1.4.5., Butterscott at The Midway 3-7PM matinee
January 18 (Saturday) Barrence Whitfield & The Savages, Muck and the Mires at The Middle East FB page and tickets
March 28 (Saturday) The Zulus at The Paradise
CONTACT US AT....misslynbgn@yahoo.com Send us your gig listings, your news and anything else ya got!! You want your CD reviewed?? Contact us for that too.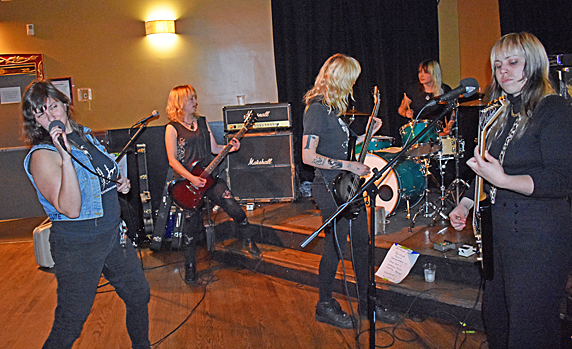 Alien Boy
Photo: Blowfish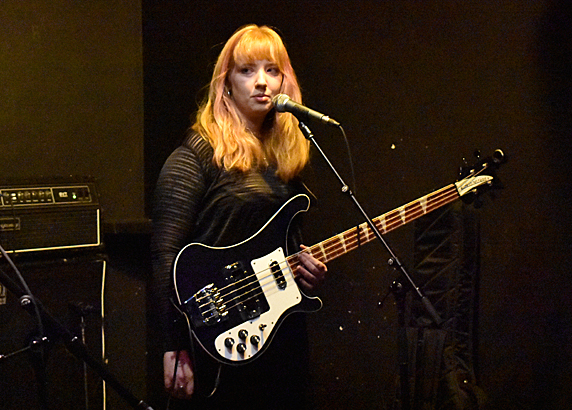 Lady Pills
Photo: Blowfish

Blasé Blue
Photo: Blowfish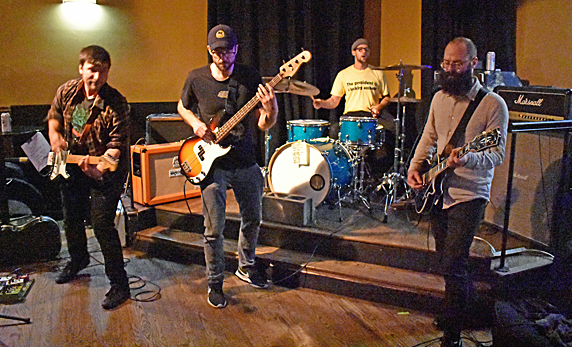 Kato Kaelin
Photo: Blowfish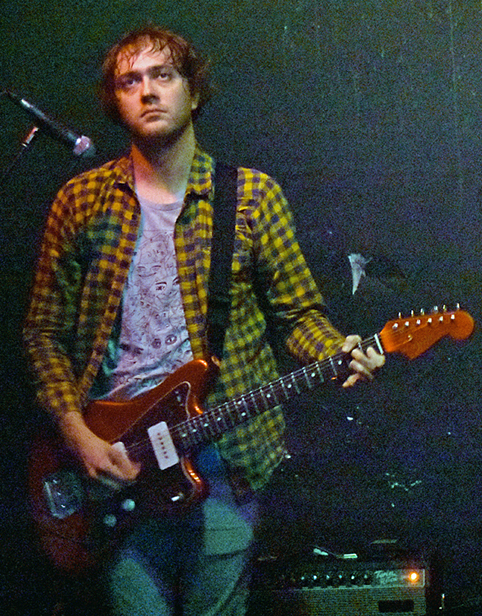 Bike Thiefs
Photo: Blowfish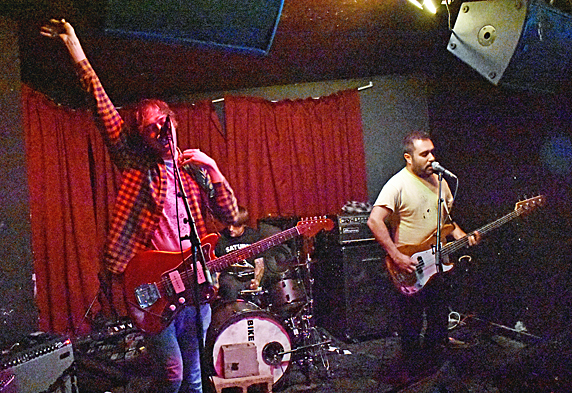 Bike Thiefs
Photo: Blowfish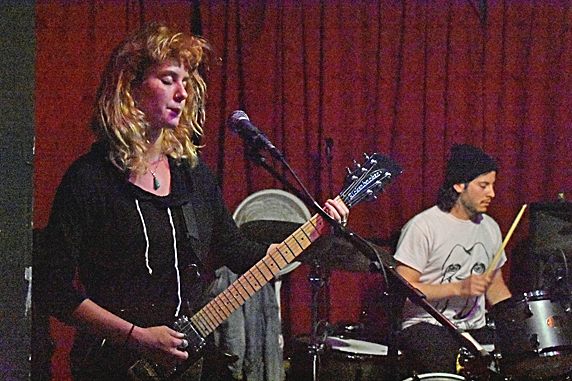 Lady Pills
Photo: Blowfish