The BGN News Archive
October 13, 2018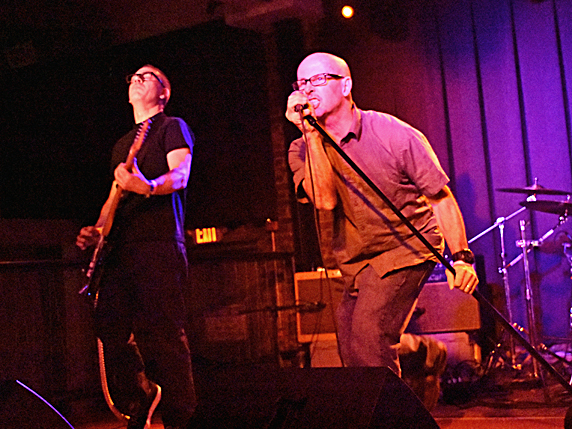 Proletariat
Photo: Blowfish
---
There weren't many people at Sonia on Thursday for The Proletariat. There was lots of competition with shows, even the Middle East itself had The Swinging Utters at the ME Down. The Chet's Last Call movie was playing up in Gloucester with the Hopelessly Obscure and the Classic Ruins playing after. Then maybe more to the point there was the last game of the ALCS for the Sox.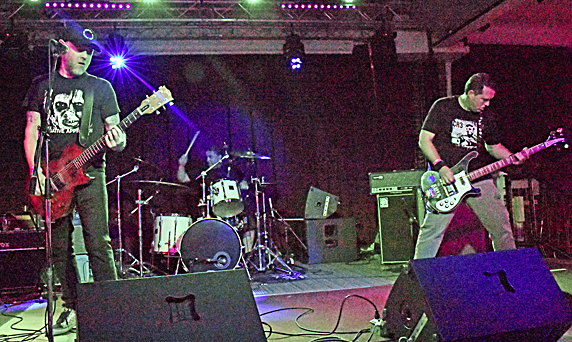 Silver Screams
Photo: Blowfish
We missed the first act but did see Silver Screams. They have slowly gotten better and better gigs as they have impressed people with their recordings and live shows. On Thursday they showed how you can play hard but not be punk, hardcore or metal. They've found a spot where they get as heavy as they want and avoid clichés. They did their cover of "Disorder" by Joy Division where they bring that hardness to the moodiness. They also have some politics in their lyrics at times which made them a good choice for a Proletariat show.
The Sonia sound board was heavy handed on the rhythm section. Silver Screams didn't need the boost but that still made them sound more impressive than at the last time we saw them at the Midway. There is a crisp edge to the guitar that we love. There wasn't any dull plodding going on.
"Alive In The Afterlife" from their new EP also stuck out as a live highlight.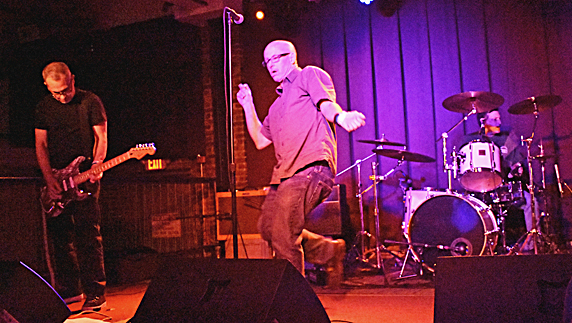 Proletariat
Photo: Blowfish
It was November of 2016 when The Proletariat hit Boston in its first incarnation in decades. That show at Once was widely anticipated as were all their shows at that time. They were tight and solid in the groove at Sonia just the same as at that first show but because you didn't have to fight the crowd like at Once, this was a more comfortable and enjoyable show. We were able to soak up those funk infused bass riffs and feel the depth of them. Meanwhile, Richard Brown was singing with rage and bile. They are all about agitprop and upsetting the status quo. It's the mix that Gang of Four had and that's their nearest model.
Brown alternately spewed out the substantive lyrics with drama and then would sway with the deep groove. That's the cognitive dissonance of this band that makes it different. It's politics but they never forget it's music first.
Their new material is killer and fit seamlessly into their old material. The new song The "Murder of Alton Sterling" hit hard with its scathing "Police the Police" chorus.
Now, they're cranking up for their new album with a PledgeMusic drive. Take a look at Richard as he pleads his case looking like (but not acting) a hostage victim. Producing the album is Lou Giordano who also produced Soma Holiday.
If you just walked into Thunder Road coming from another city and had no idea of the groups, you would leave with three new favorite groups and think Boston had a music scene that couldn't be beat, and you'd be right. Justine and the Unclean, Watts and Sidewalk Driver have all broken the code on what makes a song lodge in your head. It was earworm heaven on Friday.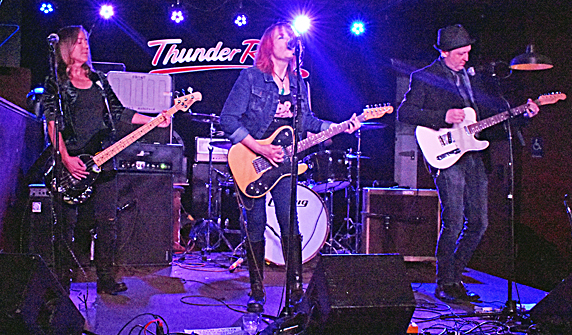 Justine and the Unclean
Photo: Blowfish
We go on about Justine and the Unclean and we don't apologize. We're trying to do the good work of spreading the word on this coolest of groups. At Thunder Road you could see they had personality, performance, proficiency and songs. And what songs! From day one they have slotted in one perfect punk nugget after the other: " I'm In Love With You, Jackass " , "Passive Aggressive Baby", "Bring Me Fire" and "Rock And Roll Blackmail".
They added a few new songs. "Be Your Own Reason" was one and the latest that they have released "This System Is Set To Self Destruct". If you don't go see this band you will kill yourself later looking back.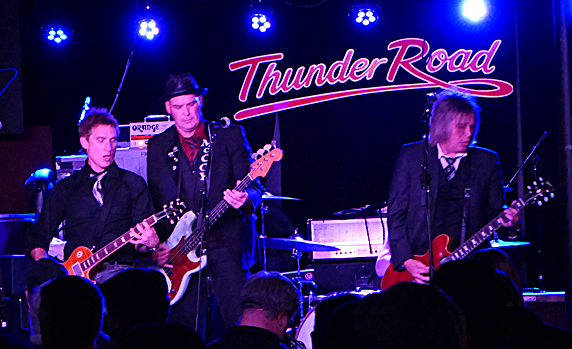 Watts
Photo: Blowfish
Watts is an instant rock and roll party. It started the second they began playing. That's what they bring to the stage every time and this was no different. Most of their songs have lyrics that relate to rock and roll and its lifestyle. It makes all the sense in the world when you think about it. Friday it was like they were Kiss's "Rock and Roll All Night" song come to life. They worked hard to make the party seem easy. All four members were singing together while switching lead singers to give some variety to the overall sound.
They have back catalog of never fail songs and seem to always have a new one in the pipeline to get excited about. They knocked the catchy songs out one by one. They played their newest "Queens" and ended on the crowd pleasing fist pumping "Radio Radio".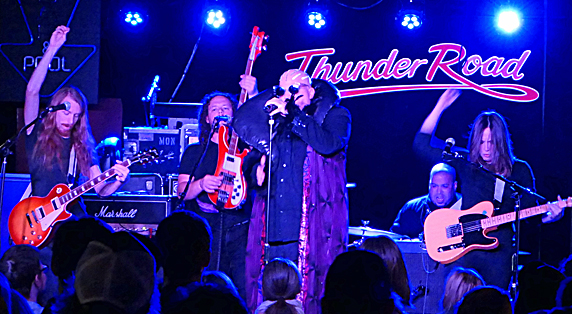 Sidewalk Driver
Photo: Blowfish
Thunder Road had a good crowd and it was a testament to Sidewalk Driver that people were still coming in at 11 pm and later to catch them. It's fun to go back to June of 2008 and get our first reaction to Tad and Sidewalk Driver. Tad's look is so familiar now that if he came on stage in shirt and jeans you would wonder what was wrong. That show also had Gene Dante on the bill and we thought that was the leading edge of a new glam movement. It turned out that it wasn't; it was just two glam bands that have continued to play to this day.
Like Justine and Watts, they did their own thing and it was wonderful. They have that glam sound that makes everything sound warm and familiar. They covered Bowie's "Moonage Daydream" and that 'sound' with the fuzz guitar is the sound that they model.
Their songs "Dancing With Her Friends" and the unforgettable "Tornado" have strong identities and loom larger than life with Tad's delivery.
Saturday at the Midway, John Keegan did what a lot of people talk about: he had a rocking birthday party!! John played his sax in three of the four bands and everybody chowed down on the BBQ and birthday cake. It was the place to be and people knew it with the club as full as we've ever seen it on a Saturday afternoon show.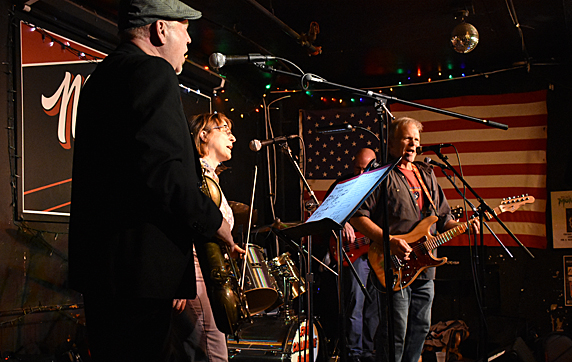 Jiblantos
Photo: Blowfish
John's group The Jiblantos opened. They did a collection of jazz and jump blues; there was a Tex-Mex feel to a lot of the material. They went from Duke Ellington to Captain Beefheart; that's a hard concept to grasp never mind play.
They did Dan Hicks' "I Scare Myself" which benefited from Carol's switch to electric violin. Her sinewy lines were a highlight all set. John had three saxes lined up. You can never have too much sax, they say. He went low like a fog horn and squelched like Ornette Coleman. Overall the band has a low key and solid groove that makes it all toe tapping and danceable.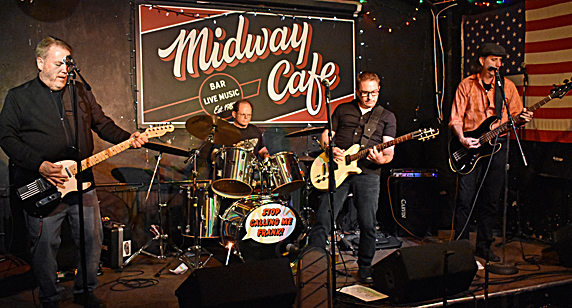 Crunchtime
Photo: Blowfish
We saw Crunchtime last at the Rat Beach Party at the C Note. They have some stand out songs from the beginning but we realized at the Midway that they have an album worth of songs now and we'd love to have that album.
During the set you could catch their nerdy fall guy persona crop up in all the songs which gives the material a unity. They suffer from "smart girls who don't like me" and others who are "Hipper Than Me". They also complain, "I Got Outsourced". Other songs they do that we have come to know and like are: "She's a Jetsetter" , "Situation: Out of Control", "Stick it To the Man" and "Retro Girl". It's not often, if ever, that we can list songs like that after seeing a band for a few times.
The music is a snappy punk crunch with flat vocals that work with the lyrics. The guitarist has a cool tone and amp setting where he gets sustain at any volume level. Often he just hits a note and it just sits in the air for a while. He knows it's good because he sticks it in there when he can. For a closer they brought up John Keegan and covered "Sister Serena" by the Dogmatics.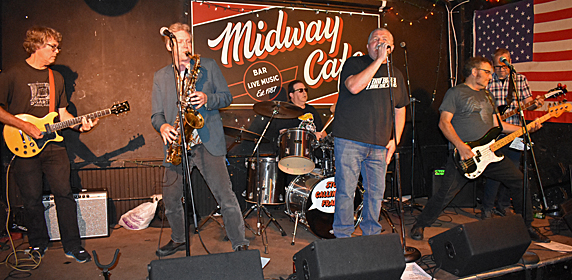 Stop Calling Me Frank
Photo: Blowfish
For a band that dialed out for 30 years Stop Calling Me Frank is getting a lot of attention. They've been gigging a lot and they have a CD out that got some play on Goldie's Garage on Little Steven's Underground Garage station and Crash Course for the Ravers just this week. We saw them last at Sally O'Briens a few weeks ago.
From seeing them through this last year it seems to us that they've gotten tighter than ever. The sets at Sally O'Brien's and this Midway show were over the top high energy performances. They were having a great time on stage. It seemed like they enjoyed the songs as much as the audience did. They never have followed any perceived guidelines as to what was trendy or popular; they did what they wanted. The results are the quirky songs that inhabited their set like "Rockin' and Rollin'" that glorified bowling and "Whale Baby" that used sax squealing to mimic a whale call. They added another cover of an old song about rocking King Tut. They make covers seem like originals. Every song seems like theirs.
They ended up with calling John up on stage for this third time. Then they had two saxes on stage. SCMF say it themselves; this reincarnation is even more fun that the first time around.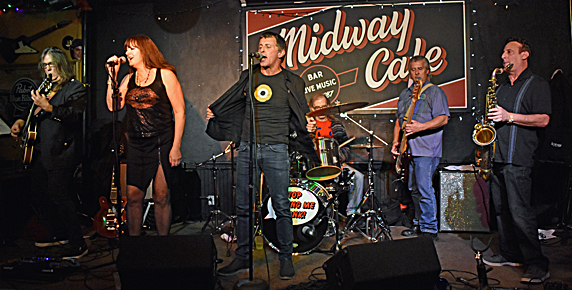 The Black Souls
Photo: Blowfish
It was left to The Black Souls to wrap things up. People stuck around which was great, and maybe because this was an early evening show and now 7:30 rather than 12:30.
Black Souls now have a sax in the line up! It was a night of sax! Like SCMF and Jiblantos, Black Souls mine the rock catalog. They search out older soul songs that you probably don't know. The set we heard would make a great radio show to begin with but done by the talent in the band it was a sweet soulful serenade.
They began with "2120 South Michigan Ave" by the Rolling Stones (That's the address of Chess Records in Chicago). All around musician, Tony Kaczynski had the riff and feeling down and it was doubled by Carl Biancucci on bass. Both Carl and Matt on drums kept the rhythm section low and tight. Matt again proves he can play any style of music. Last time we saw him he was crashing it out with Evert. This night he was as comfortable as could be, keeping time with a curt snare and high hat. We give him a lifetime MVP award right here.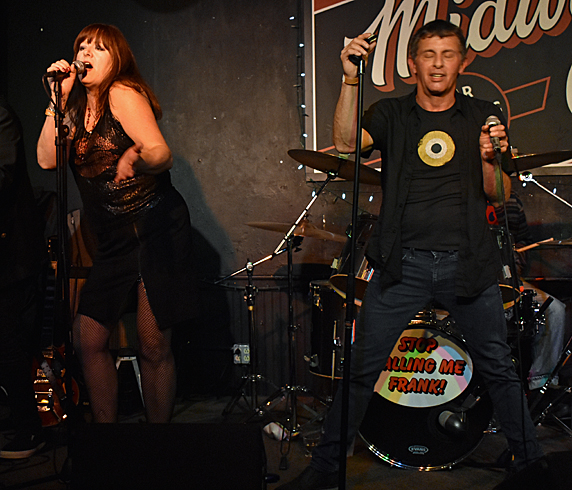 The Black Souls
Photo: Blowfish
It's funny that they start with an instrumental because it's those voices by Kim and Cam that are the main force in the Black Souls. There were a few times that you could hear the control in Kim's voice as she added a closing coda to a song. On top of that she had a natural sweet tone that fit the material to a T. Then Cam would blend in and that combo was so rich and undeniable! They also did the song where Tony does his three chorus ONE NOTE solo. That's genius virtuosity in our book.
It was a birthday bash to remember. Other people were saying they wanted a party like this for themselves. It can be done. Happy Birthday to John Keegan!! He's joined the BIG 60 club!!
More band photos after the show listings.
---
And in other news.....
Happy news!!: It seems Club Bohemia will rise from the grave!! They didn't do so well with just dance music. So Mickey Bliss is back to booking! Looks like it'll be Fridays and Saturdays only and possibly Thursday later. Cal Cali has the start up show Saturday November 3 with Glider and Mr. Airplane Man!!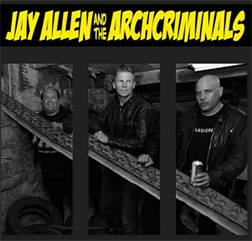 In the Rum Bar world – Jay Allen and the Archcriminals have a new (and free) single release, "Big Lie", which is leading up to an album release we assume. There are some funny goings on at the end of the tune.
Justine and the Unclean have also released a new (and free) single called "This System Is Set To Self Destruct". The minute we hear that voice we melt, all resistance is futile.
Watts have released two songs like what a single would be like in the vinyl days. "Queens" b?/?w "The Night The Lights Went Down" "Queens" comes with this video.
Then it's back home and down home with Hambone Skinny for your dose of swampy blues with a 7 song release including "My Seat At The Bar"
Jim Sullivan posted a great tribute to Lux Interior on Facebook since today ( as we write Sunday October 21) is Lux's Birthday. Here you go:
"Lux Interior, the late, great Cramps singer, was born on this day in 1946. He was one of my favorite rock 'n' roll performers - ferocious and full-on, indulging in shtick - pouring a bottle of red wine down his gullet and onto his bare chest, taking little Lux out of his black leather trousers for a brief spin, but it never felt like shtick. I'll share a memory: In the early '80s, I was at the Channel, during the heyday of stage crashing and diving. Interior – tall, shirtless, wearing red pumps and leather trousers - was not happy about fans invading his stage space. He made it clear: Don't come up here, this is ours. One kid made it up twice, cavorting for a moment and then scampering off. Interior had warned him. The third time the kid was not so quick and Interior nailed him with a left-right, 1-2 combo and the kid went down, flat.
"I punched the guy and then I thought, `Wait, don't do this,'" Lux told me later in the dressing room. Interior – who died at 62 in 2009 - was quite well-mannered and soft-spoken off-stage. On stage, with his swaggering guitar playing partner Poison Ivy (born Kristy Wallace), there was chaos, confrontation, destruction of equipment, bare flesh, and that dangerous, subversive-sounding rock 'n' roll dubbed psychobilly.
"Interior, whose real name was Erick Lee Purkhiserhad, had a joke moniker. " But, Lux said, "If people that think we're funny I kinda feel sorry for them because it means that they think it's a joke. We've spent our lives searching out incredibly wonderful things that most folks just don't know about yet."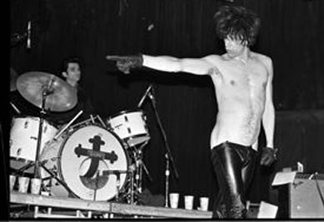 Amen to that. Lux praised "Bikini Girls with Machine Guns," and told us, "People Ain't No Good" ('cause they never do what I think they should"). In "You Got Good Taste," he praised Ivy's good taste ... or maybe how good she tasted ... He indulged in a love of B-movie splatter film imagery ("I Ain't Nothing But a Gorehound") and felt there was nothing finer than turning into a "Goo Goo Muck."
"The Cramps had an anthemic paean to wanton misbehavior called "Let's Get Fucked Up." Interior both pumps up and dumps on the drug culture, much as he once did on "Drug Train." "We try to present both sides," said Interior. "In 'Let's Get Fucked Up,' we say, `Tomorrow you'll feel like you were hit by a truck.'" - that would not be a pro-drugs statement - "but these people that dismiss drugs as bad, period, for everyone and that's the end of that . . . that just kind of glamorizes it to a teen-ager, that just makes 'em run for it."
Happy Birthday Lux we miss you!!!
---
Here's some good shows coming up this week.....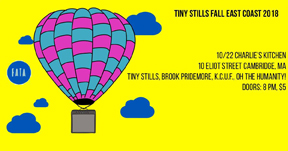 October 22 (Monday) Oh the Humanity!, Tiny Stills, KCUF, Brook Pridemore at Charlie's Kitchen
October 22 (Monday) OC45, Bad Larrys, BDSX, Von Traps at OPUS Salem
October 25 (Thursday) Damnation, Forbidden Dimension, Demon Seeds, Knock Ups at O'Briens'
October 26 (Friday) The Humanoids, Slim Jim and the Mad Cows, Maiden New England, Electric Street Queens at The Midway
October 26 (Friday) The Radiator Rattlers, Kermit's Finger, Black Hatch, The Grommets at O'Brien's
October 26 (Friday) Charlie Don't Surf are at The C Note Hull
October 26 (Friday) Boston Garage Rock & Punk Extravaganza with Birdgangs, Thee Fightin' Fish, Friendly Psychic Strangers, Dots on Dice at the Worthen Attic in Lowell, MA

October 26 (Friday) Costumes & Covers: Halloween w/ local bands as The Cure, The Beatles, KISS, Devo at Once FB Page for info
October 27 (Saturday) The Stigmatics on A Crash Course for the Ravers on WMFO 91.5- 1-4PM with Brain Young
October 27 (Saturday) Benefit for Mission 22/Dennis Donahue's Birthday Show! with Kind Crew, Neighborhood Shit, Sick Minds, Jerry's Got Jokes, and Whoopi Sticks at The Midway -Early Show 4-8PM
October 27 (Saturday) Lyres, GLiDER, the modifierS at The Middle East Up- Early show doors at 6:30PM
October 27 (Saturday) Tiger Bomb, The Gala, Space Camp at The Apohadion Theater, Portland, ME. FB page
October 27 (Saturday) The Descendents w/ Teenage Bottlerocket at The Palladium in Worcester FB page for tix etc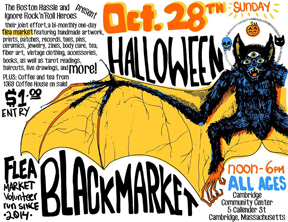 October 28 (Sunday) Black Market Flea by Boston Hassle & Ignore Rock n Roll Heroes - 12 PM – 6 PM at Cambridge Community Center- this is a GOOD one folks- check it out!! FB page
October 28 (Sunday) Roy Sludge at Sally O'Brien's
October 28 (Sunday) Zipper, The Instamatics, Larseny, Billy Squire at The Midway for a matinee 4-8 pm show
October 28 (Sunday) A Rock and Roll Masquerade with Energy performing as The Misfits and Michael Kane & The Morning Afters as Van Railin at Great Scott
And further out we have......
October 29 & 30 (Mon & Weds) Now here's how to do Halloween!! At Symphony Hall this Halloween season when Keith Lockhart and members of the Boston Pops visit The Bates Motel and perform the original score of the Alfred Hitchcock film, "Psycho", in sync with the film on the big screen. One of the greatest suspenseful thrillers of all time, this cinematic masterpiece comes alive with Bernard Herrmann's spine-tingling score performed live. The unforgettable and disturbing slashing chords played during the now famous shower scene are just as terrifying now as they were to first-time audiences in 1960.
October 31 (Wednesday) Halloween Clownfest - candy, psychic readings and balloons! and Robot Clean- a Misfits Tribute, Driven Sane, Lucreatia's Daggers at Once - starts at 7:15PM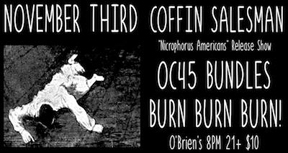 November 1 (Thursday) Kris Rodgers & The Dirty Gems - The Connection - Kurt Baker at The Dover Brickhouse in Dover NH FB page.
November 2 (Friday) Roky Erikson at Once. Tix here.
November 2 (Friday) Mad Painter featuring Kenne Highland at the C Note Hull
November 2 (Friday) Lily Black, Little Billy Lost, Hyber, Concrete Haze at KOTO - Salem
November 3 (Saturday) Club Bohemia is BACK. Glider and Mr. Airplane Man
November 3 (Saturday) Coffin Salesmen, OC45, The Bundles, Burn Burn Burn at O'Brien's
November 4 (Sunday) Book release party for Poetry for the Neon Apocalypse by local Punk Poet Jake Tringali with Mint Green, Ski Bunny, The Sewer Buddies, Jenn Lombari, Hyber at The Midway 4-8 PM. FB page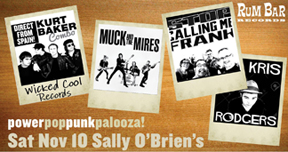 November 5 (Monday) Rea, Musical Mandalas, Binge Magick, Sternman at The Midway
November 5 (Monday) Dead Bars, Rebuilder, Pity Party, Weathered Friends at Charlie's Kitchen
November 5 (Monday) Parasites with Lucky United and The McGunks at The News Cafe in Pawtucket, RI
November 5 (Monday) The Only Things, Surprise Party, Knock-Ups, PNDB at The Worthen Attic in Lowell.
November 6 (Tuesday) Rock and Roll Trivia w/ Erin and Brett at Sinclair -starts at 8PM
November 9 (Friday) The Only Things, Surprise Party, Knock-Ups, PNDB at The Worthen Attic in Lowell, MA
November 10 (Saturday) Rockin Bob Punk Band, Smartyr, Banshee, Raw Radar War at The Midway 4-8PM
November 10 (Saturday) Kurt Baker is coming to Boston!! One show only at Sally O'Brien's Nov 10. with Muck and the Mires, Stop Calling Me Frank and Kris Rodgers and the Dirty Gems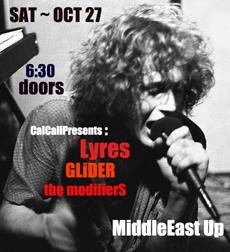 November 10 (Saturday) Keith Brooks Memorial Veterans Day Show #1: The Welch Boys, Pint Killers, Abductors, Step 13, Barfight Champs at The Midway
November 11 (Sunday) DNZL, Standard Issue, Psychic Weight, TBA - 4-8PM Early Show at The Midway
November 11 (Sunday) Keith Brooks Memorial Veterans Day Show #2: Colin of Arabia , Zero Hour, Cry Havoc, Neighborhood Shit, xForgiveness Deniedx, Foulfellows at The Midway 9PM
November 11 (Sunday) Save the date!! Brian Coleman who has published the much talked about Buy Me Boston book will be having a slideshow and panel discussion (including our very own Paul Blowfish Lovell and David Bieber) to promote the book. It's at The Brattle Theater - more info as it becomes available.
November 15 (Thursday) CorollaDeVille, CalCaliBand, MimseyMack at Opus,Salem
November 16 (Friday) Ey,Oh Let's Go!, White Light, Ball & Clash, PunksUp - A Night old school punk covers performed by GLiDER, Pop Gun, Club Linehan A Go Go, Drunken Uncle at The Greek Union Sq Somerville.
November 16 (Friday) Justine and the Unclean, Tad Overbaugh EP Release Party at Sally O'Brien's
November 16 (Friday) The Melatonins, Ringtail, Stars Like Ours, Five Foot Shakers at O'Brien's Pub
November 17 (Saturday) Brian Young's A Crash Course For The Ravers featuring The Gala!!! One of our favorite bands!!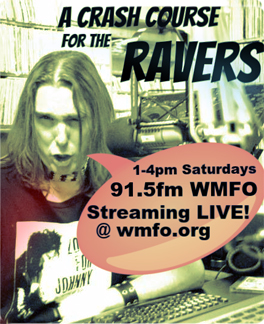 November 17 (Saturday) It's HIXXGIVING!! The joyous return of the annual celebration of white trash culture and redneck vittles. This year they'll have newcomers - Alice Highland, New Jersey's Sex Zombies, Your hosts- HIXX and the formidable Screw Cart. This will, no doubt, be off the hook! The buffet will be provided by the bands. Hixx asks that you bring non perishable food items, as always, for a local woman's shelter. At The Midway
November 17 (Saturday) Post Punk 1977-87 Cover Night at Sally O'Brien's - 3 super groups will be covering songs from 1977-87. (punk, new wave, synth pop etc)
The groups are: Chuck Ferreira, Josh Pickering & friends, Duncan Wilder Johnson & friends, and Anthony Kaczynski & friends. FB event page
November 17 (Saturday) Jittery Jack, Miss Amy Griffin, Whiskey Kill & DJ Easy Ed at Sally O'Brien's
November 17 (Saturday) Scissorfight, Welch Boys, Taxi Driver, Watching It Burn, COB at Maggy's in Quincy FB page
November 21 (Wednesday) 1476, Coffin Salesman, Darker Days at UnchARTed in Lowell. FB event page
November 21 (Wednesday) Far Above the Ground, Thee Midnight Society, The New Frustration, Lightnin' Lyford and the Procrastinators at PINZ in Kingston, MA FB page
November 21 (Wednesday) 3rd Annual Morning Afters Thanksgiving Eve Show *FREE* at Raolph's Diner Worcester with Michael Kane & The Morning Afters,
Dirty Laundry, Reverend Dan and The Dirty Catechism, Douglas Sullivan (Westies / Ducky Boys)
November 24 (Saturday) Friendsgiving Punk Rock and Roll! at O'Brien's with Arctic Horror, The Skeleton Beats, The Von Traps, The Downhauls- 8-Midnite
November 24 (Saturday) Jittery Jack, Miss Amy Griffin, Whiskey Kill & DJ Easy Ed at Sally O'Brien's
November 24 (Saturday) Paraffin, Tiger Bomb, Fireking, Scotty Saints & True Believers at The Bayside Bowl in Portland, ME
December 1 (Saturday) A Crash Course For The Ravers 1pm to 4pm at http://www.wmfo.org/popout_player.php?bitrate=256 and transmits on 91.5FM Medford. This week Brian Young hosts have Charlie Don't Surf!
December 1 (Saturday) Cranktones and Sax Gordon, Two Fathoms Down, Easy Ed's Record Hop! at The MIdway for a Matinee 4-8PM show
December 1 (Saturday) the second and final Red Invasion show - with Funeral Cone and Brix N' Mortar and one more TBA. @ The Middle East Upstairs This is an early show- doors are at 6:30 NOTE!!! This show has been moved to Dec 14 at OBrien's instead. (see below)
December 1 (Saturday) America's Hardcore Fest: W/ Ecostrike, Abuse of Power, Fiddlehead, Magnitude, Restraining Order, Deflect, Sleight of Hand, Dominant Force, Result of Choice this show starts at Noon. Middle east Up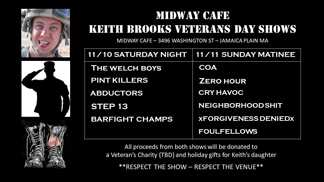 December 1 (Saturday) Cherie Currie and Flight of Fire (She's A Badass Release Show) at Once
December 1 (Saturday) The Feldons, Tiger Bomb, Justine & The Unclean, Thee Sonomatics at Ralph's Rock Diner in Worcester.
December 8(Saturday) Pinkerton Thugs, Oc45, Mk Morning Afters , the Lot at The Midway
December 9 (Sunday) Trusty Sidekick, Stigmatics, Crunchtime. Dick Pics do a Matinee 4-8 show at The Midway
December 14 (Friday) Red Invasion with Funeral Cone and Brix N' Mortar and EVERT at O'Brien's
December 14 (Friday) Street Dogs: 13th Annual Wreck The Halls at Brighton Music Hall
December 15 (Saturday) Duck & Cover, Stop Calling Me Frank (Album Release), State of The Union, The Angel Martins Early Show 4-8PM at The Midway
December 22 (Saturday) Greg Allen's Fringe Religion, Classic Ruins, 1.4.5, Fireking - Early Show 4-8 at The Midway
January 12 (Saturday) IL Mostro (CD release) w/ Cortez, Scuzzy Yeti & Wrought Iron Hex at O'Brien's
CONTACT US AT....misslynbgn@yahoo.com Send us your gig listings, your news and anything else ya got!! You want your CD reviewed?? Contact us for that too.
John Keegan playing with Crunchtime
Photo: Blowfish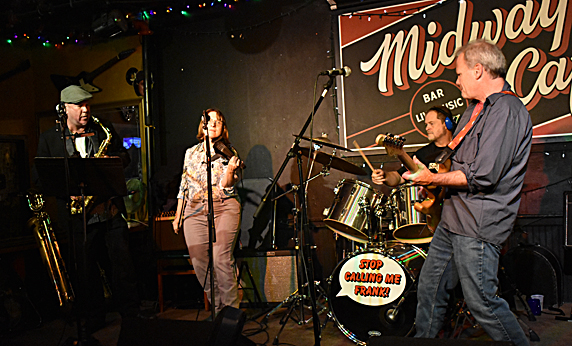 Jiblantos
Photo: Blowfish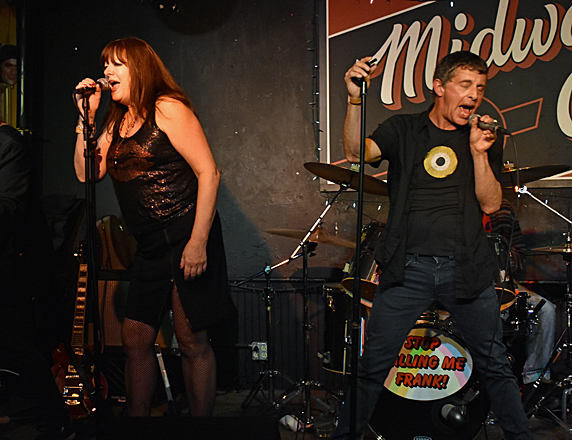 The Black Souls
Photo: Blowfish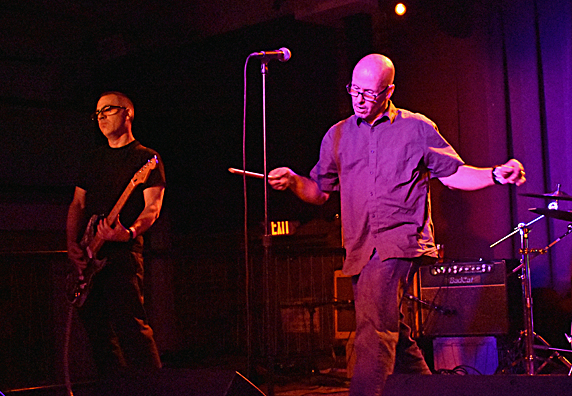 Proletariat
Photo: Blowfish