The BGN News Archive
October 24, 2011
This past week was the Damned 35th Anniversary tour...and it was 34 years ago that we interviewed the Damned at the Rat during their first tour here in America....we. in fact, were the FIRST people to interview them in America. I worked for the Rat at the time and the gig was not all that publicized...but it was a big deal we were there....Blowie showed in a suit after a funeral and I am sure that image sent the boys over the edge.....OH the memories...read the 1977 interview here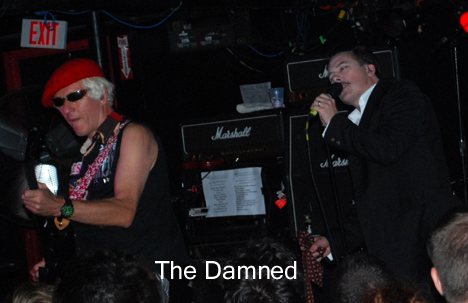 So before the show this past Thursday Eric Law and I talked to Captain Sensible upstairs in the corner cafe...he remembers the 1977 show fondly but to this day couldn't understand why the audience "just stood there...not reacting" we explained that at that time here in the U.S. it was cool to act cold and unemotional...the exact polar opposite of what was cool to do in the UK then!! SO, the Captain remembered, they pulled a table up onstage...ordered pizza and ate between songs...being wicked cool America style...unmoved...eating pizza ...until a food fight broke out and next thing you know there were gobs being spat about and pizza being thrown...after those memories we talked about ...aging , and of course...aging as a punk...he said in his mind he still feels like a 22 year old but his body can't take it so they've cut their tours to shorter time frames ... he also his very aware of the politics of ageing and talked about getting a bunch of older punks together to form a group that would ensure older folks...punks now...aren't screwed out of their "pensions" ...aha!! Much like us and our social security fears!! Excellent and makes very good sense!!!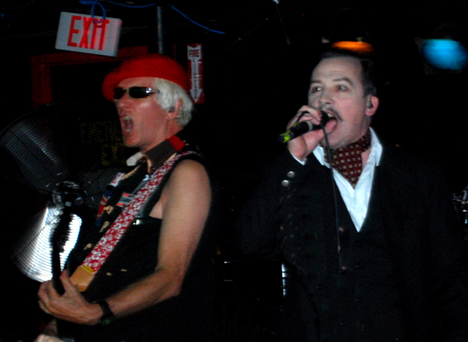 We also talked about music and the Captain said he thought there are good new bands but he always goes back to the bands he started listening to as a teen as his favorite stuff to listen to and literally gets weak in the knees when he meets an idol of his. He was asked by Tony McPhee of the Groundhogs to play on their new album (mellotron) and he couldn't believe it and was completely beside himself excited about it!!
what I loved the most was how his three kids keep saying to him "Dad!! PLEASE don't come to pick us up at school in your punk clothes!!It's embarrassing!!"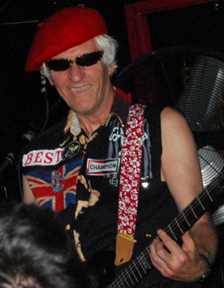 The show was amazing...They came on stage to do their first album and there was a huge wave of movement that threw us all about 4 feet to the left!! They sounded excellent and did do their first album...in entirety...New Rose and Neat Neat Neat sent the audience mad with excitement!! ...2nd set was like a new band and then at open point they said "Now it's 1990" and as Judy Wilburn said "they added gorgeous keyboard and dramatic guitar tricks, overtones of Roxy and even Queen. Two completely different shows." ...all in all folks, an amazing evening!!!
And here comes Halloween this weekend......if you are into costumes this'll be especially fun... but besides the costumes there excellent bands playing: Friday 10/28-Nancy Neon's Halloween Costume Ball With prizes for (1) The Scariest, (2) The Sexiest, & (3) The Most Creative Costumes. Featured entertainment: The Happy Little Clouds; The Port Charles Quintet; Sticky Business - A Bubblegum Tribute, Sourpuss, and, special added attraction, The Kenne Highland Clan opens the evening!
The on Saturday 10/29 - the Rosebud has The Lyres, Jetset and Satin Kittens and The Plough has The Coffin Lids.....
And for you folks on the North Shore there's a Halloween Party at Bella Mia Restaurant with Corolla DeVille and cash prizes for best costume & best mask!!
And mark your calendars for Saturday November 5 when The Magic Room has James Straight and The Wide Stance along with Ken Scales and the new Adventure Set!!!
The adorable Reverend Joe Fagan says they'll be doing some one time only songs especially for the show!
Celebrate with My Own Worst Enemy at Precinct in Union Square on November 11th when they have their CD Release Party along with The Vivs, Apple Betty and Varsity Drag....
The mark the next Saturday too! November 12th...cause there is a KILLER show at Church : The Neighborhoods, Unnatural Axe and The Sleazies...oh yeah!!
Then on Friday the 18th at TT's is Muck & The Mires and The Dents!!
At the Magic Room on November 19th is the Abel Harris Jr. Scholarship FUNdraiser. They were able to get Shake The Faith and 5-Point. There are a lot of people waiting for that Shake the Faith reunion.
And here's a great KickStart project to support: The Gobshites are going to Dublin in November to record a new CD and these guys don't kid around this time...they have Richie Ramone (of the Ramones) playing drums and Cait O'Riordan (of the Pogues) playing bass on this CD called The Whistles before the Snap...so go to Kickstart and help these guys OUT!!
Email us with your latest news, opinions and all that kinda stuff....misslynbgn@yahoo.com
| | |
| --- | --- |
| The Legendary Shack Shakers... | ...opened for the Damned |