The BGN News Archive
October 25, 2010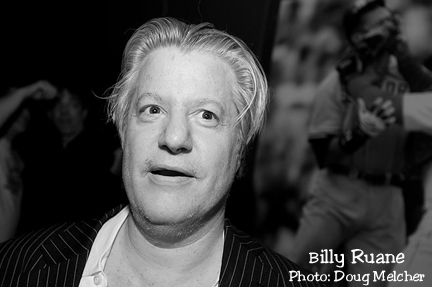 OK folks, sorry for the delayed news this week friends, evil webmaster Blowfish has been away on an evil vacation......
and we are just in time to write the sad news, as you all already know our friend and major influence on the Boston scene Billy Ruane has passed away of a heart attack.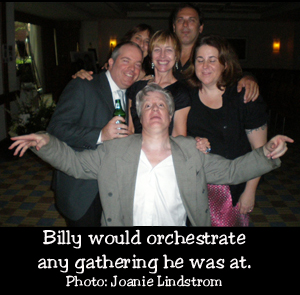 This is such a huge loss for all of us here and I have not seen this kind of reaction to a passing as with Billy's. I Googled his name and there are blogs and columns popping up on The Globe, The Herald, The Phoenix, Yelp, The Noise Board, Brooklyn Vegan, CantStopThe Bleeding, truthSerum , Metafilter and many many others...this is an outpouring of sadness and emotion like none of us have ever seen for a Boston Rock figure and it reflects the power of Billy's unstoppable personality and his love for all that was art and music!
Jonny Angel absolutely said it the best on the Phoenix site earlier today:
"He was boundlessly energetic and filled with bottomless enthusiasm for the arts in Boston. He was a man of exquisite taste and an army of internal devils. That he walked or staggered among us for as long as he did was his greatest gift--tireless champions of the arts are always saints no matter their other defects. Rest in eternal peace, Billy--you lived ten lifetimes and you deserve your rest. Much love, Johnny"
Billy was always there, at every event, with his sloppy kiss, his familiar but not necessarily welcome odor, his disheveled appearance and messy life but we all knew and felt his deep love for the scene, for music and for all of us and we loved him back as well. Ugh, as many have said this said day it is TRUELY THE END OF AN ERA...we have lost a big one here......RIP our beloved Billy Ruane!!!
Our condolences also go out to a true gentleman Pat McGrath who has been taking care of Billy and his affairs over the past several years.
We wait with bated breath to hear about a service for Billy and will let you know as soon as we hear!
And you damned well know Billy doesn't want too much sadness or melancholy but for us all to go on with the festivities though we can't help think of him and I guarantee everything you go to this weekend and for a while after will include lots of mentions, tributes and memories of Billy shared from the stage and throughout the audiences!!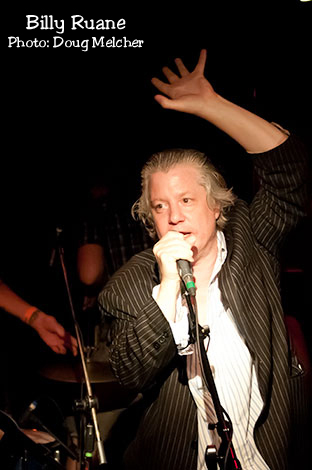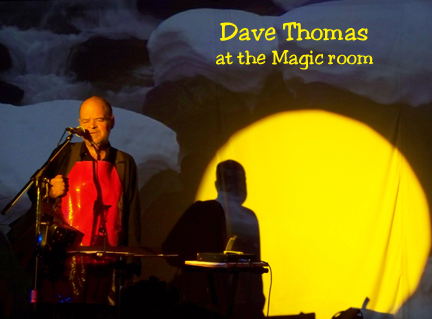 So...here we go...this First I want to mention that I went to The Magic Room last Saturday to see Dave Thomas former lead singer for Pere Ubu. I saw Pere Ubu in something like 1978 with Kenne Highland down in Washington DC. That was an unusual and amazing show. Jump forward and this show was...unusual...Dave certainly has remained true to himself and continues to be strange and funny and cerebral....but he also seemed sad and possibly ill. But he has some strange and interesting sounds and songs going on...we have a pic of Dave for you as well.
Now, here we go with some stuff coming up that seems of interest: this Thursday, October 28th Hugh Cornwall, lead singer for The Stranglers is at Church to perform the Stranglers 1st lp from 1977 Rattus Norvegicus, also on the bill The Gobshites!
October 29th check out Jerry LeHane's new band Sourpuss, at The Plough along with Eric Martin & The Illyrians and recently added to the bill are The New Frustrations as well!
For Halloween weekend, a good all ages 1PM afternoon show at the Middle East Up with Swaggerin' Growlers, The Dreadoughts, Brunt Of It, The Radicals, and Squallie Greenthumb performing between band sets...
Then it is time to head down the street to the Cantab for what is now the Benefit for the Boog (Billy Borgioli). SO be there!! Last year's bash was a blast!!! Bands playing are: Spitzz (as the Cramps) , Coffins Lids who we hear will now also be joined by members of Triple Thick to morph into a new delight: The Apeshits.....as Skinny Mike says : "Witness the horror as they play for you the best in primate rock. Don't miss this onetime special event. Be there and be scared!!" Oh yeah also on the bill are: bubbler gum supreme band Sticky Business and Kenne Highland & Jody Moore opening the evening.
Moving on into November Nov 5th, @ the Rosebud in Davis Sq, there is an fantastic show with JJ & The Cuban Hells , The Port Charles Quartet, and The Weisstronauts...yeah!
That's more than I can even think about right now.... contact us via email here click click click