The BGN News Archive
October 27, 2008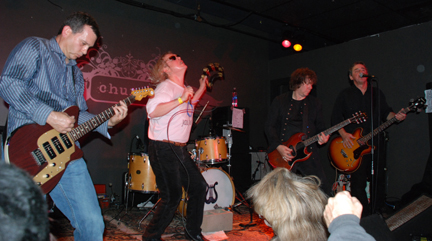 Yes yes yes my friends we made it over to Church to check out the much anticipated DMZ show.
Man did they sound awesome, I remembered what I loved about the band; that primal driving guitar sound that builds up in every song and gets you goin'. I was dancing like a maniac and I haven't' danced in years!! It's a combo of the song writing and musicianship but that band can't be beat…..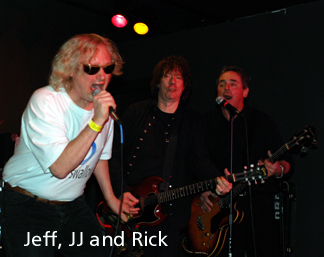 Peter Greenburg(who looks fantastic I might add!!!) and JJ Rassler on the guitars, taking turn with leads and Greenberg's strong guitar playing giving it that killer heft…
then the rhythm section you dream of!; Paul Murphy and Rick Corraccio…incredible….that precision drumming of Murphy's is so intense, not many others could do what he does…..
Mono Man(or whatever he calls himself now) was pretty entertaining for a while then it got to a point where his personality got in the way of my enjoying him as an entertainer…and ruined what would otherwise have been a great experience for me....
Jeff Connolly delivered the signature DMZ screams which are awesome and make the whole package complete ….
I can certainly say for sure that I speak for many many MANY people who are sick and freaking tired of listening to Mono Man's insults and tirades. Who does this guy think he IS anyway? He was going on with his nonsensical blather, some of which you can put together to make some sense but between that crap he was insulting the audience all night….
Over the years we've had to endure his openly and cruelly insulting his band members, who are some of Boston's best!,…..but when an entertainer starts insulting the audience that's where I put my foot down…..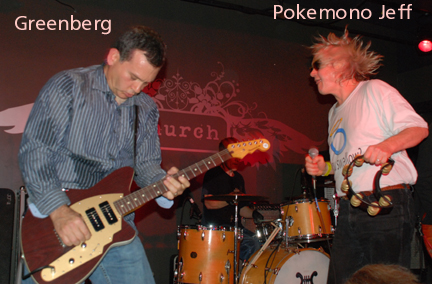 I try not to go to any Lyres shows anymore because I don't want to see this sort of childish behavior on stage anymore but since this show was special I went , and ya, he ruined it. During some rant Mono came out with the line "Forget Joe Strummer , he's dead to me." I though it funny and then ironic….
years ago I was a Clash fan, and I went to see them at the Harvard Square Theater, I think it was 1977 or '78.…all Strummer did was insult us as people and as Americans for the whole Clash set….I've hated him ever since, he was "dead to me" from that day on, I never bought another Clash album…now here's little Mono Man from Boston doing the same thing…..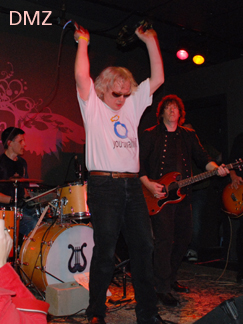 With venom and vehemence he spewed hatred and insults at us.....people who are true Mono Man fans ….(not me but others there) …and he just shit on them: reminding us that this was a "PAID REHEARSAL" and we didn't matter. When the truth is that without these people he insults : his band and his fans, HE WOULD BE NOTHING!!
I could go on about how , jumping around up there, now 30 years later, he reminded me of Stewart from Mad TV doing his little "Look what I can do" dance, others in the audience mentioned he looked like he was swatting flies or trying to jump away from being stung by a bee!! But I won't go on about that….
I closing about this show I would just say that if you don't have a re-issue of any DMZ music you should buy it now because it is still great to listen to, it is still as powerful as ever!!!
Now I'd rather talk about other more positive and promising things…like who's playing in the coming weeks in town…stuff you can truly enjoy and know you'll have fun at ….
Hey at TT The Bear's this Saturday November 1st is Side Walk Driver doing a Halloween show as Ziggy Stardust & The Spiders from Mars and just to cheer you up at the end of the night will be LifeStyle as New Order. Sidewalk Driver should be VERY entertaining and perfect as Ziggy!!!...
There are costume parties at The Plough & Stars both Friday and Saturday nights this week…
Thursday & Friday November 6th & 7th …well frankly I don't' know what this is but I saw it on-line and it looks very interesting…at Church , The Cult of Point Break Society doing Television's Marquee Moon album…check out their MySpace site and also on the bill that night by the way is The Motion Sick and Varsity Drag on Thursday and some other band on Friday….
The Tampoffs and The Konks are at The Abbey November 7th….
Hey over in JP at The Midway there's an excellent BENEFIT show... on Saturday November 15th with Nate Gibson, Gamma Rays, Pulp 45, The Stumbleweeds, Johnny Carlevale & The Rolling Pins, Rocky Velvet…that's a fun night!!! …
Excellent show at The Abbey on Friday November 21st with the Have Nots, The New Alibis, The Throwaways and Doggfight US…YEAH!...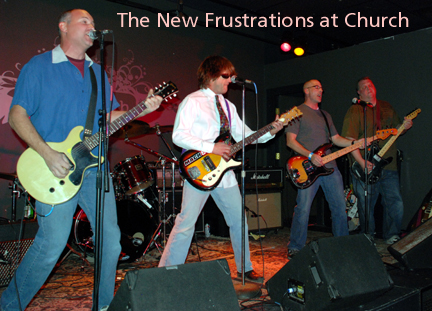 Check out this show at the Roxy: Thursday, November 13, 2008 Reverend Horton Heat , Nashville Pussy and Reckless Kelly this is an earlier show at 8:30…and my oh my it promises to be a good one in many respects!....
so that's it for me this week folks…..email me and let me know what's happening….'til next week…have a great Halloween!! ML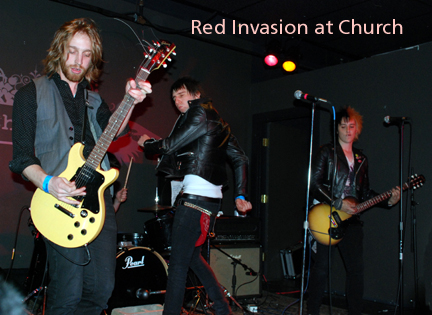 ….well ok my friends…until next time…and please do send along a little message to make my day…. ML