The BGN News Archive
October 28, 2013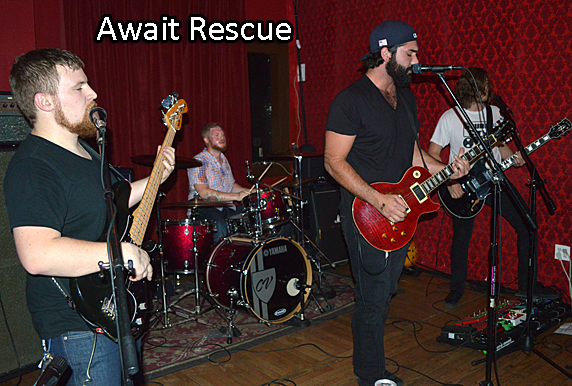 It's become Halloween tradition to have bands do sets covering well known groups. I like the idea. You get to see a groups attributes in a different musical situation. We ended up at one of these nights on Saturday at Radio.
Await Rescue were replicating the Foo Fighters and what a good job they did. They had all the aggression and punch needed to match the original. Grohl is known for his screaming and the lead singer did a superb job there. .After the first song we heard the audience come out with an appreciative cheer/applause that was louder and more enthusiastic than I've heard anywhere for a long time. Was it for the song or the group or both? I don't know but this set made me want to hear a regular set by these guys.
| | | |
| --- | --- | --- |
| Light bulb suit. | ..as on Pink Floyd LP. | Live Roy Lichtenstein painting. |
Halloween is actually Thursday but it seems that people are using this weekend to dress up. There were some very inventive costumes around. The one that knocked me out was a guy in a black suit and hat with light bulbs hanging all over the suit. It was a mockup of the Pink Floyd "Delicate Sounds of Thunder" album cover. The guy actually works at a light store. He emptied the bulbs and put in LED lights and strung them up to 4 separate battery packs. He also had a iPod and speaker hooked up.
Another creative costume was a woman dressed as a Roy Lichtenstein painting. That took some time to do and it was a real head turner.
Interrobang, a Cambridge band, did a set as Radiohead and they constantly hit some high points. They had the material down. Here's where I like the cover concept because you could see how they managed to play some of those difficult pieces.
Their own material is well written pieces with lots of depth. Musically and lyrically they have a lot packed into the material.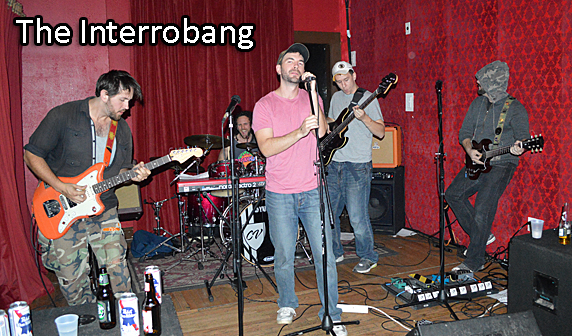 A lot of people were looking forward to hearing the full Dookie by Green Day done by When Particles Collide a duo who recruited two extra people to flesh out the sound. It was a real kick to hear that bass line of Longview leading into the song. Good stuff.
In the back section of the room with the bar the people were erupting with turns in the baseball game. Such is life in Boston.
In other news.....Judy Wilburn went to the Spit Reunion and got to see Romeo Void play a rare reunion set! It was a great set and they played Never Say Never, Girl in Trouble and White Sweater. Adventure Set got great reviews too! It was an almost sold out show with loads of old Spit friends there. Judy got a pick.... we have it here for ya....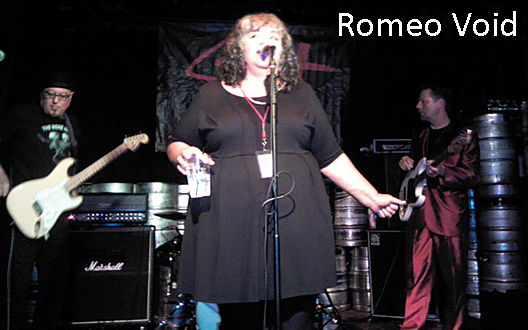 Wow - RIP Lou Reed ...what can you even say about that!? The end of an era, a fond adieu to a musical genius who changed our lives...that a huge loss in the music world!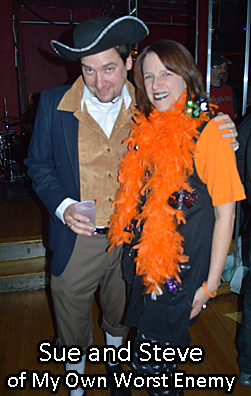 Some of you may remember Jack "Stinky" Donahue....he was on the scene and a sound man back in the day..he's moved to Austin, TX as have some other Boston scenesters...and now he has a site, AudioTech Austin, with a page where he's sharing his recordings from those days!! Lucky for us.... check it out..he's got La Peste, The Real Kids, The Outlets and will be posting more in the future!

We say goodbye to October this week and it goes out with a bang at O'Brien's!! Thursday Oct 31 they've got The Sprained Ankles, Squallie and The Chaotix , The Radicals and The Pity Whores

Then the next night Friday November 1st is Penis Flytrap, Kermit's Finger and Padded Hell

We have a Spooktacular!! This one is at The Middle East up on, you guessed it Halloween night Oct 31st its the Satanics...with Aquanutz featuring Michele Paulhaus as they do 80's hard rock send ups and Slim Lizzy which is members of Slim Jim and The Mad Cows doing Thin Lizzy songs....

Saturday November 2nd White Dynomite has their Record Release Party at Great Scott...with Hey Zues, The Andrea Gillis Band and Suicide Dolls (who we raved about previously) .

Sunday November 3rd The Dickies are at Middle East up along with Duck & Cover and Burning Streets.

November 8th is Baker boys night at Radio down with The Kurt Baker Band and Tom Baker and The Snakes...and special guest...Jay Allen and his left shoe...

Saturday, November 9th don't miss the 360's on Crash Course for the Ravers 1-4PM - WMFO 91.5FM

And...yup The Flaming Groovies are at Radio - Thursday November 14th and note- since you do not want to miss anything that doors are at 7 and the show starts at 8PM sharp!! Aimee says there are still tickets so you can call her to get 'em. Andy Shernoff is also on the bill!

Bob Colby happens to be having his Third Thursday at The Cantab that night too...on 11/14 he's got Reindeer, Harvey Mapcase, Uranium Daughters and 28 Degrees Taurus...

November 16th James Straight is having his birthday bash at Copperfield's...it should be a good party folks - on the bill is the always entertaining James Straight & The Wide Stance along with The Derangers, The Guns of Brighton and Nicole Alexander

International Pop Overthrow is back for another year at Precinct on Friday, November 22 you can catch Peter Buzzelle, Radio Vendetta, Michael Oliver & The Sacred Band, Fox Pass (at 9:45), 1.4.5., The Eric Barao Band and closing the night is I Am Next.

The Smithereens are playing at The Old Town Hall in Salem on November 23rd...along with Pop Gun and Gyro Lula.... now folks get yr tix for this its very limited seating...

OK will it happen?? Real Kids and Lyres in NYC on November 23rd…at The Bowery Electric…many fans will really be celebrating a thankful Thanksgiving if in fact the Real Kids do play!! What a show that will be!! We hope John Felice is well and able to do this show!! Also on the bill The Headless Horsemen, Wizard Sex and Hilton Valentine

And really far in advance we're letting you know about John Surette's punk opera Tomorrow The World will be performed live at the Middle East, Saturday Dec 14.

The website Captain's Dead has a recording of Morphine live at fox theatre, boulder, co, 5/15/94. Check it out!!

EMAIL US AT.......misslynbgn@yahoo.com