The BGN News Archive
October 28, 2019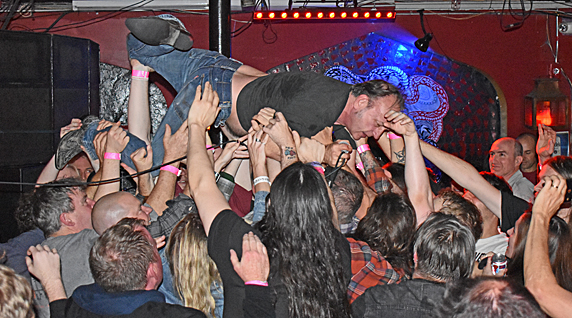 Flipper at the Middle East
Photo: Blowfish
---
This was one music packed week. We got out four times but even that didn't seem often enough. We missed so much. That's a positive thing in one way. Talk about a healthy music scene.
We have to hand it to Kids Like You And Me. They are the outfit that put together the show at the Greek Social Club in Somerville last Monday. It was a line-up of bands that worked well together and the whole night was one crazy punk time.
That's even with missing G. Gordon Gritty who we heard was playing on the sidewalk outside the club which he can do with his wireless guitar set up.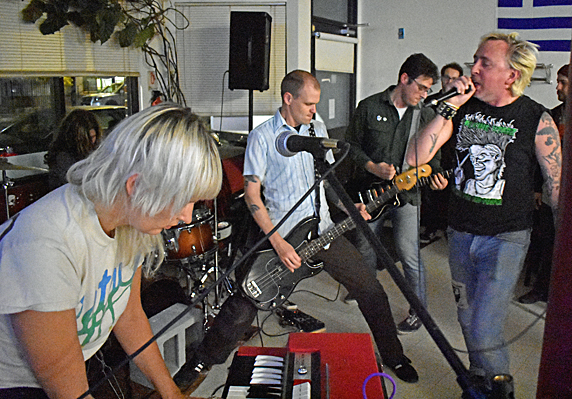 Funeral Cone
Photo: Blowfish
We think it's true to say that Funeral Cone are an explosive group. When they start up you jolt to attention because there's so much energy and antics coming off the stage you think, "Whoa, what the heck is this?" They do short punk blasts.
The lead singer is all over the place, a lot of the time he's bouncing in the air with pent up tension. The organ had the greatest distorted sound the whole time. It wouldn't have been the same with at regular clean tone. The organist had a Danelectro French Toast Octave Distortion pedal on it.
They don't do a ton a gigs around here. They are much worth catching.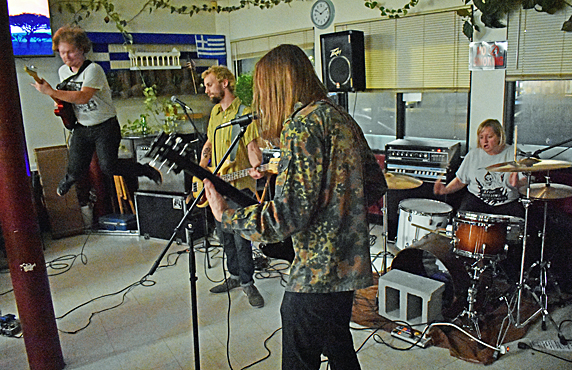 The Hussy
Photo: Blowfish
The draw of the night was The Hussy from Madison, WI. They've been around for 10 years but this was our first time hearing them. They lived up to expectations. The music was a garage/punk/psych mix and it all was a bit cheesy but hard hitting too. The songs were on the short side except for one exciting jam.
The most effective songs were sung by the drummer who had a clear voice that carried the melody over the din. That is true on their last CD also. The songs the guitarist sang got more intense though and that led to some guitar interplay and crazy stage moves.
The second guitarist was whirling and jumping from the first notes, this guy was super charged. Then the guitarist and main singer started to swing his guitar around this way and that. He played behind his back and then upside down on the floor at one point. Their immersion and love of their music comes through both in the songs and the stage show. They live for this and you could feel it in every note.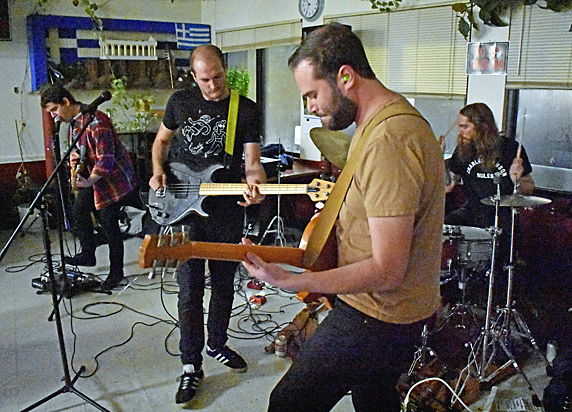 Nice Guys
Photo: Blowfish
The Nice Guys wasted no time in coming in on the high note and keeping it there. They moved right through their set of jagged punk/art rock without stopping. We could feel a strong Captain Beefheart influence in the stacked up interplay of rhythms between the instruments. This is a band to keep coming back to. They've changed and probably will continue to change. It's exciting to keep up with them.
They asked The Hussy drummer Heather to come up and sing the last song. It only had three words but they kept it going for a while. Just like she did with The Hussy her vocals added a level to The Nice Guys too. That was the funnest part of a fun punk night…and it was a Monday!
Wednesday at the Middle East it was Flipper with David Yow singing. This tour was to celebrate Flipper's 40th Anniversary. It was 1979 when they unleashed their assault on convention. There was a real break then. First there was punk and alot of the unadventurous "rawk" fans got left behind there. Then when Flipper (and hardcore) came along that was another leap for listeners. What would it mean today? The Middle East was more than half full. There were serious fans bunched up at the front of the stage.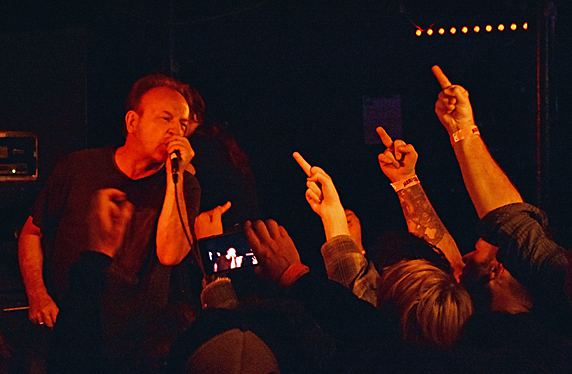 Flipper
Photo: Blowfish
The band started up and they sounded much like you would expect them to, although maybe no one should expect them to sound so good at this point. But it was there: a slow, low and turgid sound mass coming off the stage. It was like sonic magma. It never flagged.
Then Yow came out, looking small and exceedingly drunk. So drunk he could barely stand up. That didn't bode well. Indeed a lot of people think this show was a waste with Yow so drunk. By any objective standard they would be right but we were transfixed by the spectacle and we will talk about what we got out of it.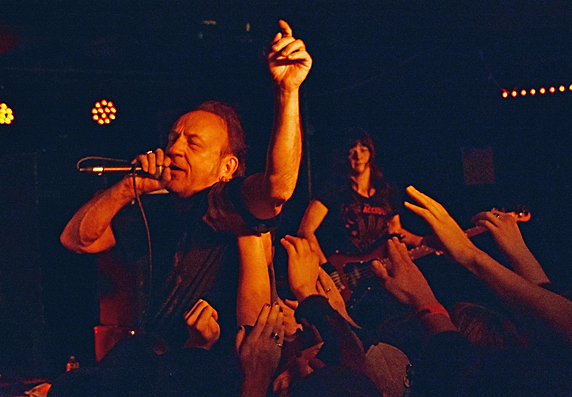 Flipper
Photo: Blowfish
He jumped off the stage and ran to the back of the room and started singing. He took his time working his way back. Everybody was looking around trying to see him in the dark. What that did was take you out of the usual them-on-stage and us-down-here mode. That's what he did the whole night. He was as one with the audience as we've ever seen a singer.
He slowly walked, careened, fell and moshed he way back to the stage. Back on stage he could hardly stand. As the songs went on he was always leaning into the crowd at the stage lip and inevitably sliding into them and getting cradled in place or carried around.
About two songs in as he was carried overhead he was dumped on stage and he hit his head. Things stopped and it looked like maybe that was the end. He got up however like a battered boxer and staggered around and went into the next song. That was repeated over and over. Every time when you thought, "that's the end", he got up and sang again.
Flipper is known for those repetitive lyrics, "Sex Bomb Baby" to repetitive music that drove the less hardy nuts. Yow upended that. His singing was haunting. He seemed like a soul lost in eternity. Even when it was just "Fuck this, fuck this" as he was being passed through the sea of fans on the floor it had pathos. There were so many times the scene evoked a cult feeling or a movie scene. He did that while dead drunk. That was an amazing performance.
He finally walked off stage just before the final song. The band asked if anyone could sing "Sex Bomb". Someone got up there and didn't do much singing but did strip down. Photo here. So, that was a further spectacle. They did get a singer to finish up the song.
Yow came out at the end and gave some thank yous.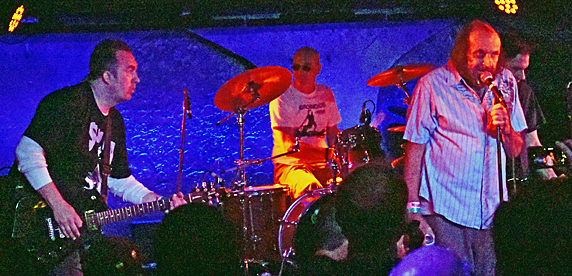 Kilslug
Photo: Blowfish
Before Flipper we saw Kilslug who don't sound that far from Flipper. But Kilslug has Larry Lifeless. Kilslug were slow and sludgy. Sometimes they got to mid-tempo. A lot of songs have that sort of "I Wanna Be Your Dog" feel, sometimes with a wha wha wash coming from John Darga. Jay Snow on drums got to his feet a few times to give a few final dramatic bangs. Larry delivered the tawdry and un-pc lyrics with his own individual delivery.
They had fans that were up front and cheering them on too. It was nice to see, even at this date, that the legend lives on. They said that this was their first show in 5 years. We saw them twice in 2014. In May at president's Rock Club and October at Club Bohemia
Regan Youth
Photo: Blowfish
Next band was Regan Youth. We did a long interview with them when they came to play in 2014.
They are steeped in their anarchistic punk outlook. Lyrics deal with that and of punks having their day. Like Flipper their sound is still intact. There was one problem and that was the singer. It seemed like he was a late fill in. He didn't know a lot of the lyrics and Paul Cripple who wrote a lot of them got more and more pissed as the night went on. The singer spent much of the set on his knees bent over. He was either reading the lyrics or trying to hide. Paul Cripple berated him on stage a few times. That was very uncool. At the end he embraced him but there were so many awkward moments that it spoiled the set.
Regan Youth was only one of many hardcore punks that had a political stance as their defining characteristic in the 80s. In this political situation we are in now, in many ways much worse than then, where are the current groups with such a strong message? We leave that question hanging.
On Friday it was to Once for the Flamin' Groovies. We like to see them every time they are in town. There's so much history and amazing songs there. They still draw well. Once wasn't sold out but was at least ¾ full.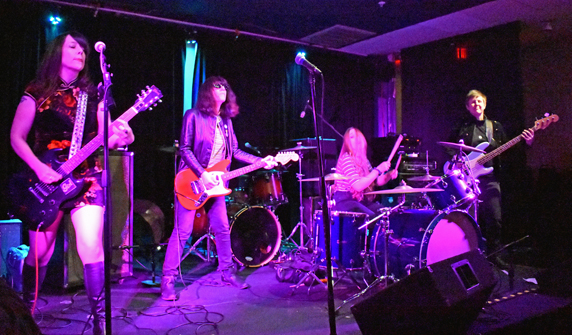 Tiger Bomb
Photo: Blowfish
It's always a treat to hear Tiger Bomb. Lucky Portland, ME has them all the time. They embody the garage music genre. They seem so perfect: the songs, the playing and the looks. Often we felt like we were in a movie scene where the band is playing in a high school auditorium in 1966. Being on that Once stage fit the bill perfectly.
The songs don't go by in a blur, they all have their own identifying markers. Sometimes it's a short riff, a turn of phrase or a simple but effective background vocal. One song had the Bo Diddly beat. It's been a while since we've heard a group mine that. We positively enjoyed every second of that set.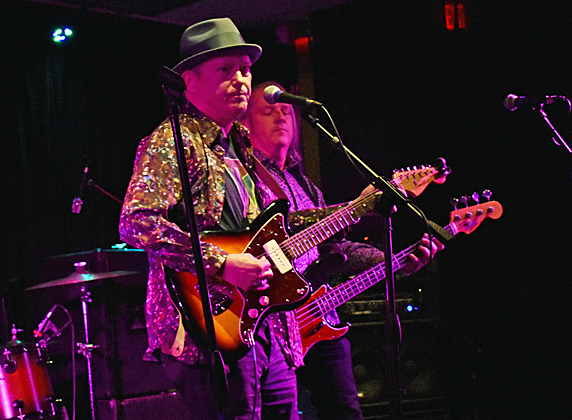 Richard Lloyd
Photo: Blowfish
To us it was sort of a dual headliner situation with Richard Lloyd and the Flamin' Groovies. Lloyd could have been on a one trick pony with that legendary Television stint under his belt. His many solo albums proved he had song writing ability to go along with the guitar chops. He also has been in demand constantly as a guitarist for touring groups. He looked healthy on stage. He's had problems. One big problem was drug addiction.
He started with "See No Evil". What a hit that was! In the retreat to bare bones simplicity of punk, Television had that ornate guitar riffage pouring out at every turn. Those riffs are Lloyds and hearing them live is such a rush.
He did a 13th Floor Elevator song "Fire Engine" which Television used to do early in their formation. He did his song "Monkey" which led into the Velvets "Waiting for the Man". That was drug lyric two-fer.
"Alchemy" is one of the songs on his first album that showed how he could write. Like his best work it has a strong guitar hook while also having a memorable melody line. He performed "Field of Fire" one of his longer songs that is a good platform for some more guitar work.
We had our eyes glued to those fingers. There's not a lot of flash there. It's the way he picks notes and the tone he wrenches out of the neck that are the secret.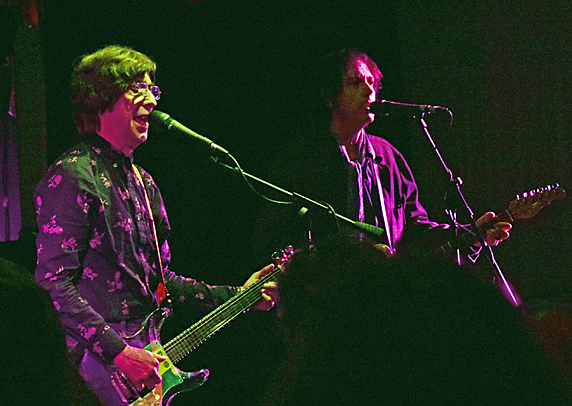 Flamin' Groovies
Photo: Blowfish
A lot of people remember that Flamin' Groovies 2013 show at Radio. But we remember the Groovies playing here was at the Brighton Music Hall in November of 2015.
Now in 2019, when the group took the stage we were disappointed to not see Chris Wilson. This was going to be a Cyril Jordan led version. To our ears it was more rock and less pop, more like early Groovies than the later. They started with a Chuck Berry song and soon it was right into "Shake Some Action". The "Shake Some Action" video is here. They drew it out some and that was welcome. Cyril and the other guitarist got those mid string riffs pumping. It rocked the house.
Cyril broke out a 12 string for "Yes, It's True" which was gorgeous. He told a story about "Teenage Head" before launching into that. We've seen the Groovies a few times this was the first with just Cyril Jordan leading and he proved that so much of the Groovies is him. He's such an influential force.
That was a quality show with three groups who all had super songs to deliver.
It was back to Once the next day on Saturday for the Fleshtones show. This was a Cal Cali production. There weren't as many people as the night before be there were a lot of the same people. That's our crowd.
Muck and the Mires
Photo: Blowfish
We missed Baabes ... much to our dismay. John Keegan saw them earlier this week at Thunder Road doing a set as The Mummies. We did get there just in time for the Muck and the Mires express train to mod fun. This time, like every time, they seem fresh and full of the excitement to be playing some of the catchiest songs on the planet. When we get jealous that other cities have groups like Tiger Bomb and the Fleshtones we can take comfort in the fact that we have Muck and the Mires playing all the time. That's our gift from the music gods.
We think there was a few new songs at the beginning leading to the faves like: "Down With That", "Good Enough", "I'm Your Man", "King of the Beat" and "Saturday Has Got Me Down Again". Is the song we got below called "I Gotta Get You To Think Like I Do" a new one. We think so.
When they announced "Living On Hamburg Time" someone in the audience started to yell something. It was a woman from Germany who jumped on stage and explained how Germany now is on or off Daylight Saving Time and is now an hour closer to Boston time. I guess we HAD to know. Funny.
The tenor of the Much and the Mires' sets are so fast and heightened yet smooth that their musicianship can get pushed to the side. They have so much technique and song craft that builds that seamless set that comes out with a moment's reflection.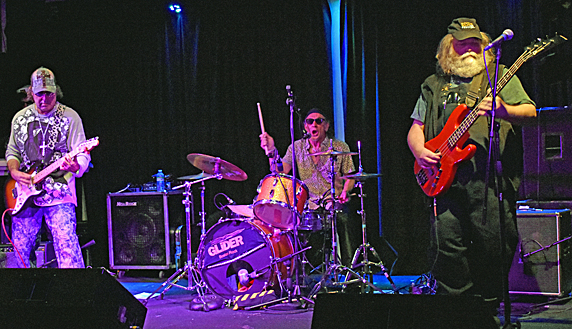 Glider
Photo: Blowfish
Glider did the set that showcases the songs that will be on their upcoming album. We've come to know those songs like "Victim", "Anorexia", "sex Beat", "MTV" and "Out of Step". That album is way overdue. The band is playing at their best these days. Kenne Highland on bass is adds a lot and Captain Easychords adds depth to the sound.
They switched things up at the end by getting Mike Quirk on bass and Matt Burns on drums as Cal and Sara Billingsley did a version of "I Got You Babe". It was a nice moment. We know Cal can sing but it was the first time hearing Sara. She was not only right on key but was able to handle some soaring highlights.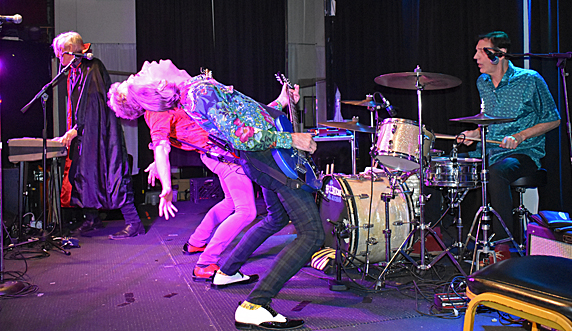 Fleshtones
Photo: Blowfish
The Fleshtones are like the Groovies in the way we just try to see them every time they come around. They too go back a long way. They often refer to the clubs and groups they've played with in their talk up to songs and in the songs themselves. They've played with punk legends and are garage legends themselves. Their sound and love of playing was 100% there at Once.
Just the intro before they actually got into a song was a crazy delight. The two guitarists were (…how to explain this?) strumming their own guitars but playing the other's neck. Here's a photo. Then they did it while turning around in circles!! They did some synchronized jump/kicking and Peter Zaremba made a grand entrance with a cape. Wowsa.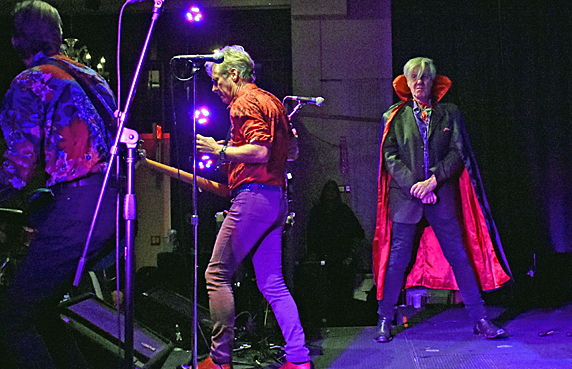 Fleshtones
Photo: Blowfish

One thing they did over and over was to declare, "The Wheel of Talent". Then they all spun around on stage as Peter talked about all the talent in the group and then name one of the members who came up to fore to lead the next song. He even had the audience spinning a few times too because, "Somerville is full of talent".

No one quite does the upbeat stage patter like the Zaremba. He had you laughing all the time. During the ending few songs he was channeling the southern preacher style to whip up fervor. That end of the set was a series of songs strung together that led you along. The idea being to stretch that ending out and make it seem like it wouldn't end any time soon. At one point three of them left the stage and ran through the audience and out of the room, then back again. The people at Once however had a closing time and were trying to make them stop. Eventually they did but we're sure it was not as long as they wanted to go. One of the videos below is some of that ending section which includes the famous people pyramid.

And you know there was music? We haven't mentioned that. It was the garage rock tinged with a bit of rhythm and blues/soul that they do so well. We didn't catch it but someone else told us that they did an obscure Rolling Stones flip side song. Was it "Who's Driving My Plane?".

Our thing is to give you the info on a show we see but it's in these cases that it seems a bit futile. Shows like the Fleshtones are something you have to experience. It's being there that is the kick.

And that's it was this busy rocking week.

Nothing was what it seemed with John Keegan this week. At the Lizard Lounge it was NOTT the Hoople with many guest stars. At Thunder Road it was Glider, Baabes, Sara & the Scaliwags, Thee Fightin' Fish and Triple Thick all playing cover sets.
Click the photo below for photos, and video slide shows and a review.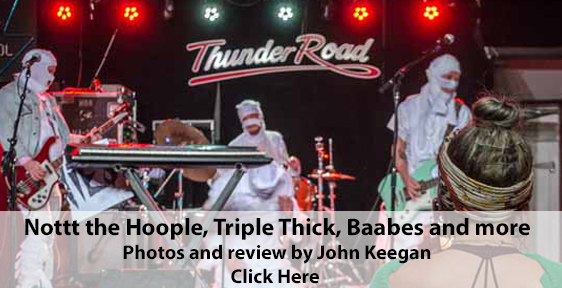 Click Here for more band photos.
---
Mark you calendar for: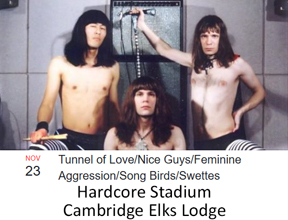 Tuesday Nov 5 - The Von Traps, Pretty Pleased (Chicago), Crunchtime at The Jungle- this is a FREE SHOW!!!
Saturday November 23 - do you like The Monsieurs?? or Andy California?? are you titillated by Andy MacBain's antics on stage?? well check out Tunnel of Love cause that's where it all started my friends... Tunnel of Love etc at Hardcore Stadium Cambridge (more nelow in gig listings)
---
Here's some good shows coming up this week.....
October 28 (Monday) 999, The Clap and Glider at Koto Providence RI. 50 Exchange Ter Providence, Rhode Island 02903.
October 29 (Tuesday) 999 & The Clap at Randy Now's Man Cave 134 Farnsworth Ave, Bordentown, New Jersey 08505 FB page
October 30 (Wednesday) Devil's Night at O'Brien's with Babes of Mutilation (as the Pixies), Fury Things (Dinosaur Jr. tribute), The Knock Ups as Hole, Queers of the Stoned Age, Corner Soul as The Stooges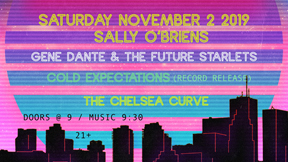 October 30 (Wednesday) Graveyard Of The Atlantic, Husbands, Karate Steve at The Midway
October 30 (Wednesday) 999 (original UK punks), The Clap, Homisides, Speed Plans at Cattivo in Pittsburg, PA FB page
November 1 (Friday) Change Today (Joe Wood era TSOL), Covered In Bees & Tiger Bomb at Gino's in Portland ME FB Page
November 2 (Saturday) Shut Up (NJ), HIXX, The Guilloteenagers, A Bunch of Jerks at the Midway for a matinee show 3-7PM
November 2 (Saturday) Gene Dante & The Future Starlets, Cold Expectations (record release) and The Chelsea Curve! at Sally O'Brien's
November 2 (Saturday) Relapse, blindspot, Motel Black at the Middle East Up - 6PM show - all ages.
---
And further out there is.....
November 5 (Tuesday) The Von Traps, Pretty Pleased (Chicago), Crunchtime at The Jungle- this is a FREE SHOW!!!

November 5 (Tuesday) Rock n Roll Trivia with Erin and Bret at the Citty Winery. FB page.

November 8 (Friday) CE Skidmore, City Mouse, Stubborn Hearts at O'Brien's

November 8 (Friday) Wolftape, Doug McDonald Band, Crunchtime, Thigh Scrapers at Pete's Grill Quincy FB page

November 8 (Friday) Muck & The Mires, The Gotham Rockets, Tiger Bomb, Gene Dante at Alchemy in Providence RI FB page.

November 9 (Saturday) Muck And The Mires, The Downbeat 5, and Gotham Rockets at Sally O'Brien's

November 9 (Saturday) Black Helicopter, Baabes, blindspot, Jakals at Opus in Salem

November 9 (Saturday) Change Today: Joe Wood era TSOL at Ralph's Rock Diner Worcester.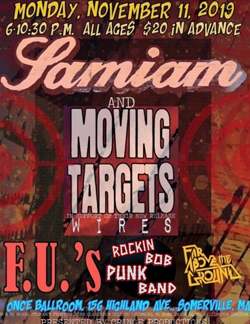 November 11 (Monday) Samiam, Moving Targets, F.U.s, Rocking Bob, and Far Above the Ground at Once - All ages - starts at 6PM- 10:30PM!! FB page for tix etc.

November 14 (Thursday) Halshug (from Denmark), Corrode, Skinned Alive, Skrawl at the Dorchester Art Project

November 14 (Thursday) International Pop Overthrow Night 1- Union Tavern- with Dave Rave, The Eric Barao Band, Trick Wallace Trio, Glowbox, V As In Victor, Stuck Stars

November 15 (Friday) International Pop Overthrow Night 2- Union Tavern- with Corin Ashley, Richie Parsons, Hummingbird Syndicate, Kid Gulliver, Kris Rodgers & The Dirty Gems, CrunchTime, 1.4.5.

November 16 (Saturday) Brian Young's a Crash Course for the Ravers is featuring Greg Allen's Fringe Religion. 1-4PM WMFO 91.5 FM at http://www.wmfo.org/popout_player.php?bitrate=256

November 16 (Saturday) Rodentt (reunion) (mems of Medical Maps and Mente), Classic Ruins, TRiPLE THiCK, Musclecah at The Midway - 3-7PM matinee

November 16 (Saturday) International Pop Overthrow Night 3 at Union Tavern...with Arthur Nasson, Dave Charles, The Shellye Valauskas Experience, Michael Oliver & The Sacred Band, Tiger Bomb, The Amplifier Heads, The Brigands

November 16 (Saturday) DJ Easy Ed presents: The Hi-Risers, Goons (mems of Rocky Velvet), The Bop Thrills, + Easy Ed's Record Hop! at The Midway (8PM)

November 20 (Wednesday) Randy Black & The Heathcroppers Plough & Stars Residency 6-8 pm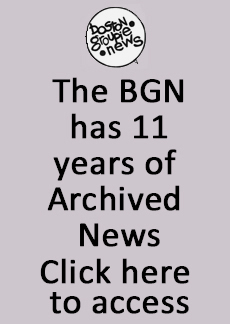 November 21 (Thursday) Robert Gordon with special guest Chris Spedding and Diablogato at Once
November 23 (Saturday) A Crash Course For The Ravers featuring A Bunch Of Jerks 1-4PM WMFO 91.5
November 23 (Saturday) Tunnel of Love, Nice Guys, Feminine Aggression, Song Birds, Swettes at Hardcore Stadium Bishop Allenm Dr Central Sq Cambridge FB page
November 23 (Saturday) The Knock Ups, blindspot, Lonely Leesa & The Lost Cowboys at Sally O'Brien's
November 23 (Saturday) "Love The Bands" @ ONCE Featuring: Smitty E. Smitty & The Feztones, PowerSlut, Corner Soul, The Rupert Selection - Doors: 8:30PM, Music 9PM
November 24 (Sunday) Johnny Cab, Kermit's Finger, The Negans, Baabes, Bernie's Garage at The Midway 3-7 matinee
December 7 (Saturday) Triple B Records presents: American Hardcore Fest 2019 with Magnitude, Wild Side, One Step Closer, Restraining Order, Method of Doubt, Anxious, Big Mack, Field Agent- All Ages, $25Advance / $30Day of Show, *NOTE* 12:00PM Doors- this is an early show!! FB page.
December 14 (Saturday) Baabes, The Von Traps, The Hi-End, The Stigmatics at the Midway Matinee Show 3-7Pm
December 15 (Sunday) Thrash N Bang's 8th Annual Punk Pizza Party! with The Neighborhood Shit, Fast Times, The Ratz, The Hangovers at The Midway 3PM matinee - only $5!!! and free pizza.
December 18 (Wednesday) Randy Black & The Heathcroppers Plough & Stars Residency 6-8 pm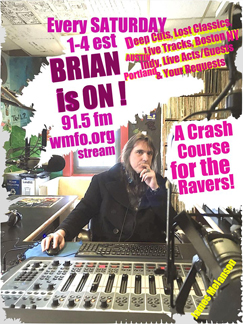 December 21 (Saturday) MOTO, The Thigh Scrapers, The Thirsty Pirates (NYC) , The Montgomerys at The Midway for a Matinee Show 3-7:30PM
December 21 (Saturday) Mother Iron Horse, Tied to a Bear, Von Traps, Skytigers at Opus in Sale
January 10 (Friday) The Mercy Case, Bystander, blindspot, Foxes at Koto Salem
January 15 (Wednesday) Randy Black & The Heathcroppers Plough & Stars Residency 6-8 pm
January 18 (Saturday) Triple Thick, Crunchtime, 1.4.5., Butterscott at The Midway 3-7PM matinee
January 18 (Saturday) Barrence Whitfield & The Savages, Muck and the Mires at The Middle East FB page and tickets
March 28 (Saturday) The Zulus at The Paradise
CONTACT US AT....misslynbgn@yahoo.com Send us your gig listings, your news and anything else ya got!! You want your CD reviewed?? Contact us for that too.

The Hussy
Photo: Blowfish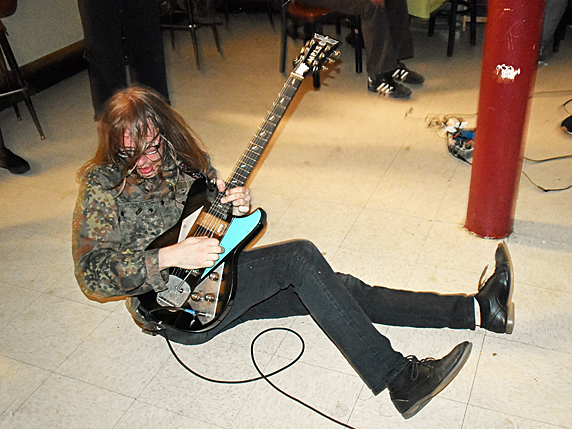 The Hussy
Photo: Blowfish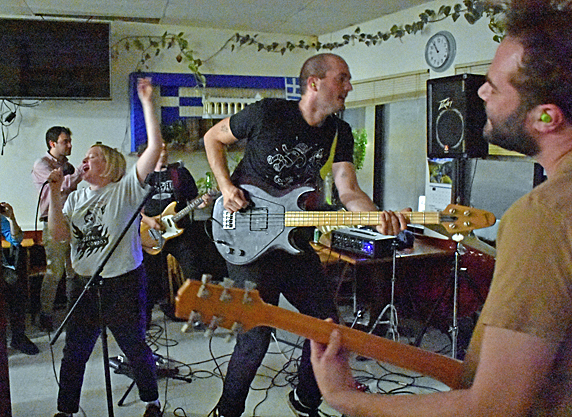 Nice Guys
Photo: Blowfish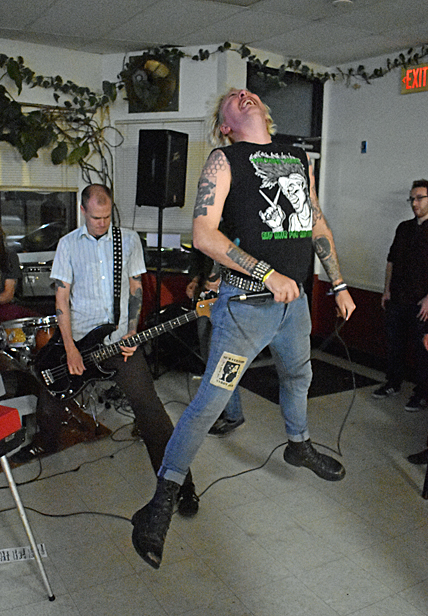 Funeral Cone
Photo: Blowfish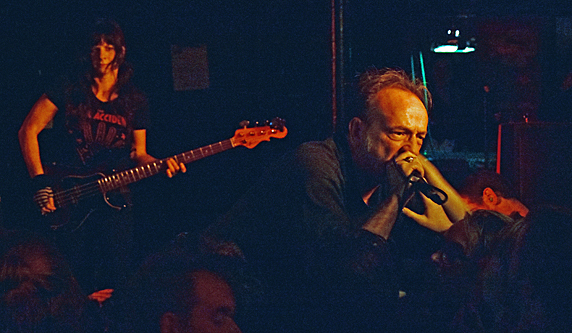 Flipper
Photo: Blowfish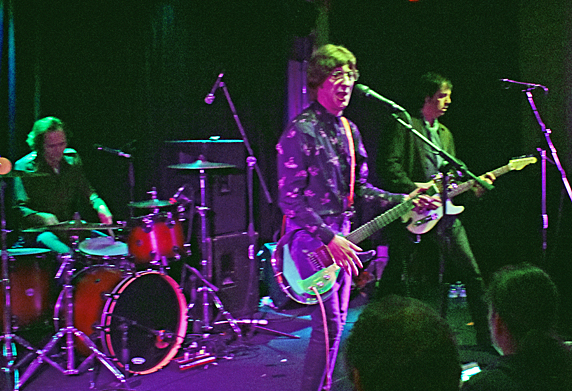 Flamin' Groovies
Photo: Blowfish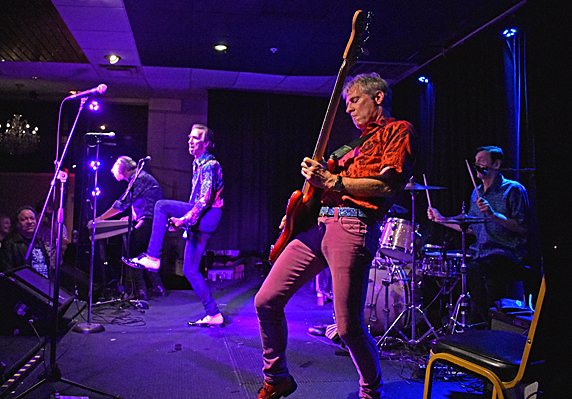 Fleshtones
Photo: Blowfish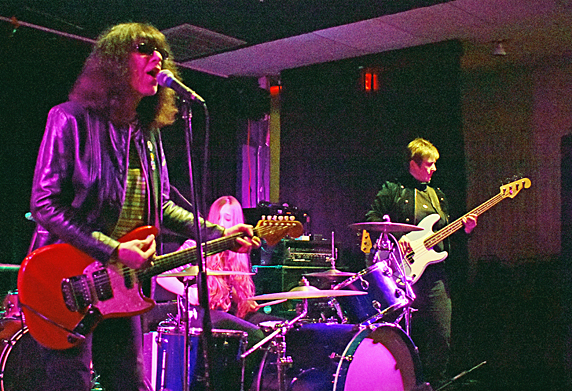 Tiger Bomb
Photo: Blowfish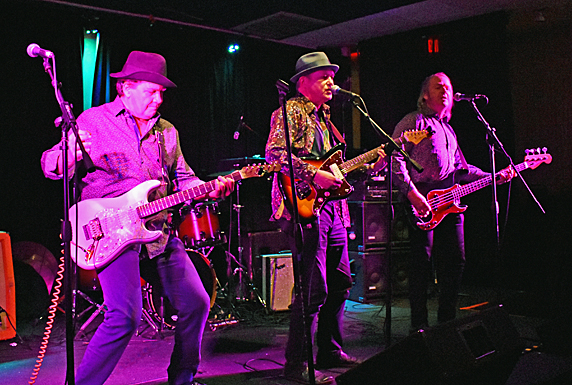 Richard Lloyd
Photo: Blowfish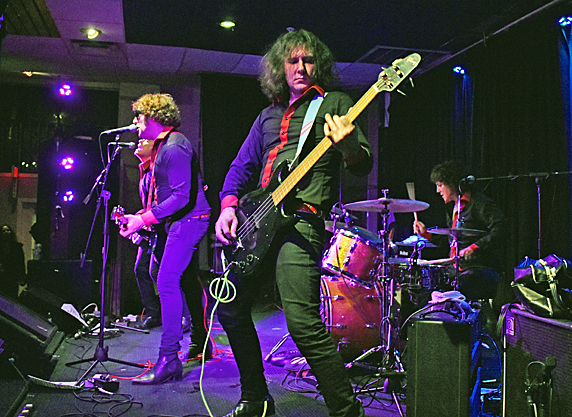 Muck and the Mires
Photo: Blowfish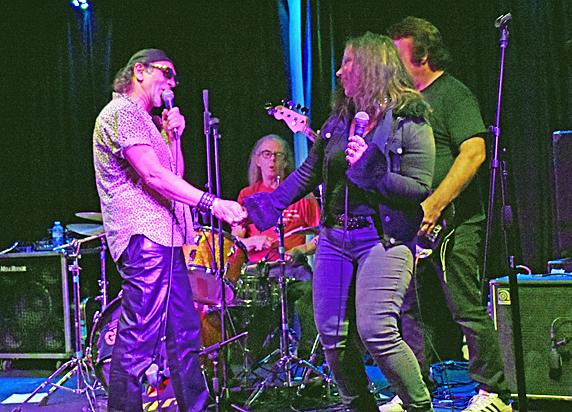 Glider
Photo: Blowfish