The BGN News Archive
October 29, 2012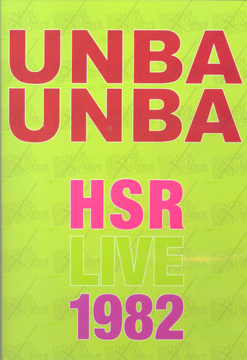 In these days of diminishing attendance at some punk gigs it was heartening to hear that the Human Sexual Response gig was bumped up from the Paradise to the House of Blues because of high ticket sales. HSR draws big in 2012, wow. HSR were always one of a kind and their own thing. Four lead singers? Never before or since.
On the day of their show a DVD of a 1982 show at Streets ( Streets!) will be released. It's everything you could hope for: long (14 songs) and a quality recording of them on a good night. I think the whole thing is worth it for the performance of Pound alone but in reality it's all great.
This House of Blues show should be awesome. To see Rich Gilbert in action and hear Larry Bangor's voice and all four singers dancing like dervishes will be a kick like no other.
Longer review of HSR LIVE 1982
Since Halloween is this Wednesday most clubs have special gigs were this past weekend but for a real Halloween party on 10/31 what better way than to celebrate with Walter Sickert and His Army of Broken Toys? You can make it your post Sandy celebration as well! They are at The Brighton Music Hall with another band perfectly appropriate for this special day Darling Pet Munkee
This Saturday November 3rd this show at O'Brien's will be awesome: DeathWaltz76, Suicide Dolls, Boom Said Thunder and Thick Voltage.
News from the Magic Room: On Facebook the Magic Room has posted that they are closing for a while FACEBOOK MAGIC ROOM ....so will this show on Sunday, November 4th, The Halloween Hangover Show be going on? It looked good with Butch Patrick aka Eddie Munster, from the original tv program The Munsters , Also performing was the legendary Muck and the Mires , and Tsunami of Sound. We'll see.
Also on November 4th Hixx are moving on to the next holiday coming up with their annual HixxGiving at All Asia (Mass Ave Central Sq) gee I believe this is the seventh one!! And they are doing it as a benefit per usual as well -so they ask you bring some canned goods or other non-perishable food items to be donated to a local woman's shelter! Also on the bill The Meat Depressed and Hookerclops. This shows runs from 3:30 - 9PM.
And Thursday November 8th Glen Matlock in at the Middle East (up?? Yeah up) Also on the 8th over at Precinct is a throwback show with Rock Bottom getting together to do their renditions of 70's rawk…along with Aquanuts doing 80's hair metal….
And November 9th!!! the Roky Erickson has been moved to TT's…
We have International Pop Overthrow coming up at Precinct Weds Nov 14 through Sat Nov 17
November 17th there's a another excellent Cal Cali gig at Rosebud….Lyres, Jetset, Foxpass
Also that night a great gig at Johnny D's in Davis Square as well with The Dogmatics along with The Magnolias and AM Stereo
EMAIL US AT…….misslynbgn@yahoo.com