The BGN News Archive
October 29, 2018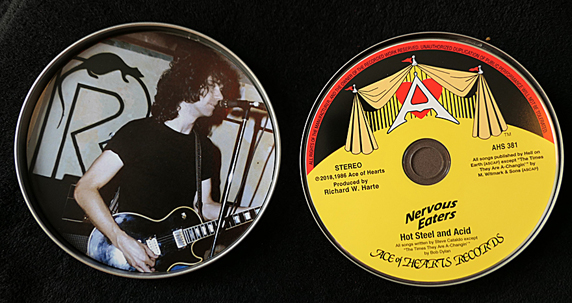 Nervous Eaters - Hot Steel and Acid
---
The stock market may be down but the last two weeks have been a boon to Boston Punk. We got two releases from Ace of Hearts Records.
First the new Real Kids album 18:28:39 and second the expanded Hot, Steel and Acid from the Nervous Eaters.
18:28:39 (the title and length of the album) is even more back to basics Real Kids. There are no keyboards, harmonicas, mandolins or any instruments other than guitars and drums.
Two songs, "Hot Dog" and "Bad To Worse", are part of taking care of business by recording those early songs in a studio, where till now they have only be available in live tapes. Then there is one cover, "Baby Blue" and five new originals.
"Hot Dog" is a rocker via Eddie Cochran. John Felice has always taken inspiration from this era of rock. When you hear the rip rocking guitar leads you know all is right. The guitar work all through the album is just so 'Real Kids'. Rick Harte has done his job here. On the next song "Who Wouldn't Want To Be The One that You Love" Rick has captured an English Invasion tone to the guitars. That mid-tempo heartbreaker is our fave.
The next song goes up tempo again with "Bad to Worse" and it goes on and on. It's an album that you keep playing over and over and where you can enjoy even the tones. You can tell Rick knew this by listening to the 25 second fade out of "Wrong About You" where the guitar, heavy on fuzz and tremolo, rings airily and then shape shifts into some feedback.
The ring of the guitars, or their bite, the inflections of John's voice, the drum pick-ups and the way the warm bass seems to carry some tunes all by itself are all joys beyond the songs themselves. This is Real Kids 2018 and they sound fantastic.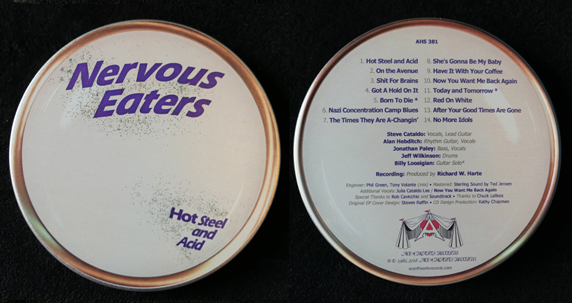 Nervous Eaters - Hot Steel and Acid
As if that wasn't enough, Harte released the Nervous Eaters' Hot, Steel and Acid this week. Right off, the package is a stunner. A round metal tin with a nice matte finish that feels nice to the touch.
The original EP had 8 cuts; the new CD has 14. This is the album as it was meant to be.
The first 8 cuts of the CD are the songs on the old EP and those cuts blow you away. Listening to the two next to each other shows they are very close. The CD maybe has a tad more clarity and seems to hit harder. The big difference here is that you can hear the 8 songs in a row without stopping and that might sound trivial but it isn't.

Nervous Eaters - Inner sleeve
Give it a close listen and it will wear you out. It's just rocking like crazy for 20 minutes. In that time you get "Hot, Steel and Acid", "On the Avenue", "Shit For Brains" and "She's Gonna Be My Baby".
The other six include "Today and Tomorrow", "Red On White" and "No More Idols" which have become Eater's favorites in their live shows. "Red on White" is so familiar because of hearing it live. It seems like it must have been on a regular release but it's only on the Wasted Years compilation on Ace of Hearts.
The story is that these extra songs were nixed because they wanted a full rocking assault. The thing is none of these songs are laid back. The only slower low key one is "Have it With Your Coffee" which has a sinister tone. "Now You Want Me Back Again" and "After the Good Times Are Gone" are songs that fit into any Eaters record.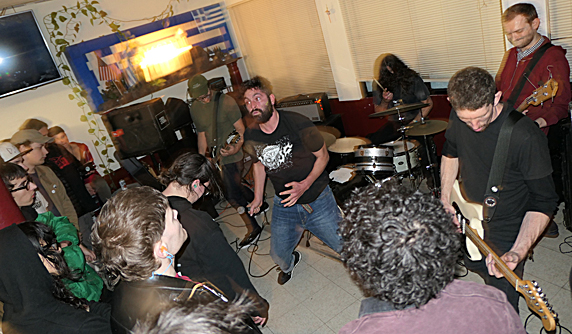 Ancient Filth
Photo: Blowfish
The Greek Club in Union Square has been a place where oddball shows have cropped up. It's a place where an individual can get a bill lined up and swing a small show. There were four hardcore bands there on Tuesday. C.H.E.W. from Chicago was getting some attention online here and there.
We caught just the end of Austerity. They were scathing hardcore. Their Bandcamp page gives the goods.
There were around 30 or so for an audience and they pushed up close to the band. It felt like the small show with dedicated fans that it was. Mr. B, who had recorded so many of those first generation Boston hardcore groups, was there. The legendary Al Quint was also right up front and soaking up every note. We've learned so much from Al from the eighties right up to today and now we finally met him, which was a long overdue pleasure. He writes for Maximum RocknRoll and he has his SonicOverload show which is a way of hearing a mix of hardcore.
C.H.E.W. lived up to expectations. The music was a hardcore rush but there were many tempo and rhythm changes. To do those change ups at that speed is one of the things to zero in on with a group like this. The drummer was not only leading those tempo/rhythm changes but adding all sorts of fills and lead-ins at super-fast tempos and with power. He was half machine/half beast. The singer seemed like he was saying interesting things but we couldn't catch them. Check out the C.H.E.W. Bandcamp page The crowd was pushed forward again and that's why no photos for these first two groups.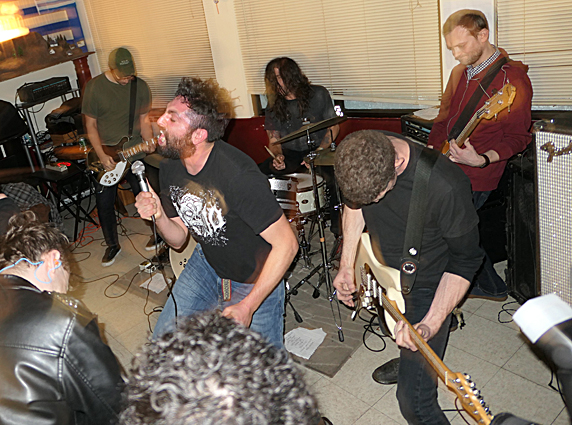 Ancient Filth
Photo: Blowfish
We saw Ancient Filth open for the Proletariat at Once in November of 2016. Tonight they gained power in the club's intimate space. The singer was forcing as much emotion packed vocals out of his mouth as possible. His body shook as he got carried away with the message. He was running in the small space he had and bumping up the crowd which got some people moving just a bit. The band was solid with another hard working drummer. Again, catching what was said, even in a general way, would have increased interest but that was tough to do. We actually did catch some words at the Once show and they were some strong political views.
Ancient Filth have been together about eight years and have both Mr. B and Al Quint as fans. That says a lot. Their Bandcamp Page.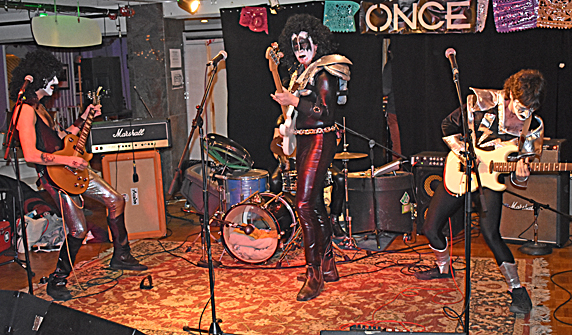 Neil as Kiss at Once
Photo: Blowfish
During the weeks working up to Halloween some bands take the opportunity to do a set of covers by their favorite groups. That idea has become very popular these last few years. This year there was a whole week of these shows. We just dipped in Once where we saw an out of town band do Kiss and another band do The Beatles, which seemed an obvious choice. There were Devo and the Cure mock ups to come which we didn't stay for. The Kiss was ragged but the Beatles were good. There weren't a lot of people but they were mostly dressed up and having fun. There were prizes for best costume, so you can image the crowd.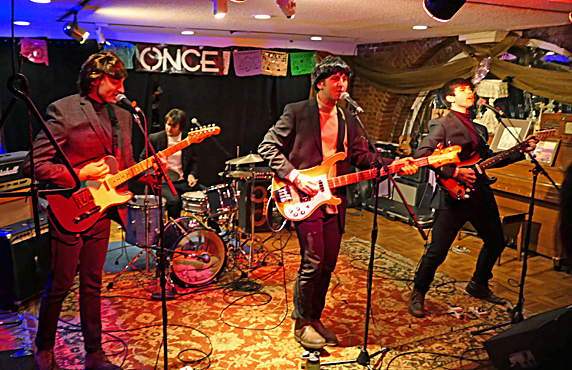 Halloween Beatles at Once
Photo: Blowfish
After debuting at the Woods Hole film festival the Chet's Last Call documentary finally got it's Boston area showing at the Arlington Regent Theater last Sunday night. After the film there was music by Randy Black and The Heathcroppers, Classic Ruins and the Dogmatics. Kathy Chapman was there and got a few backstage photos of the Dogmatics and The Ruins. For the photos click the photo below.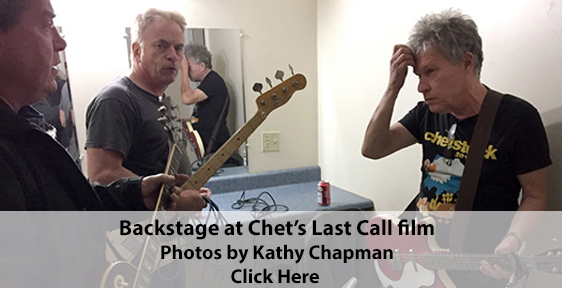 ---
And in other news.....
According to Vanyaland the City of Cambridge has approved of a Billy Ruane Square at the corner of Green and Brookline St, that's where Sonia is. Read it all here.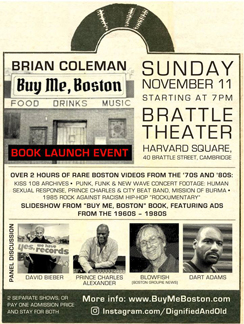 Along with the Middle East, it was Brian Coleman who collected over 3,000 signatures. Brian is the author of several books one of which is Buy Me, Boston. That compendium of ads is having its book release at the Brattle on Nov. 11. There will be two programs, one at 7:30 in which Coleman will present a curated slide show of pieces from the book and beyond, including an hour of rare video footage. This will be followed by a panel featuring David Bieber, Prince Charles Alexander, Blowfish, and Dart Adams. The 9:30pm program will feature over an hour of completely different video clips from Boston's musical past, and Coleman will present another slide show of material from the book and beyond. More info and tix here.
The Rock'n'Roll Rumble has returned!! After last Spring's postponement, the annual Boston music showcase and festival will return in 2019. Organized and independently produced by Boston Emissions host, Anngelle Wood, the Rumble returns to its nine night run in April at ONCE Somerville.
Preliminaries, week 1: Thursday, April 4, Friday, April 5, Saturday April 6
Preliminaries, week 2: Thursday, April 11, Friday, April 12, Saturday, April 13
Semifinals: Friday, April 19, Saturday, April 20
Finals: Friday, April 26
And for you people in bands: Rock & Roll Rumble band selection remains directly related to airplay on Boston Emissions (other considerations apply). Wood is allowing bands to submit directly online at rockandrollrumble.com/submissions — now through December 1.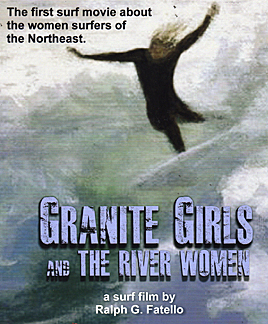 Ralph Fatello half surfer/half rocker (Vinny) has his latest video out of action on the ocean of Northern New England. Granite Girls and the River Women is one of his best. It's spotlighting women who brave the often frigid surf (minus 19 in one case). There are plenty of surf shots and they look fantastic. The equipment is getting better or the shooting expertise is. In water shots mix with the long shots to break things up. The music marries with the action editing one on one.
The subject of women surfers gives this film a poignant focus. The story of the individual women spiral out to their families and the surfing community and that gives depth to the project. There is real warmth in this whole film that contrasts to those cold New Hampshire winter waters.
Ralph keeps a fast pace going. There's more talk than usual but he never lets it get long because…there's always surfing to show. The women talk of the support they get now and it would be ridiculous if they didn't. The surfing they show here is fantastic.
Sound good? Want to see it? Send a $20.00 money order to ADLANTIC, 3 Marston Way, Hampton, NH 03842 It's also available at New Hampshire surf shops.
Let's look at some punk literature:Punk Crisis, The Global Punk Rock Revolution by Raymond Patton is an edifying study of how punk influenced societies around the world. We never knew how powerful punk was!
Its informational blurb says: "The first global narrative of punk, Punk Crisis examines how transnational punk movements challenged the global order of the Cold War, blurring the boundaries between East and West, North and South, communism and capitalism through performances of creative dissent. As author Raymond A. Patton argues, punk eroded the boundaries and political categories that defined the Cold War Era, replacing them with a new framework based on identity as conservative or progressive. Through this paradigm shift, punk unwittingly ushered in a new era of global neoliberalism." Order here.
For some less weighty reading one could try fiction and pick a book from this list in this article: 7 Candidates for the Great American Rock and Roll Novel by Jeff Jackson, author of Destroy All Monsters, on fiction that captures the raw power of rock music.
Jay Allen and the Archcriminals have released a free digital single on Bandcamp. It's called "Big Lie" and it's a story of a woman, rock and roll and a big lie. The problem is the protagonist lies to himself too. This is one of Jay's best vocal performances. The song is less jokey and has more real feeling in it than is usual with Jay, but the point is still made with a light touch. A mix that is perfect for Jay and the band. Jay has other material like this, and probably an album ready to drop, we're guessing.....and we'd love to hear it.
A Bunch of Jerks have made their latest EP available for free. That has the scathing but funny "70s Euro Minge" and the spot on "Queen Bitch" Bowie cover. Here on Rum Bar
Stop Calling Me Frank has their whole album streaming on the New Noise Magazine site (not connected to the old Noise Magazine).
---
Here's some good shows coming up this week.....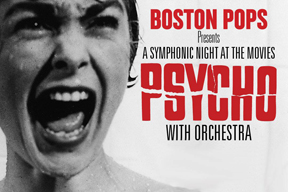 October 29 & 30 (Mon & Weds) Now here's how to do Halloween!! At Symphony Hall this Halloween season when Keith Lockhart and members of the Boston Pops visit The Bates Motel and perform the original score of the Alfred Hitchcock film, "Psycho", in sync with the film on the big screen. One of the greatest suspenseful thrillers of all time, this cinematic masterpiece comes alive with Bernard Herrmann's spine-tingling score performed live. The unforgettable and disturbing slashing chords played during the now famous shower scene are just as terrifying now as they were to first-time audiences in 1960.
October 31 (Wednesday) 138, Demons Alley, Punk Band, The Vic Morrows at Koto in SDalem
October 31 (Wednesday) Halloween Clownfest - candy, psychic readings and balloons! and Robot Clean- a Misfits Tribute, Driven Sane, Lucreatia's Daggers at Once - starts at 7:15PM
November 1 (Thursday) Kris Rodgers & The Dirty Gems - The Connection - Kurt Baker at The Dover Brickhouse in Dover NH FB page.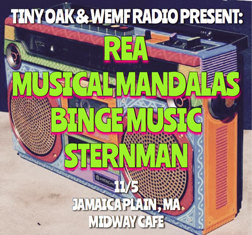 November 2 (Friday) Roky Erikson at Once. Tix here.
November 2 (Friday) Mad Painter featuring Kenne Highland at the C Note Hull
November 2 (Friday) Lily Black, Little Billy Lost, Hyber, Concrete Haze at KOTO - Salem
November 3 (Saturday) A Crash Course For The Ravers (streams to everyone LIVE Saturdays 1pm to 4pm at http://www.wmfo.org/popout_player.php?bitrate=256 WMFO 91.5.) This week we have Lizzie Borden & The Axes! Liz certainly has some stories to tell. Shuld be a good show.
November 3 (Saturday) Club Bohemia is BACK. Glider and Mr. Airplane Man
November 3 (Saturday) Coffin Salesmen, OC45, The Bundles, Burn Burn Burn at O'Brien's
November 3 (Saturday) Ey,Oh Let's Go!, White Light, Ball & Clash, PunksUp - A Night old school punk covers performed by GLiDER, Pop Gun, Club Linehan A Go Go, Drunken Uncle at The Greek Union Sq Somerville.
November 3 (Saturday) Murphy's Law, Reason To Fight, Brunt Of It, Taxi Driver at Alchemy in Provi RI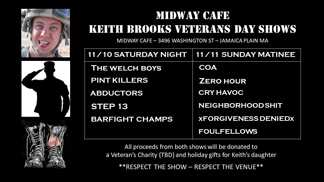 November 4 (Sunday) Book release party for Poetry for the Neon Apocalypse by local Punk Poet Jake Tringali with Mint Green, Ski Bunny, The Sewer Buddies, Jenn Lombari, Hyber at The Midway 4-8 PM. FB page
November 4 (Sunday) Coffin Salesman, Meaghan Casey, Olde Boy at The Winter HIll Brewing Company Somerville. Early show 3-8PM
And further out we have......
November 5 (Monday) Rea, Musical Mandalas, Binge Magick, Sternman at The Midway
November 5 (Monday) Dead Bars, Rebuilder, Pity Party, Weathered Friends at Charlie's Kitchen
November 5 (Monday) Parasites with Lucky United and The McGunks at The News Cafe in Pawtucket, RI
November 5 (Monday) The Only Things, Surprise Party, Knock-Ups, PNDB at The Worthen Attic in Lowell.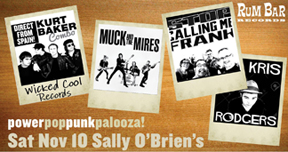 November 6 (Tuesday) Rock and Roll Trivia w/ Erin and Brett at Sinclair -starts at 8PM
November 9 (Friday) The Only Things, Surprise Party, Knock-Ups, PNDB at The Worthen Attic in Lowell, MA
November 9 (Friday) More Beer Please, The Natty D's, Standard Issue (from CA.), Oziem at Thirsty First Tavern Lowell, MA
November 10 (Saturday) Rockin Bob Punk Band, Smartyr, Banshee, Raw Radar War at The Midway 4-8PM
November 10 (Saturday) Kurt Baker is coming to Boston!! One show only at Sally O'Brien's Nov 10. with Muck and the Mires, Stop Calling Me Frank and Kris Rodgers and the Dirty Gems
November 10 (Saturday) Keith Brooks Memorial Veterans Day Show #1: The Welch Boys, Pint Killers, Abductors, Step 13, Barfight Champs at The Midway
November 10 (Saturday) Boys From Nowhere with Nervous Eaters & Unnatural Axe at The Cabot Theater Beverly FB page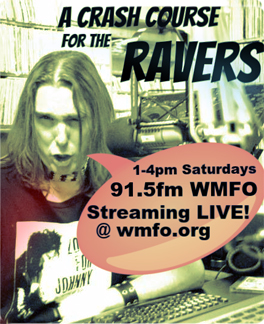 November 10 (Saturday) Wolf Whistle, Regional Justice Center, Fixation, Hairspray Queen at AS220 Provi RI
November 11 (Sunday) DNZL, Standard Issue, Psychic Weight, TBA - 4-8PM Early Show at The Midway
November 11 (Sunday) Keith Brooks Memorial Veterans Day Show #2: Colin of Arabia , Zero Hour, Cry Havoc, Neighborhood Shit, xForgiveness Deniedx, Foulfellows at The Midway 9PM
November 11 (Sunday) Save the date!! Brian Coleman who has published the much talked about Buy Me Boston book will be having a slideshow and panel discussion (including our very own Paul Blowfish Lovell and David Bieber) to promote the book. It's at The Brattle Theater - more info as it becomes available.
November 16 (Friday) Corolla DeVille, CalCali Band, Mimsey Mack at Opus,Salem
November 16 (Friday) Justine and the Unclean, Tad Overbaugh EP Release Party at Sally O'Brien's
November 16 (Friday) The Melatonins, Ringtail, Stars Like Ours, Five Foot Shakers at O'Brien's Pub
November 17 (Saturday) Brian Young's A Crash Course For The Ravers featuring The Gala!!! One of our favorite bands!!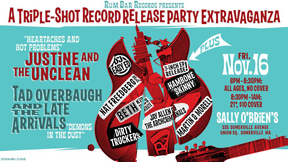 November 17 (Saturday) It's HIXXGIVING!! The joyous return of the annual celebration of white trash culture and redneck vittles. This year they'll have newcomers - Alice Highland, New Jersey's Sex Zombies, Your hosts- HIXX and the formidable Screw Cart. This will, no doubt, be off the hook! The buffet will be provided by the bands. Hixx asks that you bring non perishable food items, as always, for a local woman's shelter. At The Midway
November 17 (Saturday) Post Punk 1977-87 Cover Night at Sally O'Brien's - 3 super groups will be covering songs from 1977-87. (punk, new wave, synth pop etc)
The groups are: Chuck Ferreira, Josh Pickering & friends, Duncan Wilder Johnson & friends, and Anthony Kaczynski & friends. FB event page
November 17 (Saturday) Jittery Jack, Miss Amy Griffin, Whiskey Kill & DJ Easy Ed at Sally O'Brien's
November 17 (Saturday) Sccorpio Rising with Thrust Club, Boston Cream, Baluchitherium and KARAOKE! at O'Brien's Allston
November 17 (Saturday) Scissorfight, Welch Boys, Taxi Driver, Watching It Burn, COB at Maggy's in Quincy FB page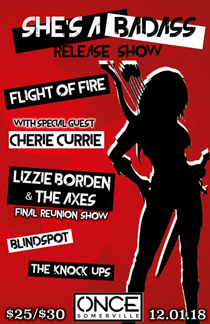 November 21 (Wednesday) 1476, Coffin Salesman, Darker Days at UnchARTed in Lowell. FB event page
November 21 (Wednesday) Far Above the Ground, Thee Midnight Society, The New Frustration, Lightnin' Lyford and the Procrastinators at PINZ in Kingston, MA FB page
November 21 (Wednesday) 3rd Annual Morning Afters Thanksgiving Eve Show *FREE* at Raolph's Diner Worcester with Michael Kane & The Morning Afters,
Dirty Laundry, Reverend Dan and The Dirty Catechism, Douglas Sullivan (Westies / Ducky Boys)
November 24 (Saturday) Friendsgiving Punk Rock and Roll! at O'Brien's with Arctic Horror, The Skeleton Beats, The Von Traps, The Downhauls- 8-Midnite
November 24 (Saturday) Jittery Jack, Miss Amy Griffin, Whiskey Kill & DJ Easy Ed at Sally O'Brien's
November 24 (Saturday) Paraffin, Tiger Bomb, Fireking, Scotty Saints & True Believers at The Bayside Bowl in Portland, ME
December 1 (Saturday) A Crash Course For The Ravers 1pm to 4pm at http://www.wmfo.org/popout_player.php?bitrate=256 and transmits on 91.5FM Medford. This week Brian Young hosts have Charlie Don't Surf!
December 1 (Saturday) Cranktones and Sax Gordon, Two Fathoms Down, Easy Ed's Record Hop! at The MIdway for a Matinee 4-8PM show
December 1 (Saturday) the second and final Red Invasion show - with Funeral Cone and Brix N' Mortar and one more TBA. @ The Middle East Upstairs This is an early show- doors are at 6:30 NOTE!!! This show has been moved to Dec 14 at OBrien's instead. (see below)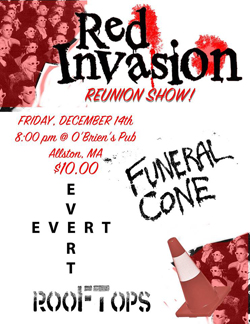 December 1 (Saturday) America's Hardcore Fest: W/ Ecostrike, Abuse of Power, Fiddlehead, Magnitude, Restraining Order, Deflect, Sleight of Hand, Dominant Force, Result of Choice this show starts at Noon. Middle east Up
December 1 (Saturday) Cherie Currie and Flight of Fire (She's A Badass Release Show) Lizzie Borden & The Axes final reunion show. at Once
December 1 (Saturday) The Feldons, Tiger Bomb, Justine & The Unclean, Thee Sonomatics at Ralph's Rock Diner in Worcester.
December 8 (Saturday) A Crash Course for the Ravers on WMFO 91.50 1-4PM has Stop Calling Me Frank.
December 8 (Saturday) Pinkerton Thugs, Oc45, Mk Morning Afters , the Lot at The Midway
December 9 (Sunday) Trusty Sidekick, Stigmatics, Crunchtime. Dick Pics do a Matinee 4-8 show at The Midway
December 14 (Friday) Red Invasion with Funeral Cone and Brix N' Mortar and EVERT at O'Brien's
December 14 (Friday) Street Dogs: 13th Annual Wreck The Halls at Brighton Music Hall
December 15 (Saturday) Duck & Cover, Stop Calling Me Frank (Album Release), State of The Union, The Angel Martins Early Show 4-8PM at The Midway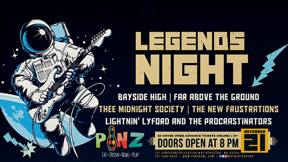 December 22 (Saturday) Greg Allen's Fringe Religion, Classic Ruins, 1.4.5, Fireking - Early Show 4-8 at The Midway
December 22 (Saturday) The A-Team w/ Last In Line, Down But Not Out, Rampage, MFP, Restraining Order at an early show at Middle East Up 4:30 doors
January 4 (Friday) OC45, The Dents, Duck & Cover, Blame It On Whitman at O'Brien's Pub
January 12 (Saturday) IL Mostro (CD release) w/ Cortez, Scuzzy Yeti & Wrought Iron Hex at O'Brien's
January 12 (Saturday) Restraining Order, Envision, Antagonize, Brother, Pummel at AS220 Provi RI
CONTACT US AT....misslynbgn@yahoo.com Send us your gig listings, your news and anything else ya got!! You want your CD reviewed?? Contact us for that too.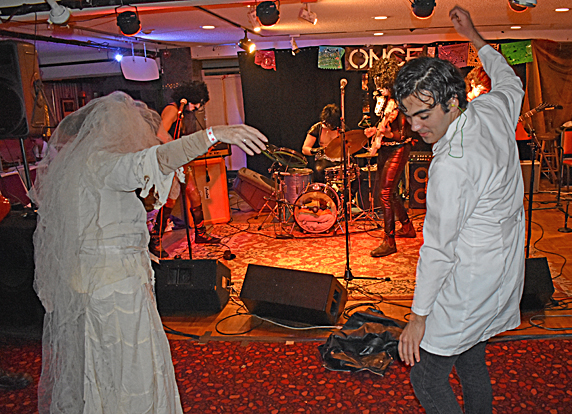 Ghost dancers at Once
Photo: Blowfish