The BGN News Archive
October 30, 2017
Up and coming group Justine and the Unclean had a Halloween party on Friday where it was encouraged for you to show up as your favorite rock star. John Keegan (Buckethead) was there to capture the fun. To top it off the video/slide show above has Justine and the Unclean's "I'm In Love With You, Jackass" as the soundtrack.
In a week of costume-filled shows the only fashion statement at Tubefest was surf wear. It was an all-day affair at the Midway on Saturday starting at 2pm. We didn't get there till 5pm thus missing The Beachcombovers and the Derangers among others. There was plenty left however.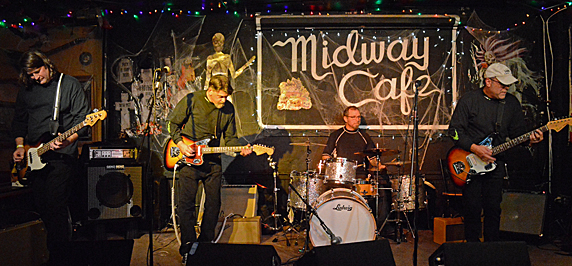 SPF4
Photo: Blowfish
The first group we saw was SPF4. New to us, they were exactly what we were hoping to hear: all well-written surf tunes played on Fender Jaguars. You could see the Fender Reverb units in front of the amps. They didn't play any covers. The original songs had plenty of detail, moving from section to section adding new melodies with ear-pleasing surftones that were topped with whammy bar exclamations. They knew how to get that kick from going from minor key to major.
Some of their songs would take a strong element, say the power-picking of Dick Dale's "Misirlou", and they would make a new song from that.
They excelled on their slower moody songs. All primo material and a very satisfying set.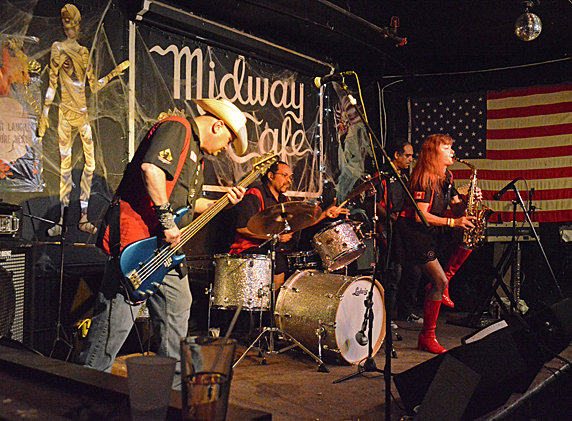 The 9th Wave
Photo: Blowfish
Next was 9th Wave. They've been around and have played the Tiki weekend up at Lake George according to Amy Prohaska who was at the Midway for the show. They continued what SPF4 did by playing all originals. They played with a hard edge. The thing that makes them different and memorable is the multi-instrumentation of Sandy "Oceana" Rosado. She plays: flute, piccolo, Farfisa organ, alto saxophone and rhythm guitar. The Farfisa and the sax added a lot. We were suspicious of adding flute but it was used in a spaghetti western tune and that made the tune. Video below.
The song "Short Board" was a straight-up surf winner which included the yell of "Short Board." They ended the set with a novel 'circus' tune. The organ mimicked the calliope. Great idea. Here's their Website.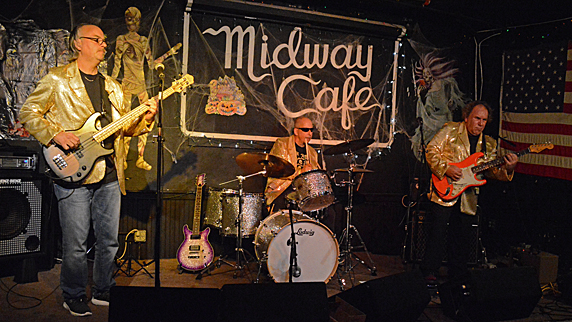 Tsunami of Sound
Photo: Blowfish
Tsunami of Sound was the one band we'd seen before, several times. At this point we were primed for the set of covers which is their norm. It's always a crowd-pleaser and this audience gets it more than anyone. Even with a replacement bass player (their regular had health issues) they sounded super-surfy. No one, but no one has a better reverb sound than David Esposito. It sounds like he's playing underwater. Half the time we're just listening to that guitar sound. Rick Sanger is one of the group of personality drummers we seem to be seeing more and more. He's a visual show along with the superb drumming.
They did a sparkling "Diamond Head". They also are the first group we've heard to cover the Ventures' "Pedal Pusher" which is off the same album as "Diamond Head". They had the gold jackets but forgot their flame pots! We love the flame pots!! Their Website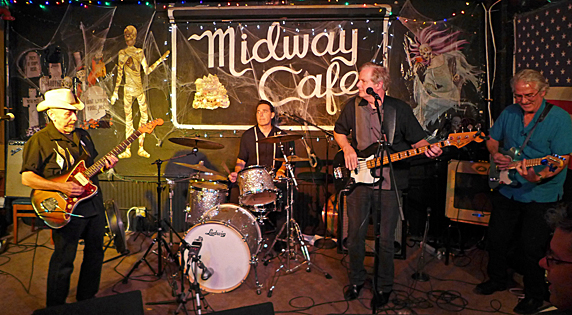 The Fathoms
Photo: Blowfish
There weren't many people there when we got there but by the time The Fathoms came on the club was looking fullish. The Fathoms is Franky Blandino's surf outlet. That's Cranky Franky from the Cranktones. We worship that guy. In The Fathoms he restrains his virtuosity and plays the surf music conventions – to a point. There's no disguising his guitar mastery. Franky knows his surf inside and out and delivers it with his usual panache. They played a hilarious "One Note Joe" where Franky played the classic one note solo.
It seemed like it was mostly originals but Franky knows more than we do. There was one change-up where he went for his Tele and it was a western twangy effort with steel guitar type bends and had echoes of Link Wray to boot. He ended up with a retooled "Telstar". They played the chorus harmonized and it rang like a bell. The whole group is a solid unit. The other guitarist Rob Amaral played "Yellow Jacket" by the Ventures and nailed that. Things were running late and The Fathoms had to truncate their set. There were cries for an encore but it was 8:30 and the club had to get ready for the night show. Fathoms Website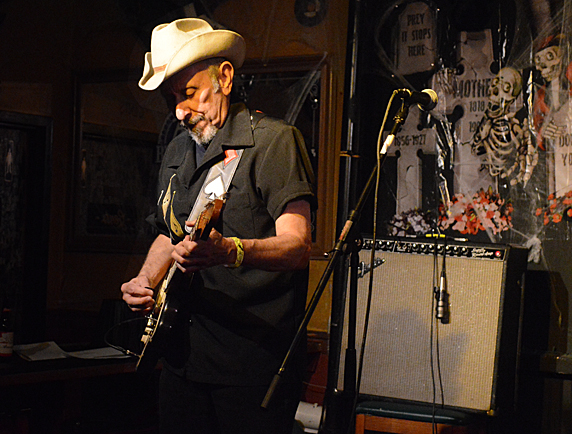 Frank Blandino
Photo: Blowfish
Any one of these groups would have made a worthy night out. Four in a row was instrumental heaven.
They had a raffle for a guitar and our friend Keith won it! It was a cool purple guitar too!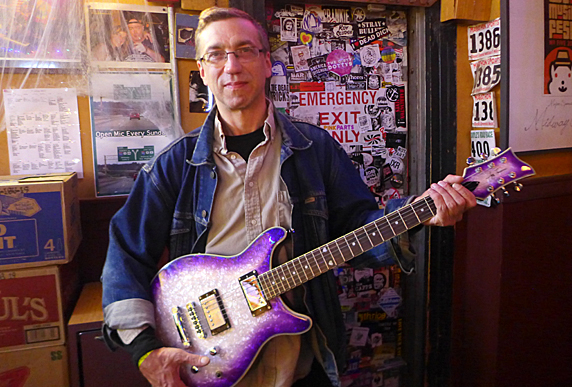 Winning Keith
Photo: Blowfish
A whole day of surf groups shows the difference with other rock styles especially punk. They aren't trying to rock you to death especially with volume, it's a more...gentlemanly genre. Even today it captures the magic of the sea and the joy of the beach.
We talked to Eddie from Stop Calling Me Frank. Those band members get out to gigs a lot. He told us that in October of 1986 the Pixies opened for them at the Rat! Stop Calling Me Frank is now in the studio with six new songs and two older ones. They won't be gigging till after the new year..
---
And in other news...
We just talked to Jim Harold - November 16th is going to be the big send-up for the Rat Suite video...now this is something that is a REAL Rat thing.....6PM to Midnight in the Ballroom at The Hotel Commonwealth - The Nervous Eaters, Willie Loco Alexander, The Dogmatics and Emily Grogan will perform. There will be a separate viewing room for people to put on headphones and watch the video. This is the night we actually DO celebrate our beloved home away from home - The Rat. All proceeds, in the form of donations at the door, go to Right Turn.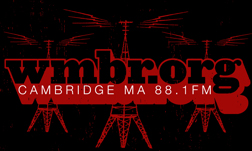 The WMBR yearly fund raiser starts on Thursday, Nov 2, and goes to the next Wednesday, Nov 8. They always have the best incentives to give. CDs, books, shirts and concert passes. You can check that list out here. What would life be for some us without the WMBR and the Late Risers Club? We dare not think of it!!! So make sure to listen in and donate.
So it's come to this....We get punk articles in AARP magazine. John Joseph McGowan who was a member of the Cro-Mags has an article telling that he is drug-free and sober and as a matter of fact: vegan. They give one of his recipes. He's also an Ironman competitor and ranks in the top ten percent of his age group worldwide. He's 55. Read it here.
and to this.....The Globe informs that Eastern Standard at the Hotel Commonwealth will have a Rumble at the Rat night on Halloween. Dress up like "your punk hero" and you could win a night in the Rat Room. They'll have food inspired by the Hoodoo BBQ.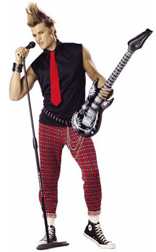 Five dollars of the entrance fee goes to Right Turn, starts at ten. They'll even have Punk rock face paint, temporary tattoos, piercings & more" what's punk rock face paint?? Here's the FB event page.
and to this.... if you need a costume fast for the Punk Rock night you can buy this Adult Male Punk Rock costume at Walmart!!
Chuck White teamed up with David Bieber to throw a party of sorts at The Norwood Space Center. Natalie Flanagan and Asa Brebner, among others, played. It seems that David Bieber has signed a 20-year lease which will serve as his home to over 600,000 pieces of pop culture memorabilia. We heard it's a huge space loaded with 5 foot high stacks of boxes upon boxes of stuff. A couple of things seen: a 1971 Aerosmith poster for a gig at a New Hampshire high school and an acoustic guitar tagged to be delivered to "K. Richards".
The Prefab Messiahs existed from 1981 to 1983 and revived in 2015 in all their psych glory. They came out with an amazing video a while ago of The Man Who Killed Reality. They have a new CD coming out and have released another early song, again with an amazing cartoon video; this one is called Psychsploitation.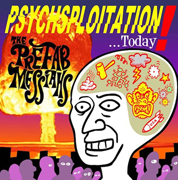 You can watch it here. These guys are wacked out space cadets and we mean that in a good way!
Please Kill Me has a conversation with Television's Richard Lloyd. Read it here. Richard Lloyd will be at Once on Friday 12/1
SPECIAL DEAL FOR BGN READERS: We've mentioned Curt Weiss's book about Jerry Nolan of the New York Dolls entitled Stranded in The Jungle and we've mentioned the readings coming up in NYC, Provi and Boston- well you lucky BGN readers can get a SPECIAL BGN DISCOUNT on the book!! Regular price is $24.99 BGN Price is only $14.99!! Just visit The BackWing Store and enter code BGNSTRANDED at checkout to get your copy for just $14.99!
---
Here's some good shows coming up .....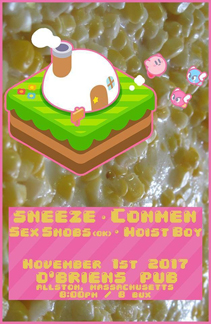 November 1 (Wednesday) Sneeze, Conmen, Moist Boys, Sex Snobs at O'Brien's
November 2 (Thursday) Barb Wire Dolls, Svetlanas, The Devil's Twins, 57.....at Thunder Road ....I dont think Thunder Road will ever be the same
November 3 (Friday) Indonesian Junk, Justine and the Unclean & Gymnasium at Tavern at the End of the World.
November 3 (Friday) The Woggles, Muck and the Mires, Stupidity, Andrea Gillis Band at The Middle East Up
November 3 (Friday) The Guilloteenagers, Psychic Dog, Sapling, Graneros at Club Bohemia at The Cantab
November 3 (Friday) Human Sexual Response and Unnatural Axe at HOB
November 4 (Saturday) Brian Young and Crash Course for the Ravers has Curt Weiss as a guest today WMFO 91.5FM, 1-4PM
November 4 (Saturday) Fireking, The Billy Connors Project, Hummingbird Syndicate, Tracy Chevrolet doing a 4PM Matineee show at The Midway
November 4 (Saturday) Loser's Circle w/ Rebuilder, Dead Bars, and Settlers at OBriens Allston
November 4 (Saturday) The Dents with Abbie Barrett Band, City Rivals, The Melatonins at Sally O'Brien's Somerville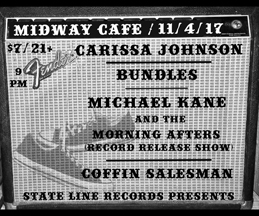 November 4 (Saturday) Carissa Johnson, Michael Kane & The Morning Afters, Bundles, Coffin Salesman 9PM show at the Midway
November 4 (Saturday) The Idle Barons Ball at The Greek with The Idle Barons, Petty Morals, Tom Baker & The Snakes and Jay Allen and The Archcriminals FB page
November 4 (Saturday) Barb Wire Dolls, Svetlanas, 57, SPC, Three Fiends at Fete Music Hall in Providence RI FB page
November 5 (Sunday) Boss Daughter, Brix'n Mortar, The Bad Larrys at Koto in Salem
And further out we have...
November 9 (Thursday) The Proletariat at ONCE Ballroom w/ Siege and Black Beach
November 9 (Thursday) If you are in NYC or can get to NYC Celebrate Stranded in the Jungle: Jerry Nolan's Wild Ride the new book by Curt Weiss that covers 40 years of L.A.M.F. and is A Tale of Drugs, Fashion, the New York Dolls, and Punk Rock. Also there'll be music by with Greg Allen's Fringe Religion, and ...book reading, panels, Q&A, guests, book signing. It's at The Delancey in the Lower East Side 7-10PM FB Page for directions and more info He's at Out of the Blue/Cambridge on the 12! see below.
November 10 (Friday) CH3 (Channel 3), The FUs, Silver Screams, Fast Times Punk at The Middle East Up - 8-Midnight show tix here Read about CH3 here. there's links for tix etc too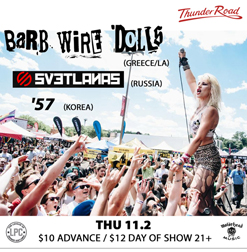 November 10 (Friday) The Proletariat are at Narrows Center for the Arts w/ Black Beach in Fall River, MA (FB page for info)
November 11 & 12 (Sat/Sun) 2nd Annual Salem Punk Rock Flea Market at Notch Brewing (283R Derby St, Salem, Massachusetts 01970) 11AM- 5PM This year it's moved to Notch Brewing for a bigger location. There will be indoor and outdoor vendors. No admission charge. check out the FB page
November 11 (Saturday) Fundraiser to Benefit Vernon West's battle with Leukemia is taking place in Danvers, MA at Breakaway. Vernon was in Sass a band around Boston very early on ,,,we had just heard from him a few months back and he was putting together a band with his son. We wish Vernon a winning battle!! If you can get to Danvers please support this benefit. Here's the FB page for directiosn etc. There is also A GoFundMe page for those wanting to donate - that's here
November 11 (Saturday) A Matinee Show - Keith Brooks started the tradition of doing a benefit every year to help out his fellow vets. We are going to keep it going and donate in his name to operation delta dog--an organization that trains service dogs for vets. Come hoist one for a good cause in memory of our buddy. on the bill: The Welch Boys, The Damaged, Held Hostage, Out.Live.Death, Working Poor USA at The Midway 4-8PM show FB Page
November 11 (Saturday) Hasselfest #9 this year has Pere Ubu and a ton of other bands at Once- get the info on the FB page here.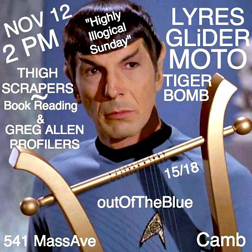 November 12 (Sunday) Curt Weiss covers 40 years of L.A.M.F. and is A Tale of Drugs, Fashion, the New York Dolls, and Punk Rock in his new book Stranded in the Jungle: Jerry Nolan's Wild Ride Also, rock and roll with the Thigh Scrapers, Tiger Bomb, Moto, Glider, and the Lyres starts at 2:15. Here's the FB page Also added to this show Greg Allen & The Fringe Religion who go on right after the reading.
November 12 (Sunday) HIXX play an early show at Tavern at The End of The World from 5-7.
November 12 (Sunday) WOW!!- Jerry's Kids, Straw Dog, The Pist, Ancient Filth, Conscript at Alchemy in Provi=dence RI FB page
November 15 - 18 (Weds - Sunday) International Pop Overthrow is at PA's in Union Square Somerville. Check out the website for bands, set times etc.
November 16 (Thursday) Celebrate The Rat with Jim Harold, The Nervous Eaters, The Dogmatics, Willie Loco Alexander and Emily Grogan at The Ballroom at the Hotel COmmonwealth 6PM- midnight
November 17 (Friday) Greg Allen's Fringe Religion, The Stanleys (from Australia), Mercury On Mars and Classic Ruins are at Club Bohemia
November 18 (Saturday) Cheech (EP Release), The McGunks, Steal Reserve (NY), Hopeless (mems of Reason To Fight) at The Midway
November 19 (Sunday) OC45 w/ Diablogato, On the Cinder at Great Scott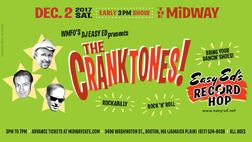 December 1 (Friday) The Monsieurs (LP Release Show), Nice Guys, Earthquake Party at Great Scott's FB page
December 1 (Friday) The Dream Syndicate, The Richard Lloyd Group and DJ Carbo at Once
December 2 (Saturday) DJ Easy Ed presents: The Cranktones plus Easy Ed's Record Hop! 4-8PM matinee at The Midway...followed by......
December 2 (Saturday) Watts (45 Release), Diablogato, Duck & Cover, A Bunch of Jerks at The Midway
December 8 (Friday) Rumbar records is throwing a HUGE record release party of the new Justine and the Unclean record Get Unclean....It's at Once and there will be bands in the ballroom and in the Lounge. Check out this list!: In the Ballroom- The Upper Crust, Hey Zeus, Tom Baker and the Snakes, Justine and the Unclean ....In the Lounge - Cold Expectations, Roy Sludge Trio, Pinecone Teeth and Jay Allen - doors at 7:30 show starts at 8:15.
December 9 (Saturday) The Raging Teens are turning 21 this year.. and that's "Drinkin' Age!" There's releasing a 45 called "Drinkin' Age" on Swelltune Records to celebrate their 21 years as a band! AND that means The Raging Teens Holiday Shindig Record Release! With The Raging Teens, Nate Gibson, Bloodshot Bill, Sean Mencher at Great Scott. FB page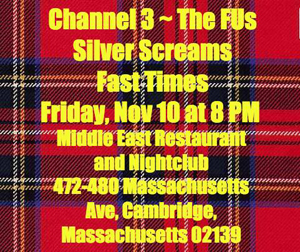 December 9 (Saturday) Radiator Rattlers, Brix'n Mortar,Lipstick Boys, The Grubs at The Chit Chat Lounge in Haverhill FB page
December 10 (Sunday) Horton's Holiday Hayride featuring Reverend Horton Heat & Junior Brown with special guests The Blasters & Big Sandy at The Sincalir (7-11PM show)
December 14-16 (Thurs-Sat) Bowery Boston presents Street Dogs Wreck the Halls Thursday 12/15- with special guests The New Darkbuster & Taxi Driver at The Sinclair - Proceeds benefit Massachusetts Fallen Heroes
December 15 (Friday) Street Dogs Wreck the Halls with special guests The Pinkerton Thugs & The Abductors at The Sinclair
December 15 (Friday) Street Dogs Wreck the Halls with special guests A Wilhelm Scream & Michael Kane & the Morning Afters at The Sinclair
December 16 (Saturday) Bent Shapes with Beware the Dangers of a Ghost Scorpion @ Great Scott- this is Bent Shapes' FINAL SHOW
December 17 (Sunday) Thrash N Bang's Annual Xmas/Pizza Party Show! with Crimespree, CAC, The Grommets, The Sewer Buddies, and Jenn Lombari & special guests (Matinee 4-8PM)
January 6 (Saturday) Nervous Eaters, Watts and David Age & The Regrets at ThunderRoad FB page
January 13 (Saturday) Lyres, Paul Collins Beat, Boston Cream at Thunder Road
CONTACT US AT....misslynbgn@yahoo.com -Send us your gig listings, your news and anything else ya got!! You want your CD reviewed?? Contact us for that too.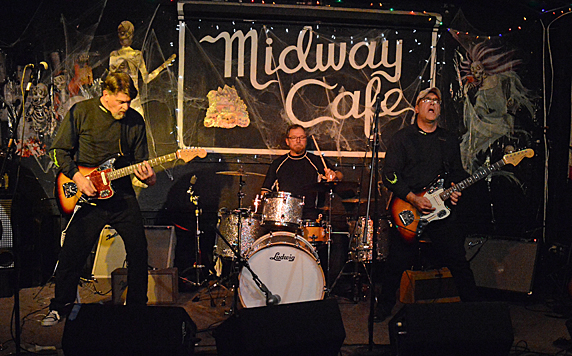 SPF4
Photo: Blowfish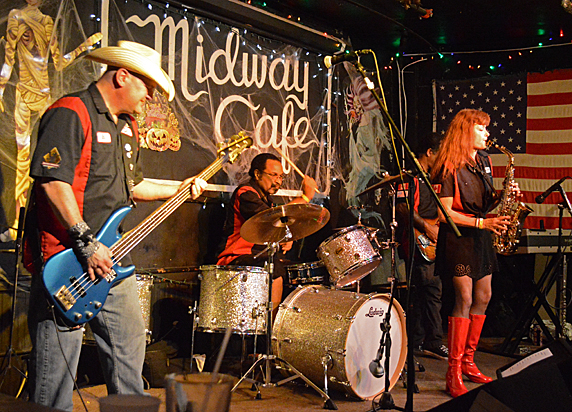 9th Wave
Photo: Blowfish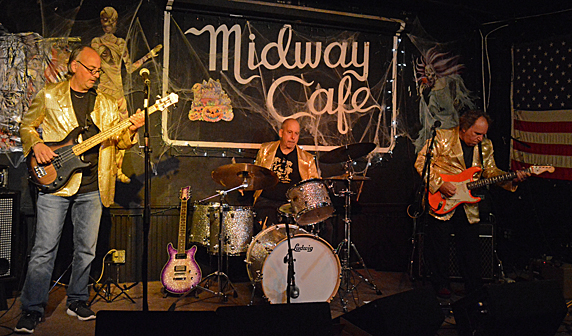 Tsunami of Sound
Photo: Blowfish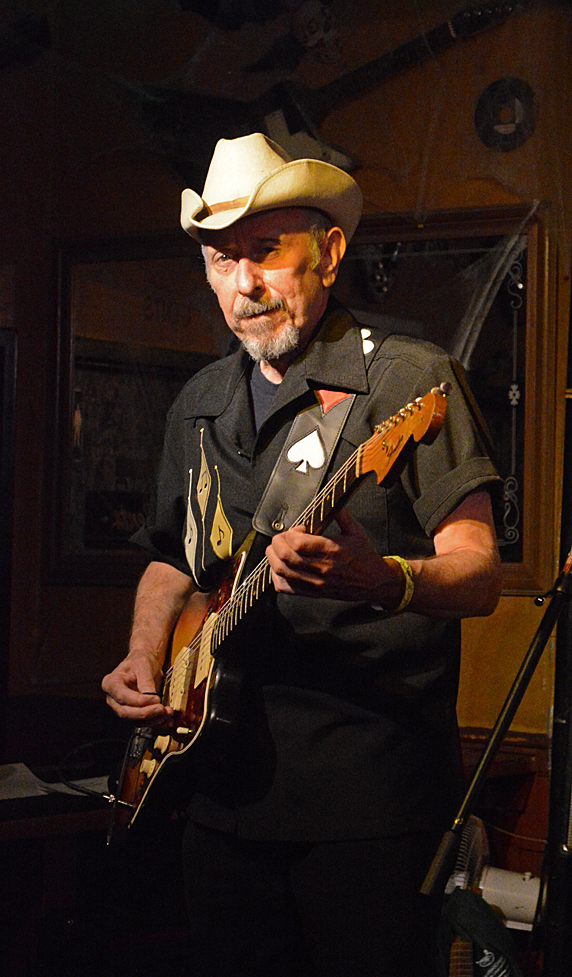 Franky Blandino
Photo: Blowfish