The BGN News Archive
October 31, 2011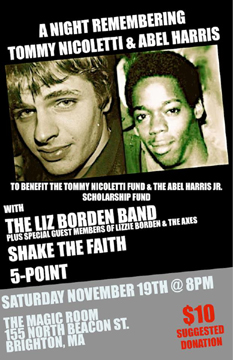 We're sliding into November folks and the first weekend bring s some awesome shows:.....this Saturday November 5 when The Magic Room has James Straight and The Wide Stance along with Ken Scales and the new Adventure Set!!!
this should be an excellent show!!!!
Also on Saturday at Precinct are Muck and the Mires, The Lyres, Jackie & the Cedrics and The Fadeaways
Thursday Nov 10th there's a Billy Ruane Tribute Show at Radio with Thalia Zedek, Reid Paley, Mary Lou Lord, Hilken Mancini, M.G.Lederman, and Michael Tarbox (We miss you Billy!!!)
Also on the 10th over at The Middle East up The Movers & Shakers are having a record release party (It's their new disc National Harvester which you can listen to on their FB page ....also on the bill are Viva Viva, Creaturos and Emperor Norton's Stationary Marching Band
Next weekend you can help Celebrate with My Own Worst Enemy at Precinct in Union Square on November 11th when they have their CD Release Party along with The Vivs, Apple Betty and Varsity Drag....
The mark the next Saturday too! November 12thfirst off ya got the Annual Hixxgiving at All Asia, still at 334 Mass Ave....its 1-7PM, a Turkey Buffet and a bunch of bands including Hixx and Cadillac Heart...and if you bring a non-perishable food donation they will be bring it all to a local homeless shelter too.
Then there's the KILLER show at Church :
The Neighborhoods, Unnatural Axe and The Sleazies....oh yeah!!
Then on Friday the 18th at TT's is Muck & The Mires and The Dents!!
and The Rosebud has The Beachcombovers, Cal Cali's New Experience. Eric Martin & The Illyrians and Litehouse
And here's a great KickStart project to support: The Gobshites are going to Dublin in November to record a new CD and these guys don't kid around this time...they have Richie Ramone (of the Ramones) playing drums and Cait O'Riordan (of the Pogues) playing bass on this CD called The Whistles before the Snap...so go to Kickstart and help these guys OUT!!
From November 16th to the 19th is the International Pop Overthrow at the Precinct in Somerville.... Schedule for International Pop Overthrow 2011
Johnny Angel is back at it with a new CD... get the poop with our Johnny Angel interview.
Email us with your latest news, opinions and all that kinda stuff.....misslynbgn@yahoo.com