The BGN News Archive
October 31,2016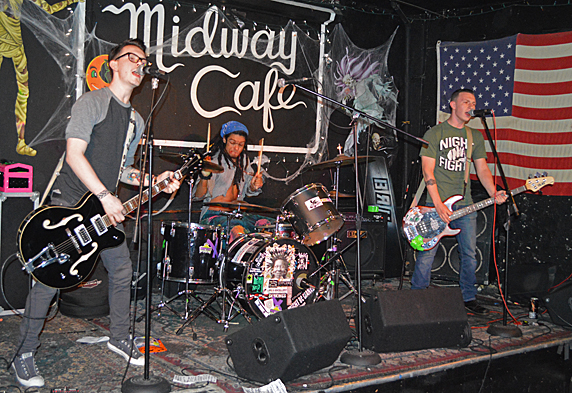 BarRoom Heroes
Photo: Blowfish
I thought I'd hit the Middle East Up on Wednesday to see the Nice Guys. This was an Illegally Blind show, it seems like I end up going to lots of those.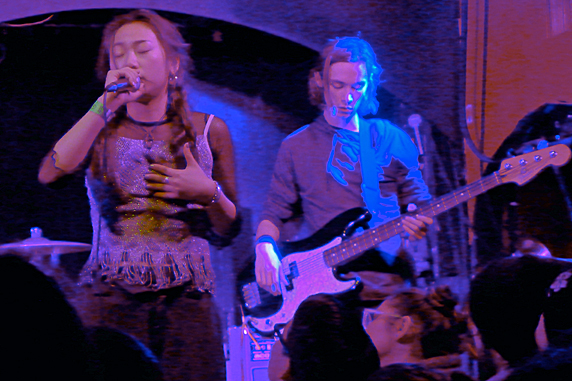 Dent
Photo: Blowfish
I listened to Dent online and it didn't thrill me but they were on stage when I got there. The main room was filled with a young crowd. There was a lot of schoolwork that wouldn't be done tonight. Everyone seemed riveted to the stage and soon I was too! Dent was doing a mish mash of styles that came over as experimental. The lead singer Lane Shi was the center of attention. Vocally she did everything; yelling, whispering, shrieking, and even straight up singing. She went through all sorts of emotions as she sang a song. She also danced a bit. She went into the audience and roamed around.
Early on she was belting out a lyric and suddenly the band stopped and she whispered a few lines. The club was completely silent like I've never heard before. That's when I knew she had the room under her control. She did so many things with her voice, with dynamics and volume. She used a bull horn and she vigorously pushed her cheeks while singing to give it an odd vibrato.
| | |
| --- | --- |
| Dent | Nice Guys |
The rest of the band where good players and gave her a wide range of textures to underline her singing. The performance reminded me of Olivia Neutron-John who put drama into her solo synthesizer show. Experimental music can be dry and uninvolving but Dent made it come alive.
The video above is very short but gives you a general impression. This longer video is very bad visually but you will get to hear more music. The singer was actually right in front of the camera for a while but it's so dark you can't make it out.
It will be interesting to see if they get some attention.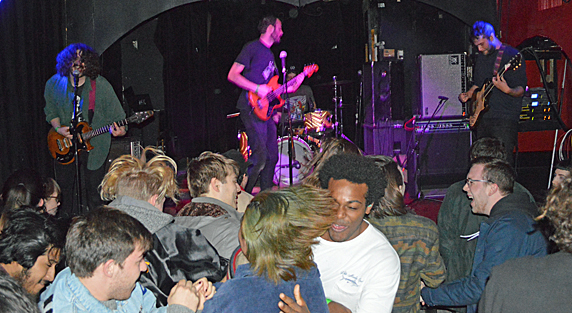 Nice Guys
Photo: Blowfish
The Nice Guys are a long way stylistically from Dent. Everything about them screams 'garage' to me. And that would be modern garage because they don't have any Nugget's band influences. This is garage 2016 music. They are loose – very loose but still grab you with a beat and songs with riffs and rhythms that move you. And did they get this crowd moving. You can see in the video above how the whole club was moshing and rocking. They do this while having fun themselves. This is one of the groups I think the old school punkers should go for. They have the punk attitude and the music to match. But if you don't see them it's your fault not theirs, they are doing their job. Long live the Nice Guys.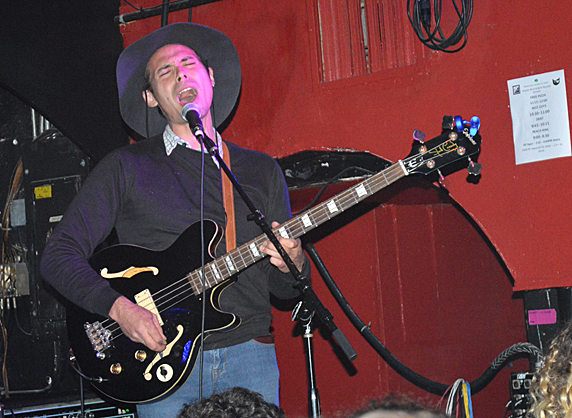 Free Pizza
Photo: Blowfish
Free Pizza used to be a Boston band. They did a split record with Nice Guys in 2015 and have one release that goes back to 2011. I've seen and heard the name but never saw them. Their music was centered on the bass. In a lot of ways the bass lines were the songs. Those bass lines were melodic enough to lead you all the way through the song. The drums and guitar took a back seat. That was different. The crowd never diminished from earlier. Everyone stayed for these guys. Illegally Blind did it again; a three band line up that made missing your homework worth it on a Wednesday.
We wanted to see the Prozacs at the Midway on the early evening show on Saturday but the band couldn't make it so Jay Gauvin did a solo acoustic set at the beginning.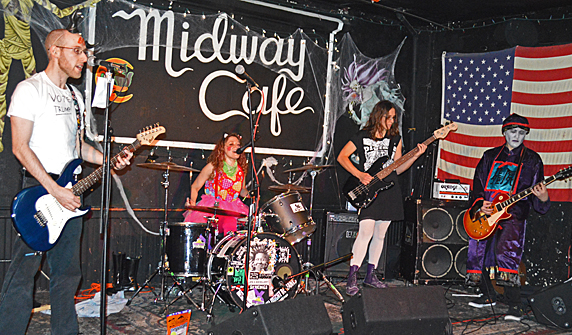 Whoopi Sticks
Photo: Blowfish
We missed that but did finally catch the Whoopi Sticks whose Poly Styrene style vocals on their Bandcamp page impressed us. They were loose, fun and filled with the spirit of punk. The songs seemed very basic but had more to them musically than you might think. They used a few more chords and song structures shifted in a way that made the songs choppy. There's a little art rock in there. The X-Ray Specs-like "I Don't Want to Be a Person" was a highlight. One song repeated 'fuck you" a lot and hey, that's always a winning punk formula! Check out their Bandcamp page. And catch them next time, they're worth it!
Being the three days before Halloween the people in the bands wore costumes. The guitarist for Whoopi Sticks, who was a fill in from Electric Octopus, had an amazing Chinese ghost get up on for a costume. The other guitarist didn't have much of a costume, just devil horns on his head and a 666 written in red on his forehead....but said he actually had the scariest costume of the night as he took off his shirt to reveal a hand markered t-shirt with "Vote for Trump" on it. They said that the previous Halloween, rather than do a cover set which has become traditional now for bands, they just interjected all inter-song banter from the Kiss Live album. That's an arty concept.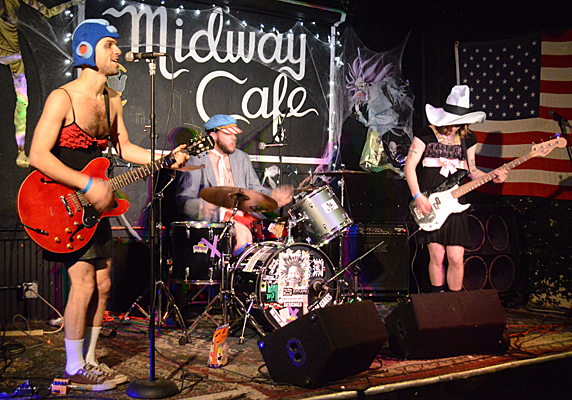 Noisebreaker
Photo: Blowfish
And if we're talking arty concept then we are definitely talking Noisebreaker. They guitarist and bassplayer wore women's clothes, the drummer was looking like the captain of a boat in a white suitcoat and cap but had a huge red tutu on, he quickly removed his coat to reveal "USA 4 EVER written on his chest. Noisebreaker has a lot of theatrics in their set. The songs are loosely linked to each other and the singing becomes histrionic.
Once the singer was moving around in a frenzy and tripped and landed squished in a small space behind his amp. It was a hard fall but he was up and at it with no ill effects.
There second song was Helter Skelter. Now where do you go after that apocalyptic screamer? One of their ideas was to go for emotional meltdown with a song that kept repeating "I'm so sad". It went on for a while and that singer put a lot of feeling into the slow unhinging. After the long build up he calmly stated that he's no longer sad because, "I'm on drugs". Here's a short vid of that. That lead into another panicky tirade about...being on drugs. Though there were few lyrics other than the repeated "I'm on drugs" they were entertaining and funny.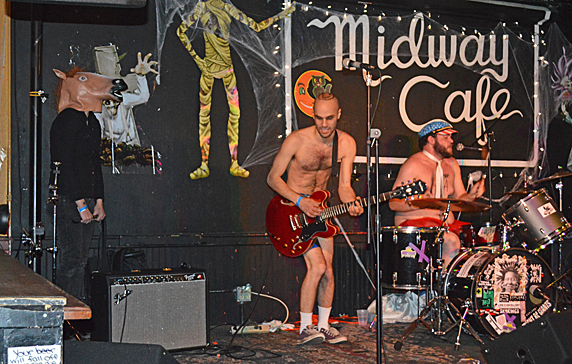 Noisebreaker - Showing the horse.
Photo: Blowfish
In the middle of the last song they actually shocked us. On stage we had noticed what we thought was a mannequin of a person with a horse head. Unknown to us that was a person (Carissa Johnson) who stood stock-still the whole set. On cue she jumped out and started to whip the band members. The singer/guitarist flung himself off stage in mock fear and hit the floor with a loud thud. We thought he must have hurt himself but again he seemed unharmed. Here's a short video of the crazy ending.

This music/drama combo has a history in groups like the Tubes, Alice Cooper, Zappa (who the group lists as an influence) and locally from the 60s Ford Theatre. They also made us think of The Inflictors. it was a wild and riveting set.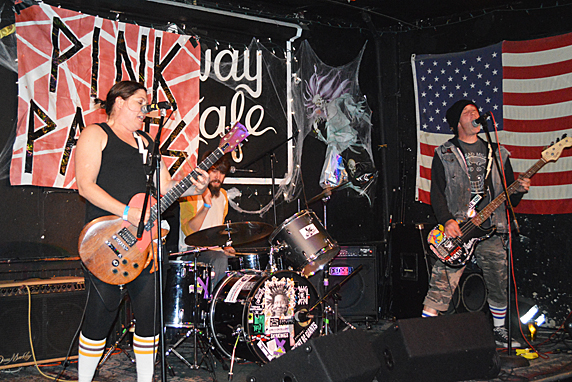 Pink Parts
Photo: Blowfish
Pink Parts was more straight ahead. They were punky, with a strong woman's voice and presence up there. To have two young groups on a bill with strong punk influences was a happy thing! Punks not dead yet!! The lead singer Meredith announced the first song was about hating men. That song is called Misandry (which is the word for man hate – didn't know that, we only ever hear about the other one!)
| | | |
| --- | --- | --- |
| Whoopi Sticks | Noisebreaker | Pink Parts |
| Whoopi Sticks | Martians | BarRoom Heroes |
The punk and riot girl combo works big time in this group. The politics give the music its bite and they deliver it with energy. The best song was one about suicide that had a smoothly sung section amid the punk growling. Meredith has a strong personality and it brands the group and makes them stand out.
Check out their Bandcamp page.
Oh and for another funny and pretty clever costume- Meredith had a man's hand grabbing her 'pink parts' in another Halloween reference to Trump.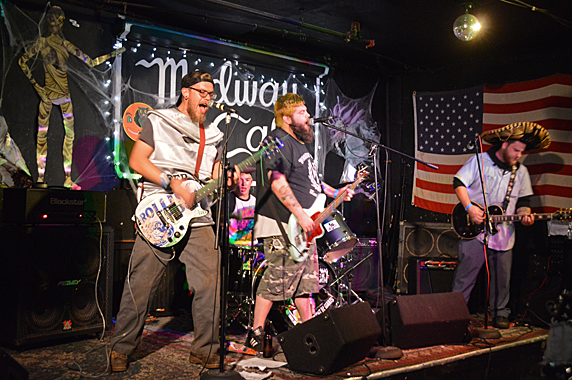 The Martians
Photo: Blowfish
The groups kept coming on this six band bill with The Martians. They were playing some straight up pop punk. The night before they did a set of Blink 182 songs and they did a few during the Midway set. They seemed a bit ragged from the late night before and they weren't tight enough to put over some of the material that seemed well written. The vocals were noticeably off. By the time they got to their last three songs they were much better and we could see what they could do. The best song was one called "Roswell". One guy was dressed as a beer keg.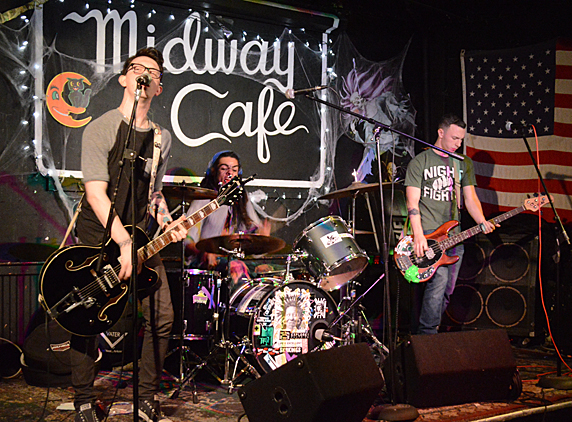 BarRoom Heroes
Photo: Blowfish
On this bill they truly saved the best for last and that was the BarRoom Heroes. It's not just that they are young but that they started in 2007 so they must have been insanely young when they started. With the first song it was all evident. They are super tight, they know how to write songs and they have vocals that bring it all home. They just knocked out winning song after song with confidence. You could feel the excitement level going up.
They're named after a Dropkick Murphy's song and you can see and hear that influence in a big way. They've played with the Murphy's and have done other large shows. That's so much experience for such young guys. It will be super interesting to see them develop even further and get more attention along the way. They have material on Reverb Nation that is definitely worth checking out.
Here are two very short videos (one more above) that show their energy. Video One Video Two.
Slimedog introduced us to Nick the bass player. He said they're working on an album now and will tour after it is done. They've done a few tours already. These kids are amazing!! They had a new song about Whitey Bulger that I'd love to have to listen to at home.
Barroom Heroes was superb topper to the large bill. It was a fun night!
Arthur Freedman was at PA's on Friday and saw Girl on Top who always give a show and new to us, Triax Coalition who he thought were excellent. Photos below.
PA's Lounge 10/28/2016



Girl on Top
Photo: Arthur Freedman




Girl on Top
Photo: Arthur Freedman




Triax Coalition
Photo: Arthur Freedman




Triax Coalition
Photo: Arthur Freedman
In other news....
Here's a interesting article about Lux Interior as a photographer. His "eternal muse Poison Ivy" was the subject of most of his pics. Lux on Lethal Amounts.
Miss Lyn just got her tix to see the Damned in May 2017 so here's another article about them from of all places The New York Post!! Read it here
We are all totally thrilled to hear Nick Cave is touring again (got tix to that too!!) so here's a photo spread also from Lethal Amounts of Nick Cave doing another thing he can't live without...smoking. Read it here.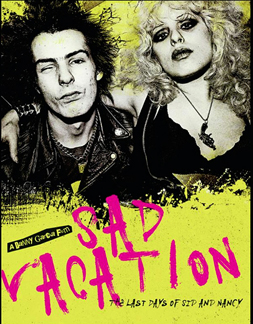 Danny Garcia who came to Boston (and stayed at Groupie Towers Two) for the premier of his film Looking For Johnny has a new film out; Sad Vacation about Sid and Nancy: "Sad Vacation is an up close and personal account of the tumultuous and stormy relationship between Sid Vicious and Nancy Spungen and how it ended in Room 100 of the Chelsea Hotel. Directed by Danny Garcia (The Rise and Fall of The Clash, Looking for Johnny), this films holds no punches and reveals the facts through personal friends, insiders and witnesses providing a first hand account of Sid and Nancy's mysterious deaths. Includes interviews with Sylvain Sylvain (New York Dolls), Bob Gruen, Walter Lure (The Heatbreakers), Leee Black Childers, Howie Pyro (D Generation), Kenny Gordon (Pure Hell), Cynthia Ross (The B- Girls) and many more." It's at The Regent Theater December 9- 13!!
Here's some good shows coming up .....
October 31 (Monday) especially for All Hallow's Eve the new Somerville resto, La Brasa has The Ghost Boys, Dutch Tulips and Hambone Skinny...here's the FB page for more info and location.
November 3 (Thursday) The Proletariat are at Once: "After a 33 year hiatus, legendary Boston punk rock band The Proletariat has decided to reunite for a few select shows . Original members Richard Brown, Peter Bevilacqua and Tom McKnight will be joined by guitarist Dan Sanders(from the Providence band Idle Rich) and will reunite for a series of shows in Fall 16. The reunion comes on the heels of the vinyl rerelease of the bands groundbreaking debut "Soma Holiday" on SS Records." Tickets!! (FB page)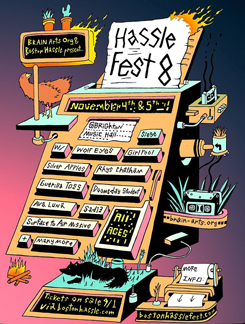 November 3 (Thursday)Wolfman And The Brimstone Boys, The Evil Streaks, The Devil's Twins and Damnation are at Opus Underground in Salem
November 4 (Friday) The Upper Crust, Topheavy, Gene Dante & The Future Starlets and The Hi-End at The Midway
November 4 (Friday) Lifestyle, Sidewalk Driver and usLights at Great Scott's
November 4 (Friday) The Proletariat are at The Met in Pawtucket RI (FB page)
November 4 & 5 (Friday & Saturday) Boston Hassle and Brain Arts Organization presents Hassle Fest 8 is two-day underground and independent music festival that is organized and coordinated entirely by Boston Hassle volunteers. This event will feature both local and touring independent and underground musicians that will lure DIY music-lovers from all corners of New England to the streets of Boston for this annual celebration. It's at the Brighton Music Hall FB page for more info ...and Boston Hassle page
November 5 (Saturday) Roy Sludge Trio at 4PM at Atwood's (have dinner here the food is awesome!!)
November 5 (Saturday) The Real Kids, Classic Ruins, Andy California, Hambone Skinny at The Midway!!
November 5 (Saturday) Stray Bullets, Duck & Cover, Jumper! and Offwhites are at The Greek club in Union Sq Somerville. FB page
And further out......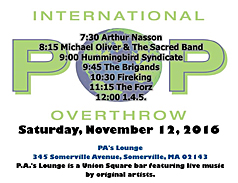 November 9 (Wednesday) Illegally Blind and League Podcast Present: Shonen Knife, Shepherdess, and Birthing Hips at the Middle East Up
November 9 -12 is International Pop Overthrow at PA's Lounge - Wednesday has Richie Parsons among others
November 10 (Thursday) The Goddamn Gallows, Gallows Bound, Tigerman WOAH, Ten Foot Polecats - Middle East Up
November 10 (Thursday) IPO at PA's has Kevin William , American Beauties, TRY, Ships Have Sailed, Suzie Hatton Band and Biltmore
November 10 (Thursday) The Sonics will be at Fete Music Hall 103 Dike St, Providence, Rhode Island 02909 - Here's the FB page
November 11 (Friday) The Sprained Ankles, Stop Calling Me Frank, Spectacle, The Johns at the Midway - This is a benefit for Frank Johnson (FB page for more info)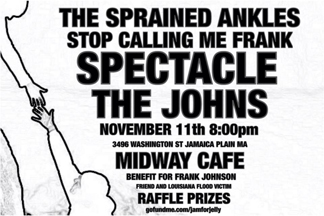 November 11 (Friday) Mercury on Mars, The Hose, Psychic Dog and The Digs are at Club Boho at the Cantab
November 11 (Friday) IPO at PA's has Cait Brennan, Dave Rave & Hailee Rose, Airport, Big Giant, Powderhouse , Wizard Farm and The Downtowners
November 12 (Saturday) The Welch Boys, Penalty Kill, BarRoom Heroes, Zero Rights & Words of Truth a 4-8.30PM show at the Midway
November 12 (Saturday) Punk Rock Flea Market at Koto in Salem 1-5PM "Come down and buy some records, some band and sports tees, some homemade crafts and jewelry" There's be punk rock music after 8PM. FB page
November 12 (Saturday) IPO At PA's tonight has Arthur Nasson, Michael Oliver & The Sacred Band, Hummingbird Syndicate, The Brigands, Fireking, The Forz and 1.4.5.
November 12 (Saturday) Presented by State Line Records. This is the music after the Flea Market- The northshore's best punk bands will be playing their second show of the year together. Local favorites The Tenafly Vipers and Quiggs bring down the house. Boston visitors Duck & Cover and The Warning Shots warm you up for the local favorites. Let's have a good time. all at Koto.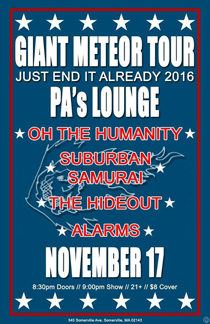 November 13 (Sunday) The Spearmint Sea, Uranium Daughters and Cold Expectations are at O'Brien's - I beleive this is Steve Prygoda's (My Own Worst Enemy) new band's (Cold Expectations) first gig!!
November 17 (Thursday) Ten Dollar Mistake, Field Nurse, Hambone Skinny, Jay Allen & the Archcriminals at PA's
November 17 (Thursday) Oh The Humanity, Suburban Samurai, The Hideout, Alarms @ PA's Lounge Union Sq Somerville
November 19 (Saturday) Live Band Emo/Pop Punk Karaoke at the Middle East Down featuring songs from the likes of Brand New, Sum - 41, Taking Back Sunday, Blink 182 and whole bunch of other surprises backed by Coach and friends and members of local bands Fall Risk, Animal Flag, Sports, and Leaner.
November 19 (Saturday) Tsunami of Sound, The Knock Ups, Axemunkee and The High End at Koto in Salem
November 23-26 (Weds-Saturday) 4 Nights! Jonathan Richman featuring Tommy Larkins on the drums at the Middle East Up. FB page It was an amazing night when we went in 2014. And for fun read our 1980 interview with Jonathan
November 26 (Saturday) Frigate are at The Midway for an afternoon show! Also on the bill Thigh Scrapers and State of The Union 4PM show!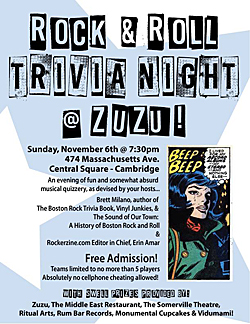 December 1 (Thursday) Humanoids, Mam Ladilla (Spain), Covered in Bees (Maine), Intheshit & Black Friday - O'Brien's
December 2 (Friday) Blood Drive, Sex Orgy Death Crash, Jarva Land and Charlie Don't Surf at PA's
December 2 (Friday) Today Junior, Calico Blue, Spirit Ghost and Brushes at The Midway
December 3 (Saturday) Muck & The Mires will be on A Crash Course for the Ravers with Brian Young on WMFO 91.5 1-4PM
December 3 (Saturday) Studio Two , The Beatles Tribute w/ Muck and the Mires at The Middle East Up.
December 3 (Saturday) The Forz, Young Bull and others TBA are at Club Boho at The Cantab.
December 3 (Saturday) VapoRubs, Psychic Dog, Silver Screams, Tony Jones & the Cretin 3 at AS220 in Provi
December 9 (Friday) Peter Murphy "Stripped" -This is A rare opportunity to see Peter Murphy performing (with an ensemble - 3 piece in all) semi-acoustic versions of his music from throughout his illustrious career (um, $25 Advance / $35 Day of Show / $30 VIP Early Bird / $35 VIP Advance) 7 PM Doors
December 9- 13 (Fri- Tues) Danny Garcia's Sad Vacation (a film about Sid and Nancy) is showing at The Regent Theater. You can get tix here.
December 10 (Saturday) Charlie Don't Surf will be on A Crash Course for the Ravers with Brian Young on WMFO 91.5 1-4PM
December 10 (Saturday) Thrash'n'Bang Christmas Party at the Midway
December 10 (Saturday) The Weisstronauts 18th Annual Holiday Jubilee at 4:00 pm at Atwood's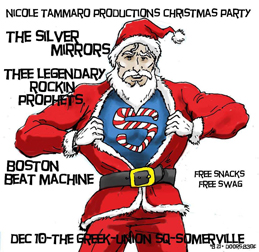 December 10 (Saturday) Nicole Tamaro Productions Christmas Party with The Silver Mirrors, Legendary Rockin Prophets and + free snacks & swag all at the Greek in Union Sq Somerville.
December 10 (Saturday) Psychic TV at Brighton Music Hall
December 23 (Friday) Raging Teens 20th Anniversary Boston Reunion! at O'Brien's (FB page)
April 22 (Saturday) The Templars (NYC), Battle Ruins (Boston), Shipwrecked (Norway), Fit for Abuse (Boston), Boston Strangler (Boston) at the Middle East Down And it's ALREADY sold out in September 2016!
December 10 (Saturday) Psychic TV are at The Brighton Music Hall FB page
January 7 (Saturday) The Johns, The Martians (mems of Bim Skala Bim/Rock Bottom), The Cold Expectations (Album Release) and Medical Maps at The Midway
CONTACT US AT....misslynbgn@yahoo.com - Send us your gig listings, your news and anything else ya got!!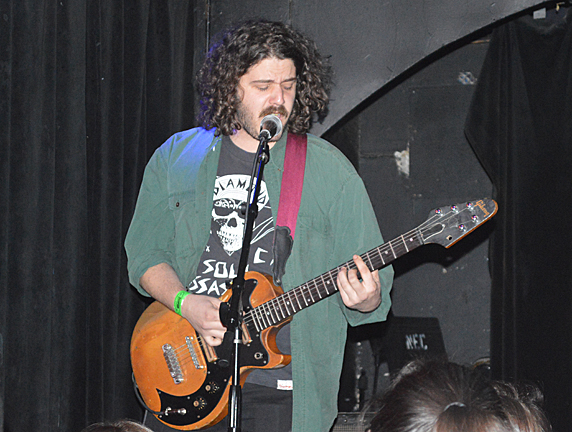 Nice Guys
Photo: Blowfish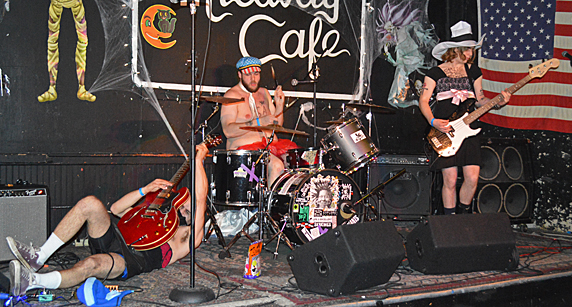 Noisebreaker
Photo: Blowfish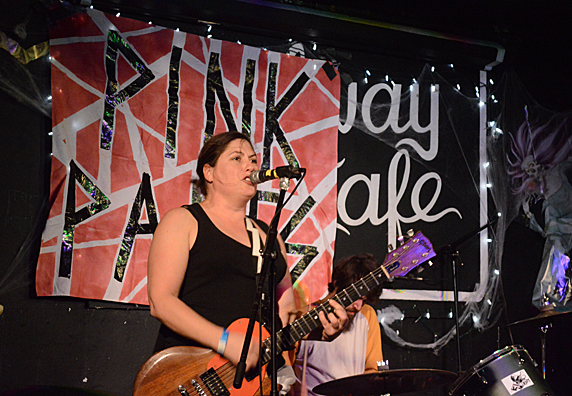 Pink Parts
Photo: Blowfish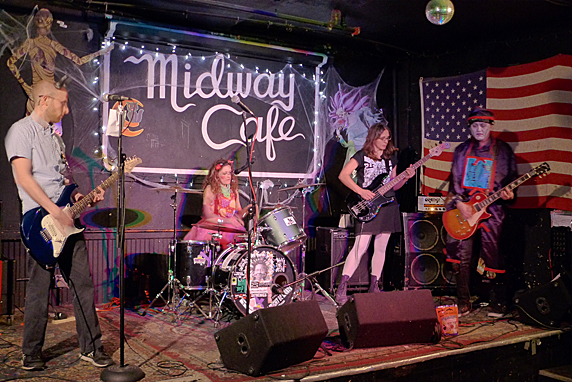 Whoopi Sticks
Photo: Blowfish