The BGN News Archive
November 2, 2009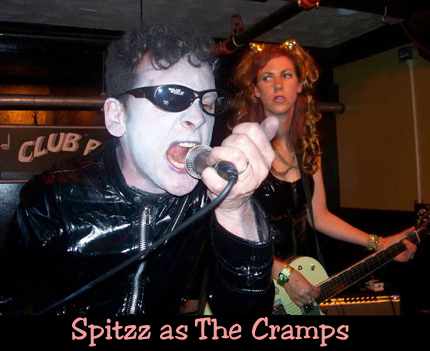 OK…Halloween was a fun night at The Cantab…and there were some amazing costumes out there. Wigs seemed to be the big thing this year. Amy Winehouse wig, Marie Antoinette wig, a couple different kinds of Poison Ivy wigs, afro wigs, the list goes on and on.


CLICK HERE FOR A WHOLE PAGE OF PICTURS
FROM CANTAB'S HALLOWEEN


But there were some great costumes too…and music related ones: one guy was dressed up as Merle Allen!! HA ha, THAT is a first!! Then there was the girl with the 45 stuck in her throat….eeewww! Ouch!!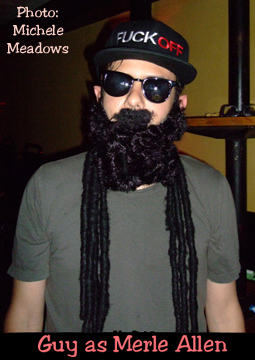 So the show at the Cantab was a Nancy Neon night…and Nancy looked just fab in a Chinese get up. She was reminding me of Isabella Rossellini in the little black wig…. The Varmints were up first and they did a solid set ….
next up was The Coffin Lids… and wow, they sounded really great, even the keyboard in there, which I had previously written about saying I didn't like it. They sounded excellent this evening and were real fun to watch as well. At one point bass player Jaye grabbed Kerry from the Egos and dragged her on stage, put his bass around her shoulders and well she started playing…dressed up as a bloody Marie Antoinette , it was very cool!
Next was The Spitzz as the Cramps….and you just know Tom the lead singer is an actor inside and though NO ONE can come close to Lux, Tom was fun to watch.
He was brought out in a body bag, which personally I didn't like but whatever, and proceeded to go crazy and put on a rally excellent show….Victoria tried hard, you know being Ivy and all, to not smile but couldn't help herself a couple times. And who could blame her it was so much fun during their set. These guys are still a band of beanpoles…I mean wow, how do they stay so amazingly thin?? Even Johnny, the guitarist, he was dressed up as a women and was a skinny woman!! He looked particularly awesome I thought. And I just have to say that I was thrilled to see Tommy shaved his cymbals down from two to one for this occassion, man I hate it when drummers rely on those freaking cymbals and I love it when drummers don't need them or use them...One cymabl is awesome to me!! YAY Tommy!
To finish off the night was Girl On Top, Karen D gets to dress up like its Halloween all the time and she didn't disappoint tonight with garters and thigh highs and velvet and black lace..you know, the usual…..Thsi band is a group of excellent muscians...they sound tight tonight!

So now that's Halloween is over we are looking into November and speaking of shows in November: THIS Saturday Nov 7th (note date correction!!!) The Marvels are at Church with The Curses, The Swindells and Muck & The Mires....I mean come on...that's a show NOT to be missed!!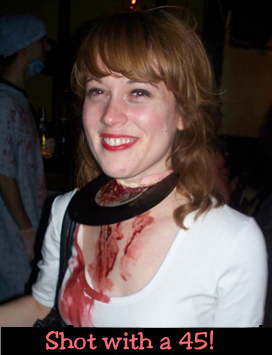 Then to make it a truly incredible weekend I am going to Sleep No More before Church! …please join us!!! This show IS an incredible experience and one you aren't likely to find in Boston again soon. Yes, read up a bit about Macbeth if you like, to help you understand the plot and know you will be leaving the introductory elevator on one of the 4 floors (and know you have to check out all 4 floors) it's playing until December or January so if you can't make it November 7th go another time!!…

But this is a big weekend with lots of good stuff going on so we also have an important event: The Plough & Stars 40th Anniversary Celebration on Nov 6th, 7th and 8th….including The Family Jewels and Andrea Gillis on Friday 11/6, Angeline and Monique Ortiz on Saturday the 7th and The Konks, Triple Thick and The Raging Teens on Sunday the 8th…please note: The Saturday and Sunday shows are afternoon shows starting at 4PM!!
And happy birthday Plough!! And a congrats to Jim Seery for doing such a great job there these days!
Further out into November: The Port Charles Quintet are doing their next show at Precinct on Friday, November 13th
And hey you POP Lovers..get ready coz International Pop Overthrow is coming back to Church!! And for FOUR days: November 19, 20, 21 & 22…pop bands will rule your world! So check out the list of bands on the My Space page
But you can also check out another Nancy Neon Nite at The Cantab in Central Square on Saturday 11/21 featuring: The Port Charles Quintet, Kenne Highland , Carolla Deville, and The Varmints
Hey also you'll wanna check out the clip of XXX All Ages XXX Boston Hardcore which is part of the upcoming film/doc on The Gallery East and the HardCore scene in Boston in the early 80's by Katy the Kleaning Lady, and Duane Lucia who had the foresight to create a space like Gallery East….
and I just got word of a cool Rock T shirt site called Electric T Shirts I particularly like that Joy Division T! …
And we heard from What Cheer Antiques + Vintage in Wayland Square in Providence, RI and they have another Rock'n'Roll Yard Sale comin' up: here's what they said "our shop is about to Celebrate our 10th Anniversary and throughout the rest of the year we'll be hosting some fun events to commemorate this milestone. The first one will be on November 6th and 7th and it's one of our Rock And Roll Yard Sale events which we've done for the past 7 years in both Providence and Somerville, Mass. (and also in conjunction with Foo-Fest and the indieArts Fest) and is the same event we've done for years now with lots of sellers offering Vinyl Records and other Music Related Stuff plus DIY Handmade Crafts but for the first time, this is going to be a 2-Day Event at a New Location in Downtown Providence": so go check 'em out and see what they got! Blowfish loves it down there and will be going to see what he can find as well!
And scroll down below to the link of Joanie Lindstrom 's newest travelogue brought to you by The Boston Groupie News…this time our rockin' world traveler has gone to CANADA
Alright my friends, thart's it for this week....email me with some news, opinions, or if you want the secret on how to get good Slepp No More tix...or just to say Hi!