The BGN News Archive
November 3, 2008
Well, my friends ashamedly I have to admit to you that I do not listen to the radio very much. Bad bad me!!
this week Joanie Lindstrom gave me a talking-to about this issue…. Yes , as Joanie said "MBR is your friend Miss Lyn" you know she is damn well right!!
So I just wanted to remind people of some cool shows out there: of course there's the show of all shows Late Risers Club on MBR, where would Boston be without that show huh??? 30+ years of innovative programming and great personalities, of people persevering to do what they knew was right!
But here's also Strike The Box on WMFO
And there's The Desperate Hour with Alex , playing garageppunk and other fine selections from this podcast!!
And there's GaragarePunk Podcast
and there's Shout Above the Noise a college radio show at Muhlenberg College in Allentown, PA. It's every Sunday evening from 12:00 midnight to 6:00 am at 91.7 FM WMUH .and of course can also be heard worldwide on the WMUH website. They play punk rock music from the 1970's to the present time and they are always looking for great new and old music to be featured on upcoming shows.
so it looks like I pullin' out the head phone to do some listenin" my friends…
AND many many MANY people have asked us here at the BGN about the infamous Bill Tupper.
Well lo and behold daddy, livin' large in NYC he of course showed up for the DMZ show at Maxwell's in NJ!!! Click here to get and earful and an eyeful of the old Tupper hisself daddy….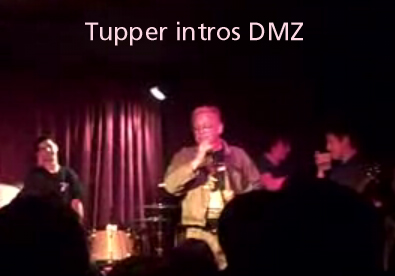 This Thursday, Nov. 6th is Jesse Malin, Cassavettes and The Dirty Truckers at TT The Bear's
….And then at Church Thursday & Friday November 6th & 7th … …at Church , The Cult of Point Break Society doing Television's Marquee Moon album…check out their MySpace site and also on the bill that night by the way is The Motion Sick and Varsity Drag on Thursday and some other band on Friday….
THEN on Saturday Television's Richard Lloyd is playing at Church, along with Foxpass!!! The Tampoffs and The Konks are at The Abbey November 7th….
Hey over in JP at The Midway there's The Eric Laufer BENEFIT show... on Saturday November 15th with Nate Gibson, Gamma Rays, Pulp 45, The Stumbleweeds, Johnny Carlevale & The Rolling Pins, Rocky Velvet…that's a fun night!!! please do go, it's a great cause too…
Excellent show at The Abbey on Friday November 21st with the Have Nots, The New Alibis, The Throwaways and Doggfight US…YEAH!...
Check out this show at the Roxy: Thursday, November 13, 2008 Reverend Horton Heat , Nashville Pussy and Reckless Kelly this is an earlier show at 8:30…and my oh my it promises to be a good one in many respects!....
so that's it for me this week folks…..email me and let me know what's happening….'til next week…!! ML
….well ok my friends…until next time…and please do send along a little message to make my day…. ML