The BGN News Archive
November 4, 2013
There was still leftover Red Sox mania and Halloween dressing up going on this last weekend as we headed for Great Scotts.
We have been fans of New London's Suicide Dolls since we saw them at O'Briens . They opened up the night with a small crowd listening. The mix gave the drummer a prominent spot and he was worth listening to. He was neither too busy nor too sparse but keeping a solid beat with interesting fills. He, as well as the rest of the group paid attention to dynamics by having the energy level go up and down during the course of a song. There's a lot of psychedelic rock influences in them especially the guitarist. They will start off with a minute of feedback before getting into the body of a song. At one point they played for about 15 minutes by joining three songs seamlessly together in what came across as a suite. I thought that worked wonderfully, again in a psychedelic way. I'm not getting the words but it would be nice to know what they are singing about.
Andrea Gillis had played the night before and according to Eric Law she was rocking hard. That seemed like a good show we missed with Gillis, Downbeat 5 and Stupidity. Andrea has cut a wide swath since the Abbey Lounge days. With that amazing voice she has focused on different styles - punk, blues and even gospel tinged songs but she will always head back to straight rock and that's where the band was this night.
There was no sense of being tired and worn out from the night before as they slammed into a rocking set. The sound of the group immediately energized the now crowded club and people moved to the stage area. Andrea's voice was in top form and that alone could carry the night but the band was right with her. Michelle Paulhus on bass and vocal is the person you always want there and Charles Hanson was pitch perfect on lead guitar. His sure fingered playing is clear and forceful and he has the gift of knowing what kind of phrase will fit the song. Many times during the night as the songs were gaining steam Andrea having gone to the top of her volume was not adverse to giving an extended scream to up the excitement. They did a cover of In the Dark by Billy Squire that had everyone smiling. A very exciting set although on the short side which they all seemed to be today .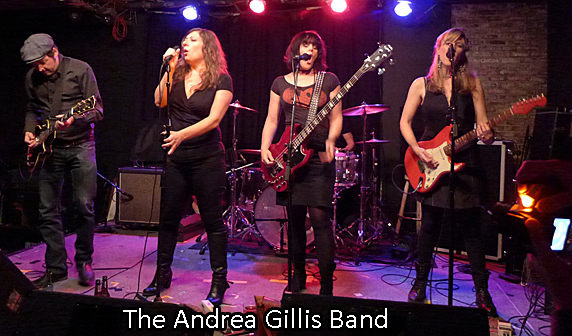 We heard that Hey Zeus, a new band to us, had Ken Cmar from Wonderdrug Records on bass which told us the band would probably be hard and loud and that proved to be true. They had an unusual beginning when the drummer and singer took to the stage...both started playing drums; The singer had a stand up drum set up in front of the drummer's set and he was beating on it mercilessly....the double drumming made a nice busy beat that built up as the bass and guitar finally kicked in too; different and cool. They were having a ball on stage and that was contagious. Now the club was getting hot and sweaty.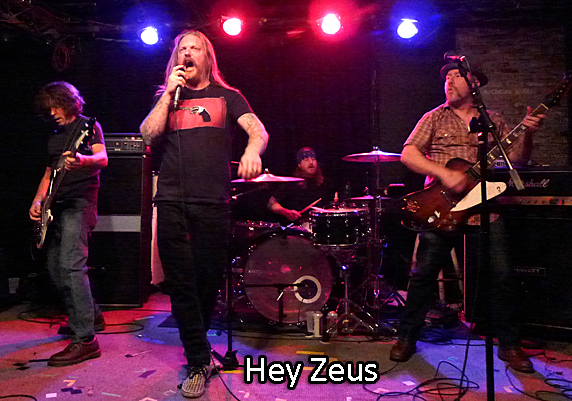 The local cognoscente have been onto White Dynamite for a little while now. They have made a buzz with their live show. White Dynomite is the appropriate name as they burst on stage draped in while suits that glare in the stage lights as the band sonically explodes. (They also had while amplifiers.) They will not be ignored as they barrel ass their way through the set beginning with their signature song - White Dynomite. The lead singer has a large presence with the big sunglasses and dreadlocked hair along with the white on white apparel. It was just plain fun to take in. The music is 70's hard rock influenced. Which make me realize that all four bands tonight play more like Led Zeppelin would than The Ramones. It was not a very punk night. Just a night or a trend? Well see as we get our light and search like Diogenes for an honest punk band.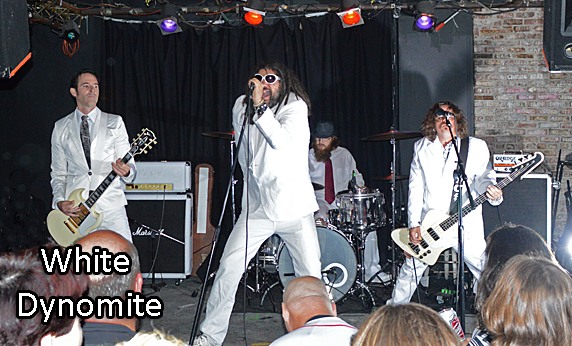 OK let's see what's going on this week:
Oh before that make sure to check out the November issue of The Noise - we're in it!! So you know its gonna be a great issue!!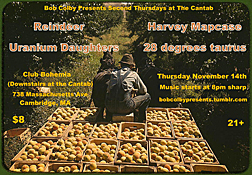 This Wednesday has an excellent show at the Middle East Up with Black Thai (its their LP release/tour kickoff show), Cocked N' Loaded, Goddamn Draculas and Second Grave...
This Friday November 8th is Baker boys night at Radio down with The Kurt Baker Band and Tom Baker and The Snakes...and special guest...Jay Allen and his left shoe...
Saturday, November 9th don't miss the 360's on Crash Course for the Ravers 1-4PM - WMFO 91.5FM. On the show will be the 360's and Sal Baglio of the Stompers.
And...yup The Flaming Groovies are at Radio - it's next Thursday November 14th and note- since you do not want to miss anything that doors are at 7 and the show starts at 8PM sharp!! Aimee says there are still tickets so you can call her to get 'em. Andy Shernoff is also on the bill!
Bob Colby happens to be having his Third Thursday at The Cantab that night too...on 11/14 he's got Reindeer, Harvey Mapcase, Uranium Daughters and 28 Degrees Taurus...
November 16th James Straight is having his birthday bash at Copperfield's...it should be a good party folks - on the bill is the always entertaining James Straight & The Wide Stance along with The Derangers, The Guns of Brighton and Nicole Alexander
Great Scotts has a great set of shows on the weekend of Sat & Sun, November 16 & 17 for The Welch Boys Benefit for The Pine St. Inn featuring
On Saturday 11/16: The Welch Boys, Burning Streets, The Blue Bloods, Dirty Water, The McGunks and Old Edison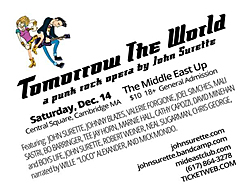 on Sunday 11/17: The Welch Boys, Nowhere USA, Taxi Driver, The Scars, Penis Fly Trap, Guns Of Brighton and Jenn Kitten
International Pop Overthrow is back for another year at Precinct on Friday, November 22 you can catch Peter Buzzelle, Radio Vendetta, Michael Oliver & The Sacred Band, Fox Pass (at 9:45), 1.4.5., The Eric Barao Band and closing the night is I Am Next.
The Smithereens are playing at The Old Town Hall in Salem on November 23rd...along with Pop Gun and Gyro Lula.... now folks get yr tix for this its very limited seating...
Here in town on November 23rd Triple Thick are at The Plough & Stars along with Hambone Skinny
And over at O'Brien's on the 23rd is The Tube Fest - New England Surf Showcase with The Waveriders, Tsons Of Tsunami, Dustclouds of Mars, The Televibes, Matt Heaton And the Electric Heaters, 9th Wave, Axemunkee, The Derangers, The Weisstronauts, Surf's Up Spicoli, Tsunami of Sound, and Thee Icepicks ....it all starts at 2PM my friends....
And in NYC- Real Kids and Lyres in NYC on November 23rd…at The Bowery Electric…many fans will really be celebrating a thankful Thanksgiving if in fact the Real Kids do play!! What a show that will be!! We hope John Felice is well and able to do this show!! Also on the bill The Headless Horsemen, Wizard Sex and Hilton Valentine
On Sunday December 1 - at Great Scott is The Thalia Zedek Band, Shepherdess, Royal Wedding and Planet Of Adventure
And John Surette's punk opera Tomorrow The World will be performed live at the Middle East, Saturday Dec 14.
Thursday December 19th there's a great show at O'Brien's with The Wrong Shapes, Black Fortress of Opium, Endation and
The Easy Reasons
Some of you may remember Jack "Stinky" Donahue....he was on the scene and a sound man back in the day..he's moved to Austin, TX as have some other Boston scenesters...and now he has a site, AudioTech Austin, with a page where he's sharing his recordings from those days!! Lucky for us.... check it out..he's got La Peste, The Real Kids, The Outlets and will be posting more in the future!
EMAIL US AT.......misslynbgn@yahoo.com