The BGN News Archive
November 4, 2019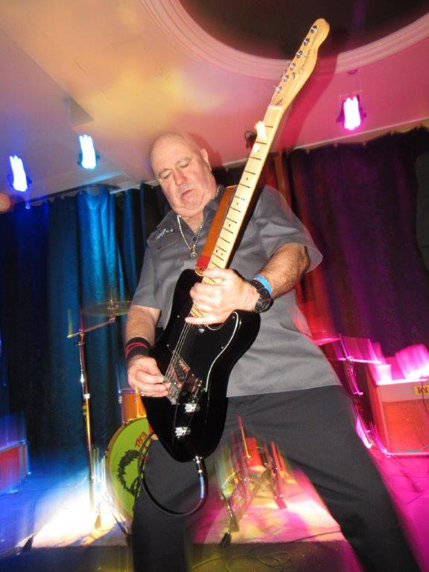 Nick Cash
Photo: Eric Law
---
Miss Lyn, ever the 999 fan, went down to Koto Providence to catch 999 with The Clap and Glider.
999 have been around since 1978. These guys still put on a high energy show that includes all their hits from back in the day. They did a tour of 15 gigs in 14 days and there are loads of videos on line of all their shows from this tour, especially on the 999 Facebook page. The Clap who booked this tour were a big and pleasant suprise. Bass driven, Brit influenced pop punk, The Clap have also been around since 1978. They are the real thing. Boston's Glider opened the show. And a spcial thansk goes out to Cal Cali for getting this show to happen. Thanks also to Bob Cenci who put us in touch with Janee of Koto.
For lots of photos and more about this show we have a separate page. To access click the photo below.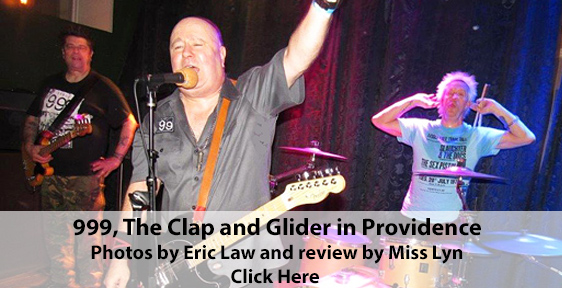 We were excited about the new A Bunch of Jerks CD Anguish as a Second Language (see the mention in the section below this) so we thought we'd go see them at the afternoon show at the Midway. It was a big fail though as they went on at 3:15 and we got there at 4. That still left three bands who made for one lively show full of laughs and strong sets.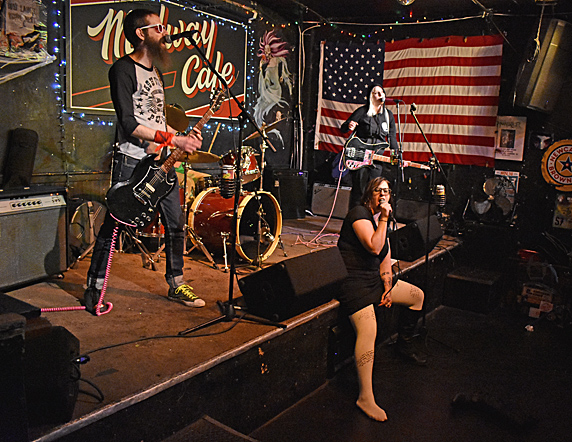 Guilloteenagers
Photo: Blowfish
First band we saw was The Guilloteenagers who've been around for a while. We saw them in 2014 and 2016. Back then they played some basic punk. At this show they completely revamped what they do. The bass player was now the singer and they had Cat Verlicco from The Knock Ups on bass. This has changed the whole dynamics. Before they just stood and played, but now, at the Midway, they wreaked havoc for the whole set.
The singer, Ali Quinlin, had personality to burn. She had plentiful patter between songs and that fed the good feeling gig this turned out to be. It was positive lovefest in that club.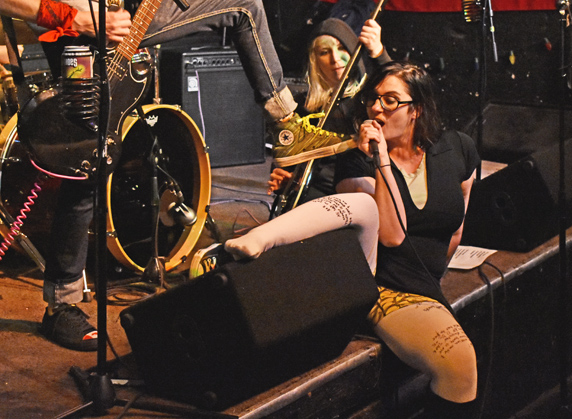 Guilloteenagers
Photo: Blowfish
There was a lot of movement and bumping on stage. Cat on bass was all over the place and it almost seemed like she was fighting the containment of the stage. Ali did get off the stage as did the guitarist who ended up crawling through the crowd and to the back of the club somewhere.
Ali hit a snag, she didn't know the lyrics to a song but she had written them on her white stockings. To do the song she took off her dress to reveal taco illustrated briefs as well as the lyrics. Click for photo. Reading the lyrics on her legs while singing was sort of a performance piece. That's not something you see every day.
The music was raw and punky. It will take a few more times hearing them to catch on to the songs because the show was so diverting. Nice problem.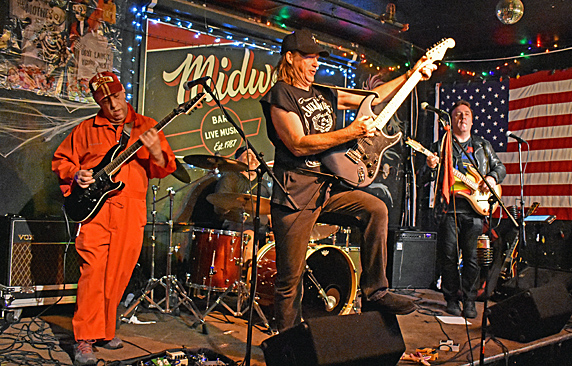 Hixx
Photo: Blowfish
The theme of this day was the Hixxgiving and there was some food at the back of the club. Hixx are the supporters of all low culture and bad taste. All that was on display in the show and the music. They play rock, country, arena rock and blues - any genre that can fit with their socially unsavory views. Where else can you get a song about animal husbandry?
Even as they pose as country bumpkins the playing is sophisticated. It has to be with Rich Mirsky. He has a grasp of a lot of genres which comes about from practice and the plethora of bands he's been in through the years. Some of the songs had snippets of riffs from hit songs like CCR's "Fortunate Son".
The lead singer "Jeb Hixx" was top of the line gauche. Worthy of his position and able to bring home all the lyrics which, dear reader, w0e will not quote, for our sake as well as yours.
On bass was the ineluctable Mike Quirk. We almost thought he was just in our optical cache and his image just popped up where it always is – on stage. Then again he was off stage too, on the floor playing with his hand over the top of the neck or playing with the bass over his head. He also did some guitar jousting with the other guitarist. At the end of the over the top cray-cray antics at the ending he said to the next band, "OK kids, top that."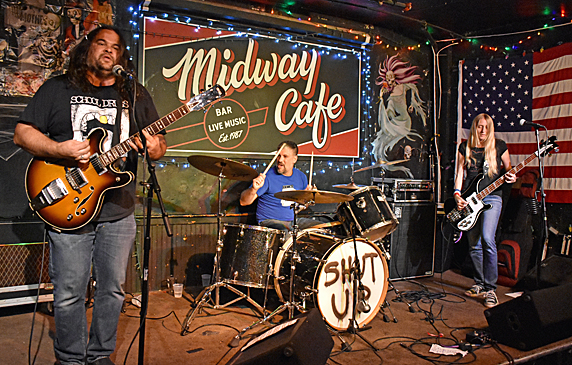 Shut Up
Photo: Blowfish
The next band was Shut Up from New Jersey: that's two reasons why we thought maybe they would out crazy the other two bands. What they did was better, they just cranked out a powerful punk/hardcore set. They played fast power chord driven songs. Their biggest asset was the singer's voice. Where a lot of hardcore singers get to that yelling place, this singer had a naturally gruff timbre that added beef to the tone when he was giving it his all. It came out like a growl. You have to be born with that.
Most of the songs were short blasts. They keep things as simple as possible and the power of their attack does the rest. You could hear the words which was an added plus.
Like all the bands at this show they had a lively stage presence and talked it up a lot. They actually had a show that night in NJ. They were going to drive right after the show for 5 hours to make it. That's a close call but looking at their Facebook page, they made it, you have to admire their spirit. The singer had a neat trick, he put a plastic light up ice cube in his drink (Click for photo.). That way he always knew which drink was his among a bunch of other glasses.
We hope they make it to MA again.
This show had it all: good music, wild stage shows, food and a wonderful feeling in the room.
Click Here for more band photos.
---
And in other news....
Here's an article in Fast Company magazine entitled "How punk rock changes the course of design history". It references the Museum of Art & Design show Too Fast to Live Too Young To Die which Miss Lyn covered back in April. They talk about the fact that punk design happened before computers. That's sure as hell right....we remember laying out the early print copies of The BGN...as in literally cutting and pasting and laying out the copy...not clicking those buttons on any computer. It was another DIY component of Punk. The last line of the article is memorable: "Although punk may have been too fast to live," Blauvelt writes early on in the show's publication, "it was not, however, too young to die." Yeah because it HASN'T died.
Minibeast is going on a ten day tour that will go from New York, to Ohio, Tennessee and finally to Georgia. We would love to be at those clubs when that insane rhythm section rolls out. Check out their FB page for dates.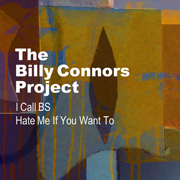 Getting a regular release by the Billy Connors Project has been one our welcome pleasures these last few years. There are always good songs and then knockout songs that are done up with quality recording. They just released two more songs. The BCP put real life situations/content in their songs in this case "I Call Bullshit" gets justifiable anger from the Parkland School shooting. The music is strong and snarling but measured as the lyrics tell the story. If you don't get a jolt from the line "I got a twenty dollar bill that I'm going to bet, the lying and dying ain't done yet" then you don't have a heart. The political/social content in this song is so needed and so missing from almost all musicians now.
"Hate Me If You Want To" is another emotional wrencher from Adam Sherman. He always goes deep. There is a nice sweep to the sound of the recording. There's a touch of country in the guitar. Then there's a conviction and sense of real life loss in the lyrics that makes it work.
There's a fuller review on our CD Review page.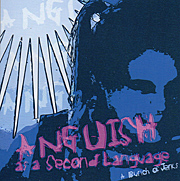 We have a review of a Bunch of Jerks new CD Anguish as a Second Language. There's showy glam that underlines their punk style. The have one song that has us bonkers. It's called "Rainbow Pitbull Party". It's like one of those oddball punk singles that came out back in the day. Stabbitha fast talks, sings and rants her way through almost five minutes of outrage against animal abuse. We think this is a piece of genius. https://abunchofjerks.bandcamp.com/track/rainbow-pitbull-party
There's a lot more on the CD which we have reviewed on our CD Review page.
We also added a review of the Dogmatics new 5 song EP, She's The One. That title song is an immediate hit, the minute you hear it, you love it. "I Love Rock and Roll" check marks some of their fave bands as it rocks itself. Then there's that cover of the Unnatural Axe's "Summertime". Again hit the CD review page for more.
We saw John Horvorka at last weeks Fleshtones show at Once. He had his new CD called Peace Bridge. John plays all the instruments. He still has his own area of subject matter, which would be Mechanized Farming. He also sings about pollution and evil industrialists. The way he does things, his own, is the way he got to "Bridgeport Lathe". He is one of Boston's unique musicians. Pick it up on Metal Snowball Records
Baluchitherium loves to drink. On their Bandcamp page they even describe their music as 'beer'. On their new album Lost Glasses, Empty Love they have a song called "My Liver, Your Fault". When they take a break from drinking songs they come up with a moody gem like "Cryin' Shame". Check it out on Bandcamp.
---
Mark you calendar for:
THIS Tuesday Nov 5 - The Von Traps, Pretty Pleased (Chicago), Crunchtime at The Jungle- this is a FREE SHOW!!!
Monday Nov 11 - Samiam, Moving Targets, F.U.s, Rocking Bob, and Far Above the Ground at Once - All ages - starts at 6PM
Saturday November 16 - MOTO, Electric Street Queens, Sticker Shock, Johnnie & The Foodmasters, at the Cantab. This is from the KLYAM guys. FB Events page.
Riche Parsons on WERS 88.9 on Nov 20 will play live on the air at 9 pm
Saturday November 23 - do you like The Monsieurs?? or Andy California?? are you titillated by Andy MacBain's antics on stage?? well check out Tunnel of Love cause that's where it all started my friends... Tunnel of Love etc at Hardcore Stadium Cambridge (more nelow in gig listings)
Nov 30 - saturday- Mark Lind and the Unloved at Great Scott.
Here's some good shows coming up this week.....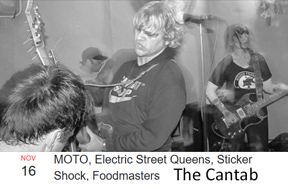 November 5 (Tuesday) The Von Traps, Pretty Pleased (Chicago), Crunchtime at The Jungle- this is a FREE SHOW!!!

November 5 (Tuesday) Rock n Roll Trivia with Erin and Bret at the Citty Winery. FB page.

November 7 (Thursday) Venom and Mayhem at The Square Root roslindale.

November 8 (Friday) CE Skidmore, City Mouse, Stubborn Hearts at O'Brien's

November 8 (Friday) Wolftape, Doug McDonald Band, Crunchtime, Thigh Scrapers at Pete's Grill Quincy FB page

November 8 (Friday) Muck & The Mires, The Gotham Rockets, Tiger Bomb, Gene Dante at Alchemy in Providence RI FB page.

November 9 (Saturday) Punk show with Rat-Nip, Heavy Discipline, Jackal, Corrode, Facade at The Democracy Ctr Harvard Sq Cambridge FB page

November 9 (Saturday) Muck And The Mires, The Downbeat 5, and Gotham Rockets at Sally O'Brien's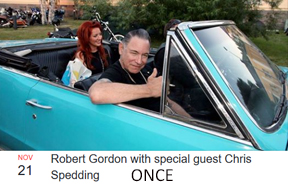 November 8 (Friday) Billy Connors Project, Dave Godbey, Richie Parsons Duo at The Square Root in Roslindale
November 9 (Saturday) Black Helicopter, Baabes, blindspot, Jakals at Opus in Salem
November 9 (Saturday) Change Today: Joe Wood era TSOL at Ralph's Rock Diner Worcester.
November 9 (Saturday) Thee Fighting Fish, Queen Anne's Revenge, Four Point Restraints at The Square Root.
And further out there is.....
November 11 (Monday) Samiam, Moving Targets, F.U.s, Rocking Bob, and Far Above the Ground at Once - All ages - starts at 6PM- 10:30PM!! FB page for tix etc.
November 14 (Thursday) Halshug (from Denmark), Corrode, Skinned Alive, Skrawl at the Dorchester Art Project - FB page
November 14 (Thursday) International Pop Overthrow Night 1- Union Tavern- with Dave Rave, The Eric Barao Band, Trick Wallace Trio, Glowbox, V As In Victor, Stuck Stars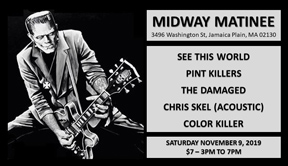 November 14 (Thursday) Silver Screams, Kuya, Electric Joey, Wire Lines at AS220 Providence RI. FB page.

November 15 (Friday) International Pop Overthrow Night 2- Union Tavern- with Corin Ashley, Richie Parsons, Hummingbird Syndicate, Kid Gulliver, Kris Rodgers & The Dirty Gems, CrunchTime, 1.4.5.

November 16 (Saturday) Brian Young's a Crash Course for the Ravers is featuring Greg Allen's Fringe Religion. 1-4PM WMFO 91.5 FM at http://www.wmfo.org/popout_player.php?bitrate=256

November 16 (Saturday) Rodentt (reunion) (mems of Medical Maps and Mente), Classic Ruins, TRiPLE THiCK, Musclecah at The Midway - 3-7PM matinee

November 16 (Saturday) The Crank-tones return to Atwood's 4-6PM

November 16 (Saturday) International Pop Overthrow Night 3 at Union Tavern...with Arthur Nasson, Dave Charles, The Shellye Valauskas Experience, Michael Oliver & The Sacred Band, Tiger Bomb, The Amplifier Heads, The Brigands

November 16 (Saturday) DJ Easy Ed presents: The Hi-Risers, Goons (mems of Rocky Velvet), The Bop Thrills, + Easy Ed's Record Hop! at The Midway (8PM)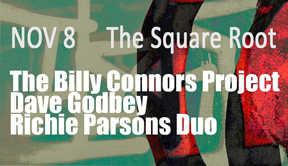 November 16 (Saturday) Time and Place, Coffin Salesman, Ham the Band, Doug McDonald at Thirsty First Lowell.
November 20 (Wednesday) Randy Black & The Heathcroppers Plough & Stars Residency 6-8 pm
November 20 (Wednesday) Richie Parsons on WERS 88.9 will play live on the air at 9 pm FB event page
November 21 (Thursday) Robert Gordon with special guest Chris Spedding and Diablogato at Once
November 23 (Saturday) A Crash Course For The Ravers featuring A Bunch Of Jerks 1-4PM WMFO 91.5
November 23 (Saturday) Tunnel of Love, Nice Guys, Feminine Aggression, Song Birds, Swettes at Hardcore Stadium Bishop Allenm Dr Central Sq Cambridge FB page
November 23 (Saturday) The Knock Ups, blindspot, Lonely Leesa & The Lost Cowboys at Sally O'Brien's
November 23 (Saturday) "Love The Bands" @ ONCE Featuring: Smitty E. Smitty & The Feztones, PowerSlut, Corner Soul, The Rupert Selection - Doors: 8:30PM, Music 9PM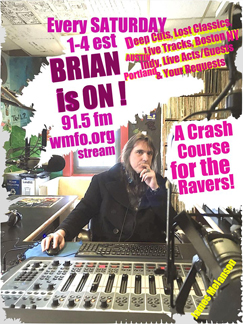 November 24 (Sunday) Johnny Cab, Kermit's Finger, The Negans, Baabes, Bernie's Garage at The Midway 3-7 matinee
November 25 (Monday) Weaklings, Cook Bag, SkyTigers at Charlie's Kitchen
November 30 (Saturday) Mark Lind & The Unloved with Bryan McPherson and M. Kane & The Morning Afters at Great Scott. FB page
December 7 (Saturday) Triple B Records presents: American Hardcore Fest 2019 with Magnitude, Wild Side, One Step Closer, Restraining Order, Method of Doubt, Anxious, Big Mack, Field Agent- All Ages, $25Advance / $30Day of Show, *NOTE* 12:00PM Doors- this is an early show!! FB page.
December 14 (Saturday) Baabes, The Von Traps, The Hi-End, The Stigmatics at the Midway Matinee Show 3-7Pm
December 15 (Sunday) Thrash N Bang's 8th Annual Punk Pizza Party! with The Neighborhood Shit, Fast Times, The Ratz, The Hangovers at The Midway 3PM matinee - ony $5!!! and free pizza.
December 16 (Monday) We Are Space Horses, The Zygote Theory, Rawstrum, Kevin Madden Band at The Jungle
December 18 (Wednesday) Randy Black & The Heathcroppers Plough & Stars Residency 6-8 pm
December 21 (Saturday) MOTO, The Thigh Scrapers, The Thirsty Pirates (NYC) , The Montgomerys at The Midway for a Matinee Show 3-7:30PM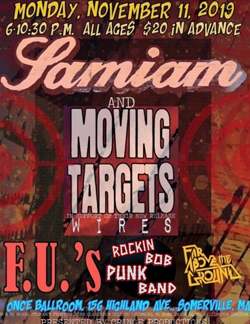 December 21 (Saturday) Mother Iron Horse, Tied to a Bear, Von Traps, Skytigers at Opus in Sale
December 301 (Monday) The Last Rebuilder New Year's Eve Party at Charlie's Kitchen with Save Ends, Sorry and 1 special guest to be announced
January 4 (Saturday) Handsome, Four Point Restraints, T and the Wrecks, Micah Howeson at The Jungle
January 10 (Friday) The Mercy Case, Bystander, blindspot, Foxes at Koto Salem
January 15 (Wednesday) Randy Black & The Heathcroppers Plough & Stars Residency 6-8 pm
January 18 (Saturday) Triple Thick, Crunchtime, 1.4.5., Butterscott at The Midway 3-7PM matinee
January 18 (Saturday) Barrence Whitfield & The Savages, Muck and the Mires at The Middle East FB page and tickets
January 198 (Sunday) Stoploss, Secret Spirit, F.U.'s, more TBA at The Thirsty First Tavern Lowell FB page
March 28 (Saturday) The Zulus at The Paradise
CONTACT US AT....misslynbgn@yahoo.com Send us your gig listings, your news and anything else ya got!! You want your CD reviewed?? Contact us for that too.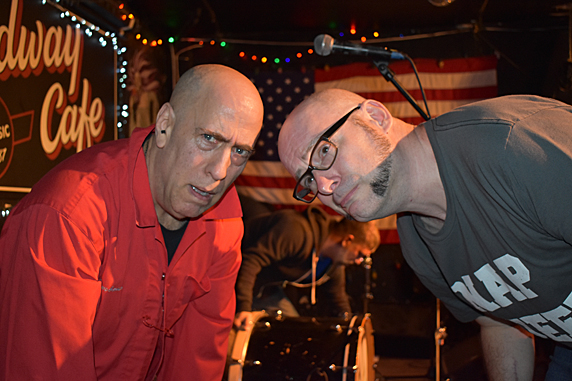 Heads up for Richard Mirsky and Mike Howlett
Photo: Blowfish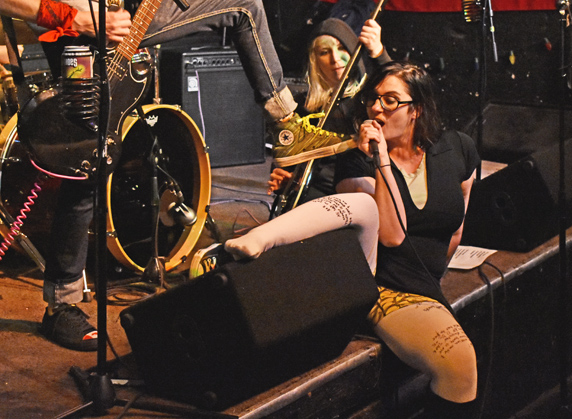 Guilloteenagers
Photo: Blowfish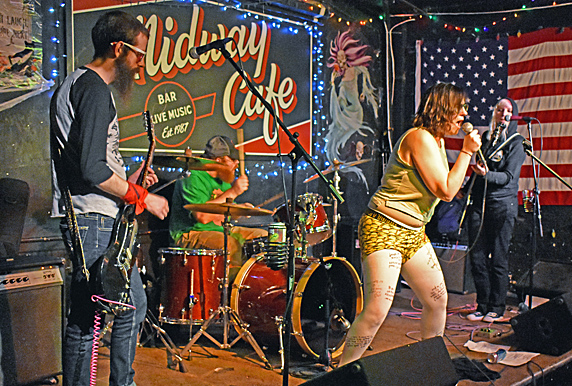 Guilloteenagers
Photo: Blowfish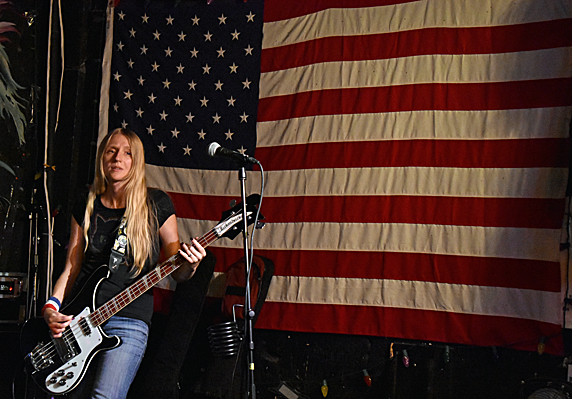 Shut Up
Photo: Blowfish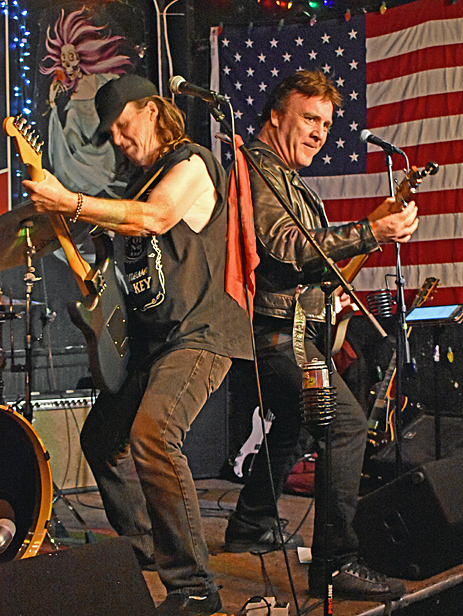 Hixx
Photo: Blowfish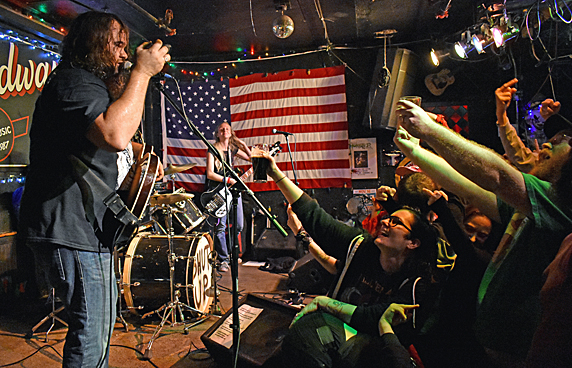 Shut Up
Photo: Blowfish