The BGN News Archive
November 5, 2012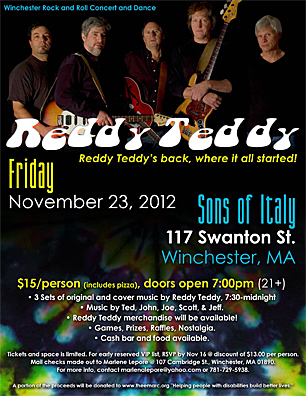 We tried to get to a gig at O'Briens on Saturday but had no luck finding a parking space. It's so frustrating but what can you do? Large amounts of students were streaming across the streets like they always have.
We should have gone to the Unnatural Axe gig with all of Wollaston Beach area to park.
Allston Rock City will host Aerosmith on Monday on a flatbed truck. They are blocking off streets...stopping the T. Gonna be a zoo but could be fun.
Norton Records warehouse in Red Hook, NJ got flooded in the storm. No word on how much of their stock got damaged.
WMBR starts it fund raising this Thursday Nov 8. They always have great give aways when you donate. They also will have a T-shirt that celebrates the Late Risers Club 35th Anniversary.
Coming up this week , Wednesday is a special Primitive Sounds at River Gods in Cambridge with guest DJ Alex Piandes, longtime host of WMFO's hit show "Coffee and Smokes" and the man behind the "Desperate Hour" podcast, joining host DJ Easy Ed for a night of rockabilly, 50s and early 60s rock 'n' roll, old blues and hillbilly, soul, surf/exotic instros, and more. Alex will probably throw in some rare garage and other surprises, but who knows for sure what he'll cook up? It's been a few years since he's spun live, and he's rarin' to go. Don't miss his triumphant turntable return!
This Thursday November 8th Glen Matlock (yes the original Sex Pistols bassist) in at the Middle East (up?? Yeah up- Just doesn't seem right huh? ) Also on the 8th over at Precinct is a throwback show with Rock Bottom getting together to do their renditions of 70's rawk…along with Aquanuts doing 80's hair metal….
And November 9th!!! the Roky Erickson has been moved to TT's…(TT's??? yeah TT's - also doesn't seem right, huh? Don't get me wrong I love TT's but seems like he should play a larger venue!)
Human Sexual Response is this weekend! - (they got moved to a bigger venue)November 10th….
AND on sale at the show (this is the only place you can get it right now) is the new viddy of HSR by Jan Crocker: UNBA UNBA, (click here for our review) is the only extant document of a complete HSR performance. Recorded at the peak of the band's career (1982) , it captures the Humans' unique sound and sensibility-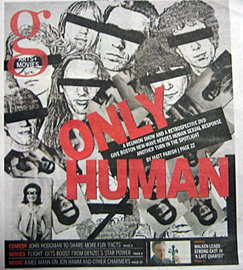 Human Sexual Response got front page in the Globe 'G' Section.

And Mars Man is bringing music to the South Shore/Cape area at The New World Tavern…(56 Main St, Plymouth) - this weekend (Saturday the 10th) he's got a great show with Jenny Dee & The Deeliquents, Triple Thick and The New Frustrations!...AND NO COVER!!!

We have International Pop Overthrow coming up at Precinct Weds Nov 14 through Sat Nov 17

November 17th there's a another excellent Cal Cali gig at Rosebud….Lyres, Jetset, Foxpass

Also that night a great gig at Johnny D's in Davis Square as well with The Dogmatics along with The Magnolias and AM Stereo

And then there's Turkey Day coming up and the day after, Friday Nov 23rd there's a Reddy Teddy show in Winchester (they are going back home where they began it all) and its at The Sons of Italy Hall, 117 Swanton St - they'll have special guests and free pizza!

EMAIL US AT…….misslynbgn@yahoo.com