The BGN News Archive
November 7, 2011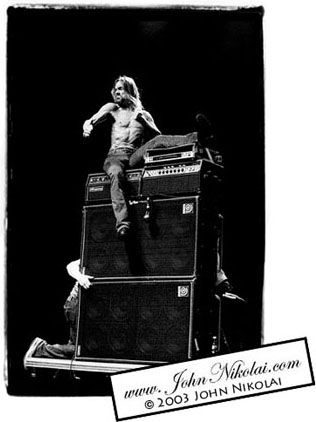 OK, I'm starting this week's news with a new KickStart Project

JOHN NIKOLAI's awesome and WORTHY project:

NEVERMIND NOSTALGIA: The Last Book On Punk Rock (Part One)

This is very cool and its worth it just to go to the page and watch his video...and please donate something...John has worked as a photographer and writer for Rolling Stone, The Village Voice and Smithsonian Magazine and now teaches photography at MIT . He was also the art curator and photographer at CBGB's for many years....this guy has impressive credentials....his show was banned and stripped from the walls of Zuzu a couple years ago.....he was the brains behind the Hanged and Hung shows which featured the art of famous rock'n'rollers..... I mean the list just goes on and on.... And for the last 15 years has been working on this book...in fact much of the text is written by the featured artists themselves! Its such a great idea....focusing on "the instigators" of punk and their lives now!!

You can even donate $5...come on....click here....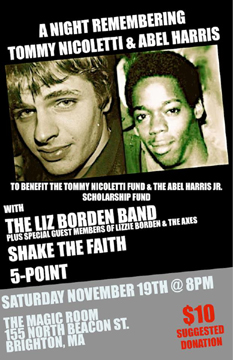 Don't forget that this Thursday Nov 10th there's a Billy Ruane Tribute Show at Radio with Thalia Zedek, Reid Paley, Mary Lou Lord, Hilken Mancini, M.G.Lederman, and Michael Tarbox (We miss you Billy!!!)
Also on the 10th over at The Middle East up The Movers & Shakers are having a record release party (It's their new disc National Harvester which you can listen to on their FB page....also on the bill are Viva Viva, Creaturos and Emperor Norton's Stationary Marching Band
Next weekend you can help Celebrate with My Own Worst Enemy at Precinct in Union Square on November 11th when they have their CD Release Party along with The Vivs, Apple Betty and Varsity Drag.....
The mark the next Saturday too! November 12thfirst off ya got the Annual Hixxgiving at All Asia, still at 334 Mass Ave....its 1-7PM, a Turkey Buffet and a bunch of bands including Hixx and Cadillac Heart...and if you bring a non-perishable food donation they will be bring it all to a local homeless shelter too.
Then there's the KILLER show at Church :
The Neighborhoods, Unnatural Axe and The Sleazies...oh yeah!!
Then on Friday the 18th at TT's is Muck & The Mires and a special reunion of The Dents!! That's the original line up : Michelle Paulhus (bass/lead vocals), Jen D'Angora (rhythm guitar/lead vocals), Craig Adams (lead guitar) and Kevin Pickering (drums).
and The Rosebud has The Beach Combovers, Cal Cali's New Experience. Eric Martin & The Illyrians and Litehouse
December 3rd has Lyres at The Rosebud - this is a most fabulous Marsman Show...and is sponsored by Narragansett as well ( I swear they put something extra in that beer, huh??)
Mike Dreese sent out a State of the Store message which we saw via the NEMS newsletter. It's what you would think - things are tough, sales of CD/DVDs are down and they wonder about the future.....a few lines follow.......
"Looking forward, we can see we surely must morph, or slowly die. There simply isn't enough remaining customer demand to support more than a handful of our stores in a few years if we don't change our mixture of goods.
We are right now in the process of building another hybrid superstore in the Natick Mall. The next 6 months will be critical in determining whether we have a brick and mortar store concept which will survive the steady decline in CD + DVD sales we are now experiencing in all of our other locations."
Email us with your latest news, opinions and all that kinda stuff....misslynbgn@yahoo.com
| | |
| --- | --- |
| Joanie Lindstrom sends some pics of the Fadeaways at Precinct | |