The BGN News Archive
November 7,2016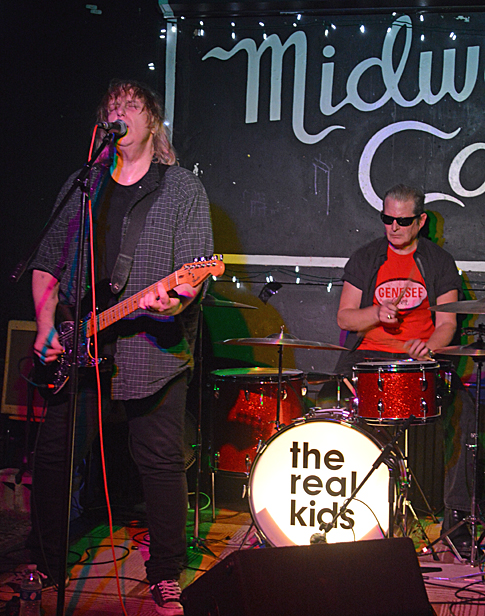 Real Kids
Photo: Blowfish
The return of The Proletariat after 33 years of dormancy got people going bonkers for their gig at Once. The band is on a short run of Northeast shows to celebrate the reissue of their high water mark disk Soma Holiday on Ss records. Could they live up to people's expectation? In short, yes, they did. It was a triumphant return, as many said last Thursday; it was if they never stopped.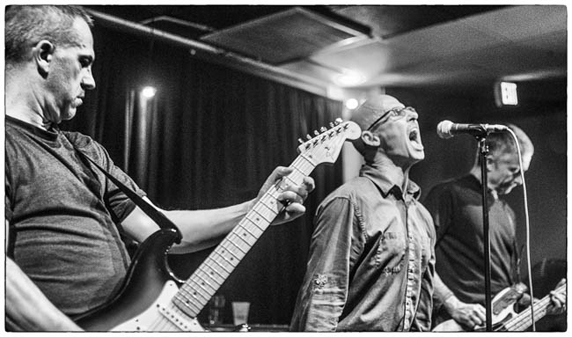 Proletariat
Photo: John Keegan
Back in the day The Proletariat got lost in the hardcore scene but in reality they have different qualities. That was brought out by comparing them to the hardcore act before them.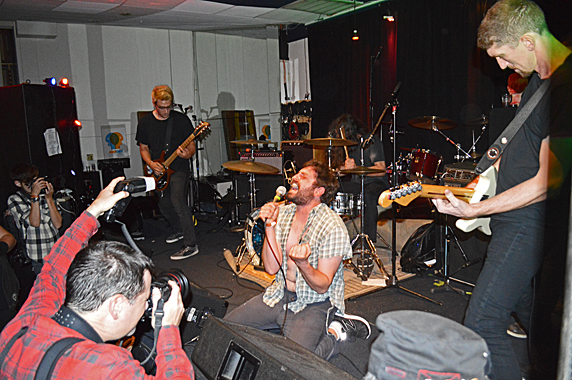 Ancient Filth
Photo: Blowfish
Ancient Filth plays hardcore with political subject matter. It's very pointed. They had one song with very touchy lyrics: "Boston is not strong" and went from there. That was courageous. Who knows what reaction that could provoke? The singer was flinging himself all over the stage and then into the audience. The music was fast, drilling hardcore. It was an impressive set and I'm glad to get exposed to these guys.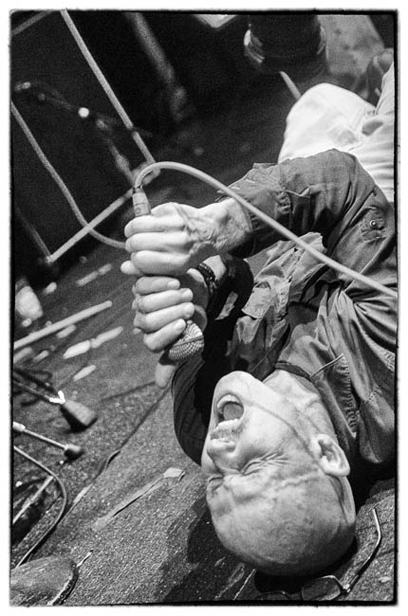 Proletariat
Photo: John Keegan
With Proletariat the rage is there still. Singer Richard Brown is no static screamer, he moved like a dervish in and around Peter Bevilacqua's bass thrum, Tom McKnight's crackle and rumble drums and Don Sanders' trenchant, make 'em dance, riffalations. Sanders made good use of quick breaks and occasional harmonic chime. The objects of Brown's lyrical ire, about income distribution, poverty, dead end lives, power, history and Big Brother, remain sadly entrenched thirty years on. The mention of Voodoo economics brought back a whole debate.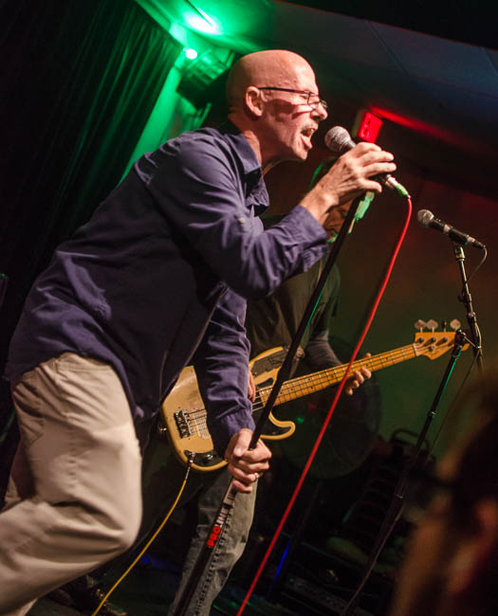 Proletariat
Photo: John Keegan
The music is loud but the beat is in a groove. It's those rhythms once or twice removed from funk that anchor the songs. Many times you would be riding on the beat and the song would stop and you expected, and wanted, it to go much longer. At one point I realized I was bopping to a song with the lyrics : "Monsanto kills." That's genius.
The heavy weight of the topical concerns don't crush the energy in the room though. To the contrary, initially the room is pumped through with concentrated anticipation, as the band makes their way through the set, the room fills with the expanding big bang of a proletariat incited, once again, to public action.
| | | |
| --- | --- | --- |
| Doing Janie Jones | Splendid Wars | The Proletariat |
They covered the Clash's Janie Jones - video above. They've written a few news songs. A whole second career a la MOB could be in store if they want to go for it.
The rest of John Keegan's photos are on his page linked below.
There was so may good shows on Friday and Saturday that it was a matter of what you were going to miss as much as what you were going to see. We never let the Real Kids go by so we were at the Midway on Saturday.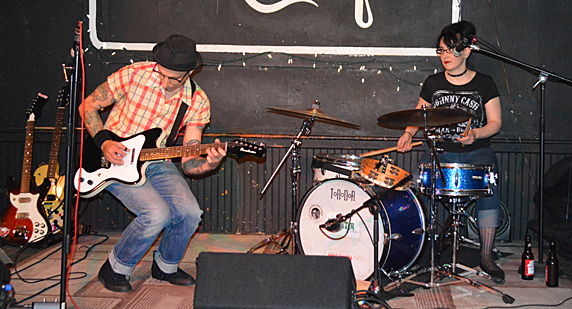 Hambone Skinny
Photo: Blowfish
We caught the whole bill on this night, starting with Hambone Skinny. They bring the swamp with them for their primitive blues stomping. Skinny Mike channels the old preacher trying to save our souls but it seems the whiskey drinking he warns against will win the war. My fave is always the cover of Green Manalishi where the back woods blues seems to fit the song even better than its original setting. There weren't a lot of people at the club for their set. As the night went on more people came in.
I looked around and wondered if this group was ready for the Andy California solo act coming up next. If you've never seen his act the first time is a shocker. I was prepared, and good I was, because I was Andy's first victim.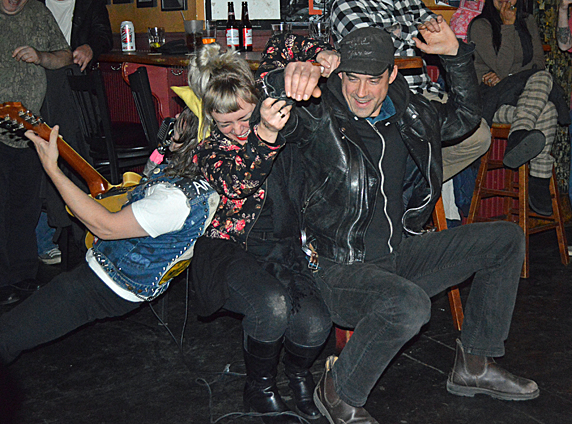 Andy California
Photo: Blowfish
In some sort of urban cowboy outfit with mike duck tapped to the guitar he started singing with his back to the crowd. After a while he turned to the crowd and walked forward in baby steps straight to me. Closer, closer, closer and there he was, head butted up to mine, singing the blues. I could hear people laughing as he continued for maybe a half a minute. Then it was over. It felt ridiculous and sort of cool being part of the act for a minute.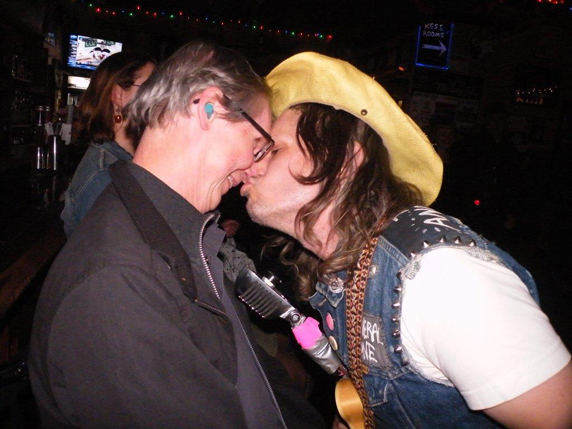 What the...! Andy moves on Blowfish
Photo: Eric Law
Then there were other victims who got their face sung at, crotch sung at, ass butted and danced against then ending on the floor. The whole act he moved around the floor with his baby steps. Why? That's the wrong question. The whole thing is a weird concept that you should just buy into and have fun with.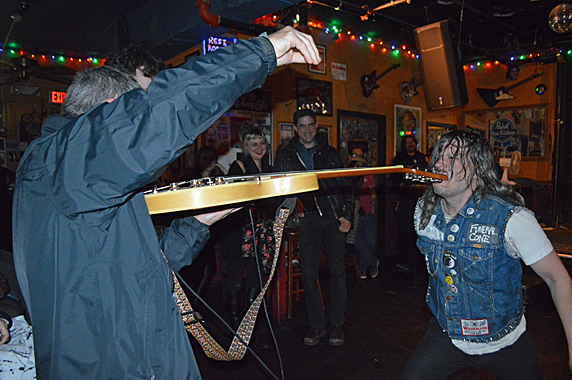 Andy California
Photo: Blowfish
And fun it was as Andy stopped and took his phone out and took a photo of the audience. In the end he handed his guitar to his last victim Steve O'Donoghue. The final image he leaves us with is Steve holding his guitar at one end and him supporting it with his teeth at the other…I told you, don't ask why.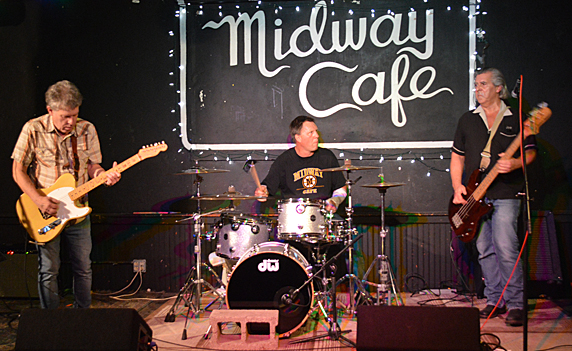 Classic Ruins
Photo: Blowfish
You had to gather your wits together to get ready for the next act. It's Classic Ruins which was a perfect reentry to relative normalcy. After all these years you know what you're gonna get with the Ruins. This night they are very tight. That was one the best gigs for them in a while with Frank playing sharp. Dave on drums had his forearms covered in bandages. It was soon explained he had poison ivy he got while working. He also had some on his legs. It must have been hurting but you would never know from his playing. He's a soldier of rock and roll. They played a set of favorites and a cover of Tale of Brave Ulysses. They ended with Geraldine, I Need Money. I never tire of these guys. The Ruins as part and parcel of Boston punk history as are the Real Kids.
We saw the Real Kids up in Beverly at the Spotlight which was their first show after their European tour. They played so good that night with playing tightened by touring. I thought we might get similar at the Midway.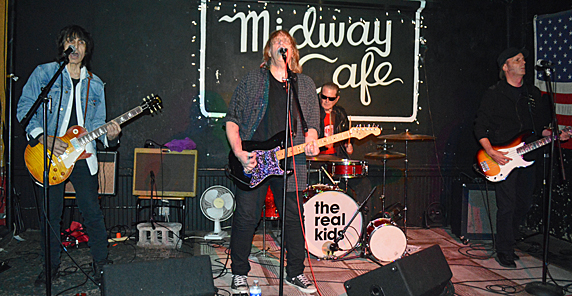 Real Kids
Photo: Blowfish
There's always some extra fidgeting with set up with the Kids. Rick Harte was supervising. They got the PA where they wanted and replaced a faulty guitar chord. Then they're off with Better Be Good. Unexpectedly they sound even better than at the Spotlight gig and that means they are playing pretty great. John's guitar playing is particularly pointed. Even with a borrowed guitar because his was in the shop he had a razor tone and the leads were notable every time. It seems that the understated Dickie on bass has completely integrated himself in the Real Kids sound. He plays melodic figures that lock into the beat and seem to lift and move things forward. He does that with a wonderful warm tone.
They go though some faves and songs from Shake Outta Control which truly is a god send for all Real Kids fans. They play Common At Noon hitting all the emotion inherent in it.
Real Kids
Photo: Blowfish
They play four new songs. Hot Dog starts up like Eddie Cockran's Something Else. It's got the style of those original rockers that John loves. It has a middle section where they do one of the Real Kids' patented moves, that is take it down a few notches where they release the beat and let time float and soak in the mood before they crank it up and end it. I love those moments.
That Girl Don't Get Me sounds like an outtake from the Shake Outta Control album. Solid Gold and You Confuse Me are two more gems. That was four songs that will be on the next CD. Rick says that's over half done. One of the reasons the group is noticeably sharper is the hard work they are doing in the studio. Nothing sloppy gets by Rick. It all has to be nailed in place and that carried over to this live show.
You can see where they are in a new stage of creativity and performance. It's inspiring to see that at this point.
In other news....
Rick Coraccio and The Last Ones are playing out again and now they have Jimmy Birmingham in the band! Check 'em out on January 7th at Sally O'Brien's
From Google Books we present to you Punk Diary: The Ultimate Trainspotter's Guide to Underground Rock, 1970-1982
By George Gimarc. Fun to scroll through and remember the old days. A couple mentions of Boston bands in there too!
Here's some good shows coming up .....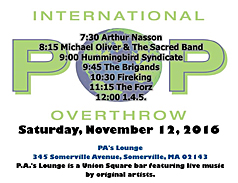 November 9 (Wednesday) Illegally Blind and League Podcast Present: Shonen Knife, Shepherdess, and Birthing Hips at the Middle East Up
November 9 -12 is International Pop Overthrow at PA's Lounge - Wednesday has Richie Parsons among others
November 10 (Thursday) The Goddamn Gallows, Gallows Bound, Tigerman WOAH, Ten Foot Polecats - Middle East Up
November 10 (Thursday) IPO at PA's has Kevin William , American Beauties, TRY, Ships Have Sailed, Suzie Hatton Band and Biltmore
November 10 (Thursday) The Sonics will be at Fete Music Hall 103 Dike St, Providence, Rhode Island 02909 - Here's the FB page
November 11 (Friday) The Sprained Ankles, Stop Calling Me Frank, Spectacle, The Johns at the Midway - This is a benefit for Frank Johnson (FB page for more info)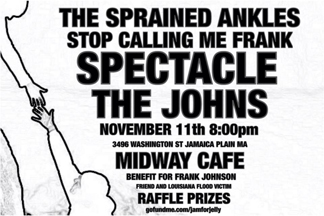 November 11 (Friday) Mercury on Mars, The Hose, Psychic Dog and The Digs are at Club Boho at the Cantab
November 11 (Friday) IPO at PA's has Cait Brennan, Dave Rave & Hailee Rose, Airport, Big Giant, Powderhouse , Wizard Farm and The Downtowners
November 12 (Saturday) The Welch Boys, Penalty Kill, BarRoom Heroes, Zero Rights & Words of Truth a 4-8.30PM show at the Midway
November 12 (Saturday) Punk Rock Flea Market at Koto in Salem 1-5PM "Come down and buy some records, some band and sports tees, some homemade crafts and jewelry" There's be punk rock music after 8PM. FB page
November 12 (Saturday) IPO At PA's tonight has Arthur Nasson, Michael Oliver & The Sacred Band, Hummingbird Syndicate, The Brigands, Fireking, The Forz and 1.4.5.
November 12 (Saturday) Presented by State Line Records. This is the music after the Flea Market- The northshore's best punk bands will be playing their second show of the year together. Local favorites The Tenafly Vipers and Quiggs bring down the house. Boston visitors Duck & Cover and The Warning Shots warm you up for the local favorites. Let's have a good time. all at Koto.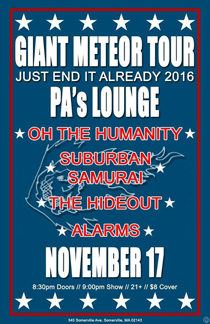 November 13 (Sunday) Here comes another Jay Allen Sunday Night Messaround at The Plough & Star- you'll find Justine Couvault, Tom Baker and a host of others there for a fun Sunday night. Rockin' Bob Cenci joins the fare this evening.
November 13 (Sunday) The Spearmint Sea, Uranium Daughters and Cold Expectations are at O'Brien's
And further out......
November 17 (Thursday) Ten Dollar Mistake, Field Nurse, Hambone Skinny, Jay Allen & the Archcriminals at PA's
November 17 (Thursday) Oh The Humanity, Suburban Samurai, The Hideout, Alarms @ PA's Lounge Union Sq Somerville
November 19 (Saturday) Live Band Emo/Pop Punk Karaoke at the Middle East Down featuring songs from the likes of Brand New, Sum - 41, Taking Back Sunday, Blink 182 and whole bunch of other surprises backed by Coach and friends and members of local bands Fall Risk, Animal Flag, Sports, and Leaner.
November 19 (Saturday) Tsunami of Sound, The Knock Ups, Axemunkee and The High End at Koto in Salem
November 23-26 (Weds-Saturday) 4 Nights! Jonathan Richman featuring Tommy Larkins on the drums at the Middle East Up. FB page It was an amazing night when we went in 2014. And for fun read our 1980 interview with Jonathan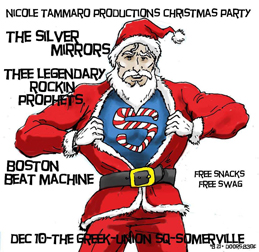 November 26 (Saturday) Frigate are at The Midway for an afternoon show! Also on the bill Thigh Scrapers and State of The Union 4PM show!
December 1 (Thursday) Humanoids, Mam Ladilla (Spain), Covered in Bees (Maine), Intheshit & Black Friday - O'Brien's
December 2 (Friday) Blood Drive, Sex Orgy Death Crash, Jarva Land and Charlie Don't Surf at PA's
December 2 (Friday) Today Junior, Calico Blue, Spirit Ghost and Brushes at The Midway
December 2 (Friday) Blood Drive, Sex Orgy Death Crash, Jarva Land, Charlie Don't Surf at PA's Lounge
December 3 (Saturday) Muck & The Mires will be on A Crash Course for the Ravers with Brian Young on WMFO 91.5 1-4PM
December 3 (Saturday) Studio Two , The Beatles Tribute w/ Muck and the Mires at The Middle East Up.
December 3 (Saturday) The Forz, Young Bull and others TBA are at Club Boho at The Cantab.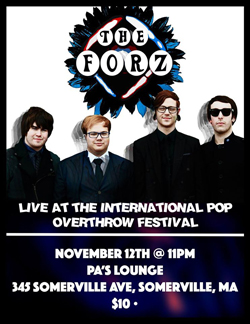 December 3 (Saturday) VapoRubs, Psychic Dog, Silver Screams, Tony Jones & the Cretin 3 at AS220 in Provi
December 6 (Tuesday) When Particles Collide are doing a December Residency every Tuesday at Atwood's Tavern, 7PM show
December 9 (Friday) Peter Murphy "Stripped" -This is A rare opportunity to see Peter Murphy performing (with an ensemble - 3 piece in all) semi-acoustic versions of his music from throughout his illustrious career (um, $25 Advance / $35 Day of Show / $30 VIP Early Bird / $35 VIP Advance) 7 PM Doors
December 9- 13 (Fri- Tues) Danny Garcia's Sad Vacation (a film about Sid and Nancy) is showing at The Regent Theater. You can get tix here.
December 10 (Saturday) Charlie Don't Surf will be on A Crash Course for the Ravers with Brian Young on WMFO 91.5 1-4PM
December 10 (Saturday) Thrash'n'Bang Christmas Party at the Midway
December 10 (Saturday) The Weisstronauts 18th Annual Holiday Jubilee at 4:00 pm at Atwood's
December 10 (Saturday) Nicole Tamaro Productions Christmas Party with The Silver Mirrors, Legendary Rockin Prophets and + free snacks & swag all at the Greek in Union Sq Somerville.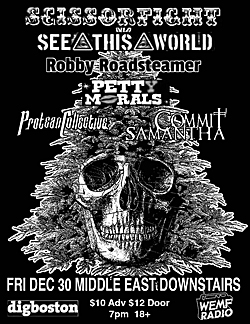 December 10 (Saturday) Psychic TV at Brighton Music Hall
December 13 (Tuesday) When Particles Collide are at Atwood's Tavern, 7PM show
December 20 (Tuesday) When Particles Collide are at Atwood's Tavern, 7PM show
December 23 (Friday) Raging Teens 20th Anniversary Boston Reunion! at O'Brien's (FB page)
December 27 (Tuesday) When Particles Collide are at Atwood's Tavern, 7PM show
April 22 (Saturday) The Templars (NYC), Battle Ruins (Boston), Shipwrecked (Norway), Fit for Abuse (Boston), Boston Strangler (Boston) at the Middle East Down And it's ALREADY sold out in September 2016!
December 10 (Saturday) Psychic TV are at The Brighton Music Hall FB page
January 7 (Saturday) The Johns, The Martians (mems of Bim Skala Bim/Rock Bottom), The Cold Expectations (Album Release) and Medical Maps at The Midway
January 7 (Saturday) The Last Ones, Tsunami of Sound and Stop Calling Me Frank are at Sally O'Briens
January 13 (Friday) Lyres, The Charms, the modifierS at The MIddle East Up.
CONTACT US AT....misslynbgn@yahoo.com - Send us your gig listings, your news and anything else ya got!!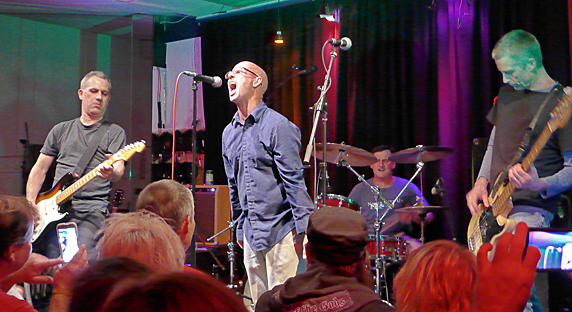 Proletariat
Photo: Blowfish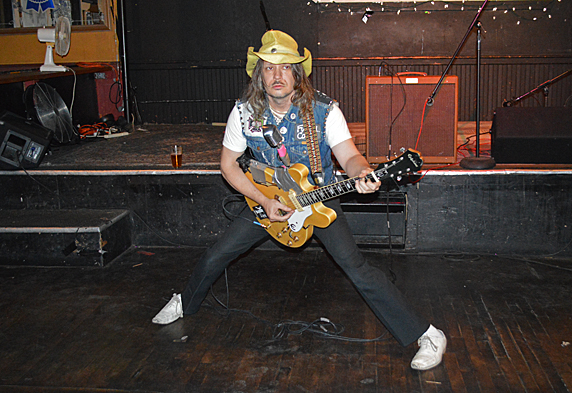 Andy California
Photo: Blowfish
Real Kids
Photo: Blowfish