The BGN News Archive
November 8, 2010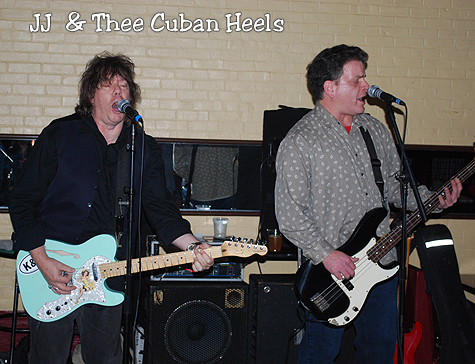 Happy daylight savings time....we crawl deeper into the dark time for the season....ergh..... Thursday past we went to the Sebastian Kruger show at Newbury Fine Arts....mostly I wanted to see the Johnny Rotten painting, it is excellent! He's a smart cookie that Sebastian....how to make loads of money as an artist 101: paint celebrities!! But he is also a pretty amazing painter.
Friday night went to The Rosebud to check out JJ & the Cuban Heels and The Port Charles Quintet... PCQ have been consistently awesome every single time I have seen them! Cam has loads of energy and the band is so strong, Greg Allen just has that great sharp guitar and Dennis...as Blowfish says "His warming up before the set is better than what most drummers can do during their set!!" yup!@!
I'd not had the pleasure of catching the Cuban Heels up until this Friday...my loss. They are really great...JJ has found himself a group of excellent musicians.
This Heels set had such a different feel to it. We were trying to nail it down and all were wondering where the songs were coming from as if that would answer some questions. As it turns it does and it doesn't. Two were English Invasion, one psych, four sort of soul and southern rock and then 6 originals. JJ and the band know their music history (as do the Port Charles Quintet - which made this a great pairing) and so much of that comes through in the performance. They did two instrumentals: one sounding like Booker T and the MG's. All and all it was giving me a 60's feeling.
JJ is one interesting guy and his guitar playing has defined Boston's early punk. Check out our interview with JJ if you haven't done that.
There was some good rocking coming out of the Rosebud this night which also included The Weisstronauts who did their instrumental thing. You haven't heard anything until you've heard their instrumental version of Sympathy for the Devil.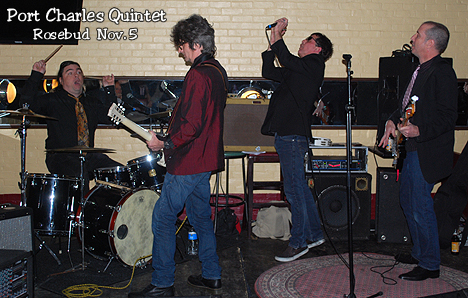 And here's some stuff coming up that we find interesting: This Saturday November 13th at The Midway is Penis Fly Trap, The Killer (Reh)Abs (get it?), The Bags and others!
and Sunday November 14th James Straight and the Wide Stance are at the Magic Room, always a great place to go!!
In honor of Billy Ruane and his tradition of a birthday party gig in November there will be a Billy Ruane Tribute Show show on Wednesday, November 17th at The Middle East down.
ON Thursday the 18th at TT's is Brownboot along with Tad and Kate from Sidewalk Driver...should be a good show...
Friday the 19th Buried in Leather are at O'Brien's...always an excellent show with them! and speaking of them, Niff from BIL is also in By The Throat along with Zim from The Marvels now right there you know they are good...and they just released a CD, so click on the link for more info and to buy it!
Friday 11/20 Port Charles Quintet and the Satin Kittens at the Cantab
December 10th Watts' CD Release show at The Rosebud...more info later and December 17th is The Raging Teens Rock n' Roll Odyssey at TT's!!...
contact us via email here click click click