The BGN News Archive
November 9, 2009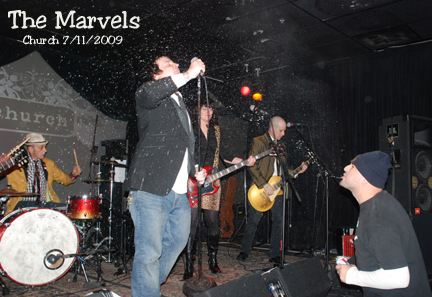 Checked out Church and an awesome gig thsi past Saturday featuring The Curses, The Swindells and Muck & The Mires. and , The Marvels . Great show! I am telling you The Marvels have so cleaned up their act, they are spot on powerful, tight as hell and producing new and excellent tunes. And despite a lot of very frustrating technical difficulties at the beginning, they delivered a killer set. We missed the Swinedells but we know they are always good! Sean is just plain amazing. Muck & The Mires were excellent as always and I am glad they let the bass player get through the set without having to smile and act insanely happy! And on this night we could totally see Linda and be amazed by her drumming style! …The Curses are always fun too but we were heading home not long into their set.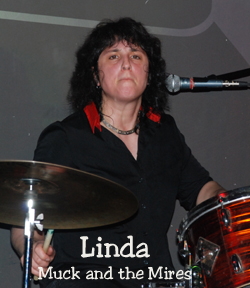 Well my friends thsi Friday Friday the 13th; a nite to go out and celebrate so we got:
1) The Port Charles Quintet at Precinct on Friday, November 13th
2) The New Collisions are having their CD Release event along with, The Luxury, Thick as Thieves, Gene Dante and the Future Starlets, The Future Everybody at The Middle East DOWN and
3) Slim Jim and The Mad Cows at The Plough & Stars
And hey you POP Lovers..get ready coz International Pop Overthrow is coming back to Church!! And for FOUR days: November 19, 20, 21 & 22…pop bands will rule your world! So check out the list of bands on the My Space page
You can start off the Thanksgiving day weekend on Wednesday night Thanksgiving Eve, Nov 25th with a great show at TT The Bear's with Mark Lind & The Unloved, Death & Taxes, The Scars, The Rebel Dead and Marc Cannata of Far From Finished
and end it properly too with Red Invasion, The Murder, The Spoilers, The Egos who are doing a 1PM show at the Middle East UP on Sunday November 29th…….
Blowfish says:
It was a perfect day on Sunday to check out the ROCK AND ROLL YARD SALE down in Providence. We covered the last one in Somerville a while back. We keep going to these because they are fun events with records. Fun and records - that's what we crave.
This one happened downtown in a smaller space than in the past which gave it a more intimate feel. I thought there was plenty of people but all the vendors seemed to think that Saturday had way more people. There were a few vendors outside also.
There was plenty of vinyl and CD's both from stores and people just unloading their own. I scored some 999, Misfits, and Ground Zero from Slipped Disc Records on Long Island - they came a long way for this.
One guy was selling cheep (like $2) DVD's and videos. I scored some bootlegged Kiss tapes and the Lenny Bruce Performance tape plus similar valued CD's. There was a table with someone selling jewelry from cut up vinyl records.
I had some vegan cup cakes that were fantastic from Sweet Revenge.
Afterwards we ate at Tazza's a trendy café with a unusual cocktail menu that was just two stores away.
The people who do this Yard Sale make sure they do it with regularity. Catch the next one in Provy and enjoy the city along with the sale.
Alright my friends, that's it for this week....email me with some news, opinions, or if you want the secret on how to get good Sleep No More tix...or just to say Hi!