The BGN News Archive
November 11, 2013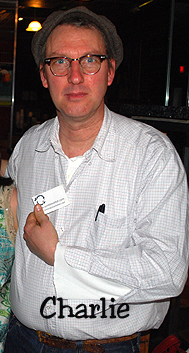 We want to take a moment, before anything else herein to remember Charlie Chesterman...such a fabulous guy and a Boston musician in some very cool bands, Charlie passed away recently after a battle with cancer over these past years...he will be missed by many many many. If you would like to donate "for the love of Charlie" for his family you can go here.... also please see the Friends of Charlie Chesterman FB page... ....RIP Charlie!!
Blowfish went out this weekend and writes about it.....Boston Hassle is proving to be a growing and viable organization for grass roots arts and music promotion. Last year they put out a Boston Hassle Button that was also full of music MP3's. This last weekend they put on their 5th Hasslefest. It was two days at the Elks Hall in Central Square up to 11pm and then moved to clubs (Cantab on Friday and The Western Front on Saturday). I went to the Elks around 8PM. The music was downstairs, I assume there is a hall upstairs. The room I entered had a few people in it but a door to another room was the source of some music. That room was jammed with people and a sweaty hotbox. I couldn't see who was playing the music. It took me several minutes to get where I could see anything.
The group, Ed Schrader's Music Beat, was just two guys, one on drums, one on bass. They looked and sounded a lot like the KONKS but lyrically they had Jonathan Richman tendencies. One song was called Gas Station Attendant. Another song titled Sermon had a chorus where he bellowed, 'this is my sermon' , over and over and it was perfect for this situation because he had faithful fans all around that sang with him. Those songs are on their bandcamp page - All songs are short and lyrics minimal. There was a dim lighting situation in that basement but the group had a light under them and sometimes the room lights would go off and just the floor spot would go on and give a dramatic effect. Other times almost all the lights would go off and it would be just the singing in the dark. That had a wild feeling to it. The crowd was noisy and involved and there was a strong positive vibe in the air. All of this was very exciting. Also exciting was the speaker that almost fell on me but there were plenty of helpful hands. They ended up singing a cappella version of Kiss' Rock and Roll All Night. Even then they kept it short and only sang one chorus.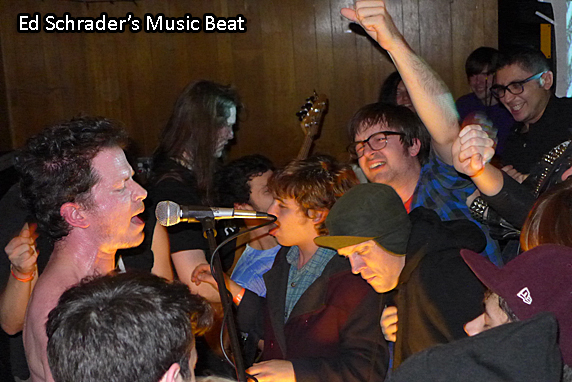 The music then moved to the other room where Keith Fullerton Whitman was doing a DJ thing. There were no straight ahead dance beats but loud bass with lots of bleeps and bloops. I liked it and being loud helped. At this point the muggy heat was very uncomfortable and I bailed.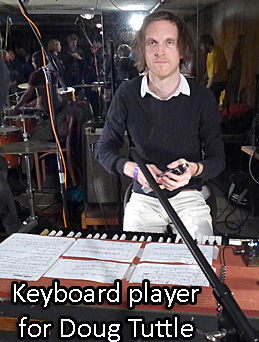 I wanted to see more so I headed back on Saturday. I walked in on some fantastic sunshine psych from Doug Tuttle. The best I've heard since the days of Three O'Clock. I want to see more of this band. The room was crowded and like the day before when the music ended everyone files into the other room where that band starts. It was weird but the routine guaranteed continuous music.
The other room had Fat Creeps, a trio playing bare bones rock. On the last song the bass player dropped the instrument and screamed out the last song about drugs and that got the crowd riled.
Following this was the weirdest act ever. The name on the program was Grizzler although I can't find anything on the net about him. This was one guy playing the sax. He was noodling on the upper registers with no melody. He had full knowledge of what a sax could do so it wasn't just noise for noise sake. He then took the mouthpiece out and half blew into the sax and half groaned into the mike. This went on for a while - odd and funny and what the hell. Next he declared, "This is what it feels like to be white," and flailed on a bass while groaning like a dying animal. And that was it. That was the act. Wow.
Back to the other room and now a DJ called Profligate crated some beats. I liked it. Loud and rhythmic, it got you to that hypnotic place where you want it to go on forever. But it didn't and now we herd into the other room. Here we had Ben Hersey doing a comedy/spoken word act. He was funny in a confrontational way, challenging the audience to kneel and then to slap a neighbor. He was commanding and silly funny at the same time. It was a hoot.
Now the heat/humidity was getting to me again but it was a great night. This was a wide ranging music fest, for me a big success. It felt good to be in an all ages venue with a wide mix of music and other acts. This was Hasselfest #5. I missed the first four but I'll be at #6.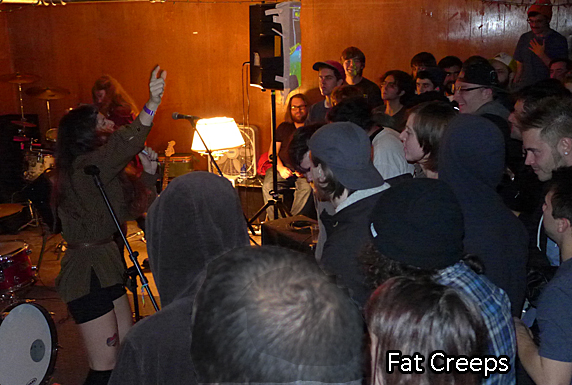 Now.....some stuff coming up....
Oh before that make sure to check out the November issue of The Noise- we're (Blowfish and Miss Lyn) in it!! So you know its gonna be a great issue!!
I hate those stupid music awards and competitions but The Young Adults are up for "Punk Artist of the Year" in the Boston Music Awards....
Coming up this Thursday is the big show: The Flaming Groovies are at Radio - it's next Thursday November 14th and note- since you do not want to miss anything that doors are at 7 and the show starts at 8PM sharp!! Aimee says there are still tickets so you can call her to get 'em. Andy Shernoff is also on the bill!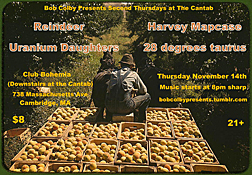 Bob Colby happens to be having his Third Thursday at The Cantab that night too...on 11/14
This is his FINAL "Second Thursday" show before taking a break and he's lined up what he says is his best yet. His lineup: Headlining is Seana Carmody (one of the pioneers of American shoegaze, from The Swirlies and Syrup USA). REINDEER is her new band and they sound great on their song Blue & White
HARVEY MAPCASE, is a band whose influences include Syd Barrett, Captain Beefheart and Robyn Hitchcock. It is the brainchild of Neil Carlill, a founding member of the critically-lauded UK groups Delicatessen and Lodger. More info.
URANIUM DAUGHTERS describe their songs as " guitar centric meanderings about anything and nothing at all".. This Somerville five-piece features the songs of Julie Kantner, who you may remember from the bands Twig and Fertile Virgin. Also on hand will be Eric Krauter (Calendar Girl, Drumming On Glass), Niels LaWhite and Wally Young (New Parts From Old)
28 DEGREES TAURUS -Jinsen Liu is the founder and organizer of the twice-yearly Deep Heaven Now series of psych festivals. Ana Karina DaCosta is one of the busiest people in town, whose other musical affiliations include Bobb Trimble's Flying Spiders, Slowdim, Paul and Karina, Winter, and Bong Wish.
November 16th James Straight is having his birthday bash at Copperfield's...it should be a good party folks - on the bill is the always entertaining James Straight & The Wide Stance along with The Derangers, The Guns of Brighton and Nicole Alexander
Also on the 19th Store 54 has an interesting show with Embrionic and Garvey J
Great Scotts has a great set of shows on the weekend of Sat & Sun, November 16 & 17 for
The Welch Boys Benefit for The Pine St. Inn featuring
On Saturday 11/16: The Welch Boys, Burning Streets, The Blue Bloods, Dirty Water, The McGunks and Old Edison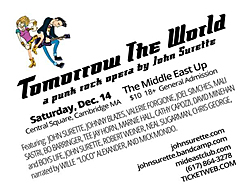 on Sunday 11/17: The Welch Boys, Nowhere USA, Taxi Driver, The Scars, Penis Fly Trap, Guns Of Brighton and Jenn Kitten
Wednesday November 20th Terry Kitchen (way back in the day he was in Loose Ties) will be reading from his new novel Next Big Thing at Trident Booksellers & Cafe, 338 Newbury St.,. The reading begins at 7 PM and admission is free. For more information call Trident's website ...Next Big Thing is set in the 1980s Boston music scene and we know how great that was!
International Pop Overthrow is back for another year at Precinct on Friday, November 22 you can catch Peter Buzzelle, Radio Vendetta, Michael Oliver & The Sacred Band, Fox Pass (at 9:45), 1.4.5., The Eric Barao Band and closing the night is I Am Next.
But here's the show NOT to be missed my friends: Blowfly...yes you read it right BLOWFLY Unnatural Axe and Ten Foot Polecats at the President's Rock Club in Quincy on Friday November 22nd....oh yeah!!
The Smithereens are playing at The Old Town Hall in Salem on November 23rd...along with Pop Gun and Gyro Lula.... now folks get yr tix for this its very limited seating...
Here in town on November 23rd Triple Thick are at The Plough & Stars along with Hambone Skinny
And over at O'Brien's on the 23rd is The Tube Fest - New England Surf Showcase with The Waveriders, Tsons Of Tsunami, Dustclouds of Mars, The Televibes, Matt Heaton And the Electric Heaters, 9th Wave, Axemunkee, The Derangers, The Weisstronauts, Surf's Up Spicoli, Tsunami of Sound, and Thee Icepicks ....it all starts at 2PM my friends....
Rick Harte posted something promising and interesting on his FB page this week: "the Real Kids album, not finished but the end is in reach."...and people are happy to hear that!!
And in NYC- Real Kids and Lyres in NYC on November 23 at The Bowery Electric ;many fans will really be celebrating a very thankful Thanksgiving if in fact the Real Kids do play!! What a show that will be!! We hope John Felice is well and able to do this show!! Also on the bill The Headless Horsemen, Wizard Sex and Hilton Valentine
On November 29 No FX and The FU's are at The House of Blues.
On Sunday December 1 - at Great Scott is The Thalia Zedek Band, Shepherdess, Royal Wedding and Planet Of Adventure
and there's a killer show at The Midway on Friday December 6th- how's this for an awesome line up: start out the night with The Monsieurs then it's Triple Thick, Township, The Other Girls and Upper Crust
And John Surette's punk opera Tomorrow The World will be performed live at the Middle East, Saturday Dec 14. Willie Loco is the narrator and David Minehan plays a part. TOMORROW THE WORLD
also on the 14th is a DJ Easy Ed's Yuletide Rockabilly Blowout with Easy Ed's Record Hop, Whiskey Kill, Lynnette and the Longshots, Johnny Carlevale and the Rollin' Pins and Jittery Jack and Miss Amy
Thursday December 19th there's a great show at O'Brien's with The Wrong Shapes, Black Fortress of Opium, Endation and The Easy Reasons
another special Holiday show at the Midway...Saturday 12/21 it's the Weisstronauts' 15th Annual Holiday Jubilee with M.O.T.O., The Weisstronauts, Eddie Japan and Lars Vegas...
Some of you may remember Jack "Stinky" Donahue....he was on the scene and a sound man back in the day..he's moved to Austin, TX as have some other Boston scenesters...and now he has a site, AudioTech Austin, with a page where he's sharing his recordings from those days!! Lucky for us.... check it out..he's got La Peste, The Real Kids, The Outlets and will be posting more in the future!
EMAIL US AT.......misslynbgn@yahoo.com