The BGN News Archive
November 11, 2019
We expected to see all the bands at The Jungle on Tuesday (The Von Traps, Pretty Pleased, & Crunchtime) but we missed Crunchtime. We have that general idea that if the door opens at 8pm the music starts at 9pm, not this time. Crunchtime went on at 8:15. The club wants to make these Tuesday night shows a thing and plans to get the shows going early to stop earlier in the night. Lesson learned. This show was free. We don't know if that's true every Tuesday but if it is…!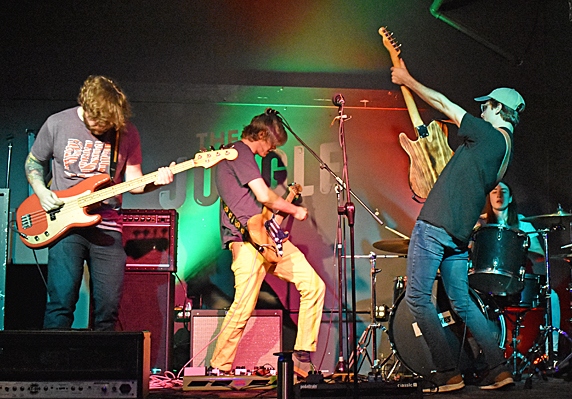 Pretty Pleased
Photo: Blowfish
We caught Pretty Pleased from Chicago. They were on tour; Toronto the night before and Lancaster the night after. How do these bands manage that? You would have never guessed that they did an eight hour drive that day the way they were so engaging with the stage patter. When they were playing they never stopped moving and goofing with their instruments.
Their music was indie based with a punk edge. The indie part of them made the songs clever and full of interesting twists, the punk part kept things rocking.
There's was a lot of smart aleck sniping going in the lyrics. Just check out these song titles: "Texas Chain Store Manager", "Girthquake". "Shampoo Supernova", "Death by T-Shirt Canon" and "Bit Off More Charleston Than I Can Chew". Looking at those titles the danger is that they might come off as a joke band but that was not the case. The music was snappy, full of riffs and guitar interaction with lots of jerky rhythms. They often had a distinctive sound generated by the two guitars. We bought some CDs and have been listening to them all week. They have all the qualities of the live set.
Give a listen to "Texas Chain Store Manager" that has the group sound we talk about right up front. We love this group, come back again guys!!!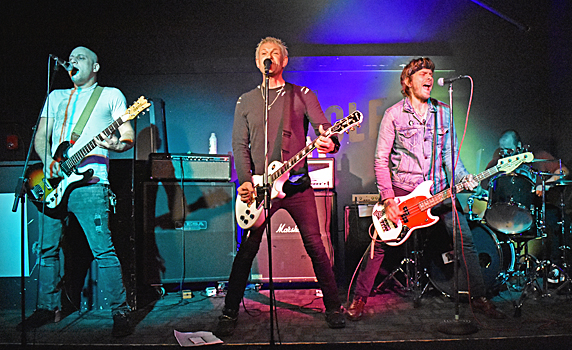 The Von Traps
Photo: Blowfish
Then it was the phenomenon known as The Von Traps. The main focus of the BGN is to report on the punk and the punk spirit that started in 1974 in Boston. We love The Von Traps because they are the current continuation of that music and spirit.
Their punkatude defies explanation or let's say it wants you to just shut up and get rocking. That's what they do and that's what they want you to do. They are so revved up when they hit the stage that the energy just jumps out. Skippy on guitar/vocals gets your eye because it seems like he's almost bursting in an attempt to put as much power and grit into every word he sings.
When they cranked up and they triple ganged up on the vocals it was punk heaven for us.
Check out the Von Traps' Bandcamp page where they have a version of the Pleasure Seekers "What a Way To Die" which is a song that is a live highlight.
They have this very well done video that gives you a good insight into the band. It's only 2:30 minutes so give it a look. All bands should have a calling card like this.
In the end we will tell you what people told us for months, "you've GOT to see The Von Traps. "
On Saturday we screwed up again and missed Color Killer at the Midway. The band did stick around for the other acts right to the end., they know the right thing to do. We figure they watch the older bands to get some lessons there.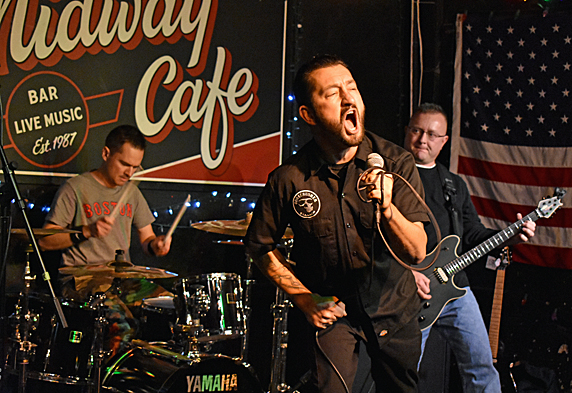 The Damaged
Photo: Blowfish
The first band we saw was The Damaged from Pittsfield. We hate to admit that we never saw this hardcore band that has been going on for 20 years. They say it best in their self-description on Facebook, " Straight forward, no bullshit, working class punk rock." They had those working class values in all their lyrics. All the songs were written well and there were a few that captured a spirit with a rousing sing along chorus.
One song had the Who's "Baba O'Riley" chords. That's in the video below. You can see the bass player looks like he's strumming the bass but he's just constantly picking making the bass a constant presence. You can also see the drummer who played very busy but had the technique to make it look easier than it was. Don't miss the singer who gives a cool nasty growl at the beginning.
Kevin, the guitarist, did the power chording needed to put the punk across but also put in some arpeggiated sections with open strings that almost got poppy. It added different texture where you don't often hear it.
The singer Colin has an appealing easy going way on stage. He was the first of three noteworthy front men.

Pint Killers
Photo: Blowfish
It was proud-to-be-Dorchester The Pint Killers next. It's funny at this point that they are called The Pink Killers because lead man Mark Doherty is proudly alcohol free for many years. That's actually on doctor's orders - he was in a bad way. They do have a good song about the constant craving for booze called "Bounce": "It's only Thursday and I'm getting thirsty, but I thought it was Friday all day".
Their first song was killer but we don't see it on their Reverbnation page. One of the highlights of the set was the song "No Blood, No Foul". One of the best things about the group, and this has been true of all of Doherty's groups, is the street level thinking they bring to the lyrics. They are pissed about being gentrified out of their city and they have a song about that is in the video below. This to them on ReverbNation.
We've just missed SEE THIS WORLD a few times this year but finally got to see them this time. It's was chance to see the legendary Dave Tree in action again.

SEE THIS WORLD
Photo: Blowfish

We saw the group back in 2016 but that didn't prepare us for the assault we got this time. They are super tight. We thought we had just seen two groups that were very good but SEE THIS WORLD was a whole other level. They shook the floor and walls. It was partly volume sure, but it was also that group-playing-as-one thing. When they all hit a low note it was cosmic. They also did the rapid fire pile driver thing. Later Dave Tree compared it to a MRI machine pounding.

They had a hardcore/metal sound. From metal they took the twin lead idea and that was done as well as we've ever heard it.

They're ready for a big hall with the sound they have. Plus there's Dave Tree singing on top of that. Dave was born to be on stage. He's relaxed up there. It's funny that he's known a lot now for being a visual artist while he can talk on stage better than anyone. He's just an all-around artist and personality.

The midway was about half full. You know we like the early Saturday gigs because we keep ending up here!!

Saturday night John Keegan went to Sally O'Brien's: No question that Malibu Lou knows how to pick 'em. Last night's Rum Bar crew show at Sally O'Brian's with Gotham Rockets, The Dents, and Muck and the Mires started hot and got hotter. It wasn't a night to leave my camera behind...but, alas, hence the phone shots and the video.

The NY based Gotham Rockets had a South Side Johnny bar band vibe that we don't hear a lot of and the local clubs. They had some dancing fans, a bunch of alto sax honking and good time rock n roll hooks that won over the crowd and culminated in a hard to resist tear through the Giles band's Houseparty.

The Dents. Holy shit were they totally wired from beat one. The mix was big and in your face. Jen D'Angora and Michelle Paulhus smashed into and out of their split personalities.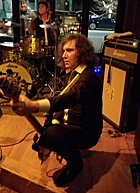 Tonight The Dents continue their reign as the epitome of rock gal group pop power punk. Josie and the Pussycats underappreciated soundtrack eat your heart out. With their infrequent gig schedule, absence makes the ears grow fonder. Craig Adams avoids a barrage of notes but makes every one he sustains count. Kevin Pickering kicks the choruses into the stratosphere. You could pull 25 random strangers into the club from Bow Market and they'd be blown away.
Muck isn't about to let the call to rock go unanswered. They take the boat across the Mersey and end up in hard rockin' Hamburg. For a band that is always flying, tonight Muck reach deep down into the toolkit and pull out the turbo charger. The crowd is dancin' to beat the band.
Click Here for more band photos.
---
And in other news....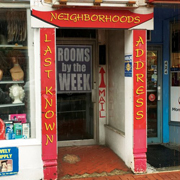 It was a decade in the making but it's out now! That would be the NEW Neighborhoods album Last Known Address. It's actually in the Newbury Comics stores right now!! The previews they have posted sound excellent and they should – it the Neighborhoods for gawd sake and David owns a studio. Now, let the live shows commence….please?
You can check out a few of the songs here.
We had a visit from Jada Maxwell and Rudy Childs who are doing the Dogumentary on the Dogmatics. We're not pretty and it was a battery draining session of yapatude but they asked us. If anyone has photos or some good Dogmatics stories you should contribute to this. We can give you contact info if you want.
They are also the ones who did the new video for "She's the One" the infectious pop/punk delight from the new RumBar release. We have the video below.
Here's a new cut from the Dirty Truckers called "Weird Romance". It's more Woolly Mammoth magic.
There's a new album from Worm coming out called This is a Game. Keep up-to-date as to when it will be available by checking their FB page.
Hey bands! Ralphs in Worcester is looking to fill in some dates going into December!! Here's a link to their booking page- get in contact!!
Then there's this - The Lansdowne St Rock Off. They say: "Announcing The Lansdowne St Rock Off!!! Coming in March 2020. 32 bands from New England competing for big prizes and a huge push for their careers. More details to come soon." That's all we know. Here's their Facebook page.
---
Mark you calendar for: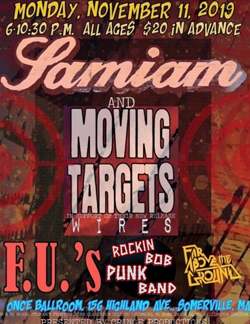 THIS Monday Nov 11 - Samiam, Moving Targets, F.U.s, Rocking Bob, and Far Above the Ground at Once - All ages - starts at 6PM
Saturday November 16 - MOTO, Electric Street Queens, Sticker Shock, Johnnie & The Foodmasters, at the Cantab. This is from the KLYAM guys. FB Events page.
Wednesday Nov 20 - Richie Parsons on WERS 88.9 He will play live on the air at 9 pm
Saturday November 23 - do you like The Monsieurs?? or Andy California?? are you titillated by Andy MacBain's antics on stage?? well check out Tunnel of Love cause that's where it all started my friends... Tunnel of Love etc at Hardcore Stadium Cambridge (more nelow in gig listings)
Nov 30 - saturday- Mark Lind and the Unloved at Great Scott.
Bikini Kill are playing the Wang Theater on May 14, 2020. We didn't know they were at that level. Good for them!! Tix.
---
Alternative Christmas shopping....there's a TON of markets happening this year with offerings from local artisans & businesses ...support your local non corporate people!!!!......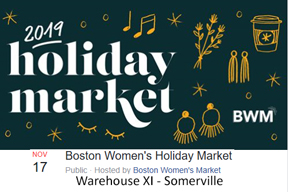 Sunday November 17 - Boston Women's Holiday Market - Warehouse XI - Sanborne Crt Somerville (right next to the Jungle) FB page
Sat & Sun November 23 & 24 - Brookline Arts Center Artist Marketplace Local Artists vend their wares.....FB page
Saturday Nov. 30 - Etsy Makers of Boston at Bow Market Union Sq Somerville. 9AM-5PM FB page
Saturday Nov. 30 - SoWa Small Business Saturday Harrison Ave 11AM- 4PM FB page
Sat & Sun Dec 7 & 8 - Stompbox Pedal Party and Vintage clothing SALE! at 40 South St JP - All clothes 20% off - treats & drinks too!! FB page.
Sunday December 8 - Brain Market Flea at the Cambridge Community Center - 12 -6PM FB page
Sunday December 8 - Holiday Buzz Markets, 2 floors and over 40 vendors each! Come check out local folks with handmade, craft, vintage and fine art @ Once Somerville - starts at 11AM - FB page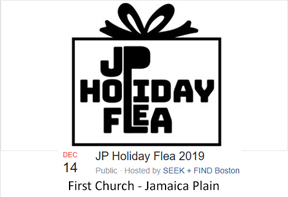 Friday December 13 - Union Square Holiday Market - Warehouse XI @ 6Pm - FB page
Saturday Dec. 14 - Boston Hassle Xmas Flea - 12-6PM Elks Lodge Bishop Allen Dr Central Sq Cambridge FB page
Saturday Dec. 14 - JP Holiday Flea 2019 - First Church in Jamaica Plain Unitarian Universalist, 6 Eliot St, FB page
Dec 12-15 (Thurs - Sunday) Allston-Brighton Winter Market FB page
Saturday Dec. 14 - Cambridge Holiday Market - 11Am- 5PM @ Saint Paul AME Church Bishop Allen Dr Cambridge FB page
Sunday December 22 - Holiday Buzz Markets, 2 floors and over 40 vendors each! Come check out local folks with handmade, craft, vintage and fine art @ Once Somerville - starts at 11AM - FB page
---
Here's some good shows coming up this week.....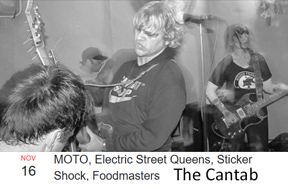 November 11 (Monday) Samiam, Moving Targets, F.U.s, Rocking Bob, and Far Above the Ground at Once - All ages - starts at 6PM- 10:30PM!! FB page for tix etc.
November 14 (Thursday) Halshug (from Denmark), Corrode, Skinned Alive, Skrawl at the Dorchester Art Project - FB page
November 14 (Thursday) International Pop Overthrow Night 1- Union Tavern- with Dave Rave, The Eric Barao Band, Trick Wallace Trio, Glowbox, V As In Victor, Stuck Stars
November 14 (Thursday) Silver Screams, Kuya, Electric Joey, Wire Lines at AS220 Providence RI. FB page.
November 15 (Friday) International Pop Overthrow Night 2- Union Tavern- with Corin Ashley, Richie Parsons, Hummingbird Syndicate, Kid Gulliver, Kris Rodgers & The Dirty Gems, CrunchTime, 1.4.5.
November 15 (Friday) Margaret & The CoPilots at Atwood's Tavern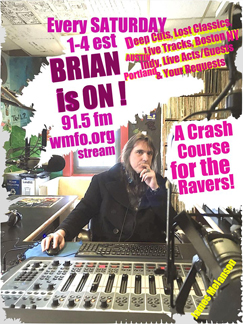 November 16 (Saturday) Brian Young's a Crash Course for the Ravers is featuring Greg Allen's Fringe Religion. 1-4PM WMFO 91.5 FM at http://www.wmfo.org/popout_player.php?bitrate=256
November 16 & 17 (Sat & Sun ) Staged. New Visions of Boston Music Photography at the Dorchester Art Project FB page
November 16 (Saturday) Rodentt (reunion) (mems of Medical Maps and Mente), Classic Ruins, TRiPLE THiCK, Musclecah at The Midway - 3-7PM matinee
November 16 (Saturday) The Crank-tones return to Atwood's 4-6PM
November 16 (Saturday) International Pop Overthrow Night 3 at Union Tavern...with Arthur Nasson, Dave Charles, The Shellye Valauskas Experience, Michael Oliver & The Sacred Band, Tiger Bomb, The Amplifier Heads, The Brigands
November 16 (Saturday) DJ Easy Ed presents: The Hi-Risers, Goons (mems of Rocky Velvet), The Bop Thrills, + Easy Ed's Record Hop! at The Midway (8PM)
November 16 (Saturday) Time and Place, Coffin Salesman, Ham the Band, Doug McDonald at Thirsty First Lowell.
November 17 (Sunday) An Abbey Lounge Reunion Mess-Around at The Plough & Stars FB page
---
And further out there is.....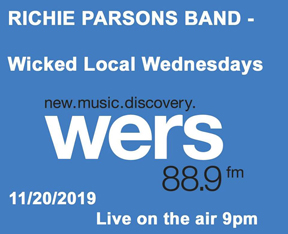 November 20 (Wednesday) Randy Black & The Heathcroppers Plough & Stars Residency 6-8 pm
November 20 (Wednesday) Richie Parsons on WERS 88.9 will play live on the air at 9 pm FB event page
November 21 (Thursday) Robert Gordon with special guest Chris Spedding and Diablogato at Once
November 23 (Saturday) A Crash Course For The Ravers featuring A Bunch Of Jerks 1-4PM WMFO 91.5
November 23 (Saturday) Tunnel of Love, Nice Guys, Feminine Aggression, Song Birds, Swettes at Hardcore Stadium Bishop Allenm Dr Central Sq Cambridge FB page
November 23 (Saturday) Zip-Tie Handcuffs, Real Beaut, Baabes, Heavy Hands at O'Brien's
November 23 (Saturday) The Knock Ups, blindspot, Lonely Leesa & The Lost Cowboys at Sally O'Brien's
November 23 (Saturday) C.O.B, Watching It Burn, Duck & Cover, The Von Traps at Maggy's Lounge Quincy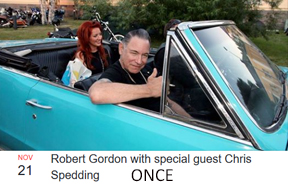 November 23 (Saturday) "Love The Bands" @ ONCE Featuring: Smitty E. Smitty & The Feztones, PowerSlut, Corner Soul, The Rupert Selection - Doors: 8:30PM, Music 9PM
November 24 (Sunday) Johnny Cab, Kermit's Finger, The Negans, Baabes, Bernie's Garage at The Midway 3-7 matinee
November 25 (Monday) Weaklings, Cook Bag, SkyTigers at Charlie's Kitchen
November 30 (Saturday) Mark Lind & The Unloved with Bryan McPherson and M. Kane & The Morning Afters at Great Scott. FB page
November 30 (Saturday) State of the Union and Jowwow at Key West, Free Show North Adams, MA
December 7 (Saturday) Triple B Records presents: American Hardcore Fest 2019 with Magnitude, Wild Side, One Step Closer, Restraining Order, Method of Doubt, Anxious, Big Mack, Field Agent- All Ages, $25Advance / $30Day of Show, *NOTE* 12:00PM Doors- this is an early show!! FB page.
December 13 (Friday) Merry Friday the 13th Rockin' Bob Punk Band at Koto Salem
December 14 (Saturday) Baabes, The Von Traps, The Hi-End, The Stigmatics at the Midway Matinee Show 3-7Pm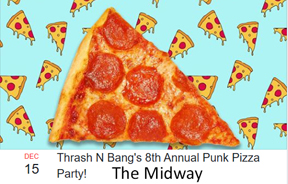 December 15 (Sunday) Thrash N Bang's 8th Annual Punk Pizza Party! with The Neighborhood Shit, Fast Times, The Ratz, The Hangovers at The Midway 3PM matinee - ony $5!!! and free pizza.
December 16 (Monday) We Are Space Horses, The Zygote Theory, Rawstrum, Kevin Madden Band at The Jungle
December 18 (Wednesday) Randy Black & The Heathcroppers Plough & Stars Residency 6-8 pm
December 21 (Saturday) MOTO, The Thigh Scrapers, The Thirsty Pirates (NYC) , The Montgomerys at The Midway for a Matinee Show 3-7:30PM
December 21 (Saturday) Mother Iron Horse, Tied to a Bear, Von Traps, Skytigers at Opus in Sale
December 301 (Monday) The Last Rebuilder New Year's Eve Party at Charlie's Kitchen with Save Ends, Sorry and 1 special guest to be announced
January 4 (Saturday) Handsome, Four Point Restraints, T and the Wrecks, Micah Howeson at The Jungle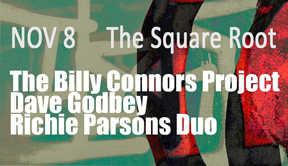 January 10 (Friday) Nomad Stones, Labor Hex, Chrome Over Brass at Opus Underground Salem
January 10 (Friday) The Mercy Case, Bystander, blindspot, Foxes at Koto Salem
January 11 (Saturday) WhistleStop Rock Festival at Askew in Providence- this is the first Whistle Stop - Featuring: Heather Rose In Clover, The Knock Ups, The Chelsea Curve, PowerSlut, Kid Gulliver, The Cold Expectations, Justine and the Unclean
January 15 (Wednesday) Randy Black & The Heathcroppers Plough & Stars Residency 6-8 pm
January 18 (Saturday) Triple Thick, Crunchtime, 1.4.5., Butterscott at The Midway 3-7PM matinee
January 18 (Saturday) Barrence Whitfield & The Savages, Muck and the Mires at The Middle East FB page and tickets
January 198 (Sunday) Stoploss, Secret Spirit, F.U.'s, more TBA at The Thirsty First Tavern Lowell FB page
March 28 (Saturday) The Zulus at The Paradise
CONTACT US AT....misslynbgn@yahoo.com Send us your gig listings, your news and anything else ya got!! You want your CD reviewed?? Contact us for that too.

The Damaged
Photo: Blowfish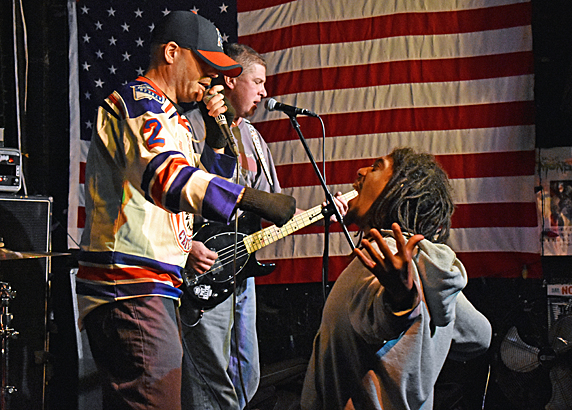 Pint Killers
Photo: Blowfish

SEE THIS WORLD and Color Killer
Photo: Blowfish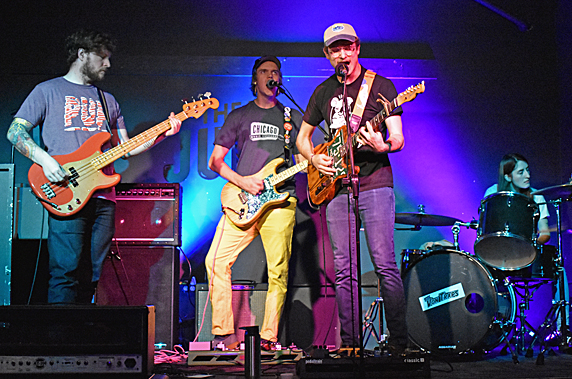 Pretty Pleased
Photo: Blowfish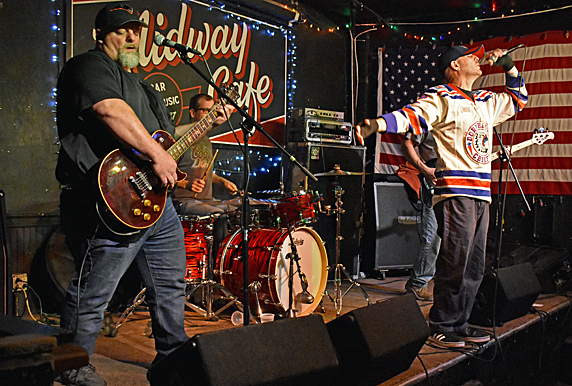 Pint Killers
Photo: Blowfish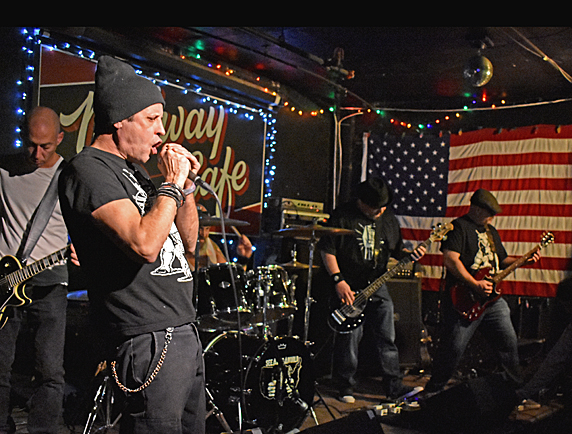 SEE THIS WORLD
Photo: Blowfish