The BGN News Archive
November 5, 2018
---
At The Midway last Sunday they had an afternoon show that was a bit different. It was structured around a poet; Jake Tringali. In NYC in the 70's there was a big poetry/punk connection with Patti Smith, Richard Hell and Tom Verlaine. England had the wonderful John Cooper Clarke. Here in Boston there was Nola Rezzo who had a poetry book called Wolf Moon that was out there in the super early days. Other than that you have to wait till Dave Morrison ex of the Trademarks who published Clubland in 2010. (Reviewed here)
Jake Tringali presents himself as a punk poet and he just published his first book Poetry for the Neon Apocalypse and this was his book release party.
We just missed The Grommits who play old school punk much like Whoopi Sticks whose set we did get to see.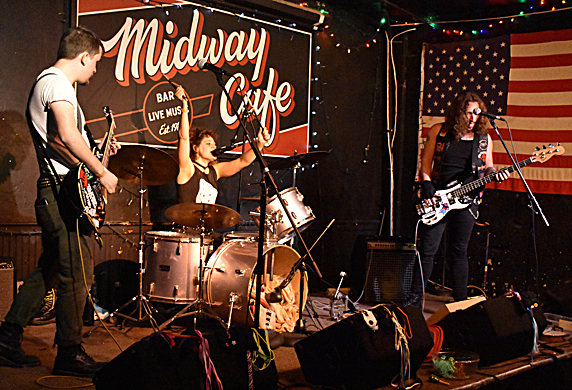 Whoopie Sticks
Whoopi Sticks did half their set for kids but then again they did "Fuck Song" and "Dick Jazz" which has a line "butt sex is the thing to do". They covered a lot of territory. They passed out rattles and gummy worms (for their song "Worms") and then threw out a pizza box and told people to destroy it. The audience was game and it was fun.
Lindsey plays drums and she sings like Poly Styrene. The songs really are like early seventies punk. Listen to "I Don't Wanna Be a Person" and see how that could fit on an X-Ray Spex album. Lindsey and the group are always thinking about how to present themselves conceptually and what direction to go in. We like the creativity and intelligence of this band.
Jake Tringale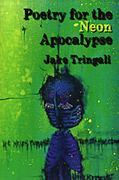 In between the sets Jake Tringali was reading poems. Usually any talking on stage in a rock show is met with indifference at best, Jake proved to be the exception. He was not shy on stage but had a comfortable presence and confidence in his material. He had a cheat sheet but mostly spoke from memory. The poems came out in streams riding on the regular meters of the poetic lines. Not all poets can read their own works but Jake has the gift.
One poem, that's not in his book, was called "That's My Life in a Dead Milkman Song". In the video below we cut the poem, because we thought it was over, but you get to see how he made the poem flow. All his material was like that. His subject matter has punk and punk lifestyle references through it.
The audience at the early Midway shows are some of the most accepting and attentive we find and they were all in on this punk/poet combo show.
Jake proved it could be done and in a way he had to prove that. He's already lining up other shows. He will be at the Thrash n' Bang Christmas party. We're looking forward to those shows and will review his Neon Apocalypse book soon. You can buy the book on Amazon.
It was back to The Midway on Saturday for the early show. Rockin Bob's Punk Band headed the bill.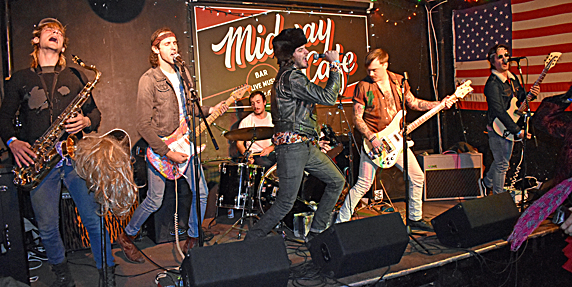 Banshee
We only caught the last two songs by Banshee. We liked what we heard and were trying to figure out what we were looking at. The lead singer had a big Russian fur hat on and a sax player was honking into a wig, which we figure was a mic covered by a wig – we hope. It turns out one guitarist played for Casanovas in Heat (http://www.bostongroupienews.com/News020116.html ).
The six band members seemed to overcrowd the stage as they played a mix of garage, punk and psychedelia. We definitely want to catch one of their next shows to hear a full set. You can get a taste of their music on their web page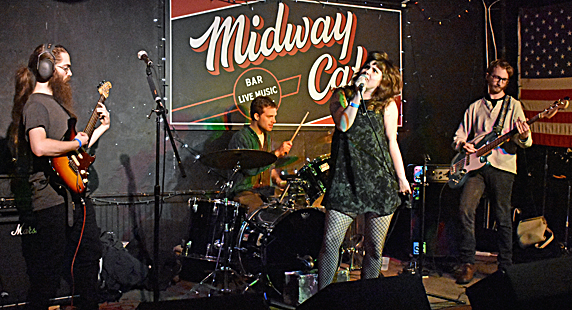 Smartyr
Smartyr are from Northampton which has bred a lot of new bands because of all the nearby colleges. They reminded us of Whoopie Sticks from last Sunday in some ways. They were an old school punk band that was also arty and quirky. We liked them more and more as the set went on and you could see them working through their ideas.
They split their set between two singers. You see bands pass the vocals around but not to the point where it's almost like two different sets. One singer had an oddball slurring voice and the other was also unconventional and she reminded us a bit of Judy Gruenwald of The Maps both in singing and performing.
Most songs were barely a minute. One song stood out called "Refuse Refuge". Another was "Fuck You, Have a Nice Day".
The whole set took us back to the days of the Underground and Propeller Records. We talked to them a bit but couldn't really figure out how they got to this musical point. We don't think they had any idea how much us old punks could love what they are doing
Because of those short songs and having a new drummer their set was short. The Midway crowd (we loved these people) cheered for an encore anyway. They said they knew no more songs. Bob Cenci yelled out "Freebird" and so they played "Freebird"…in their way. And their way was to just bash out some chords and yell, "freebird, freebird, freebird". That is the punk spirit on display!!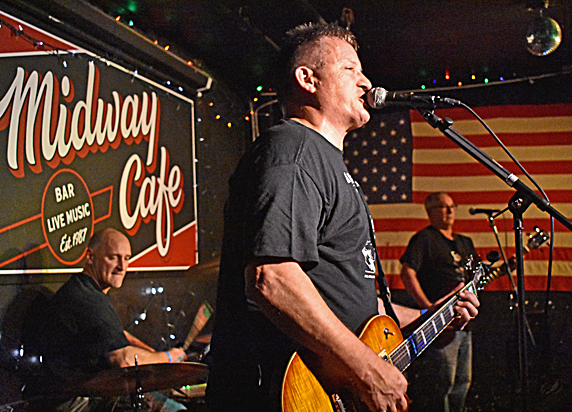 Rockin Bob Punk Band
We've seen Rockin Bob Punk Band a few times. Now we know the songs. Bob is waiting for the opportunity to record and we are dying for that. He had a set of killer material. This show he had Tom Hamilton on bass and Bob Furapple on drums. Of all the times we've seen them this was maybe the sharpest. The material was hitting harder than ever.
And it's not just the music, Bob is delivering the lyrics so that they bullseye their satiric target. "I'm Offended" which is about Facebook weenies is one of the most relevant out there now. Bob sneered the complaints by overly sensitive posters in the verses. At one point the group just vamps as he throws out more typical snowflake objections. It was as much acting as singing. Video below. This has to be recorded soon!
Then there are a line of memorable songs: "Private Jet", "Hey Scumbag", "Gun Drone" and "Never Trust a Terrorist".
We have to mention drummer Bob Furapple. There's no one that pounds harder than him. He has his tricks. There was a few times where he would hit a simple unvarying beat during a verse which sort of put the song on hold and made you wait and want to get that release that he would finally give as the chorus started. That's how drummers rule.
Bob Cenci puts these shows on and he brings in interesting bands like Banshee and Smartyr. We are big fans of these Midway early shows. They seem to draw an open minded crowd. This day the audience was a super friendly with out-of-towners and interesting characters.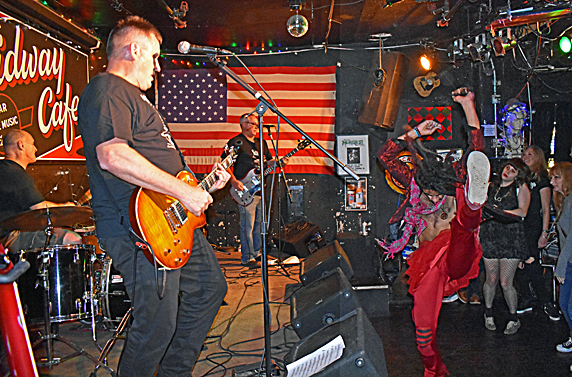 Davey Dryer dancing to Rockin Bob Punk Band
One of the most interesting was Davey Dryer who was dancing up a storm. He's a pretty amazing guy. Great drummer for the Barroom Heroes (we saw him with the band at The Midway two years ago) and dance instructor as well. And you could see that by watching to incredible control he had over every minute move he made. He was a great addition to the show and got people up dancing with him too. We have more photos of him on our Facebook page.
More band photos below the show listings.
---
And in other news.....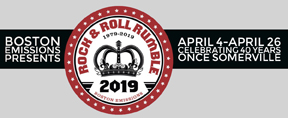 Rock & Roll Rumble has announced its dates: April 4-April 26. Bands go here for submission info .
Justine and the Unclean will be on Skybar's show on WMFO this Tuesday from 8 till 9pm. You can listen online if you are out of the broadcast area. Listen here.
Heather Stewart posted on Facebook: "Absolutely fantastic performance by Elvis Costello and the Imposters at the Wang/Boch Center tonight!!! As the audience called out requests, Elvis responded, "We don't know any songs by The Cars...but we know a few by the Real Kids." But no, they didn't play any. Damn.
And speaking of The Real Kids - a reminder: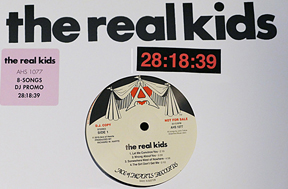 The Real Kids LP 18:28:39 plus download card, and the Nervous Eaters CD Hot Steel and Acid are both available as of Saturday 11/3 at Newbury Comics. Hot Steel and Acid is also available on iTunes, Spotify and Amazon.com with more platforms to follow. The Real Kids 18:28:39 will be available on the various Digital sites next week.
Rum Bar Records is literally giving away the bar with 20% off 'back by popular demand' Black Friday Deal running Today through December 1, 2018: Everything and anything on the Rum Bar Records Bandcamp page is 20% off with deal code: blackfriday2019. https://rumbarrecords.bandcamp.com/
Remember it's fundraising week for WMBR and the Late Risers Club. It's ongoing till this Wednesday November 14. http://wmbr.org/
---
Here's some good shows coming up this week.....
November 14 (Wednesday) The Alarm, The Gobshites at Brighton Music Hall

November 16 (Friday) Ey Oh Let's Go Cover Night at the Greek Club Bow St Union Square with Ramones by GLiDER, The Clash & Social Distortion by Pop Gun, UFO by QFO, Velvet Underground by Club Linehan A Go Go and Boston Punk by Drunken Uncle
November 16 (Friday) Justine and the Unclean, Tad Overbaugh EP Release Party at Sally O'Brien's ...also on the bill: DJ Easy Ed hosts, Nat
Freedberg "solo acoustic" but actually with members of the Flies, BETH, Dirty Truckers, Hambone Skinny, Jay Allen & Archcriminals ......
November 16 (Friday) The Melatonins, Ringtail, Stars Like Ours, Five Foot Shakers at O'Brien's Pub
November 16 (Friday) Boys From Nowhere is showing at The Regent Theater. Nervous Eaters are playing afteer the film. 7:30- 10:30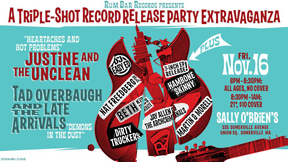 November 16 (Friday) Corolla DeVille, CalCali Band, Mimsey Mack at Opus,Salem
November 17 (Saturday) Brian Young's A Crash Course For The Ravers featuring The Gala!!! One of our favorite bands!!
November 17 (Saturday) It's HIXXGIVING!! The joyous return of the annual celebration of white trash culture and redneck vittles. This year they'll have newcomers - Alice Highland, New Jersey's Sex Zombies, Your hosts- HIXX and the formidable Screw Cart. This will, no doubt, be off the hook! The buffet will be provided by the bands. Hixx asks that you bring non perishable food items, as always, for a local woman's shelter. At The Midway
November 17 (Saturday) Post Punk 1977-87 Cover Night at Sally O'Brien's - 3 super groups will be covering songs from 1977-87. (punk, new wave, synth pop etc)
The groups are: Chuck Ferreira, Josh Pickering & friends, Duncan Wilder Johnson & friends, and Anthony Kaczynski & friends. FB event page
November 17 (Saturday) Scorpio Rising with Thrust Club, Boston Cream, Baluchitherium and KARAOKE! at O'Brien's Allston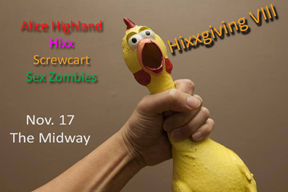 November 17 (Saturday) Scissorfight, Welch Boys, Taxi Driver, Watching It Burn, COB at Maggy's in Quincy FB page
November 18 (Sunday) The Mess-Around: A Prequel - with special guests orioginal members of Quest for Tuna and a bunch of other special guests too..at The Plough at 4-6PM read all about it on the FB events page here.
And further out we have......
November 19 (Monday) Trick Wallace, Corin Ashley, Chris Wagner, Gene Dante: all doing Acoustic! at The MIdway
November 21 (Wednesday) 1476, Coffin Salesman, Darker Days at UnchARTed in Lowell. FB event page
November 21 (Wednesday) Far Above the Ground, Thee Midnight Society, The New Frustration, Lightnin' Lyford and the Procrastinators at PINZ in Kingston, MA FB page
November 21 (Wednesday) 3rd Annual Morning Afters Thanksgiving Eve Show *FREE* at Raolph's Diner Worcester with Michael Kane & The Morning Afters,
Dirty Laundry, Reverend Dan and The Dirty Catechism, Douglas Sullivan (Westies / Ducky Boys)
November 24 (Saturday) Friendsgiving Punk Rock and Roll! at O'Brien's with Arctic Horror, The Skeleton Beats, The Von Traps, The Downhauls- 8-Midnite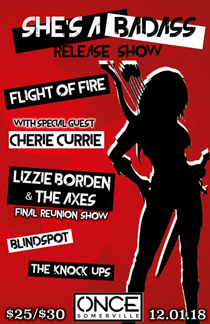 November 24 (Saturday) Jittery Jack, Miss Amy Griffin, Whiskey Kill & DJ Easy Ed at Sally O'Brien's
November 24 (Saturday) Paraffin, Tiger Bomb, Fireking, Scotty Saints & True Believers at The Bayside Bowl in Portland, ME
November 25 (Sunday) Roy Sludge is at Sally O'Brien's at 6PM - no cover!
December 1 (Saturday) A Crash Course For The Ravers 1pm to 4pm at http://www.wmfo.org/popout_player.php?bitrate=256 and transmits on 91.5FM Medford. This week Brian Young hosts have Charlie Don't Surf!
December 1 (Saturday) Cranktones and Sax Gordon, Two Fathoms Down, Easy Ed's Record Hop! at The MIdway for a Matinee 4-8PM show
December 1 (Saturday) the second and final Red Invasion show - with Funeral Cone and Brix N' Mortar and one more TBA. @ The Middle East Upstairs This is an early show- doors are at 6:30 NOTE!!! This show has been moved to Dec 14 at OBrien's instead. (see below)
December 1 (Saturday) America's Hardcore Fest: W/ Ecostrike, Abuse of Power, Fiddlehead, Magnitude, Restraining Order, Deflect, Sleight of Hand, Dominant Force, Result of Choice this show starts at Noon. Middle east Up
December 1 (Saturday) Cherie Currie and Flight of Fire (She's A Badass Release Show) Lizzie Borden & The Axes final reunion show. at Once
December 1 (Saturday) The Feldons, Tiger Bomb, Justine & The Unclean, Thee Sonomatics at Ralph's Rock Diner in Worcester.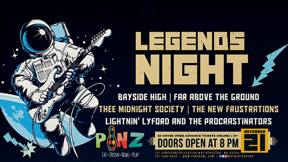 December 8 (Saturday) A Crash Course for the Ravers on WMFO 91.50 1-4PM has Stop Calling Me Frank.
December 8 (Saturday) Roy Sludge with Jim Scoppa & Johnny Sciascia at Atwoods for a 4PM show. $10 suggested donation when the tip bucket comes around.
December 8 (Saturday) 2nd Annual Tunes For Tots show with Stray Bullets, Loser's Circle, The Black Cheers, Coffin Salesman, Blame It On Whitman for a 4-8PM matinee show. And then there's.....
December 8 (Saturday) Pinkerton Thugs, OC45, MK & Morning Afters , the Lot at The Midway
December 9 (Sunday) Trusty Sidekick, Stigmatics, Crunchtime. Dick Pics do a Matinee 4-8 show at The Midway
December 13 (Thursday) Baabes, The Maxims, Labor Hex, Sticker Shock at O'Brien's Pub
December 14 (Friday) Red Invasion with Funeral Cone and Brix N' Mortar and EVERT at O'Brien's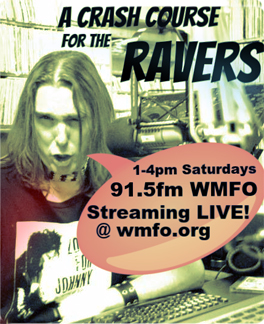 December 14 (Friday) Street Dogs: 13th Annual Wreck The Halls at Brighton Music Hall
December 15 (Saturday) Duck & Cover, Stop Calling Me Frank (Album Release), State of The Union, The Angel Martins Early Show 4-8PM at The Midway
December 15 (Saturday) The Swelltune Records Holiday Shindig! with Jimmy Dale (OK), The Susquehanna Industrial Tool & Die So (NY), Jittery Jack and Miss Amy and DJ Easy Ed. at O'Brien's the night ends with the Swelltune Jamboree!
December 20 (Thursday) 7th annual Spectacular Gift Drive for DCF Wonderfund! In support of foster families in the Boston area, let's spread good cheer with this holiday celebration. with Hail Santa- Boston Rock's holiday season super group featuring Michelle Paulhus (Stars Like Ours), Ali McGuirk, Bice Nathan (Hey Zeus), Chip Nicolai (Goddamn Draculas), Peter Moore (Count Zero) also on the bill When Particles Collide and Salem Wolves- NOTE: Please bring unwrapped gifts for children of all ages—toys, books, art supplies, electronics, musical instruments, clothing, hats, coats, sporting goods, gift cards (older kids like these)...this is an 8-Midnight show at Once Somerville.
December 22 (Saturday) Greg Allen's Fringe Religion, Classic Ruins, 1.4.5, Fireking - Early Show 4-8 at The Midway
December 22 (Saturday) Hardcore Stadium presents The A-Team w/ Last In Line, Down But Not Out, Rampage, MFP, Restraining Order at an early show at Middle East Up 4:30 doors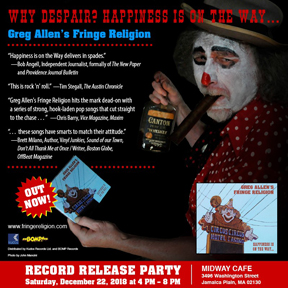 December 23 (Sunday) Thrash N Bang's Annual Xmas Punk Pizza Party! with Neighborhood Shit, Revilers, The Hangovers, Sewer Buddies, Coffin Salesman and Jake Tringale. 4-8PM at The Midway
January 4 (Friday) OC45, The Dents, Duck & Cover, Blame It On Whitman at O'Brien's Pub
January 12 (Saturday) IL Mostro (CD release) w/ Cortez, Scuzzy Yeti & Wrought Iron Hex at O'Brien's
January 12 (Saturday) Gene Dante And The Future Starlets, The Gala, Tiger Bomb, Smitt E. Smitty at Once Somerville.
January 12 (Saturday) Restraining Order, Envision, Antagonize, Brother, Pummel at AS220 Provi RI
January 17 (Thursday) Boston Emissions presents: PowerSlut, Stars Like Ours, Dark Wheels at Once Somerville.
February 8 (Friday) Hey Zeus Record Release & Listening Party (Argonauta Records) with Motherboar, Cocked N Loaded, Labor Hex at Once Somerville.
CONTACT US AT....misslynbgn@yahoo.com Send us your gig listings, your news and anything else ya got!! You want your CD reviewed?? Contact us for that too.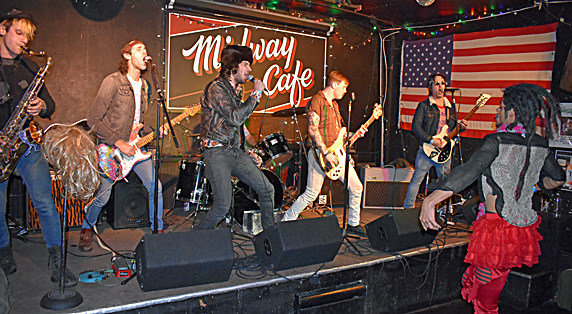 Banshee
Photo: Blowfish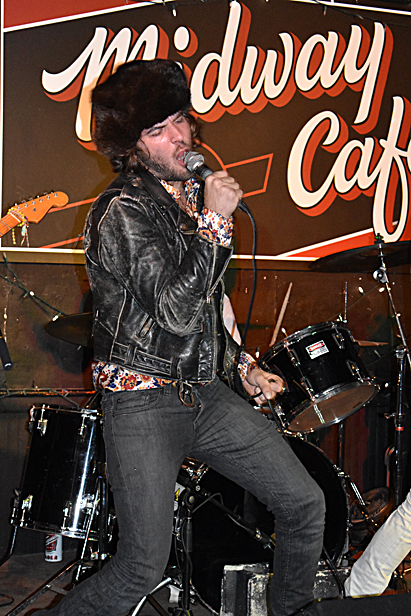 Banshee
Photo: Blowfish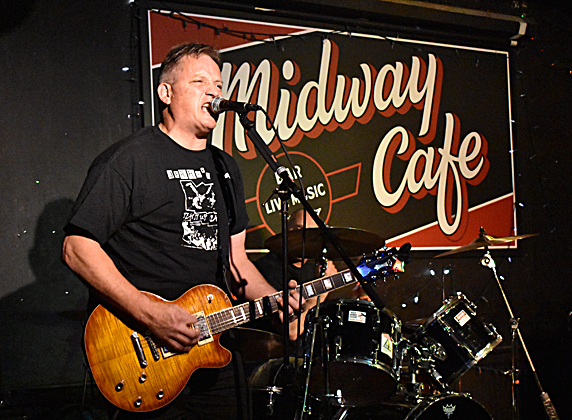 Bob Cenci - Rockin Bob Punk Band
Photo: Blowfish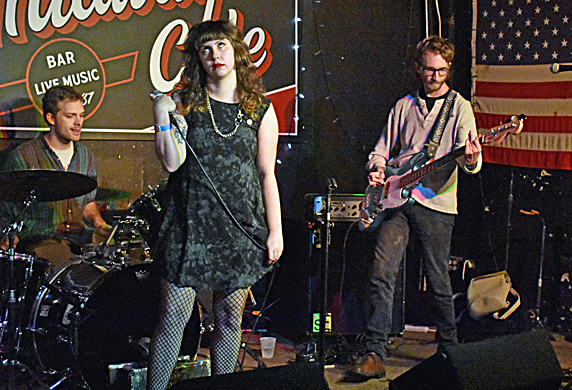 Smartyr
Photo: Blowfish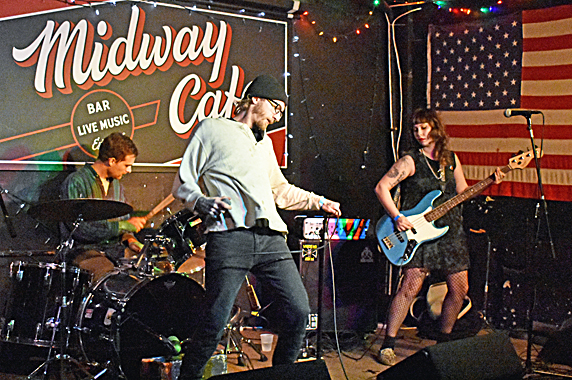 Smartyr
Photo: Blowfish
Jake Tringali
Photo: Blowfish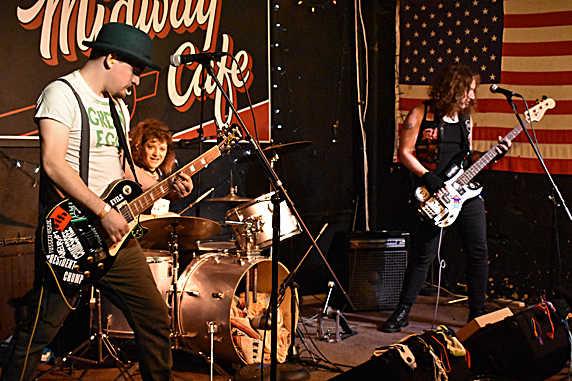 Whoopie Sticks
Photo: Blowfish