The BGN News Archive
November 13, 2017
The hardest thing about Friday night was getting out the door. The sudden cold made you want to stay in but the music called. Channel 3 from Southern Cal was playing at the Middle East Up.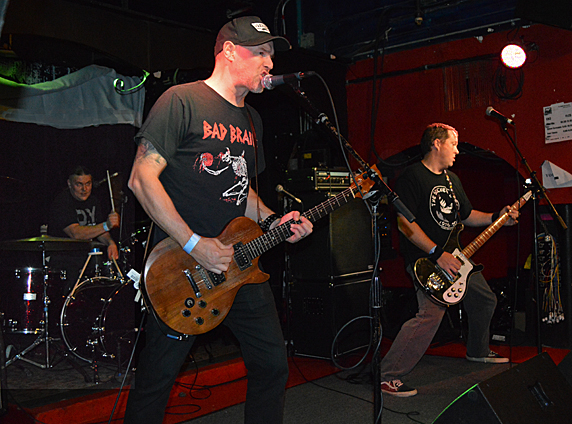 Silver Screams
Photo: Blowfish
We missed Fast Times which was the only blip of the night. Silver Screams was beginning their set and they were just what we needed to warm up. Their sound is a punk/metal mash up. On their record they cover Joy Division, this night they covered Government Issue so they are comfortable in a wide area of punk
One song highlight was The Evidence an old song with a political point about an older administration. They want to update it for the current one, which is something that Channel 3 mentioned that they wanted to do with one of their songs. Hardcore has always used gripes about politics as grist; it continues. They had some moshing going.
It picked up with the FU's. It was the last show for bassist John Darga who is becoming a dad. Congrats John!!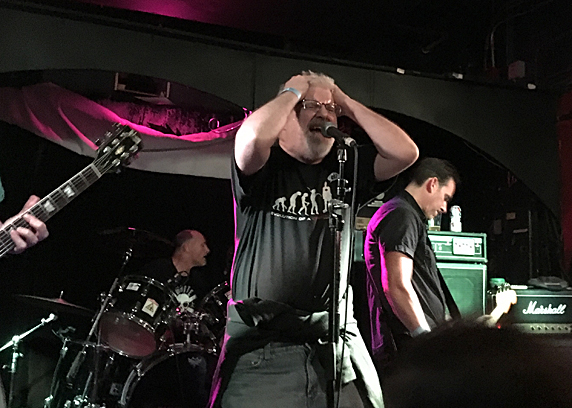 The FU's
Photo: Bob Cenci
The set list had 20 songs on it and they played them all. They didn't need much warm up, they blasted it out without relenting. No matter how good their set may be, the song "Young, Fast, Iranian" is always a step up as it was Friday. It made the already wound up crowd go more bonkers. They still put the cover of "Green Beret" in there too. We've always had a soft spot for the FU's. They were in the last print issue of the Boston Groupie News in the early '80s.
Channel 3
Photo: Bob Cenci
Some people left after the FU's and it was less than half a club left for Channel 3. They've got some attention lately because their song "Strength in Numbers" was on the TV series Stranger Things 2.
They put just the minimum of melody in their sonic barrage that gives their music a perfect balance. Time after time the songs got under your skin. The lead singer/bass player had a good personality which made for good stage patter. They've been around as long as the FU's.
It was a strong bill if you like your music loud and uncompromising.
Saturday was Veteran's Day. The Midway had a "Hardcore & Punk Veterans Day Benefit Matinee". It was in honor of Keith Brooks. As they mentioned on the Facebook page, "Our friend Keith Brooks started the tradition of doing a benefit every year to help out his fellow vets. We are going to keep it going and donate in his name to Operation Delta Dog--an organization that trains service dogs for vets." Keith was an Afghanistan vet. Facebook page Thoughts on veterans were constantly voiced on stage. Every band was in the spirit. The day was a worthy tribute and showed how hardcore is connected to the community and the country. Bravo to all who set it up and were there.
Meanwhile...the music! We saw three bands and they were all hard uncompromising hardcore.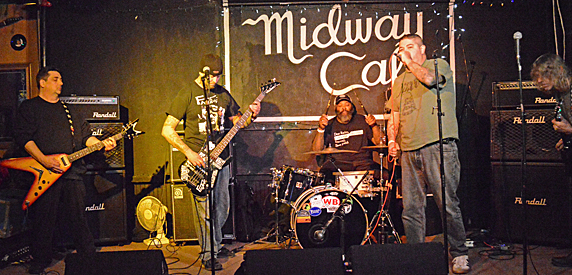 Working Poor
Photo: Blowfish
Working Poor are a Oi/street punk band from Cape Cod. We thought they were a bit rough but by the end of the set we were loving every song. The lead singer used to be in the Antibodies and we liked that group a lot. As a matter of fact our photo of them is at the top of their Facebook page. The singer did the growly voice but you could still catch the words. He's a front man that you give attention to.
The last song was dedicated to working people and we tried to catch the words but thought we heard some talk about the burden of overtime. Having been the victim of crushing mandatory OT we were cheering that song along.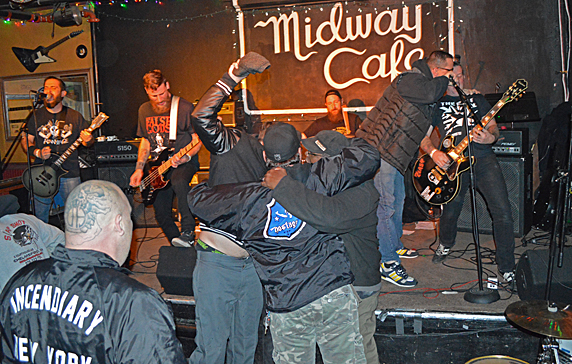 Out Live Death
Photo: Blowfish
Out Live Death came from Long Island, NY for the gig. Keith Brooks was a big fan of the group. The lead singer had several stories about Keith and played a song written for Keith. The set was all bone crushing material. The singer prompted people to do a circle mosh but only got tepid response. That was until they played "We Ain't Dead Yet" and the place exploded. Here's the song. That song just unleashed the energy in the room. The whole set was worthy of the same response in our judgement. They saluted our veterans but also complained about the current president. We are hearing similar comments at half the shows we go to these days.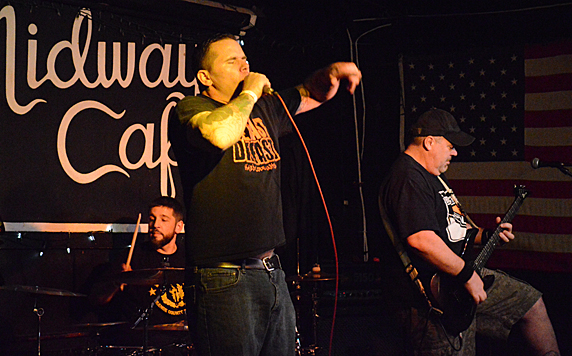 Held Hostage
Photo: Blowfish

Held Hostage from Rhode Island continued the ear assault. They were super tight. The lead singer had tons of personality and had you laughing during the talk ups. We were still chuckling as the song started and he immediately got super intense as only hardcore singers can. Hardcore singing is a real skill and a physical trial. All three singers on this bill displayed the craft. Held Hostage Bandcamp page.

There was plenty of quality hardcore on stage, lots of friendly people in the crowd and a sincere show of spirit for our veterans.

It was the ninth year for Hassle Fest. Pere Ubu was the big act but Hassle Fest is about the small odd acts most of all. John Keegan was there see below for his review.
---
And in other news...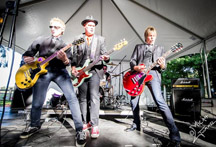 "All Done With Rock n' Roll" is a new song from Watts. It's a drum lead slow burner. It seems, in the song, they are talking about the audience giving up their interest in rock. Watts, we know, loves rock to death and aren't giving anything up. Listen to it here.
Transgender Metal Vocalist Danica Roem Wins Election to Virginia House of Delegates! How's that for a headline? It actually happened, not fake news. The article sums up: This is a huge day for transgender people and, to a lesser extent, metalheads. Here's the Bandcamp page for Roem's metal band Cab Ride Home
And so it's come to this (again): "Here Comes Your Man" by the Pixies in a Citibank commercial.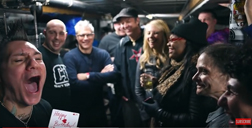 There's a new documentary about Agnostic Front coming out called The Godfathers of Hardcore….looks real good. Check it out
Thigh Scrapers have talked to David Minehan and are lining up time to record a 4 song EP at Wooly Mammoth in December/January.
SPECIAL DEAL FOR BGN READERS: We've mentioned Curt Weiss's book about Jerry Nolan of the New York Dolls entitled Stranded in The Jungle and we've mentioend the readings coming up in NYC, Provi and Boston- well you lucky BGN readers can get a SPECIAL BGN DISCOUNT on the book!! Regular price is $24.99. BGN Price is only $14.99!! Just visit The BackWing Store and enter code BGNSTRANDED at checkout to get your copy for just $14.99!
---
Here's some good shows coming up .....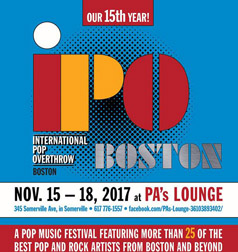 November 163 (Monday) Coffin Salesman, Seth Anderson, ForestPooky,In The Meantime,Michael Kane at Charlie's Kitchen
November 15 - 18 (Weds - Sunday) International Pop Overthrow is at PA's in Union Square Somerville. Check out the website for bands, set times etc.
November 16 (Thursday) Celebrate The Rat with Jim Harold, The Nervous Eaters, The Dogmatics, Willie Loco Alexander and Emily Grogan at The Ballroom at the Hotel COmmonwealth 6PM- midnight
November 17 (Friday) Greg Allen's Fringe Religion, The Stanleys (from Australia), Mercury On Mars and Classic Ruins are at Club Bohemia
&b>November 17 (Friday) The Handymen are at The Plough
November 17 (Friday) The CK5, Damnation and The Evil Streaks in Worcester MA at Ralph's
November 18 (Saturday) Cheech (EP Release), The McGunks, Steal Reserve (NY), Hopeless (mems of Reason To Fight) at The Midway
November 19 (Sunday) OC45 w/ Diablogato, On the Cinder at Great Scott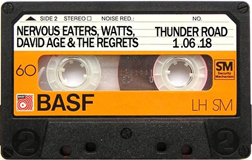 November 19 (Sunday) Scorpio Rising II featuring - Thrust Club, Psychic Dog, sister, Banana, & DEBRA at O'Brien's - We're doing it again! Every band has at least one Scorpio in 'em! Come and celebrate the greatest* zodiac sign with us! Yes!! celebreate SCORPIOS!!!

And further out we have...

November 20 (Monday) Taco Monday Mess Around with Jay Allen, Justine Covault, Tom Baker with special guests Eric Martin (Neats, Illyrians, Martin & Morrell) Kelly Knapp & Kimberleigh Ernst (The Bristols) aty Once Lounge

November 22 (Wednesday) Stray Bullets, The Radiator Rattlers, Cactus Attack, Art Thieves, Coffin Salesman at O'Brien's

November 22 (Wednesday) Hip Swayers & Thee Sonomatics - Give Thanks! at The Hotel Vernon in Worcester

December 1 (Friday) The Monsieurs (LP Release Show), Nice Guys, Earthquake Party at Great Scott's FB page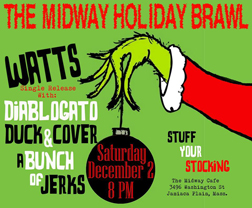 December 1 (Friday) The Dream Syndicate, The Richard Lloyd Group and DJ Carbo at Once
December 1 (Friday) Damnation, Evil Streaks, Downbeat 5, Michael.Kane & The Morning Afters at Koto in Salem
December 2 (Saturday) DJ Easy Ed presents: The Cranktones plus Easy Ed's Record Hop! 4-8PM matinee at The Midway...followed by......
December 2 (Saturday) Watts (45 Release), Diablogato, Duck & Cover, A Bunch of Jerks at The Midway
December 5 (Tuesday) Off With Their Heads, Mobina Galore (Canada), Michael Kane & The Morning Afters, James Lynch at The Hotel Vernon, Worcester
December 5 (Tuesday) Rambudikon & NHBooking Presents:: a great show!! with Great American Ghost, Downswing, Absolute Suffering, Degrader, Boundaries at Bungalow Bar & Grill in Manchester. NH FB page
December 6 (Wednesday) RTT Presents: Boston Punk Shows - Off With Their Heads, Mobina Galore, Tied To A Bea, The New Warden at Great Scott's
December 7 (Thursday) TSOL are at the Sinclair with The Bouncing Souls and Rebuilder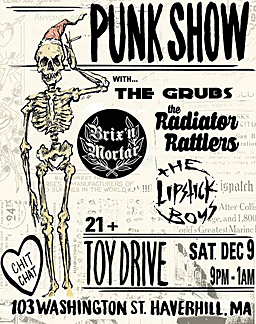 December 8 (Friday) Rumbar records is throwing a HUGE record release party of the new Justine and the Unclean record Get Unclean....It's at Once and there will be bands in the ballroom and in the Lounge. Check out this list!: In the Ballroom- The Upper Crust, Hey Zeus, Tom Baker and the Snakes, Justine and the Unclean ....In the Lounge - Cold Expectations, Roy Sludge Trio, Pinecone Teeth and Jay Allen - doors at 7:30 show starts at 8:15.
December 9 (Saturday) The Raging Teens are turning 21 this year.. and that's "Drinkin' Age!" There's releasing a 45 called "Drinkin' Age" on Swelltune Records to celebrate their 21 years as a band! AND that means The Raging Teens Holiday Shindig Record Release! With The Raging Teens, Nate Gibson, Bloodshot Bill, Sean Mencher at Great Scott. FB page
December 9 (Saturday) Radiator Rattlers, Brix'n Mortar,Lipstick Boys, The Grubs at The Chit Chat Lounge in Haverhill FB page
December 10 (Sunday) It's that time of year again: Rockin Holiday Flea Market and Bloody Mary Bash At Once Ballroom - they'll be over 40 vendors selling Vintage, Vinyl, Collectibles, Clothing, Knick Knacks, Hand Crafted Items, Music gear, Jewelry, Art and plants- FB page 11Am -5Pm
December 10 (Sunday) You can follow that with Great Scott Holiday Party featuring . The Scrooges 9Pm to Midnight
December 10 (Sunday) Horton's Holiday Hayride featuring Reverend Horton Heat & Junior Brown with special guests The Blasters & Big Sandy at The Sincalir (7-11PM show)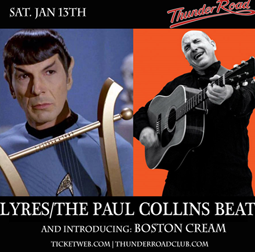 December 14-16 (Thurs-Sat) Bowery Boston presents Street Dogs Wreck the Halls Thursday 12/15- with special guests The New Darkbuster & Taxi Driver at The Sinclair - Proceeds benefit Massachusetts Fallen Heroes
December 14 (Thursday) The Hi-End, The Peasants, Trusty Sidekick at Sally O'Brien's
December 15 (Friday) Street Dogs Wreck the Halls with special guests The Pinkerton Thugs & The Abductors at The Sinclair
December 15 (Friday) Street Dogs Wreck the Halls with special guests A Wilhelm Scream & Michael Kane & the Morning Afters at The Sinclair
December 15 (Friday) It's a metal xmas party with Tragedy, The Scrooges, Rawstrum at The Middle east 8PM to Midnight
December 16 (Saturday) Bent Shapes with Beware the Dangers of a Ghost Scorpion @ Great Scott- this is Bent Shapes' FINAL SHOW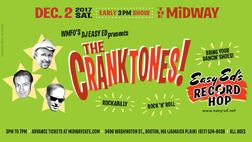 December 17 (Sunday) Thrash N Bang's Annual Xmas/Pizza Party Show! with Crimespree, CAC, The Grommets, The Sewer Buddies, and Jenn Lombari & special guests (Matinee 4-8PM)
December 28 (Thursday) The Knock Ups, Gene Dante And The Future Starlets, Godmouth, Set Fire at O'Brien's Pub
January 6 (Saturday) Nervous Eaters, Watts and David Age & The Regrets at ThunderRoad FB page
January 13 (Saturday) Lyres, Paul Collins Beat, Boston Cream at Thunder Road
CONTACT US AT....misslynbgn@yahoo.com -Send us your gig listings, your news and anything else ya got!! You want your CD reviewed?? Contact us for that too.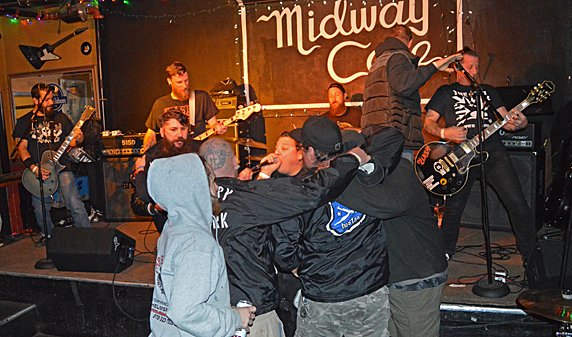 Out Live Death
Photo: Blowfish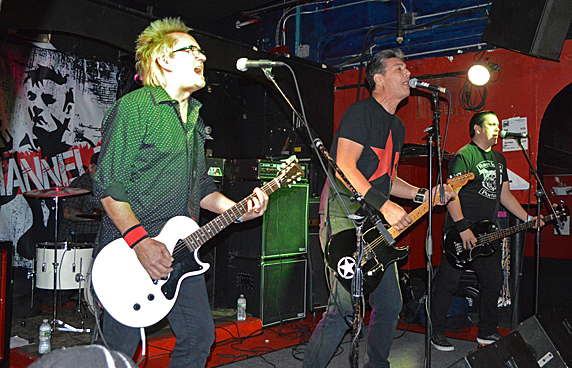 Channel 3
Photo: Blowfish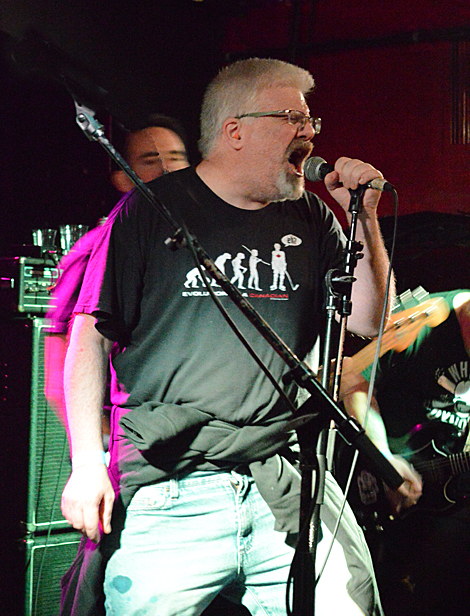 Fus - John Soxx
Photo: Blowfish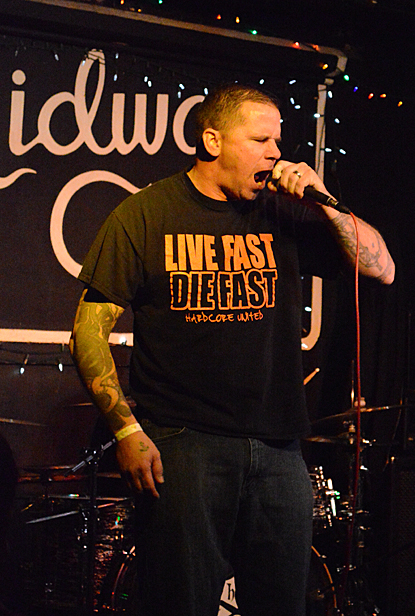 Held Hostage
Photo: Blowfish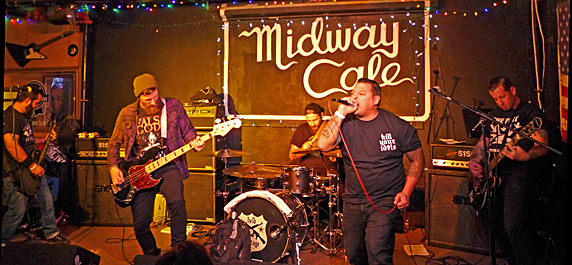 Out Live Death
Photo: Blowfish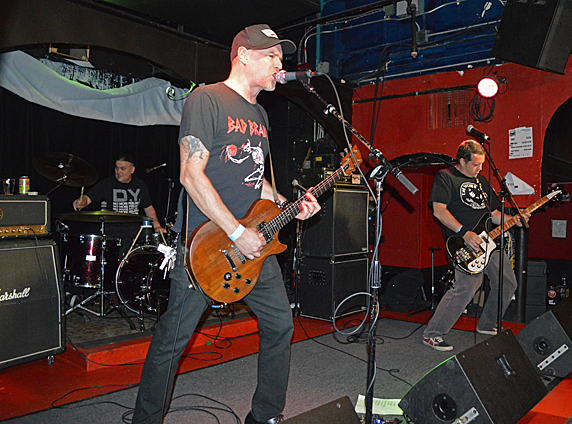 Silver Screams
Photo: Blowfish
The FU's
Photo: Blowfish