The BGN News Archive
November 16, 2009
The Middle East down on Friday Nov. 13.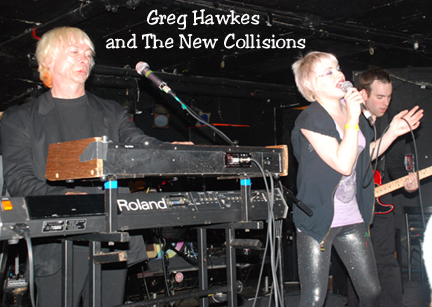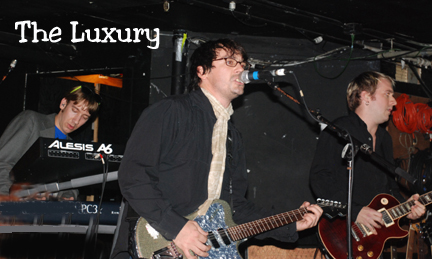 Well we here at the BGN were out and about this weekend: Blowfish went to the Middle East to see The New Collisions and The Luxury.
Blowfish says: The New Collisions were New Wave deja vu. The singer Sarah Guild was ultra cute. Do we want to hear New Wave in 2009? I don't know but if anyone does this is band for you. It was a kick seeing Greg Hawkes up there for a few songs including one Cars song. Rumble winners The Luxury were very stong. Nice playing all around and they added horns and two violins at different times to good effect. They had some songs that had lots of mood to them without being slow and maudlin, that's a nice groove to be in.
On a little birthday outing with BeatGirl and Kim Ackland we went to Allston to Horror Business , at 77 Harvard Ave, on Saturday to check out their Mode Merr store take-over/trunk show. Horror Business is owned by Troy who fronts Razors In The Night..... So now I understand the big punk fashion statements being made by the guys in his band! Troy is right on top of it and is doing an excellent job! Also you will find a very good local music section in the back of the store too! While there we ran into Nancy Neon who had just bought a cute black dress, she was having a grand old time! So next time you are in Allston, stop by at Horror Business and say hello to Troy!!
BeatGirl took pictures at the Plough and Stars
40th Anniversary Party on Sunday Nov. 11

| | |
| --- | --- |
| Kirk Konk | Triple Thick |
| Jim Serry of Triple Thick | Andrea Gills and Jerry Lehane. |
Now for music coming up:
this Thursday starts International Pop Overthrow event at Church!! And for FOUR days: November 19, 20, 21 & 22...pop bands will rule your world!
it goes like this:
Thursday 11/19: Heath Street, LemonPeeler, Doom Buggies, Satch Kerans, The Buckners, Jeff Byrd & Dirty Finch and Corin Ashley
Friday, 11/20: this is gonna be a killer night! With The Stompers, Big City Rockers (featuring Tom Hauck & Fred Pineau of The Atlantics & they'll be performing 6 classic Atlantics' songs!), 1.4.5., Fireking, Fox Pass , Andy Pratt , Pastiche (FIRST REUNION IN YEARS!!!), and Bittersweets
Saturday 11/21: you got The Lights Out, Topheavy, The Montgomerys, The Motion Sick, Golden Bloom , Popfilter, Carlene Barous and Cliff Hillis
Sunday 11/22:The Rationales, Jason Bourgeois & the Silver Jasons, Skyler, The Dayzies, Salvatore Baglio and Bird Mancini
now Saturday Nov 20th also has a great show at The Cantab...A Nancy Neon night with The Varmints, The Port Charles Quintet, Kenne Highland and Corolla Deville...it's gonna be a fun night folks!!!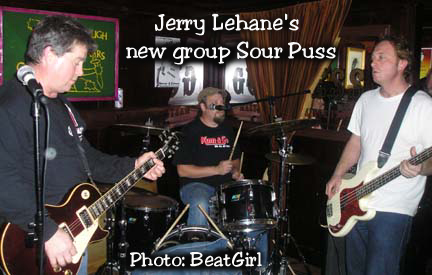 Next week: You can start off the Thanksgiving day weekend on Wednesday night Thanksgiving Eve, Nov 25th with a great show at TT The Bear's with Mark Lind & The Unloved, Death & Taxes, The Scars, The Rebel Dead and Marc Cannata of Far From Finished ,
midway through there's a Jimmy Fund Benefit at Church on Friday, 11/27 with Jason Bennett and the Resistence, Lenny Lashley and Friends, Bryan McPherson and Six String Bullets
and end it properly too with Red Invasion, The Murder, The Spoilers, The Egos who are doing a 1PM show at the Middle East UP on Sunday November 29th....
And get your tix now folks because First Night , First off: The Neats reunite in support of the recent reissue of almost their early recordings on Neats 1981-84, and play at the Orpheum along with Buffalo Tom and The Lyres. Then over at The Parkman Bandstand features Jordan Valentine and the Sunday Saints, with The Fatal Flaw.
Jenny Dee and the Deelinquents bring their girl group sound to The Park Plaza. The Painted Lights, Walter Sickert and the Army of Broken Toys and Cirkestra play at the Hynes, and Emmanuel Church features a triple bill of Drew O'Doherty, Kristin Hersh and Chris Brokaw and Geoff Farina performing pre-WWII country blues. WOW!!! alrighty folks I gotta run.......have a good week and email me please!!!