The BGN News Archive
November 16, 2020
it's been a tough week folks.....
This week we lost a very dear member and long standing of the Boston Music Scene - Boby Bear.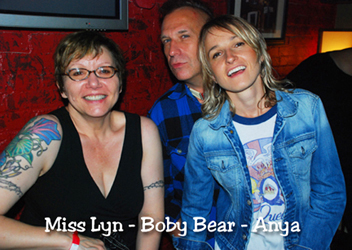 Boby has been in countless bands (Atlantics, The Moving Parts, One Fish Two Fish, De Sade, The Darlings) and had many one-off gigs with various musicians including Kenny Chambers & The Black Mosettes at the Plough, Willie Alexander. But that was just one part of what made up Boby Bear! He was a visual artist, and painted many of the storefront windows around town; Wayne Viens' Davis Square Goodwill every Halloween, Mr. Bartley's Burger Cottage just to name a couple. Above all of that Boby was an amazing storyteller, he even wrote for the BGN; Remembering Matthew MacKenzie. Whenever you ran into Boby, he always had an interesting tale to tell. And of course, we are well aware of how dapper our Boby was! He had a collection of cool boots and always looked well put together and often quite debonair!
Boby had a personality that would work its way inside you, dig deep and stay there, well ensconced in a warm place. He wasn't just memorable he was unforgettable.
My last encounter with Boby? I was taking a class at the Cambridge Adult Ed Center in Harvard Square. Boby was at the front desk. He told me to come visit him during the class break. And so I did. He excitedly started in on how he absolutely KNEW that Elvis was alive.We sat at his laptop and, with Elvis songs blaring at a deafening volume, he showed me photos of "Elvis"….at the Obama inauguration … at a football game…behind the screen door at Graceland ! People came out of the classrooms to see what was going on. Boby was certain Elvis was still with us. It was so much fun, Boby made it fun....and something I'll never forget. And now he might just know for sure if Elvis is still alive ... or not.
Lastly we cannot talk about Boby without mentioning the love of his life Anya, Mrs. Bear. Anya loved and adored Boby with all her heart and soul. She knew the first moment she saw him that "he was the one" I am happy for both of them that they were able to find each other and spend so many wonderful years together. Anya our hearts go out to you. There is no way to fill the void Boby must have left behind. RIP Boby Bear. You can read Boby's obituary and leave a remembrance here.
WMBR DJ Jeff Breeze died on Sunday 11/8. He did the live Pipeline show for 17 years. Doing a live show takes much more energy than even a regular show. It's a lot of work done as a volunteer. That just takes love and dedication. The death was sudden and happened just as the station went into fund raising week. You can read more on Vanyaland
The country, if not the world, mourned the loss of Alex Trebek this week. We all knew it was coming but the end came suddenly. The Fleshtones have a song called Alex Trebek. It's on their last album called Face of the Screaming Werewolf released in April this year. See it on YouTube here: https://youtu.be/FiU6WM39J7Y
OK and on to other stuff...
Just a reminder to think about giving to the New England Musicians Relief Fund. They give 100% of the donated money to musicians to help them out during this time of restricted club attendance. Click here for more info and TO DONATE. If you need to apply for funds click here.

Tower Records closed all its stores 14 years ago but now they are coming back as an online site selling cassettes, CDs and LPs. Here's the story on Deadline.com. Here's the link to the store: Tower Records! Us we'd rather go local. Now, if only Weirdo Records would start up again. Please!
Brian Coleman's book Buy Me, Boston Vol.2 is available online and at Village Vinyl & Hi-FI, 307 Harvard St, Brookline, the first store to carry the book.
Muck and the Mires have ANOTHER video for their upcoming album. They've been creating well done vids for their catchy concoctions at a steady pace. That's a useful talent to have during this shutdown. They had the song thing down now they have the video thing down! What a group!
This video has a fun premise that the group hits the couch and surfs through the TV channels where some guest singers show up on the screen. The song is "I'm Your Man". We'd call that a live fave but everything they play is a live fave. The video has the fast cutting that mimics the upbeat mania of their live show. "I'm Your Man" is one of their rockinest and that's saying something.
A Bunch of Jerks have given the world a heads up that their new song "The Dead" is on its way. It will released to the wild on November 27.
Richie Parsons played The Midway on Thursday. He did a lot of shows there pre-covid, so he's just continuing the tradition in a way. The lineup was Richie, Doug Harper and Elisa Birdseye. It was the familiar set of mostly his solo material with one Tomato Monkey song in there ("Fire Escape") Some of the songs were: "When Fall Begins", "Right on Time", "Rainy Day", "Blue Sands" and "When You're Dancing". He ended with Willie Loco's "Everybody Knows". You can watch it here.
In between songs Richie told a couple stories about Unnatural Axe playing Monday nights at Cantone's in the way early days. There used to be few people there. He said once he hit his head on Frank's bass and was bleeding and looked up to see the Real Kids in the doorway looking on in disbelief.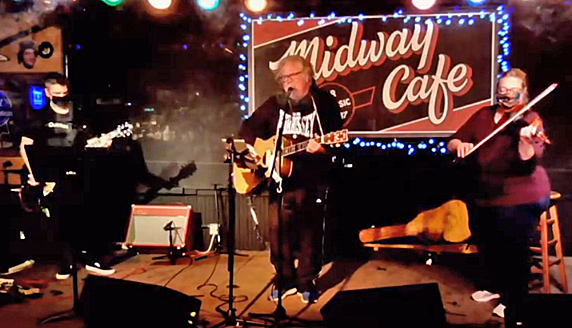 Richie Parsons at Midway
And speaking of the Axe at Cantone's ... we were there one Monday when we swear there was NO ONE in the band room (there were people maybe in the bar room) when Richie ran off the stage and jumped on top of some tables and chairs (yes, they had them). He could have hurt himself bad. We asked why do that when there was no one there. Richie said that they had made a pledge to give 100% effort every time, no matter what. Point proven.
Richard Mirsky, man of many bands, used his solitary time in Covid jail to whip up an album; Run Away. It should be available by mid-December. Which reminds us of the song "Melissa" off the Creepy Old Guy album, it's a Lou Reed like gem. Listen to that here.
The Queers have a new album on the way. Save the World has 15 tracks. The digital release will be on November 30. One song title is called "Shit for Brains" …could that be a Nervous Eaters cover, or great minds thinking alike? You can preorder here.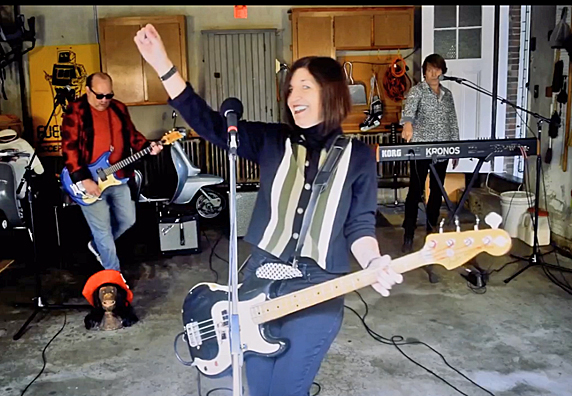 Garagecast
Another week another Garagecast!! This is Episode #10 where Linda Bean Pardee with Jay Allen and Jimmy Lepler cover "Swing Like a Monkey" by the Len Price 3. Len Price is not a household name but there's no denying that neat garage rocker. Watch the video !!!
61 Ghosts did a video in the studio of their song "Lying in Your Arms" that captures the spacy and haunting tone of their work. It shows you what a duo can accomplish. Watch it here.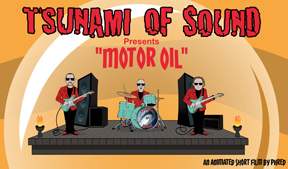 Tsunami of Sound will have a short animated film next week. Looks like a fun viewing judging by the graphic they released. Check their FB page for it.
1.4.5. are going to have their song "She Couldn't Say No" on an episode of Firefly Lane, a new series coming to Netflix which will premiere on December 31.
Eno: A 1973 Mini-Doc Shows Brian Eno at the Beginning of His Solo Career is a 24 minute mini documentary on Brian Eno from 1973. This was at the time of Here Come the Warm Jets and the documentary shows Brian in the process of recording that album. There's some footage of Roxy Music and some time is spent on the Portsmouth Sinfonia and a short bit of Chris Spedding recording. They also show some pages from his journal/notebook he's kept since he was 14 and continues to do so to now. It's a must see for Eno fans!! The video can be seen here.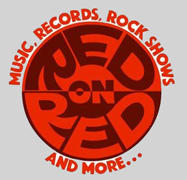 Red on Red Records is having a virtual launch party is on Saturday 11/2. They'll be showing some rare live videos of the Neighborhoods! as well as vids/performances by Kid Gulliver, Cold Expectations, Justine and the Unclean.... Plus guest videos by: WhistleStop Rock, The Dogmatics, Jay Allen and the Archcriminals and The Dirty Truckers ... And the exclusive premier of the new video and theme song for Red on Red Records, as performed by Justine Covault, David Minehan, Lee Harrington, and Jim Janota, and featuring Red on Red roster artists and creative contributors.
Here's the Facebook event page, you'll want to this one!!
Johnathan Paley's (Paley Brothers, Nervous Eaters, Classic Ruins) latest project is a video by Michele Muso of the Goffin/King song "He's a Bad Boy". It's a very Spectorish production. Watch it here.

The Twisted Rico podcast Blowing Smoke notches up another must listen to show with its interview of Al Quint of Suburban Voice. Al goes over a lot of his early formative years. Everything Al says is of interest. He was at the Plasmatics show at the Rat where Wendy O'Williams chainsawed a guitar. He also spent many years working at Rocket Records up on Route 1. Man, we loved that place. For early hardcore groups that were of influence he puts lots of weight on Discharge.
Give it a listen on the AnchorFm site.
CDs/ Music....
Telamor logs another insanely bouncy tune. He's got the most optimistic outlook of anyone living. He's been able to put out a few songs during this quarantine and they sound solid.
Our chance to see Lockette was a week before the Covid-19 shutdown we were at the Whistle Stop show at Once. They just came out with a three song EP. Angelle Wood played the song "Lungs" on Boston Emissions this week and like the song "Daily", it seems to be about being shut in the house…talk about plugging into the zeitgeist. One lyric is: "Every day the same Every day routine Every day the same". It's a bit dreamy at the beginning but things get noisier, the guitar gets edgier and there's a little panic in the singing near the end. In the future we might look back on this song and think…."that song nailed it!"
The Short Fuses rock like crazy on Dawn of the Deaf. That's their mission. They have a 70s hard rock sound but they keep the tempos very fast and that simple trick works wonders. The songs whip by and the energy never slacks. We got stuck on a cut that's a little punky called "You Ain't Shit (Without a Leather Jacket).
It reminds us of The Chills song "I Love My Leather Jacket" Watch it on YouTube.
Rum Bar released an EP by Beebe Gallini called Twin Cities. This group is so deep in the garage that they're tripping over oil cans. What a great fuzz tone they have. They do up "Open Up Your Door" by Richard and the Young Lions to the point where they own it.
Locals Tanya Donelly and Melissa Gibbs show up on Closer To Heaven: A Tribute To Ed Ackerson. Ed was a beloved Minneapolis musician/producer/studio owner who died in October of 2019. This album has 30 songs to it. The songs are works that Ed was involved with. It's a well done effort. Soul Asylum and the Dandy Warhols are on it too!
This week Simone Berk announced that she would have a Christmas song on the new Red on Red label. It'll be released on Tuesday November 17, but Stop Calling Me Frank beat her to the airwaves with "Some Kind of Christmas". Hearing that band doing their thing again is a gift in itself. SCMF has a few Christmas songs. We predict that the day will come when they release a Christmas album.
And with that the Christmas songs begin to flow in.
Council Pop Records is releasing a 19 track collection of favorite Christmas standards, A Gutter Pop Christmas Carol, performed by some of the best pop punk bands in the world. J Prozac of The Prozacs does "Angels We Have Heard On High". You can get the (Rudolf Red, Tree Green or naughty Coal Black) LP here
Rum Bar has "What Will Santa Bring" by The Heatwaves with Freddie Dilevi, he of the amazing voice. It's a sophisticated pop with plenty of seasonal warmth. One of the things Santa brought this year was Dilevi's voice. It's nice to think that he will bring that voice to more efforts. It's something to look forward to in this upsetting situation we find ourselves in. The song comes with well-produced video that is also charming.
Coming up.....
Virtual/ Streaming/Online Events.....

Dont forget to check out Linda Bean Pardee's Linda Garagecast every week.
Thursday November 19 -7-9 PM - Rawstrum will be album release live stream from The Midway. FB event page. Check out their new release Sun to Moon on Bandcamp.
Saturday November 21 -8 PM - Red on Red Records Launch Party x OVV - The Neighborhoods, Kid Gulliver, Cold Expectations, Justine and the Unclean.... Plus guest videos by: WhistleStop Rock, The Dogmatics, Jay Allen and the Archcriminals and The Dirty Truckers ... And the exclusive premier of the new video and theme song for Red on Red Records, as performed by Justine Covault, David Minehan, Lee Harrington, and Jim Janota, and featuring Red on Red roster artists and creative contributors. FB page for links
Shows coming up sometime in the future....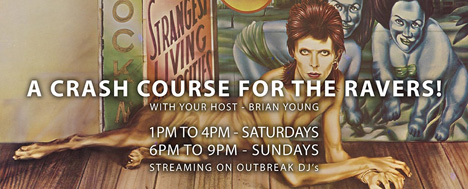 Thursday December 17 -7-9:30PM - Talkin' to Dracula and his Crew: Goth subculture and horror, a lecture - Miskatonic Institute of Horror Studies Brooklyn NY FB page
January 16, 2021 (Saturday) New Date - The Schizophonics, Muck and the Mires at ONCE Lounge Early Show: 5:30 PM – 8 PM
February 17, 2021 (Saturday) Rescheduled - Swans w/ Anna von Hausswolff at the Paradise
April 19, 2021 (Monday) Rescheduled - Dead Can Dance at The Wang Theater
April 29, 2021 (Thursday) Circle Jerks Plus Special Guests at the paradise (this is a reskedged show) FB page
CONTACT US AT....misslynbgn@yahoo.com Send us your gig listings, your anything else ya got!! You want your CD reviewed?? Contact us for that too.
---