The BGN News Archive
November 17, 2008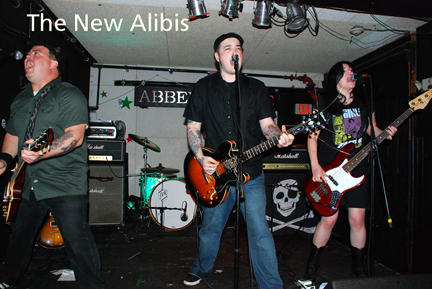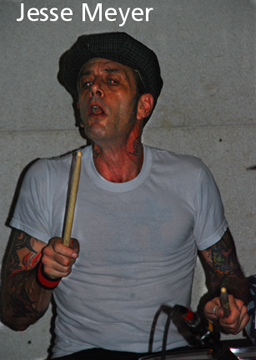 Off we went, down the street to the Abbey this past Saturday to see Doggfight US, The Throwaways, Refuse Resist and The New Alibis....we caught the New Alibis...Jesse Meyers' new band...very very good...
Man, if ever there was a awesome, powerful, succinct, killer drummer in town it is Jesse.....

I think family life and dad-dom is doing him very very well. He was just plain stellar this night.
The band is made of a excellent musicians, the only complaint from my music officiando friend was that all the songs sounded too much alike, I will agree with that. Otherwise though, they were great so make sure to catch The New Alibis on their next gig!!...
Which is Wednesday Nov 26th at TT The Bears : and its excellent bill!: Mark Lind & The Unloved, Death & Taxes, The New Alibis (on at 10) and Squallie Greenthumb....But hey check 'em out right here and now by going to their site!
Speaking of the Abbey, this Wednesday 11/19 they have Triple Thick and The Hospital Rats....
Monique Ortiz Friday the 21st
The Dirty Truckers and The Modifiers on Saturday the 22nd....
And REMEMBER coming up on November 26th it's
THE ABBEY'S LAST BLAST
with The Acrobrats, Jay Allen, Coffin Lids, Curses, Konks, Muck and the Mires, Spitzz, Tampoffs...and more all for only $5...so be there.....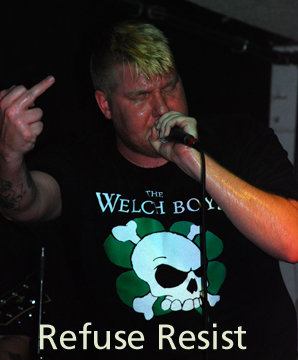 But hey next weekend: all you pop lovers will be creamin' in yr jeans for days…it's The International Pop Overthrow Festival! check this out, all at Church:
Thursday 11/20 :The Sneaks, The Mystery Tramps, The Kickbacks, Jerry Fuentes, Ian Axel, Andy Pratt, Satch Kerans.....
Friday 11/21 : 1.4.5., The Doom Buggies, Fireking, John Powhida International Airport, The Motion Sick, Sal Baglio, Henning Ohlenbusch....
Saturday 11/22: Topheavy, Popfilter, OranJuly, The Shills, Frank Ciampi, Peter Baldrachi and Bird Mancini...
And as if that wasn't enough pop....it just keeps goin'...
Sunday, 11/23...Matinee Show at 1PM...Mars UK, The Naomi Star, Frank Critelli, Caitlin Frame, Alison Francis, Food Will Win The War...
And then Sunday night at 7PM...Lemonpeeler, Shadwell, Gene Dante and The F .
... Johnny Barnes gets a little press on the South Shore.....Johnny Barnes Article
Here's a photo book with some Boston rock photos...good Christmas gift if you're thinking about that.....Boston Years
What we have here is a internet radio station of some Boston Bands.....Sonic Lobotomy.
so that's it for me this week folks.....email me and let me know what's happening....'til next week....!! ML
.....well ok my friends...until next time...and please do send along a little message to make my day…. ML