The BGN News Archive
November 17, 2014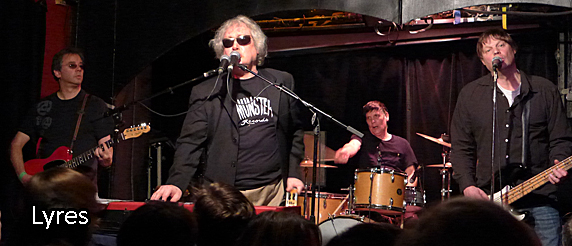 Since we reviewed Tsunami of Sound last week I thought I would try out Tsons of Tsunami who were playing TT's. They play surf with a fun attitude. Songs include Quest for Crest and then Zest for Crest. I like their rawer than usual sound. Check 'em out on Bandcamp here.
I went at the appointed hour and they had already played or not shown up. In any case the next band The Big Mess was well into their set and playing to 12 people - the whole night was way ahead of schedule. Not a big draw this night. I couldn't get into the Big Mess. Their lumbering ominous compositions are all instrumentals. I think they are close to something though and it might click with a receptive crowd. Hear 'em on Bandcamp here.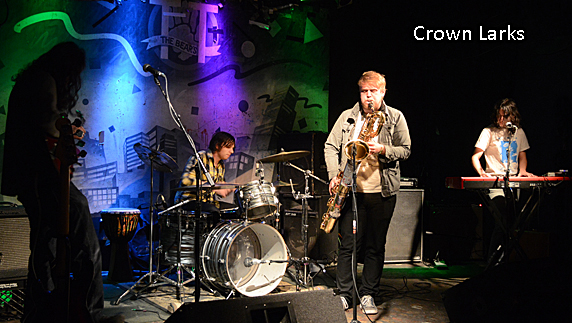 I felt bad for the Crown Larks who are on tour from Chicago and played to the small crowd. They played some jamming psych rock. They have drums, guitar, keyboards and a baritone sax. But, again it wasn't doing it for me. The vocals were not effective. Our Ghost Box Orchestra does the job in this area. What I heard is reflected on their Bandcamp page.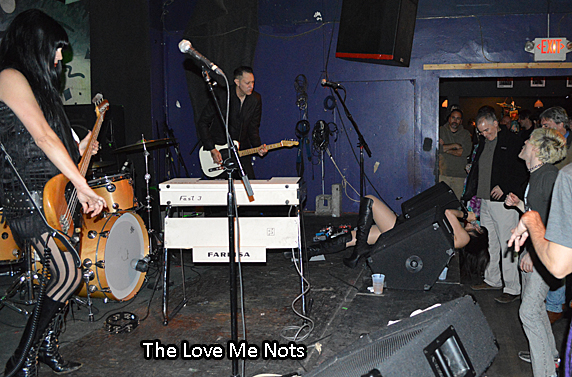 I was back at TT's on Thursday for the Love Me Nots. There was a buzz about them for a while based on their past gigs. It was a real turnaround from Wednesday with the club well populated and excitement in the air. The Love Me Nots had the energy flowing from the first minute. They have a classic garage rock sound with a Farfisa organ front and center and the girls add sex appeal to the mix. The songs are just a few chords or riff based; simple stuff but it's the performance and arrangements that make them go over. They constantly drop an instrument out, change the dynamics or emphasize a beat to create interest. Meanwhile the organ player is literally bending over backwards to make a point. She often played with her back to the organ and always managed to play the right chord somehow. Both the songs and the performance had a dose of drama that made for a memorable gig. They deserve their good reputation.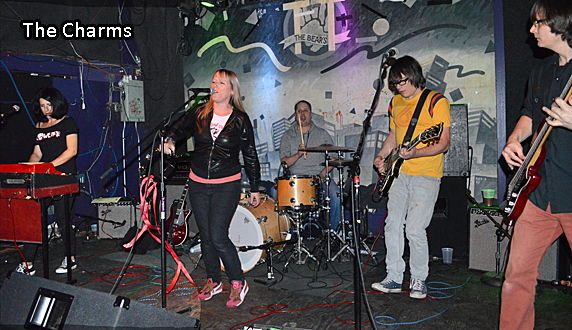 I loved the Charms CD's when they first came out but somehow I'd not seen them live. They traverse the same territory as the Love Me Nots but had more craft in their songs and instead of a Farfisa they have a Vox Continental that they use to good effect. I was glad to finally see them live. The night also had Greg Allen and the Fringe Religion who had an interesting interview on Crash Corse for the Ravers the previous Saturday (It might still be archived - http://www.wmfo.org/ ), and The Bent Shapes who do a neat version of the 2X4's Bridgeport Lathe that's on our TOP TEN SONGS list.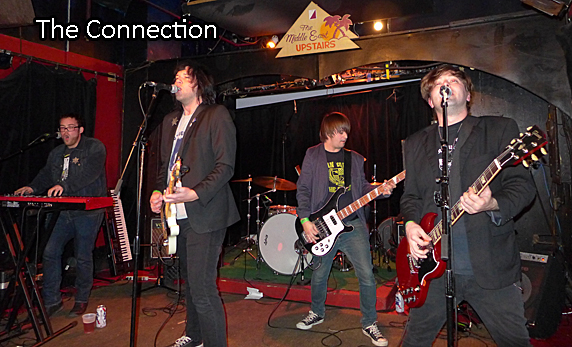 Friday at the Middle East had a great bill; Triple Thick, The Connection, The Cocktail Slippers and Lyres. It was being presented by The Underground Garage radio show, Cavestomp and King Yum Records. Kim Yum Records who now has Watts, The Connection, Muck and the Mires and Kurt Baker in their stable. Holy tap dancing Moses, that's a pop line up from heaven.
The music started around 8:30. I missed that time mark and thereby missed Triple Thick who were outside as I was walking in. They were discussing obscure songs - what else? When I saw Matt Burns inside he said they were great and he was raving about one of the songs they did which either was an original or...you know...an obscure song.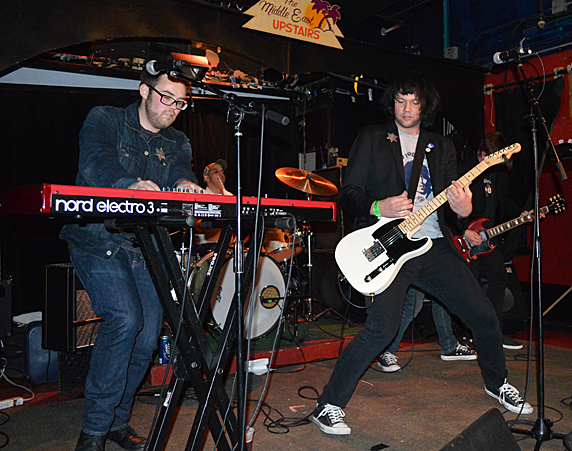 The Connection were wailing when I walked in. These guys have had it together from day one. I don't know how they learned what they have but they've got the songwriting and the performance qualities down pat. They have a scruffy look now. A change from the neat look they had the other times we have seen them at Great Scotts, opening for the Real Kids and opening for The Flaming Groovies. Sometimes they have a keyboard player and sometimes not, this night they had him. He's icing on the cake. Little Steven is giving them some air play. Their recorded material is well done and live they even kick it up a few notches from that. We can only tell you to check them out, if you don't you're missing out on a good thing. It will be interesting to see if they can get to another level of success.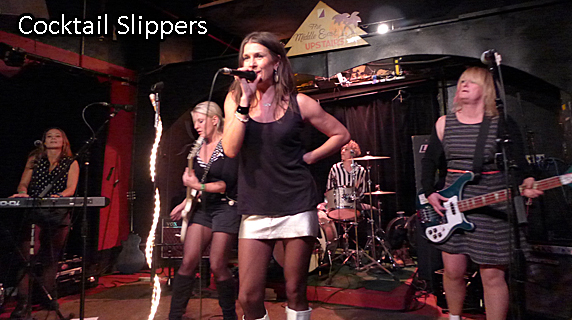 The Cocktail Slippers have also gotten some airplay on the Underground Garage and people seemed to know about them but I wasn't familiar with them. They are five women from Oslo, Norway. On stage I saw some attractive women setting up but was still surprised to see another gorgeous tall stunner walk out and start singing. She's was wearing a mini skirt and go-go boots. They play some catchy rock pop with not too much bite while the women are tongue wagging to each other coupled with copious ass shaking. I'm not complaining...too much, but I felt cheap. It was like a pop tart breakfast; tasty but you don't feel good about it.
The guitarist had an effects pedal that made her solos sound like the guitar was going through the spin/wash cycle of an off balanced Kenmore. Even then the licks were catchy and she, like all the band members, was a very good player. They covered Hush by Deep Purple. The crowd was giving them a good reception and singing along when they asked.
The night wasn't sold out but the club was on the full side.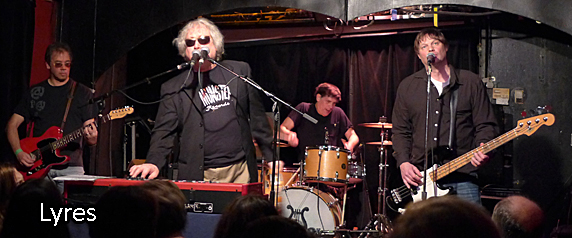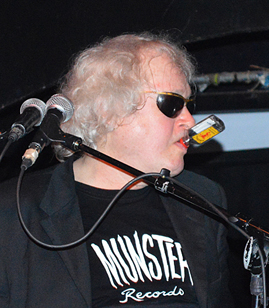 Then it was Lyres time. The last time we saw them was in May with the Standells . This night Jeff Connelly seemed a little excited. He made sure he had two microphones and notified us that he had a cold and his voice could have some problems. The second song in he gave one of his patented emphatic screams that come from somewhere deep both physically and mentally and at that moment it revealed all that I was not getting in the Cocktail Slippers. There is so much in that yell that comes from Jeff's garage rock fanaticism, his decades of dogged persistence of capturing the essence of what he loves. You can buy all the Farfisa's you want and you can look beautiful and even try your hardest but you are not going to be able to give what Jeff and Lyres give to us every time they play.
It wasn't a perfect set, far from it. There were many false starts and some off key vocals but there was also much that was great. Jeff, when he captures that essence while singing, Steve Aquino with is tasty guitar riffs (no wobbly tone here), and the amazing Paul Murphy. Paul has been so good so long it's hard to believe. If you focus just on him you can see how much he's shaping the overall sound. Dave on bass is now solidly up to par. He has a warm tone and the lines are right in the pocket and he did some backup vocals that added a lot. Lyres always seem to do a generous amount of songs and they did this night again. After it was over I felt like I had a good fix of Lyres. I was happy to hear the audience cheering and hollering for their favorite tunes and the majority stayed right to the end of the set which was about quarter to one.
OK, now for great music coming up: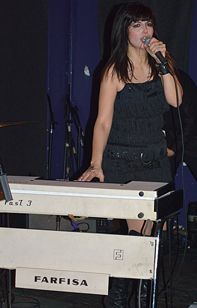 This week there's 4 nights of IPO- International Pop Overthrow at O'Brien's and its their 12th year!! IPO Boston will feature 26 pop and rock bands from Boston and beyond starting on Weds Nov 19 and going through Saturday Nov 22. See the dates below
Wednesday, November 19- International Pop Overthrow at O'Brien's has 7:30 Trick Wallace Trio, 8:15 Didn't Planet, 9:00 Drunken Logic, 9:45 The Eric Barao Band, 10:30 Modern Day Idols and 11:15 Wizard Farm Music
Thursday, November 20- The IPO at O'Brien's has 7:30 Dugway, 8:15 The Stanleys, 9:00 Brian Charles, 9:45 The Tripping Souls, 10:30 Powderhouse and 11:15 Zac Mac Band
Thursday November 20th there's a wild night at the Middle East down with All Cramped Up. Again. All Cramps. All night. All you need. w/ DJ Set by"Kogar the Swingin' Ape", Live Cramps Tribute set by The Egos, Burlesque performances by The Bloodstains, & Live original set from The Skeleton Beats - Here's the FB page
Friday, November 21- The IPO at O'Brien's has - 7:30 Corin Ashley, 8:15 Michael Oliver & The Sacred Band, 9:00 Richie Parsons, 9:45 Sinnet, 10:30 Bedford Davis, 11:15 The Pomps and 12:00 Dave Rave
And over at at Ralph's in Worcester it's the Classic Ruins, Andrea Gillis and from Australia - The Stanleys.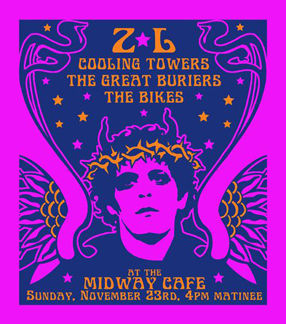 Saturday, November 22- The IPO at O'Brien's 7:30 Arthur Nasson, 8:15 Lannie Flowers Band, 9:00 Fox Pass, 9:45 The Brigands, 10:30 John Powhida, 11:15 Fireking and 12:00 1.4.5.
Saturday, November 22-If you've had your fill of pop at this point Nicole Tamaro has put together a Joan Jett extravaganza on the 22nd as well. She's started booking shows at The Greek American Social Club and its in Union Square and really close to where Radio was. It's at 70 Bow Street Union Square Somerville. This show on the 22nd celebrates the 33rd anniversary of Joan's I Love Rock'n'Roll album and has The Barbusters, Gene Dante and Drew Indingaro all doing Joan Jett and Runaways tunes.
Saturday December 6th - The Midway has two great shows: Daytime show (4-8:30PM) with The Tenafly Vipers, Silver Screams, Quiggs and Give Up! then a night show with X _ X, The Major Stars, Corn Mo and the Gondoliers are at the Midway
Monday Dec 8th - there's punk rock burlesque at The Midway with Dinah DeVille, Hellbent Hussy, The Bloodstains and a bunch of hot babes invite you to join us for an evening of studded leathers and ostrich feathers, and everything in between. I have a feeling this one will have a Christmas theme...should be quite entertaining!!
Weds., Dec 10th - A Keep Safe Boston event to will benefit Planned Parenthood League of Massachusetts and features 2014 Boston Music Award nominees Parlour Bells and The Color and Sound, Corin Ashley (of The Pills!), The Rationales,
Mark yr calendars for this one!!:
December 12th (Friday): The Real Kids , The Titanics, and The Nectarines (Rough Francis had to cancel) - at The Midway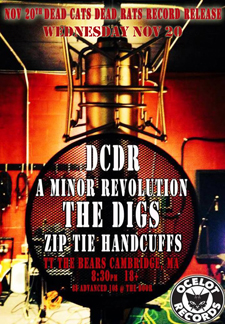 Also on Dec 12th its Dial M for MUCK at Church - It's a Muck & The Mires Record Launch Party!! Also on the bill are Daddy Long Legs (Norton Records -NYC), The Dogmatics and Thee Itchies.
Dec 13 James Straight and the Wide Stance have a NYC gig at the Alternarock Festival - check it out here
Sunday Dec 14th - Roy Sludge Trio are at The Midway for a daytime show 5-8:30PM. Always a great show!!
December 19th (Friday) there's a exciting show at TT's first off SPiTZZ are playing their first show in 2.5 years!!!, also on the bill are the Blue Bloods, Duck & Cover (having their vinyl release celebration), Quiggs, and Silver Screams - this will be a great show folks!!
December 20th (Saturday) Jittery Jack and Bloodshot Bill are s at Atwoods Tavern on Cambridge St. in Cambridge (near Lechmere). It's a Rockin' Holiday celebration--and you'll be able to pick up a copy of Jittery Jack's new 45 "Something Wicked This Way Comes" and Bloodshot Bills "Stuffin Her Stocking" at the show. As an added treat - Easy Ed spins the platters early, late, and on the breaks.
Yikes now we're into the new year here
Friday Feb 13th - Tim Catz' 50th Birthday Party featuring White Dynomite, The Humanoids, Muck And The Mires, Worshipper and DJ sets by DJ Slim Jim at Great Scott's
CONTACT US AT.......misslynbgn @ yahoo.con Send us your gig listings, your news and anything else ya got!!