The BGN News Archive
November 18, 2013

This week's Flaming Groovies gig slated for Radio had it all: drama, anticipation, fulfillment and ecstasy. And Blowfish fills us in....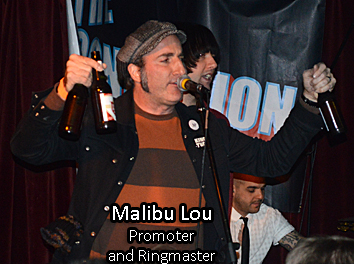 The Drama: The day of the show Radio had a fire (or water damage, or both) that damaged the electrical system so they weren't allowed to open. The principals began a frantic search to find a space for the show. Late in the afternoon Precinct became the answer. It was too late to confirm for opener Andy Shernoff, so he was off the bill. There was panic on Facebook because some theorized that Precinct was smaller thus some would be turned away (none were).
Lots of people found out about the change from WMBR where Bob Dubrow had Cryril Jordan on for an interview (Archived here for two weeks -Bob gave Cyril room to do his thing-well worth the listen.) Others ended up in front of Radio reading the CLOSED sign and directing them to Precinct.
The Anticipation: Everyone was primed to see the Groovies because after all when was the last time they played Boston? As far as I can tell they only played once at the Paradise in 1979. I saw that one and it's on my list of all-time great gigs. It was the group at the height of their powers. It was everything you imagine it could be.
The current lineup released a song called The End of the World. It has a lot classic Groovies trademark moves. Original members Cyril Jordan, Chris Wilson and George Alexander are in the line up so things were looking good that way and with their mass of classic songs that extend back to the late sixties you know it could be a special night.
The Fulfillment: Even before the music started the crowd that gathered was happy to be there, knowing that there was lots going on behind the scene to make this gig happen. The nature of the gig and the people that it drew created a giddy camaraderie. A lot of people knew each other and were wallowing in being present at what should be a you-had-to-be-there night.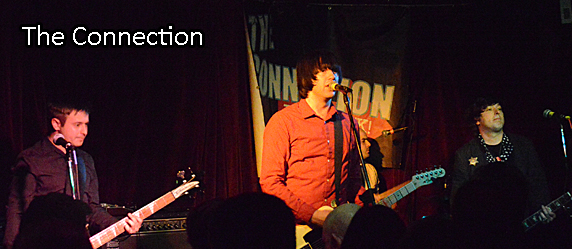 Before the Groovies we get The Connection from Portsmouth. We've seen them before and liked them a lot. They do some energetic pop and they are all wired up tonight realizing correctly that this is a great audience to impress and I would say they did. I heard lots of good comments from people. They have a few popalicious originals like this…. Crawling from the Wreckage of a Saturday Night. Along with some choice covers like "The Kids Are Alright" and "The First Time".
After The Conection, up came Malibu Lou who got the bill together. He's a show unto himself. He was full of positive thoughts born from a day of successful problem solving.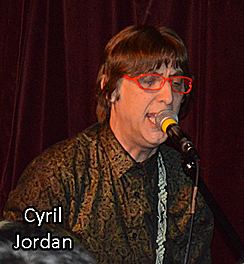 The Flamin' Groovies came on stage to the first of many appreciative rounds of applause. They proceed to play a set full of highmarks. "Torn Me Down" being my fave. They mention "Slow Death" was written in 1969, that's the history this group has!
As they played you could get the sense of musical depth they bring to the music. It's those long years and love of the music that give them a patina you can't fake.
They cover "Jumping Jack Flash" and "Tallahassee Lassie" and the Birds' "Feel A Whole Lot Better" along with their songs.
The Ecstasy: The elephant in the very crowded room was "Shake Some Action". We all knew it was coming. It was overwhelming as it started. This was where the reality met the legend. Basically everyone in the place sang the classic pop anthem with the group. It's was transporting, cathartic and fulfilled all expectations.
And for other news....Boby Bear is going to be on Chronicle (Channel 5/WCVB) this Friday night, November 22nd at 7:30PM....Clint Conley's Chronicle crew shot a bit of footage a few days ago, for this Fridays edition. They're doing a feature on the enduring conspiracies surrounding JFK's death, as well as a few of the other popular ones. Who better to boost ratings with his ramblings about things like this than our pal Boby. He spent an evening trying to convince me that Elvis was at Barak Obama's Inaugaration...so he's no stranger to these ideas ya know....
Now.....some stuff coming up....
Oh before that make sure to check out the November issue of The Noise- we're (Blowfish and Miss Lyn) in it both print and on-line!! So you know its gonna be a great issue!!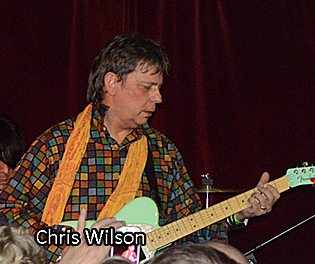 Bob Colby's "Second Thursdays" are no longer at The Cantab BUT will be moving to the most fabulous Store 54!! Bob says :"The shows will return in April at Store 54 in Allston. I'm also hoping to put together one very special show in the interim, more on that when I know more." .....OOOoOo we'll clue you in as soon as he let's us know!...
You've heard about Andrew Szava-Kovats's True Age Media and his film "Let's Go to The Rat"...he's on it folks and has entered the film into these Film Festivals: Boston Underground Film Festival, Independent Film Festival of Boston, Seattle True Independent Film Festival, Soho International Film Festival...and in the next few months he's entering it into several more as well...we wish him the best!!! He's also begining a new film called Women Who Rocked Boston....EXCELLENT subject matter...thank you Andrew!!
There's a new super group forming out there in the local environs my friends...all will be appy when they show up in December...it's comprised of none other than Carl Biancucci(bass), Johnny Black(guitar), Cam Ackland (vocals) and Judd Williams (drums) ....this is gonna be a killer band quite obviously- can't wait!!
This Wednesday November 20th Terry Kitchen (way back in the day he was in Loose Ties) will be reading from his new novel Next Big Thing at Trident Booksellers & Cafe, 338 Newbury St.,. The reading begins at 7 PM and admission is free. For more information call Trident's website ...Next Big Thing is set in the 1980s Boston music scene and we know how great that was!
Also on Wednesday 11/20...The WBCN movie called the American Revolution is having a benefit. It's gonna be a rare night of unplugged accoustic blues to benefit the film....its at West End Johnnies on Portland St. Boston (that's in the West End if you hadn't guessed). There's an all star night of music ffeaturing The James Montgomery Band with special guests: Barry Goudreau (former member of Boston); Charlie Farren (Farrenheit); David Hull (Joe Perry Project); George McCann (Blues Brothers) and Barrence Whitfield.(who's just his own fabulous self with his own fabulous band)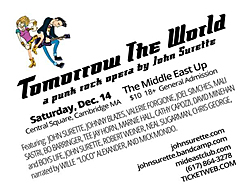 International Pop Overthrow is back for another year at Precinct on Friday, November 22 you can catch Peter Buzzelle, Radio Vendetta, Michael Oliver & The Sacred Band, Fox Pass (at 9:45), 1.4.5., The Eric Barao Band and closing the night is I Am Next.
But here's the show NOT to be missed my friends: Blowfly...yes you read it right BLOWFLY Unnatural Axe and Ten Foot Polecats at the President's Rock Club in Quincy on Friday November 22nd....oh yeah!!
The Smithereens are playing at The Old Town Hall in Salem on November 23rd…along with Pop Gun and Gyro Lula…. now folks get yr tix for this its very limited seating…
Here in town on November 23rd Triple Thick are at The Plough & Stars along with Hambone Skinny
Also on Saturday the 23rd is Aca Brebner's Birthday Party at Store 54!!! 7 to midnight my friends...we ain't gettin' any younger ya know....
And over at O'Brien's on the 23rd is The Tube Fest - New England Surf Showcase with The Waveriders, Tsons Of Tsunami, Dustclouds of Mars, The Televibes, Matt Heaton And the Electric Heaters, 9th Wave, Axemunkee, The Derangers, The Weisstronauts, Surf's Up Spicoli, Tsunami of Sound, and Thee Icepicks ....it all starts at 2PM my friends....
Rick Harte posted something promising and interesting on his FB page this week: "the Real Kids album, not finished but the end is in reach: "the Real Kids album, not finished but the end is in reach."...and people are happy to hear that!!
And in NYC- Real Kids and Lyres in NYC on November 23 at The Bowery Electric ;many fans will really be celebrating a very thankful Thanksgiving if in fact the Real Kids do play!! What a show that will be!! We hope John Felice is well and able to do this show!! Also on the bill The Headless Horsemen, Wizard Sex and Hilton Valentine
On November 29 No FX and The FU's are at The House of Blues.
On Sunday December 1 - at Great Scott is The Thalia Zedek Band, Shepherdess, Royal Wedding and Planet Of Adventure
and there's a killer show at The Midway on Friday December 6th- how's this for an awesome line up: start out the night with The Monsieurs then it's Triple Thick, Township, The Other Girls and Upper Crust
Randy Black and the Heathcroppers are having a CD Release Party at TT the Bear's Place in Central Square, Cambridge, on December 7th. It will be an evening event beginning at 6 and going to 10. Randy says "We hope that this time makes it easier for folks to come out and join us at Bonney Bouley's great venue. Sharing the bill with us will be the incomparable Willie Alexander; Kingdom of Love which consists of Rich Lamphear and Randy's dear friend and soul-mate Linda Viens. Performing with us will be special guests Mark Chenevert and Clara Wellons. Mark is a saxophonist extraordinaire and Clara is a singer with talent oozing out her pores. And we are thinking there will be more special guests. Please come to hear us play "the sky goes clear," and many more of Randy's songs." These are such amazing songs that will stick with you for some time to come...should be a great evening!
Saturday December 7th Black Mark Studios presents the HOODRAT HOLIDAY BASH 2013 it's all happening at Radio and features The Sprained Ankles, Duck & Cover, Silver Screams and The Dead Tricks
And John Surette's punk opera Tomorrow The World will be performed live at the Middle East, Saturday Dec 14. This is a star studded event not to be missed my friends!! also on the 14th is a DJ Easy Ed's Yuletide Rockabilly Blowout with Easy Ed's Record Hop, Whiskey Kill, Lynnette and the Longshots, Johnny Carlevale and the Rollin' Pins and Jittery Jack and Miss Amy
Thursday December 19th there's a great show at O'Brien's with The Wrong Shapes, Black Fortress of Opium, Endation and The Easy Reasons
another special Holiday show at the Midway…Saturday 12/21 it's the Weisstronauts' 15th Annual Holiday Jubilee with M.O.T.O., The Weisstronauts, Eddie Japan and Lars Vegas…
Some of you may remember Jack "Stinky" Donahue....he was on the scene and a sound man back in the day..he's moved to Austin, TX as have some other Boston scenesters...and now he has a site, AudioTech Austin, with a page where he's sharing his recordings from those days!! Lucky for us.... check it out..he's got La Peste, The Real Kids, The Outlets and will be posting more in the future!
EMAIL US AT…….misslynbgn@yahoo.com