The BGN News Archive
November 18, 2019
Thursday was night one of three for International Pop Overthrow. This year it was at The Union Tavern (formally PA's). It was at PA's in 2016 also. In 2009 it was Church - 2013 it was at Precinct. In 2014 it was at O'Brien's. 2015 was at PA's. And in 2015 we did an interview with David Bash who is the man behind the whole thing. You can read that here.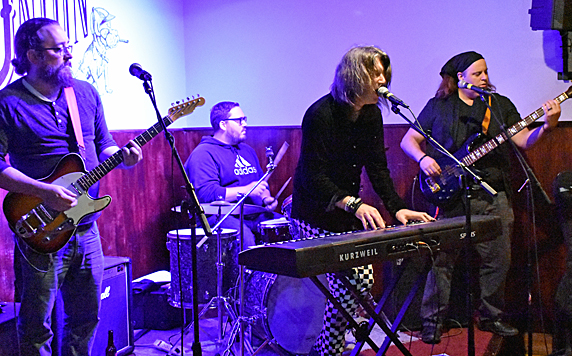 The Eric Barao Band
Photo: Blowfish
The opening band was The Eric Barao Band. In many ways this is one of the bands that typify the IPO. It was finely crafted pop song craft. The set was mannered and tidy. Every note was practiced. For one song they had their keyboard in harpsichord mode.
You couldn't help thinking of The Left Bank. In our world everyone is intent on rocking out but in bands like this you can see the benefits of letting that urge go. Pop rock like this is all about the songs and the tasty nuances and this band had it.

The Trick Wallace Group
Photo: Blowfish
Next up was The Trick Wallace Group who is a standby in the Cambridge/Somerville bar scene. We could see his talents in the Asa Brebner Memorial this last summer. He knows how to make you feel comfortable and lead you through his set. He had lots of laugh provoking comments. In a lot of ways he reminds us of Asa. He put some grit into his set. He also has a lot of songs to choose from. He jumped the gun just a bit with "Christmas in the Slammer" but we're glad he did, that was one of his best.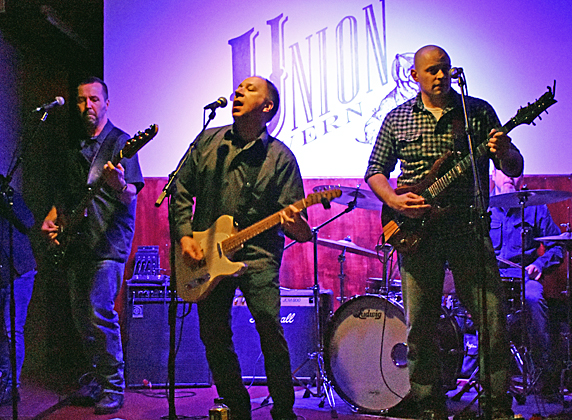 Glowbox
Photo: Blowfish
The next band, Glowbox, was unknown to us but some of the WMFO jocks that were there (Michael Stewart and Mike Newman) were big on them. It wasn't hard to hear why. They were full blown Power Pop the likes of which we haven't seen from locals in a while. It was all ear candy with crunchy guitars and three vocals going. They reminded us of the Rubinoos or 20/20. Any of their songs could fit nicely on any volume of Yellow Pills. They put the frosting on the cake by covering "Bye Bye Love". It hit doubly with the song and the thought of saluting Rick Ocasack. We caught one beauty on the video below.
And that is the beauty of going to the IPO. You get to see bands that David Bash pics and he picks them well.
We left before the next band V is for Victor but heard they impressed everyone also.
It was back to the Union Tavern again on Friday for day two of the IPO. The night was a lineup of familiar bands to us.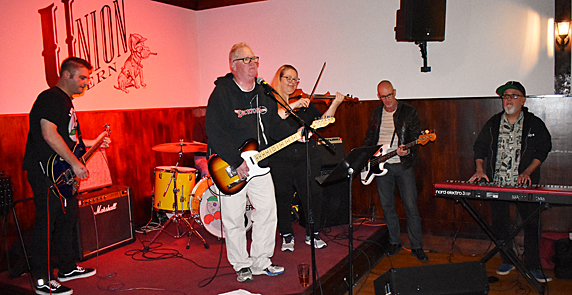 Richie Parsons Group
Photo: Blowfish
We only saw one song by Richie Parsons who had a full band for this show. The IPO is a perfect showcase for the songs in Richie's last two albums. The material in Black Throated Blue is primo pop. It's got the melodies and emotional punch.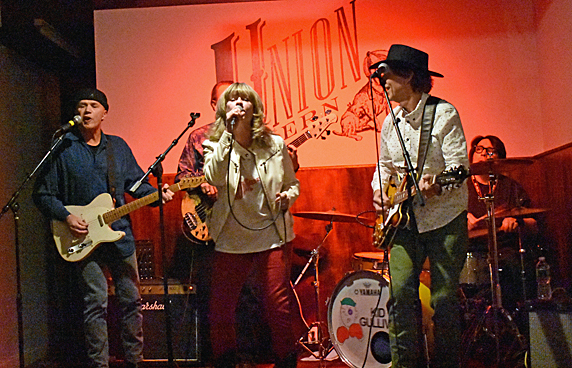 Hummingbird Syndicate
Photo: Blowfish
He was followed by The Hummingbird Syndicate which is Jon Macey's latest band. Jon's punk history goes back to the beginning and, for those that don't know, he wrote the original Boston Groupie News #1 back in 1974. That story is told in our Jon Macey Interview.
Jon has a deep well of influences and they color every song. Nothing is quite as straight forward as they seem on the surface as the band plays a pop/country mix. Maybe that's why they call their album Pop Tricks. It was fun to catch the references to 60s groups in the lyrics and the musical quotes that refer to them at other times.
It all goes down smooth with Jon and Lynn Shipley singing and the top level playing of the group. Ex Scruffy the Cat member Randall Lee Gibson was on drums, you can't get better than Randall playing this sort of music.
They played a lot from the Pop Tricks album including "Romance" and the standout "Sometimes It Just Gets This Way". Then they threw in a pop gem for David Bash by covering Prince's "When You Were Mine".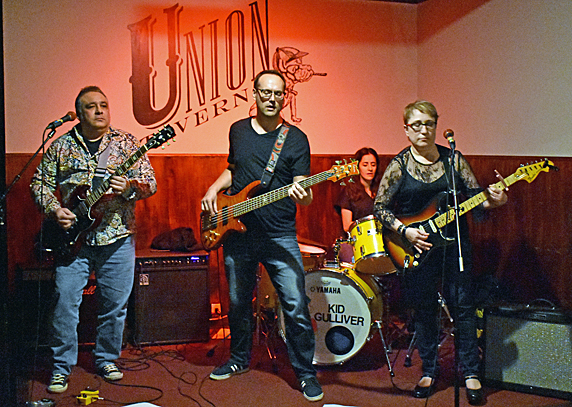 Kid Gulliver
Photo: Blowfish
At the IPO each band gets a half hour. Talking beforehand, Kid Gulliver said that they were going to make every minute count, and they did. They were obviously focused and the music had an extra punch to it. We would say it was the best set we've ever seen them do. They have new songs ready to record but the set was comprised of the older material.
They played "I Like Your Hair", "I Want to be a Rock Star". This was a night rich with serious song writers and the Kid Gulliver set of songs was right on par.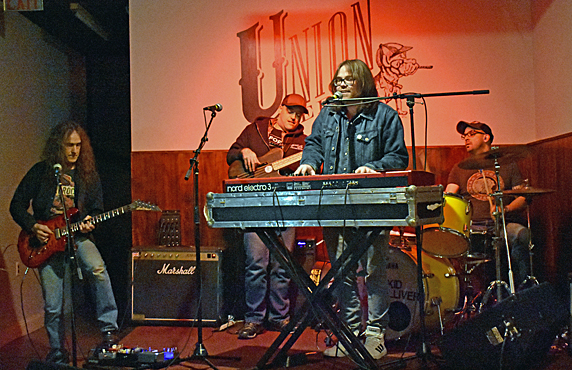 Kris Rodgers & the Dirty Gems
Photo: Blowfish
Kris Rodgers & the Dirty Gems have talent coming out of every pore. Kris' piano playing is exceptional, he aims for the classic rock era. His own songs fit right in with that. He played Pink Floyd's "Have a Cigar" which was impressive but doing a long cover tune in this situation was a misstep, it seemed to us. That was time for some his original material.
Next Crunchtime did what Kid Gulliver accomplished which was to put in a snappy revved up set. Their songs are short and punky with some ear snagging catch phrases. "Outsourced" feeds off the outrage of that situation. Video of that song is above.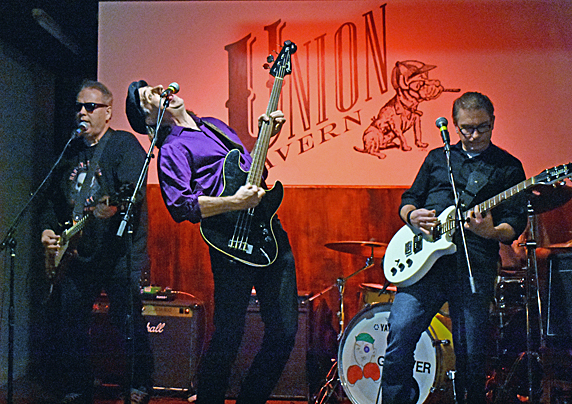 Crunchtime
Photo: Blowfish
They hit all the songs we've come to love: "Retro Girl", "Stick It To The Man", "Smart Girls". You can find them on their Bandcamp page. Crunchtime have been gigging regularly and have more gigs ahead. Check our listing (below) to see them in the future.

1.4.5.
Photo: Blowfish
We knew we were going to stay the whole night because 1.4.5. were playing last. They had energy just bubbling over as they took the stage. They couldn't wait to play. When they started it was like they were uncaged. Paul Armstrong thinks you're crazy if you don't love rock and roll. He and the band make a good case for that with a dirty Johnny Thunders like sound. They ended with "God Save the Queen" which was a welcome going back to the time and song that started so much. They did "Pahk Your Cah! " that makes fun at Boston stereotypes but Paul puts in some real invective into it. This guy gets pissed.
We used to see 1.4.5. back in the early eighties but we think this version would blow them away. Paul said that the current revival of the group had to do with their first show at the IPO. Give David Bash another kudo for that.
This six band line up showed the quality of Bash's curating. He has good taste and gets the best pop rock bands around. Then there was one more night on Saturday left which would include Tiger Bomb and a reunion of The Brigands.
But Saturday we ended up at the Midway to catch some old faves and one oddity.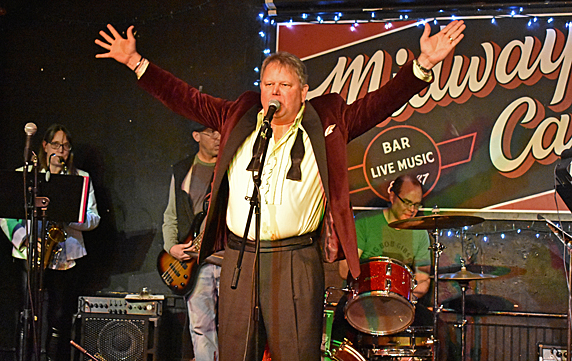 Rodentt
Photo: Blowfish
We don't think Rodentt (yes two t's) would mind being called an oddity at all. They used to play the Midway in the 90s. They play the worst pabulum from days gone by. We're talking "Volare", "Tiny Bubbles", "Dust in the Wind", "King of the Road" (video Below), "Goldfinger", "Nights in White Satin" and the song they described as the worst of all time "Little Green Apples" – no argument there.
But they don't just play them. They play them like they are a drunken wedding band from 1970. The horns went slightly off key and the keyboards missed notes. The trombone slide was used to great effect. The singer had Louis Anderson's good looks and Dean Martin's demeanor. His singing was half-hearted even when trying to be grandiose.
The songs seemed to have no will to live. They stumbled along and then fell in the gutter rather than ending. It was all an obvious put on and the band was filled with excellent players. Having them play a real wedding would be the ultimate joke.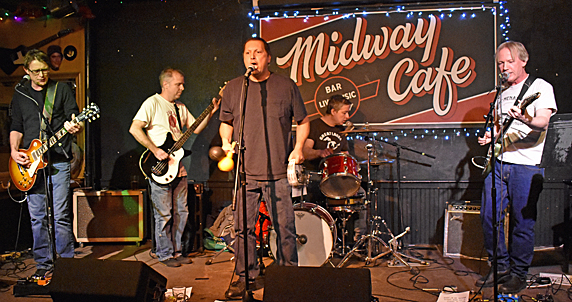 Triple Thick
Photo: Blowfish
It seemed like a reward to get to the Triple Thick set. There's so much wrong in the world now but we can put up with it as long as we have Triple Thick. They give us the garage punk we need. Even though they went through the Shiny Beasts configuration they were still Triple Thick to us.
There's a lot of people who know their garage rock history but only a few like Mitch who can also play it. So much of what he knows filters into the songs. We loved seeing Henry up front singing and shaking those maracas. Greg on guitar was a perfect match up with Mitch where he provided the gritty leads that fit the songs.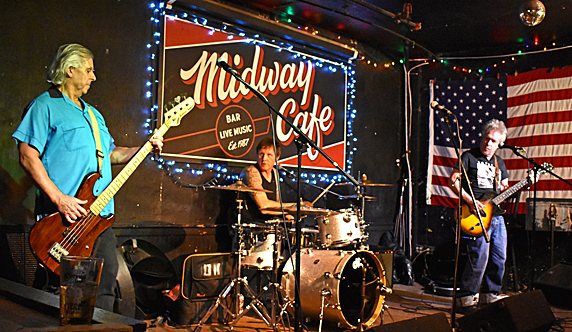 Classic Ruins
Photo: Blowfish
Then it was Classic Ruins chance to show what has made them one of the most enduring punk bands on the scene.
Frank Rowe did his wry patter. He introduces a song as their "latest release on Ace of Hearts records". The 'latest' means 1980s. Carl Biancucci's playing is always a mind bender. No matter how many times we've heard him play it still astounds. Dave on drums was having more fun than any drummer should and when he's having fun then we are.
They played about half covers which was a bit high for them: "Bad Boy". "Tales of Brave Uylssis", "I Got a Woman", ""Please, Please Me", "Highway 61" and "Lights Out". Then it was those songs that are part of Boston's punk history: " I Can't Spell Romance", "Heart Attack", "Labatts", "Nyquil Stinger" and "1+1<2".
The club was on the full side for this show. Rodentt put everyone in a good mood which made another nice early evening show at the Midway.
Click Here for more band photos.
---
And in other news....
Well it's getting close to December ....Powerslut says they will play their new Christmas song on November 23 show at Once. The song? "Everything is Closed on Christmas (Except My Legs)"
---
Mark you calendar for: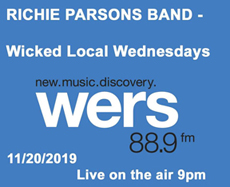 Wednesday Nov 20 - Riche Parsons on WERS 88.9 He will play live on the air at 9 pm
Saturday November 23 - do you like The Monsieurs?? or Andy California?? are you titillated by Andy MacBain's antics on stage?? well check out Tunnel of Love cause that's where it all started my friends... Tunnel of Love etc at Hardcore Stadium Cambridge (more nelow in gig listings)
Nov 30 - saturday- Mark Lind and the Unloved at Great Scott.
Bikini Kill are playing the Wang Theater on May 14, 2020. We didn't know they were at that level. Good for them!! Tix.
Saturday January 11- Lyres (record release party) Middle East Up -early show at 6:30.
---
Alternative Christmas shopping....there's a TON of markets happening this year with offerings from local artisans & businesses ...support your local non corporate people!!!!......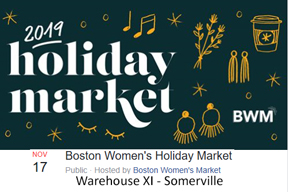 Sunday November 17 - Boston Women's Holiday Market - Warehouse XI - Sanborne Crt Somerville (right next to the Jungle) FB page
Sat & Sun November 23 & 24 - Brookline Arts Center Artist Marketplace Local Artists vend their wares.....FB page
Saturday Nov. 30 - Etsy Makers of Boston at Bow Market Union Sq Somerville. 9AM-5PM FB page
Saturday Nov. 30 - SoWa Small Business Saturday Harrison Ave 11AM- 4PM FB page
Sat & Sun Dec 7 & 8 - Stompbox Pedal Party and Vintage clothing SALE! at 40 South St JP - All clothes 20% off - treats & drinks too!! FB page.
Sunday December 8 - Brain Market Flea at the Cambridge Community Center - 12 -6PM FB page
Sunday December 8 - Holiday Buzz Markets, 2 floors and over 40 vendors each! Come check out local folks with handmade, craft, vintage and fine art @ Once Somerville - starts at 11AM - FB page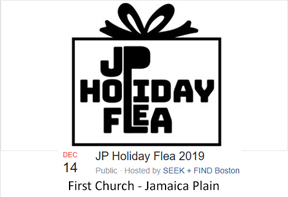 Friday December 13 - Union Square Holiday Market - Warehouse XI @ 6Pm - FB page
Saturday Dec. 14 - Boston Hassle Xmas Flea - 12-6PM Elks Lodge Bishop Allen Dr Central Sq Cambridge FB page
Saturday Dec. 14 - JP Holiday Flea 2019 - First Church in Jamaica Plain Unitarian Universalist, 6 Eliot St, FB page
Dec 12-15 (Thurs - Sunday) Allston-Brighton Winter Market FB page
Saturday Dec. 14 - Cambridge Holiday Market - 11Am- 5PM @ Saint Paul AME Church Bishop Allen Dr Cambridge FB page
Sunday December 22 - Holiday Buzz Markets, 2 floors and over 40 vendors each! Come check out local folks with handmade, craft, vintage and fine art @ Once Somerville - starts at 11AM - FB page
---
Here's some good shows coming up this week.....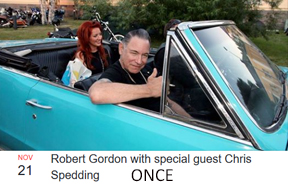 November 20 (Wednesday) Randy Black & The Heathcroppers Plough & Stars Residency 6-8 pm
November 20 (Wednesday) Richie Parsons on WERS 88.9 will play live on the air at 9 pm FB event page
November 21 (Thursday) Robert Gordon with special guest Chris Spedding and Diablogato at Once
November 22 (Friday) Hambone Skinny, Justine and the Unclean, A Bunch of Jerks, Lily Black at O'Brien's

November 23 (Saturday) A Crash Course For The Ravers featuring A Bunch Of Jerks 1-4PM WMFO 91.5
November 23 (Saturday) Tunnel of Love, Nice Guys, Feminine Aggression, Song Birds, Swettes at Hardcore Stadium Bishop Allenm Dr Central Sq Cambridge FB page
November 23 (Saturday) Zip-Tie Handcuffs, Real Beaut, Baabes, Heavy Hands at O'Brien's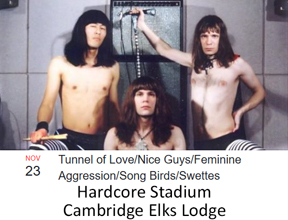 November 23 (Saturday) The Knock Ups, blindspot, Lonely Leesa & The Lost Cowboys at Sally O'Brien's
November 23 (Saturday) C.O.B, Watching It Burn, Duck & Cover, The Von Traps at Maggy's Lounge Quincy
November 23 (Saturday) "Love The Bands" @ ONCE Featuring: Smitty E. Smitty & The Feztones, PowerSlut, Corner Soul, The Rupert Selection - Doors: 8:30PM, Music 9PM
November 23 (Saturday) Gear up for the holidays with Boston Debut of 'U-EY at the BUOY' & 'EX AVENUE' at The Squealing Pig - music starts at 10pm, come hang out with friends..FB page for address etc.
November 24 (Sunday) Johnny Cab, Kermit's Finger, The Negans, Baabes, Bernie's Garage at The Midway 3-7 matinee
And further out there is.....
November 25 (Monday) Weaklings, Cook Bag, SkyTigers at Charlie's Kitchen
November 30 (Saturday) Mark Lind & The Unloved with Bryan McPherson and M. Kane & The Morning Afters at Great Scott. FB page
November 30 (Saturday) State of the Union and Jowwow at Key West, Free Show North Adams, MA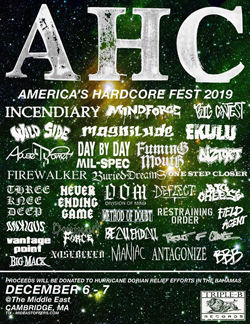 December 4 (Wednesday) Thurston Moore Group at Once
December 7 (Saturday) Triple B Records presents: American Hardcore Fest 2019 with Magnitude, Wild Side, One Step Closer, Restraining Order, Method of Doubt, Anxious, Big Mack, Field Agent- All Ages, $25Advance / $30Day of Show, the Middle East *NOTE* 12:00PM Doors- this is an early show!! FB page.
December 7 (Saturday) The Scrooges, Brix'n Mortar, NICE GUYS, The Von Traps at ONCE Ballroom FB page
December 7 (Saturday) 3rd Annual Tunes for Tots Benefit with Loser's Circle, The Bad Reminders, and more! at The Midway - a matinee show 3-7PM
December 13 (Friday) Merry Friday the 13th Rockin' Bob Punk Band at Koto Salem
December 13 (Friday) Stop Calling Me Frank, The Dirty Truckers, Ex-Avenue, The Grommets at The Midway
December 14 (Saturday) Baabes, The Von Traps, The Hi-End, The Stigmatics at the Midway Matinee Show 3-7Pm
December 15 (Sunday) Thrash N Bang's 8th Annual Punk Pizza Party! with The Neighborhood Shit, Fast Times, The Ratz, The Hangovers at The Midway 3PM matinee - ony $5!!! and free pizza.
December 16 (Monday) We Are Space Horses, The Zygote Theory, Rawstrum, Kevin Madden Band at The Jungle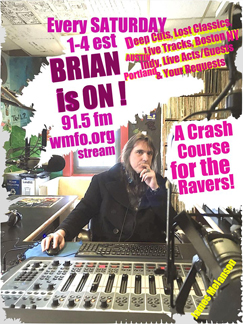 December 18 (Wednesday) Randy Black & The Heathcroppers Plough & Stars Residency 6-8 pm
December 20 (Friday) Instamatics, Radium Girls, Thee Fightin' Fish, Johnny No Graves at The Jungle
December 21 (Saturday) MOTO, The Thigh Scrapers, The Thirsty Pirates (NYC) , The Montgomerys at The Midway for a Matinee Show 3-7:30PM
December 21 (Saturday) A Rum Bar Holiday Spectacular with Jay Allen & the Archcriminals, A Bunch of Jerks, Hambone Skinny, and The Black Souls at The Midway
December 21 (Saturday) Mother Iron Horse, Tied to a Bear, Von Traps, Skytigers at Opus in Sale
December 30 (Monday) The Last Rebuilder New Year's Eve Party at Charlie's Kitchen with Save Ends, Sorry and 1 special guest to be announced
January 4 (Saturday) Handsome, Four Point Restraints, T and the Wrecks, Micah Howeson at The Jungle
January 10 (Friday) Nomad Stones, Labor Hex, Chrome Over Brass at Opus Underground Salem
January 10 (Friday) The Mercy Case, Bystander, blindspot, Foxes at Koto Salem
January 11 (Saturday) Lyres (record release party) Middle East Up -early show at 6:30.
January 11 (Saturday) WhistleStop Rock Festival at Askew in Providence- this is the first Whistle Stop - Featuring: Heather Rose In Clover, The Knock Ups, The Chelsea Curve, PowerSlut, Kid Gulliver, The Cold Expectations, Justine and the Unclean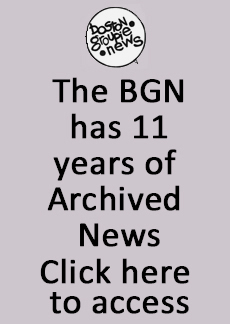 January 15 (Wednesday) Randy Black & The Heathcroppers Plough & Stars Residency 6-8 pm
January 18 (Saturday) Triple Thick, Crunchtime, 1.4.5., Butterscott at The Midway 3-7PM matinee
January 18 (Saturday) Barrence Whitfield & The Savages, Muck and the Mires at The Middle East FB page and tickets
January 19 (Sunday) Stoploss, Secret Spirit, F.U.'s, more TBA at The Thirsty First Tavern Lowell FB page
February 1 (Saturday) Stop Calling Me Frank,Greg Allen's Fringe Religion,Tsunami of Sound at The Square Root Roslindale
February 16 (Sunday) Stop Calling Me Frank, State of the Union, The New Frustrations, The Steamies at The Midway - matinee 3-7PM
March 28 (Saturday) The Zulus at The Paradise
CONTACT US AT....misslynbgn@yahoo.com Send us your gig listings, your nnything else ya got!! You want your CD reviewed?? Contact us for that too.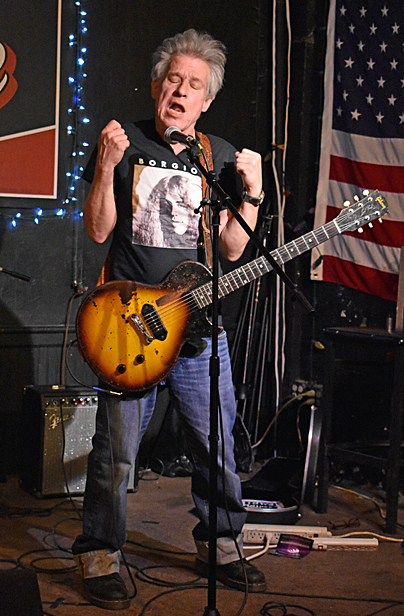 Frank Rowe - Classic Ruins
Photo: Blowfish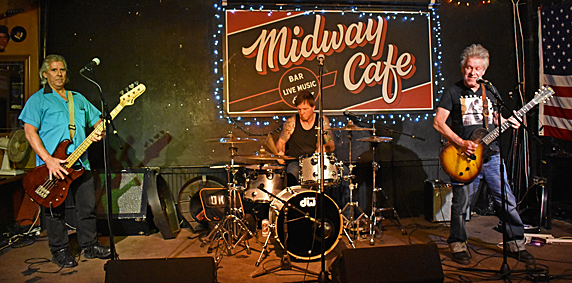 Classic Ruins
Photo: Blowfish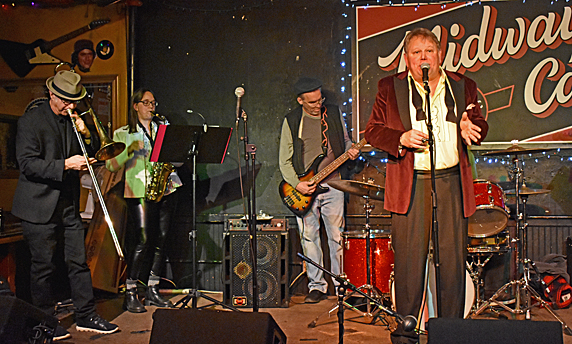 Rodentt
Photo: Blowfish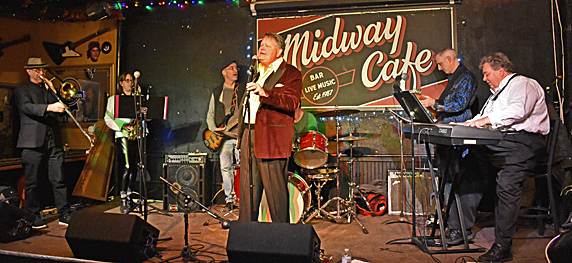 Rodentt
Photo: Blowfish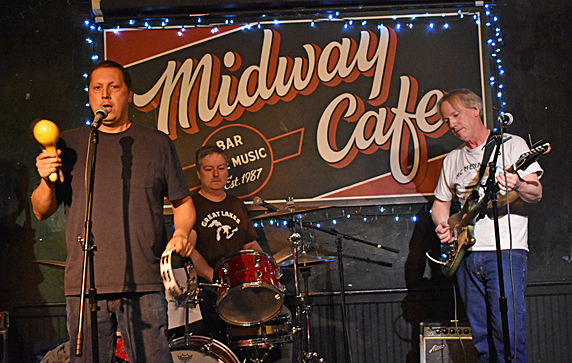 Triple Thick
Photo: Blowfish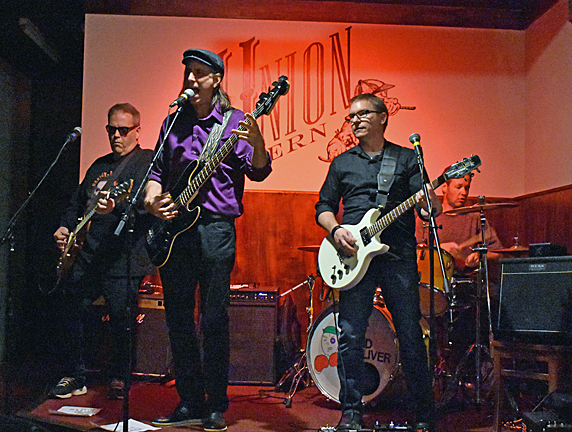 Crunchtime
Photo: Blowfish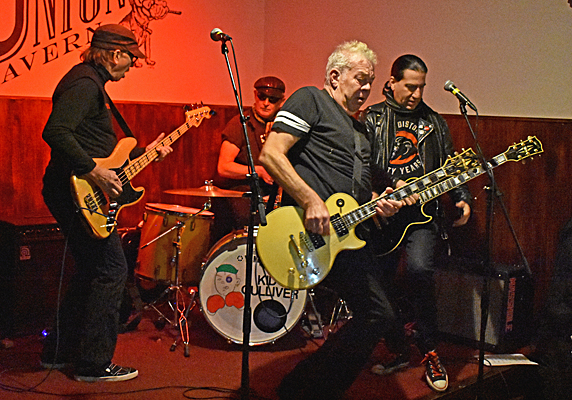 1.4.5.
Photo: Blowfish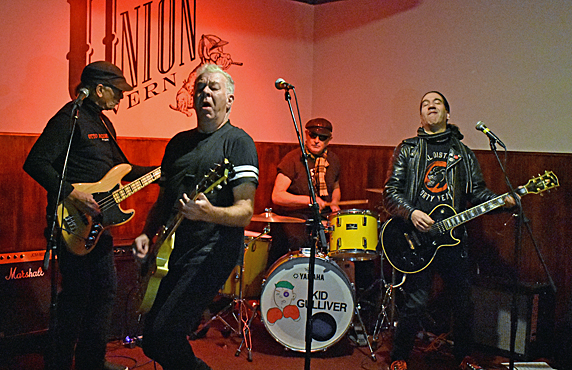 1.4.5.
Photo: Blowfish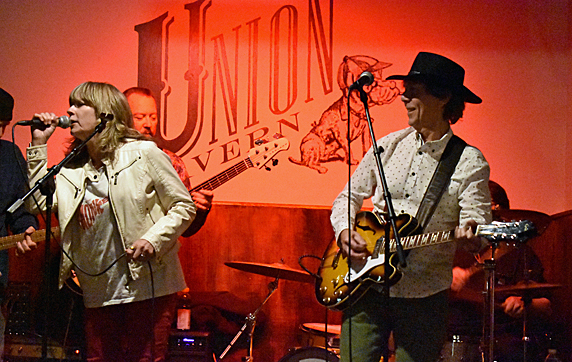 Hummingbird Syndicate
Photo: Blowfish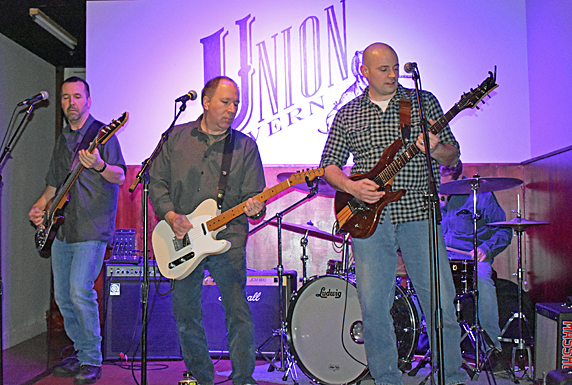 Glowbox
Photo: Blowfish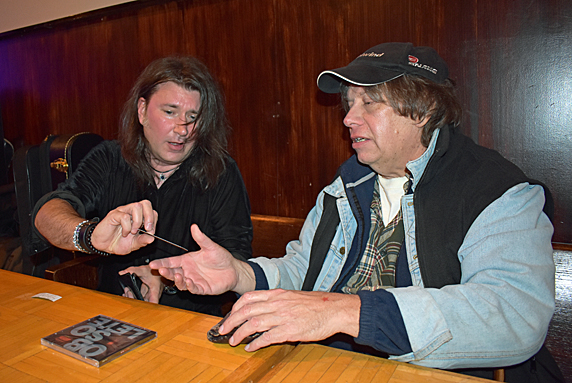 Mike Stewart working it.
Photo: Blowfish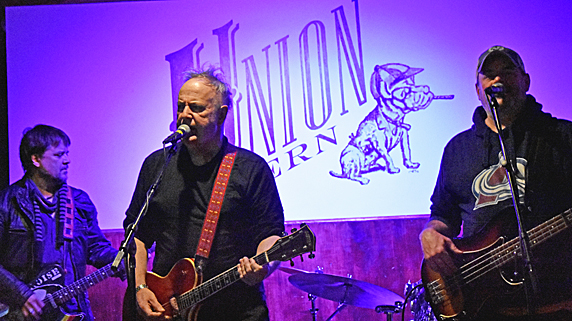 Trick Wallace
Photo: Blowfish