The BGN News Archive
November 19, 2018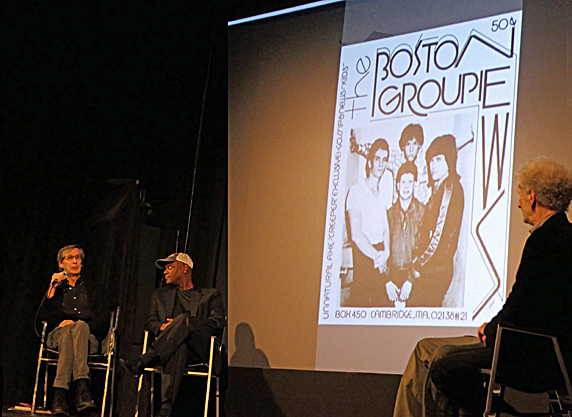 Boston Goupie News onstage at the Brattle
at the Buy Me Boston release show
Photo: Mary Kiwi
Last Sunday, 11/4, Blowfish was on stage at the Brattle Theater talking about the Boston Groupie News as part of a panel discussing Brian Coleman's book Buy Me Boston. The panel was sandwiched between some old video clips from a Kiss 108 New Year's Eve party (the hair!) and music videos from panelist Prince Charles Alexander. Prince Charles was the star power for the night. Other panelists were Dart Williams who has a web based career that is new to these times and something to ponder, and the well- known and respected David Bieber. The audience was filled with Boston scene mavens.
Blowfish told the BGN origin story and talked a little on the Rat opening day ad. The next show for the book will be at the Boston Public Library.
Wednesday we went to O'Brien's to get one of those early week punk shows that O'Brien's does so well. We caught two of the acts. They were both in the punk/emo/pop area.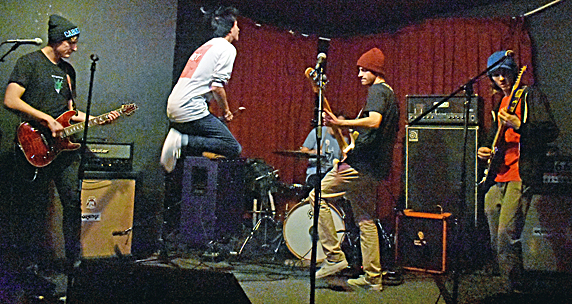 Happy
Photo: Blowfish
The band Happy are from North/South Carolina. They didn't like the cold that came in on Wednesday. Three of the band members had knit hats on. The group only formed in 2016. They have a nice set of songs for such a new group. They were high energy on stage and had some nice guitar work going on.
Their song "Don't Overdose and Drive" sounds like a pop punk song that might have been a hit a few years ago. YouTube video.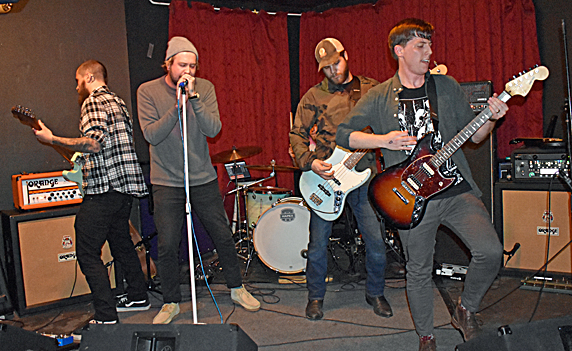 Brigade
Photo: Blowfish
Brigades, from North Carolina, upped the ante. They were much more of a powerhouse unit. They blasted it out. The music had an emo component. They have excellent guitar arrangements that gained an extra quality done up with volume. The singer filled the lyrics with emotion. The drummer was hitting hard and putting in rolling fill-ins that pushed the whole band on and never wavered.
It was one of those sets you don't think you're going to get on a Wednesday; it rocked and had substance. We know most people can't swing a mid-week show but we're glad to take them in when we can.
Friday there was a lot going on. The Boys from Nowhere was playing at the Regent with the Nervous Eaters playing afterward. Stars Like Ours were at O'Briens in Allston. We ended up at Sally O'Brien's where Justine and the Unclean had a record release party with a large bill. The whole thing started around 6:30 and Hambone Skinny, Tad Overbaugh and The Dirty Truckers had already been on by the time we got there at 9:30.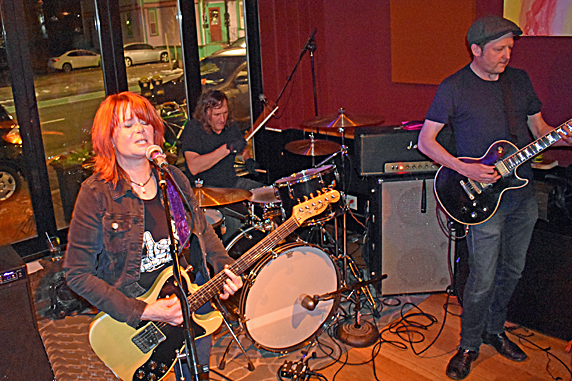 Justine and the Unclean
Photo: Blowfish
On the bright side we were there for Justine and the Unclean who played a few songs and then played the whole new 6 song CD. The place looked like it was sold out. We saw some people that we haven't seen in a rock club for a while and they were hearing Justine and the Unclean for the first time and loving it. It was a new discovery for them and a needed fix for us.
Justine and the Unclean have become one of those bands you want to see every time they play. The set seemed to go by too fast but you did get to hear the sweep of that new CD. It's six more songs with showing the band's playing prowess filling every nook and turnaround. Yup, we see them every time and it's worth it every time.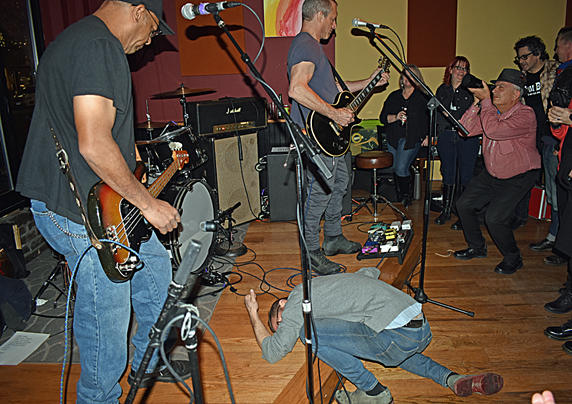 Nat Freedberg
Photo: Blowfish
Nat Freedberg was playing in anticipation of a new album from him. It was advertised as acoustic but he was electric with Jay Parnum on bass and Randall Gibson on drums.
Nat can play in any configuration he wants but it always comes across as a Nat project anyway. By going solo he's just taking away any pretense. The new songs were in his usual style. He was doing some nice guitar work that maybe was different from his usually straight chord playing.
This new album should be interesting. It's going to be another notch in a long and album filled career.
We took the opportunity then to club hop to the Greek American Club down the street. We were in time to hear Club Linehan do their set of Lou Reed/Velvet Underground songs. If we stayed at Sally O's it would have been a set of Kiss songs by the Beth cover band.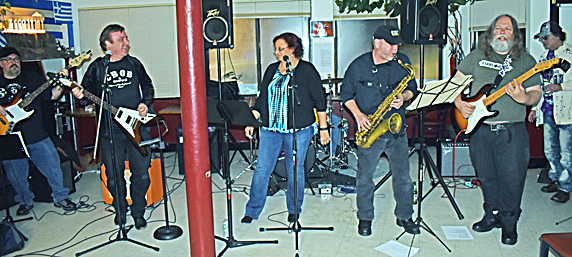 Club Linehan a Go Go
Photo: Blowfish
Club Linehan has a lot of ammunition for the set. They have Kenne Highland on guitar, Keegan on sax, Lady Caroline on vocals and the rhythm section led by Mike Quirk. Actually Quirk is more like the conductor for this set. Mike has said he might stop playing this year. Can he stop? We don't think so and if he did something like this wouldn't work like it did.
The best thing about this set was the overall group sound. Somehow they nailed that messy drone background sound that's in those early Velvet songs. Keegan's sax was doing what Cale's viola usually did and Kenne's fuzzed out guitar laying lower with Quirk's guitar hitting higher created the wall of sound and the rhythm section were doing the right thing so that it didn't plod, which is always a danger.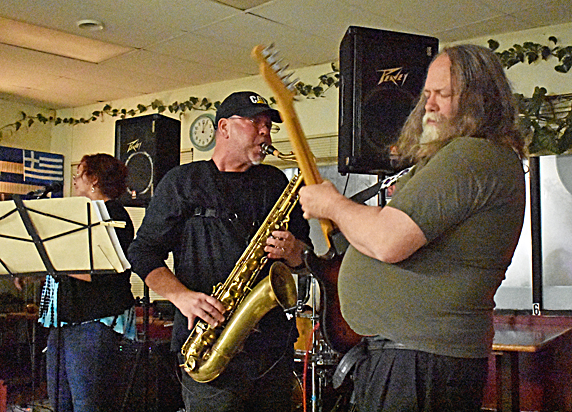 Keegan and Kenne - Club Linehan a Go Go
Photo: Blowfish
With that in place, songs like "White Light/White Heat" and "Waiting for the Man" were spot on. And being this was with Kenne Highland we got "Talk To Loretta" in the middle of "Waiting for the Man". Then somehow Kenne mixed country with the Velvets and came out with "Pale Bluegrass Eyes". Only Kenne would get to that place. Hear it for yourself in the video below.
Lady Caroline always has the vocal highlights with "There She Goes Again" and "Femme Fatale" as she has done in Count Viglione's band. We are wearing out on the cover band trend but not this Velvet tribute. It becomes more and more obvious how great the Velvets are as the years go on.
More band photos below the show listings.
---
And in other news.....
It's been announced that Stop Calling Me Frank are on the bill for the Dropkick Murphy's House of Blues St. Patty's Day stand on 3/14. The tickets are already sold out. What a show for SCMF!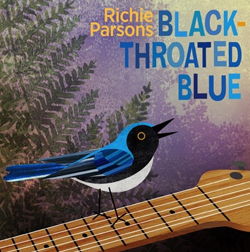 Richie Parson's new CD Black Throated Blue has been mailed out to his pledge drive supporters. He's got that Richard Lloyd cover of Blue & Grey on it along with 11 new original songs.
The Rum Bar train rolls along. This week it's a new CD by Justine and the Unclean called Heartaches and Hot Problems
Tom Baker and the Dirty Truckers have two new songs on a free digital sampler. "Human Contact" makes me want to get comfortable and listen with a big glass of whiskey at hand – and I don't drink!! Check it out here.
Punk winter of 2018 is here. We know that because Cal Cali is off to Florida as of Saturday 11/17. See ya in the spring Cal!!
---
Here's some good shows coming up this week.....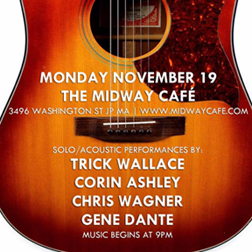 November 19 (Monday) Trick Wallace, Corin Ashley, Chris Wagner, Gene Dante: all doing Acoustic! at The Midway
November 20 (Tuesday) Living It Up: Gary Shane And The Detour - the screening of the film Twill be followed by performances by Tee Max, Natalie Flanagan, Asa Brebner and Gary Shane and The Detour - which includes Mach Bell of Thundertrain and Mach 4 fame. At the Cape Ann Cinema. Heres the FB page for times and info.
November 21 (Wednesday) 1476, Coffin Salesman, Darker Days at UnchARTed in Lowell. FB event page
November 21 (Wednesday) Far Above the Ground, Thee Midnight Society, The New Frustration, Lightnin' Lyford and the Procrastinators at PINZ in Kingston, MA FB page
November 21 (Wednesday) Mr Airplane Man, The Concerns at Atwoods
November 21 (Wednesday) 3rd Annual Morning Afters Thanksgiving Eve Show *FREE* at Raolph's Diner Worcester with Michael Kane & The Morning Afters,
Dirty Laundry, Reverend Dan and The Dirty Catechism, Douglas Sullivan (Westies / Ducky Boys)
November 24 (Saturday) Friendsgiving Punk Rock and Roll! at O'Brien's with Arctic Horror, The Skeleton Beats, The Von Traps, The Downhauls- 8-Midnite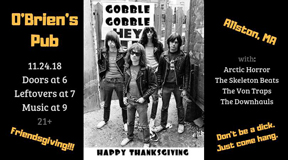 November 24 (Saturday) Jittery Jack, Miss Amy Griffin, Whiskey Kill & DJ Easy Ed at Sally O'Brien's
November 24 (Saturday) Paraffin, Tiger Bomb, Fireking, Scotty Saints & True Believers at The Bayside Bowl in Portland, ME
November 25 (Sunday) Roy Sludge is at Sally O'Brien's at 6PM - no cover!
And further out we have......
November 30 (Friday) Trusty Sidekick and Modern Day Idols at Squealing Pig
December 1 (Saturday) A Crash Course For The Ravers 1pm to 4pm at http://www.wmfo.org/popout_player.php?bitrate=256 and transmits on 91.5FM Medford. This week Brian Young hosts have Charlie Don't Surf!
December 1 (Saturday) Cranktones and Sax Gordon, Two Fathoms Down, Easy Ed's Record Hop! at The MIdway for a Matinee 4-8PM show
December 1 (Saturday) the second and final Red Invasion show - with Funeral Cone and Brix N' Mortar and one more TBA. @ The Middle East Upstairs This is an early show- doors are at 6:30 NOTE!!! This show has been moved to Dec 14 at OBrien's instead. (see below)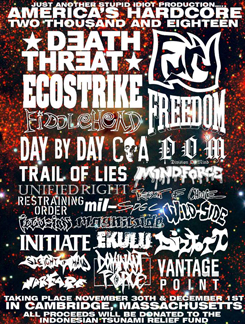 December 1 (Saturday) America's Hardcore Fest: W/ Ecostrike, Abuse of Power, Fiddlehead, Magnitude, Restraining Order, Deflect, Sleight of Hand, Dominant Force, Result of Choice this show starts at Noon. Middle east Up
December 1 (Saturday) Cherie Currie and Flight of Fire (She's A Badass Release Show) Lizzie Borden & The Axes final reunion show. at Once
December 1 (Saturday) The Feldons, Tiger Bomb, Justine & The Unclean, Thee Sonomatics at Ralph's Rock Diner in Worcester.
December 8 (Saturday) A Crash Course for the Ravers on WMFO 91.50 1-4PM has Stop Calling Me Frank.
December 8 (Saturday) Roy Sludge with Jim Scoppa & Johnny Sciascia at Atwoods for a 4PM show. $10 suggested donation when the tip bucket comes around.
December 8 (Saturday) 2nd Annual Tunes For Tots show with Stray Bullets, Loser's Circle, The Black Cheers, Coffin Salesman, Blame It On Whitman for a 4-8PM matinee show at The Midway And then there's.....
December 8 (Saturday) Pinkerton Thugs, OC45, MK & Morning Afters , the Lot at The Midway
December 8 (Saturday) The Dents, Diablogato, Tom Baker & The Snakes at Sally O'Brien's ,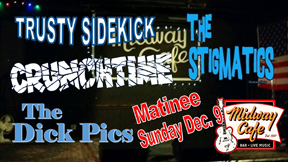 December 9 (Sunday) Trusty Sidekick, Stigmatics, Crunchtime. Dick Pics do a Matinee 4-8 show at The Midway
December 13 (Thursday) Baabes, The Maxims, Labor Hex, Sticker Shock at O'Brien's Pub
December 14 (Friday) Red Invasion with Funeral Cone and Brix N' Mortar and EVERT at O'Brien's
December 14 (Friday) Street Dogs: 13th Annual Wreck The Halls at Brighton Music Hall
December 15 (Saturday) Duck & Cover, Stop Calling Me Frank (Album Release), State of The Union, The Angel Martins Early Show 4-8PM at The Midway
December 15 (Saturday) The Swelltune Records Holiday Shindig! with Jimmy Dale (OK), The Susquehanna Industrial Tool & Die Co (NY), Jittery Jack and Miss Amy and DJ Easy Ed. at O'Brien's the night ends with the Swelltune Jamboree!
December 20 (Thursday) 7th annual Spectacular Gift Drive for DCF Wonderfund! In support of foster families in the Boston area, letís spread good cheer with this holiday celebration. with Hail Santa- Boston Rock's holiday season super group featuring Michelle Paulhus (Stars Like Ours), Ali McGuirk, Bice Nathan (Hey Zeus), Chip Nicolai (Goddamn Draculas), Peter Moore (Count Zero)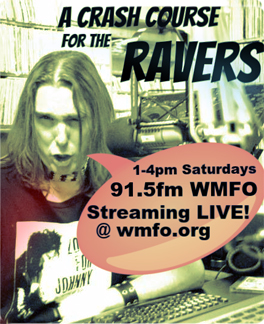 also on the bill When Particles Collide and Salem Wolves- NOTE: Please bring unwrapped gifts for children of all ages—toys, books, art supplies, electronics, musical instruments, clothing, hats, coats, sporting goods, gift cards (older kids like these)...this is an 8-Midnight show at Once Somerville.
December 22 (Saturday) Greg Allen's Fringe Religion, Classic Ruins, 1.4.5, Fireking - Early Show 4-8 at The Midway
December 22 (Saturday) Hardcore Stadium presents The A-Team w/ Last In Line, Down But Not Out, Rampage, MFP, Restraining Order at an early show at Middle East Up 4:30 doors
December 23 (Sunday) Thrash N Bang's Annual Xmas Punk Pizza Party! with Neighborhood Shit, Revilers, The Hangovers, Sewer Buddies, Coffin Salesman and Jake Tringale. 4-8PM at The Midway
December 29 (Saturday) The McGunks, Scotty Saints & True Believers, Steal Reserve, COB at The Midwayt for a 4-8PM show.
January 4 (Friday) OC45, The Dents, Duck & Cover, Blame It On Whitman at O'Brien's Pub
January 12 (Saturday) IL Mostro (CD release) w/ Cortez, Scuzzy Yeti & Wrought Iron Hex at O'Brien's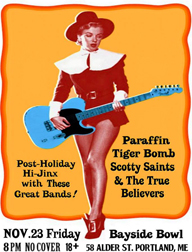 January 12 (Saturday) Gene Dante And The Future Starlets, The Gala, Tiger Bomb, Smitt E. Smitty at Once Somerville.
January 12 (Saturday) Restraining Order, Envision, Antagonize, Brother, Pummel at AS220 Provi RI
January 17 (Thursday) Boston Emissions presents: PowerSlut, Stars Like Ours, Dark Wheels at Once Somerville.
January 19 (Saturday) The Gobshites, Time Out Timmy, Mongorellis, Punk Band, Jimmy Jacked at the Midway for a 3-7PM show.
February 8 (Friday) Hey Zeus Record Release & Listening Party (Argonauta Records) with Motherboar, Cocked N Loaded, Labor Hex at Once Somerville.
CONTACT US AT....misslynbgn@yahoo.com Send us your gig listings, your news and anything else ya got!! You want your CD reviewed?? Contact us for that too.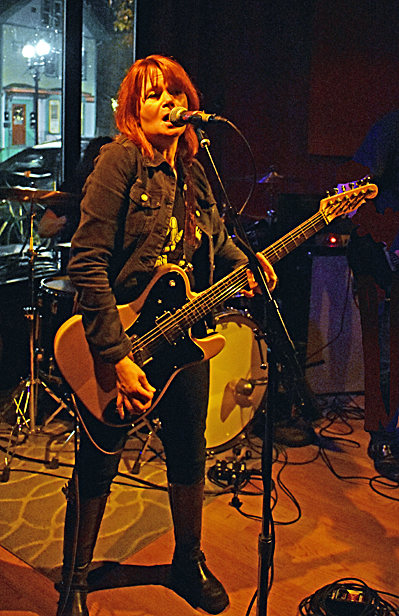 Justin and the Unclean
Photo: Blowfish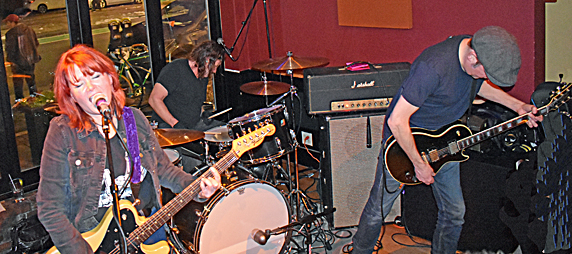 Justine and the Unclean
Photo: Blowfish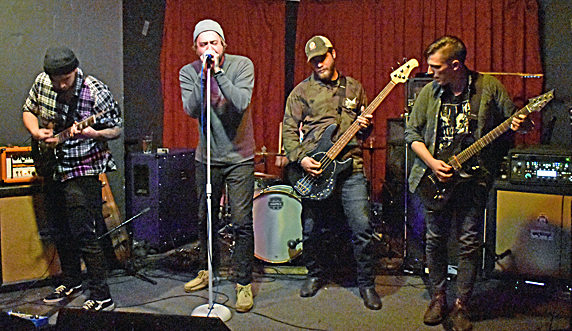 Brigade
Photo: Blowfish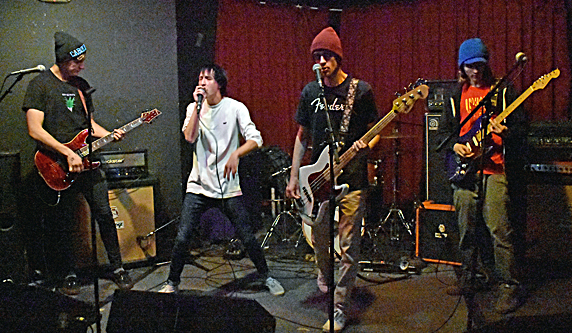 Happy
Photo: Blowfish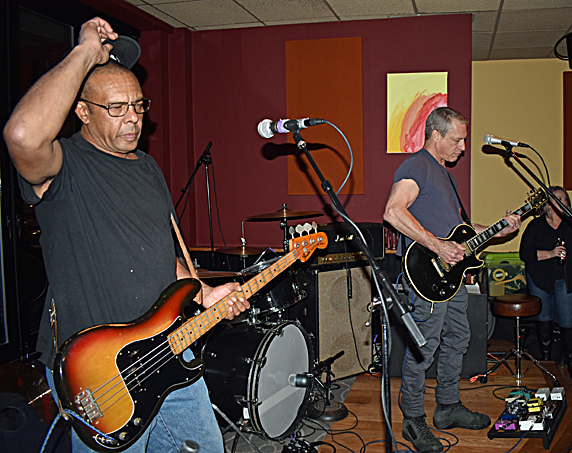 Nat Freedberg
Photo: Blowfish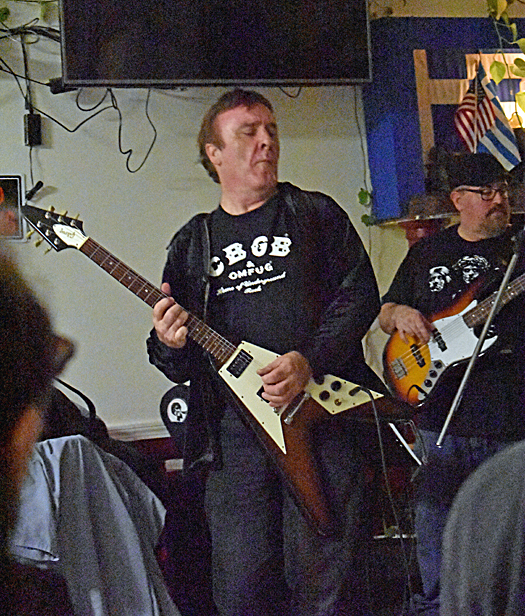 Mike Quirk - CLAGG
Photo: Blowfish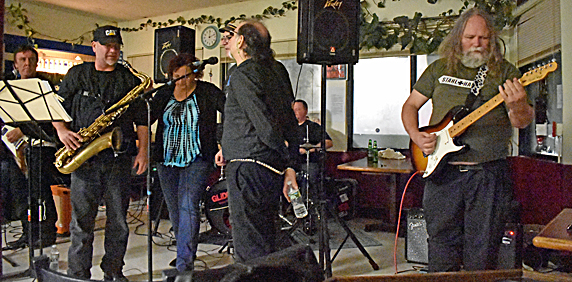 CLAGG
Photo: Blowfish