The BGN News Archive
November 20, 2017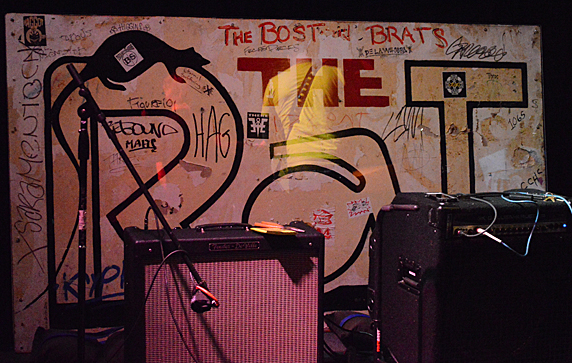 The original Rat sign
For all the photos and story CLICK HERE.
Photo: Blowfish
We all know that the Rat's reputation is part of Boston history and definitely a big part of our history. Twenty years after its closing we can see that it was the nexus of all the punk energy in town. Just by saying, "The Rat," you evoke the whole era.
The event at the Commonwealth Hotel on Thursday was another confirmation of its iconic status. It was actually a way to mark the release of the Live at the Rat Suite CD and DVD. These will be given to anyone who stays at the Rat Room. They also took the occasion to raise money for the Right Turn charity which was laudable. link to Right Turn It was also declared Rathskeller Day by Mayor Walsh. What really drew the large crowd, however, was the Rat aura. People want to get that old Rat vibe any way possible, and the night did that.
Onstage they had Willie Loco, the Nervous Eaters, Emily Grogan, The Dogmatics and Richie Parsons and that right there was a huge draw as well. There were blow up photos of Rat performers. Some by Richie Parsons looked better than ever super-sized. They passed around hor d'oevres like pork sliders, fish tacos and chicken wings but drinks were crazy expensive and there was grumbling about that.
The hotel was sleek and modern. But we noticed things like a piece of chicken on the floor,HA!! a sign that the Rat crowd could turn this high class operation into a dump like our old "home" being celebrated...given enough time.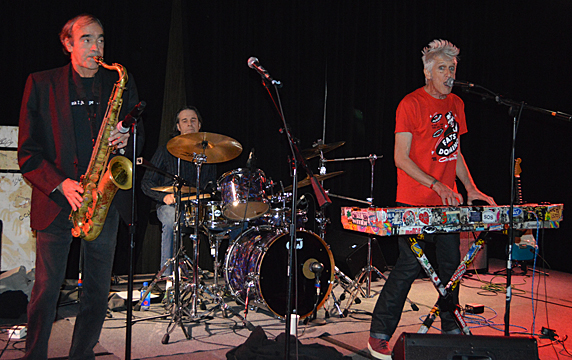 Willie Loco Alexander
Photo: Blowfish
Things got real when Willie started to play. He was accompanied by David McLean on drums and Mark Chenevert on sax. Everything about Willie is so idiosyncratic; the singing, the piano playing, his looks. It felt good to take it all in again. It was a Rat flashback – big time. We've been Willie deprived anyway for so long. He did a short set. He played "Melinda". The ender was "Let's Go To The Rat". How could it not be? This is what we were all there for - a good hit of Willie and wallowing in the memory of the Rat.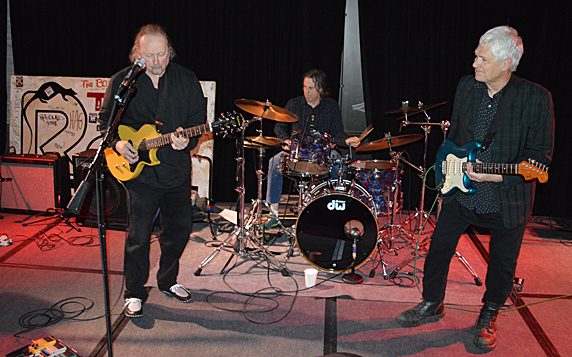 Nervous Eaters
Photo: Blowfish
The buzz was still going on as the Nervous Eaters took the stage. We've seen them regularly but we had the feeling that many haven't. The Eaters were in good form. People voiced enthusiasm as each song became recognizable: "Last Chance, "No More Heroes", "Girl Next Door", and "After Your Good Times Gone". The last song was "Talk to Loretta" which was released on Rat Records all those years ago. It's another song that represents the era. There were multiple solos to keep the favorite going a while.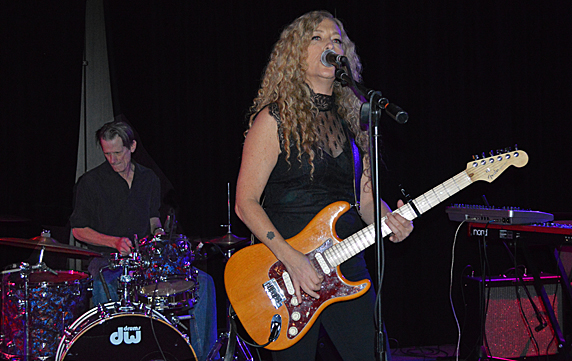 Emily Grogan
Photo: Blowfish
Emily Grogan used to work in the kitchen at the Rat. On stage she told the story of staying with Mr. Butch on the street when she stayed too late at the Rat and the last bus was long gone. She also played a set with Mr. Butch at the Rat. They opened up for Steve Albini's Rapeman. We never knew that. Emily is a songwriter's favorite songwriter. She played a song about Mr. Butch. Another song she did called "Weathervane" was a gem. That song is on the Live At the Rat CD. She had a top notch group which included drummer Larry Dersch.
Dogmatics
Photo: Blowfish
Things were wrapped up by the Dogmatics. They are a rarity - a party band with depth. They want you to have fun but they also bring emotion into the mix with songs like "Thayer Street" that mourn the loss of a lifestyle.
Their songwriting allows them to have the best of both worlds. They did "Drinking by the Pool" and "Gimme the Shakes", all the while spreading a celebratory spirit. They are made for nights like this.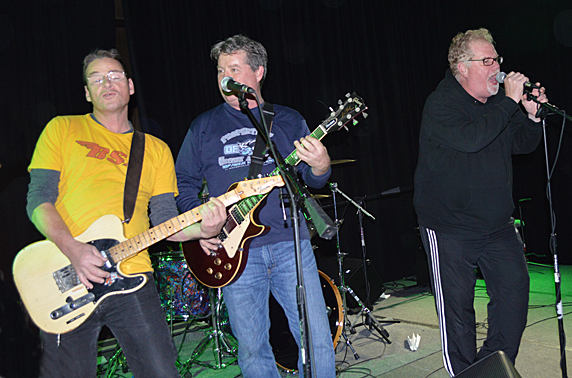 Dogmatics with Richie Parsons
Photo: Blowfish
Richie Parsons joined the Dogmatics for the final few songs. They were practicing the songs earlier up in the Rat Suite. Can you believe there is such a place? The Rat Suite in a fancy hotel? $800 a night. The memories and the legend lives on but it's an odd turn of events for sure.
Dogmatics, Richie Parsons and Jimmy Harold
Photo: Blowfish
And of course we have to mention the man who made the Rat- Jimmy Harold. Without him all this wouldn't even exist!! Jimmy did a great job back then and is well aware of the importance of the Rat. He is also thankful to all of us who helped make that place called The Rathskellar The Rat. He truly feels it is OUR Rat because in his mind and heart it was all of us that made it the great place it was. Thank you Jim Harold - he 's someone who deserves a lot of thanks from a lot of people. We love you Jimmy!!
CLICK HERE FOR THE STORY WITH MORE PHOTOS
And for even more photos of the great night check out Matt Lambert's FB page Trebmal Photography

More photos from Mark Davis...Click photo below.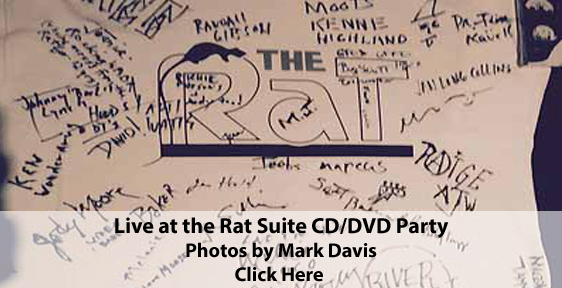 Going back now to Sunday a week ago….
It took a while to finish the Boston Groupie News so we didn't get to the Out of the Blue Gallery extravaganza to celebrate Curt Weiss' book Stranded in the Jungle till 5p.m. That was good enough to catch Tiger Bomb from Portland, ME. They have those shows at the Bayside Bowl which seems like a cool venue.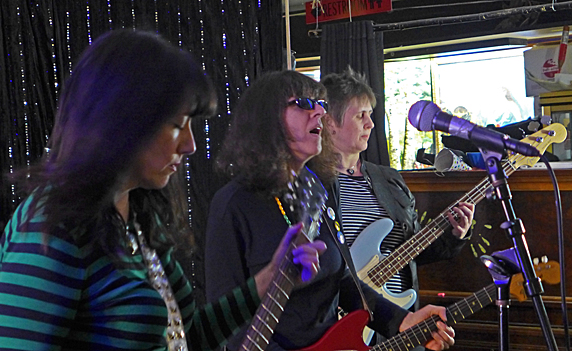 Tiger Bomb
Photo: Blowfish
Tiger Bomb played a set of classic garage rock. They have the sound in their bones. Everything can't help but come out that way. The phrases they have and the way they say them press all the buttons. They have the look too. It's was all originals as far as we know. The best was one called "Turn it Up and Dance". We're so glad we did catch their set. They are a must see when they come around again.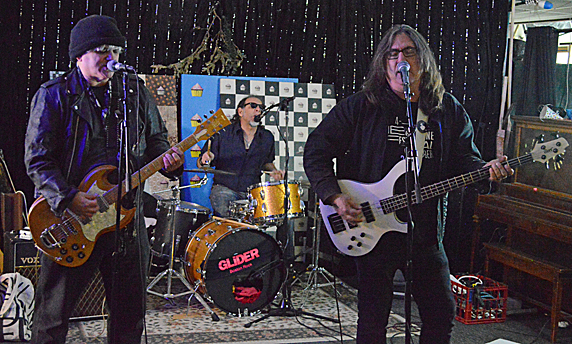 One True Gods
Photo: Blowfish
MOTO's drummer was stuck in traffic. Paul Caporino recruited Cal Cali on drums and Tony Kaczynski for bass and did a set of covers. The band was instantly named: One True Gods. And they covered Kinks, Who, Buzzcocks, Ramones, Nick Lowe and whatever they could muster. That was fun.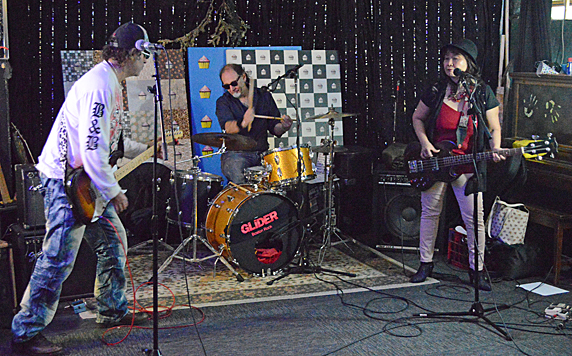 Glider
Photo: Blowfish
Glider played their usual set with the original Anorexia and Child Abuse. They did Joey Ramone's "Maria Bartiromo" and then a great cover of "Red and Grey" by the Neats.
By the time the Lyres came on they had the most people in the audience. Though there wasn't a lot of people at the show in general.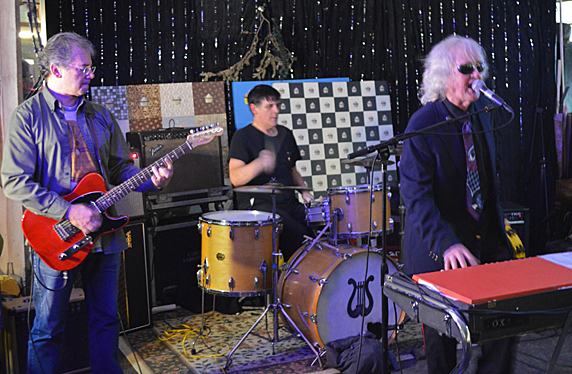 Lyres
Photo: Blowfish
Lyres put in a set in primo Lyres form. They continue to set the bar high. They don't run through songs; they put their heart and soul into it. You can see and hear Jeff getting inside the song, riding on its rhythm and giving an inspiring vocal. He's still got the fire. Catch the first video below to see.
The only time we ever recall paying attention to a tambourine is when Jeff plays it. Check out the first video below. You can see and hear how Jeff gives fast splashes of symbol sound as he simultaneously raises the tambourine. It's such a cool and sublte thing. It's between :50 and 1:03 seconds into the video. Who else ever has done that?
Then the crew behind him never fails. Paul Murphy on drums would get a Lifetime Achievement Award if such I thing was given. Steve Aquino owns those classic chord changes that mark the Lyres song book. Dave Kowalachek has stepped into a demanding spot and not only does the bass job but adds so much in the background singing.
Half the material was Lyres classics and man are they food for the rock soul. The other half are the songs we assume are covers that are unknown to us but welcome. Each one is a treasure Jeff unlocks with his vocals. Many have cheating or lying as subject matter.
Here are videos of: a new song, "I'm Your Guy", "How Do you Know?", and "Help You Ann".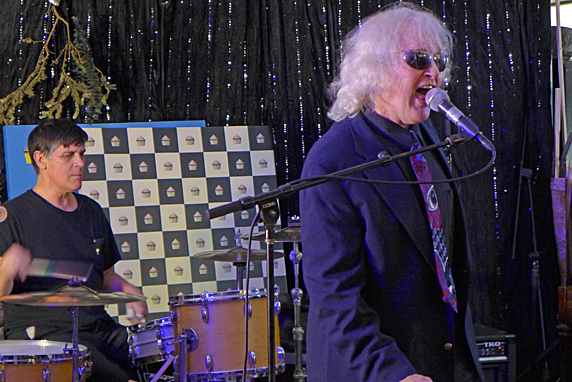 Lyres
Photo: Blowfish
As the set was ending people from the night show were coming in and listening. The night show was heavy metal but they listened respectfully. It was 8:30 and the show started at 2 p.m. That was Cal Cali's last show before he takes off to Fla. for the winter.
For a pop fan a night at the International Pop Overthrow is a must. We only got there once this year but every night of the four day stretch was worthy.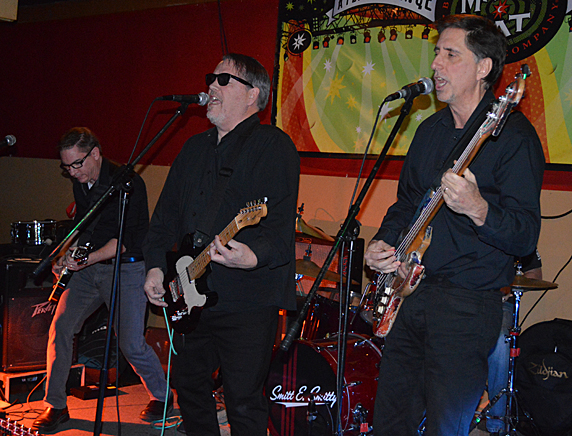 Crunchtime
Photo: Blowfish
Crunchtime was the first band we caught on Friday. Peter Parcellin from the Brigands is in the band. They have a seventies punk sound. One song that stuck out was "Situation: Out of Control". The opening line was, "He just got out of the joint./ He didn't make any friends./ What's the point?" That sounds like the opening of a Jim Thompson book. The whole song kept the atmosphere of that. The lyrics were half sung, half talked.
The guitarist was playing the crunch toned chords but when it came to the leads his playing was sharp. He made those solos count. The bass player was previously in Hell Toupee. He sang an impressive "She's Cracked" from the Modern Lovers. He had that flat declarative style down. Their other cover was "Sister Serina " by the Dogmatics (who we had seen perform it the night before.).
They played "Ask the Globe" from the Brigands set list. The rest of the songs were well done original punk. They have the ability to put together a chord progression that makes a good punk song. They're just starting to do shows recently but will be playing around more. They are at the Tavern at the End of the World in February and there's a Middle East gig at some point.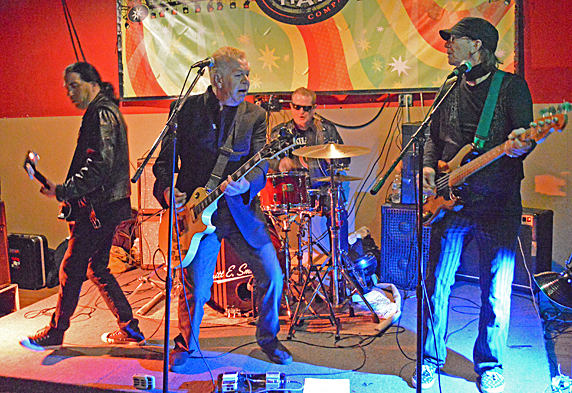 1.4.5.
Photo: Blowfish
1.4.5. have a long story. Some of the members were in the Flashcubes, a NY band fondly remembered for their pop single "Christi Girl" in 1978 . In the 80s 1.4.5. were playing around town a lot. Now Paul Armstrong lines up a crew and plays the IPO every year. This year he had Judd Williams on drums. He was in another group with Judd that played David Minehan's 17th birthday party at the Space way back when.
The great thing about Paul is that he plays punk with power and heightened energy. His idea is to transmit the life force of punk and he does that. Sometimes it feels like he can barely keep himself on the ground he's bounding with so much excitement. All this makes for a great performance. The songs are punk with melody and slices of guitar punctuation. They ended with "Born to Lose". The Heartbreakers are on everyone's mind lately with that book by Curt Weiss.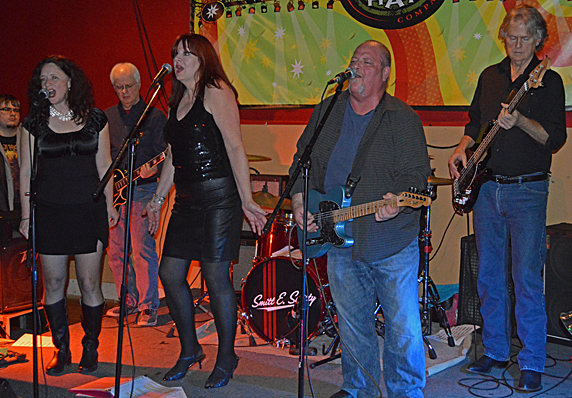 Big City Rock
Photo: Blowfish
Big City Rockers has played maybe a half dozen times that we know about. It's a vehicle lead by Fred Pineau to keep the music of The Atlantics alive. The IPO was the perfect place for a gig. The Atlantics are well regarded in pop circles. Like the Flashcubes they were fighting the headwinds of the punk hurricane. By 1978 the clamor for punk drowned out lots of the pop movement that was parallel with it.
The line up on stage was talent heavy - Smitt E. Smitty on drums, T.B. Player (ex Third Rail) on bass, Fred Pineau on guitar, Kim Ackland and JoEllen (Cold Expectations) on vocals, and Jim Melanson on guitar/vocals. We've talked about Jim being the go-to guy for many groups. We've seen him in those line ups as well as his main group Pop Gun but he outdid himself with this group.
Bobby Marron's singing for the Atlantics was very distinctive and that is a big hurdle for covering the material. Melanson has an unaffected mid-range voice. He was able to amp it up to faithfully deliver the high strung vocals of the recorded material. Not only that but he was riffing nonstop guitar work while he did it. Neither the singing nor the guitar work is easy. It was awe inspiring work.
All the members of this line up are in other groups yet they all nailed the playing as if they had been playing it for years. They also made the heart of the music beat again. Kim and Jo Ellen's background singing was almost lead singing with its strength and its importance to the song.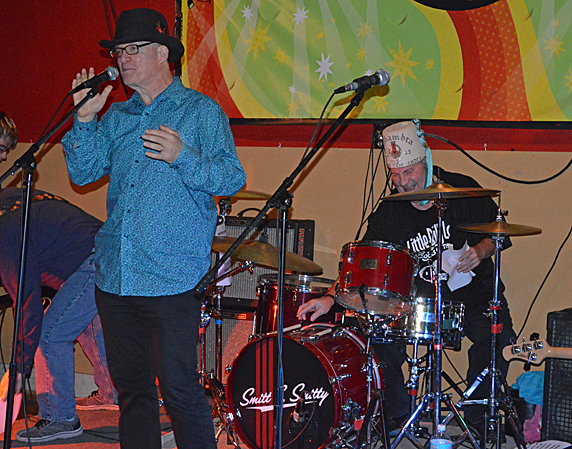 David Bash and Smitt E. Smitty
Photo: Blowfish
"Pop Shivers" is the name of an Atlantics song but also what Big City Rock delivered with "When You're Young", "Wrong Number", "One Last Night", "Can't Wait Forever" and "Lonely Hearts". They even had one up their sleeve with "Weekend"; one we're not as familiar with. That had a jerkiness to it that seemed like it needed precise timing by all involved. In the end it might have been the best performance of the whole set.
There was an act after Big City Rockers and three before Crunchtime - an amazing night and just one of four for the International Pop Overthrow.
---
And in other news.....
We haven't seen Shiny Beasts play in a while but ran into Mitch Murphy at the Out of the Blue show. He said that they'll be recording in December. They have 20 songs lined up. Some of those are from their live sets that we hope get recorded...like "Doing All the Drugs You Can Find" and "I Feel Like a Baked Potato". We look forward to that recording!!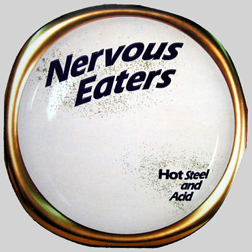 We talked to Rick Harte at the Out of the Blue show also. He's finished on the re-release of the Nervous Eaters' Hot Steel and Acid. The original 8 song effort will be expanded to 14 songs. This was released after the first Electra LP which disappointed fans and Steve wanted it to be all hard rocking material and it was. Now the less incendiary material will be added to give a full album experience as it was meant to be. Added songs are: "Today and Tomorrow", "No More Idols", "Red on White", "Want Me Back Again", "Have It With Your Coffee" and "After Your Good Times are Gone." The cover will have the original artwork.
Finally what you have really been waiting for – the new EP by Screwcart called Wet Blanket. It features the mighty lungs of Mark Kennedy. Sample lyric: "Need a salt lick/ Cause my soul's sick /Need a new kick/ Cause my soul's sick." It's mood music for the Pinhead Hellraiser guy. Check it out here.
---
Here's some good shows coming up .....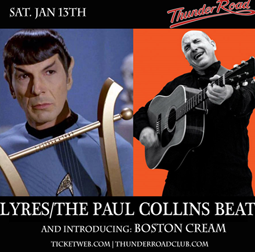 November 22 (Wednesday) Stray Bullets, The Radiator Rattlers, Cactus Attack, Art Thieves, Coffin Salesman at OBrien's
November 25 (Saturday) Andy California will be on Brian Young's A Crash Course for the Ravers 91.5 WMFO 1-4Pm
November 25 (Saturday) Cocked N' Loaded, Hey Zeus, Il Mostro, Z-28, Responsible at O'Brien's
And further out we have...
December 1 (Friday) The Monsieurs (LP Release Show), Nice Guys, Earthquake Party at Great Scott's FB page
December 1 (Friday) The Dream Syndicate, The Richard Lloyd Group and DJ Carbo at Once
December 2 (Saturday) DJ Easy Ed presents: The Cranktones plus Easy Ed's Record Hop! 4-8PM matinee at The Midway...followed by......
December 2 (Saturday) Watts (45 Release), Diablogato, Duck & Cover, A Bunch of Jerks at The Midway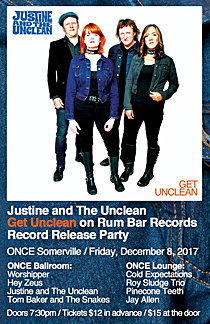 December 8 (Friday) Rumbar records is throwing a HUGE record release party of the new Justine and the Unclean record Get Unclean....It's at Once and there will be bands in the ballroom and in the Lounge. Check out this list!: In the Ballroom- The Upper Crust, Hey Zeus, Tom Baker and the Snakes, Justine and the Unclean ....In the Lounge - Cold Expectations, Roy Sludge Trio, Pinecone Teeth and Jay Allen - doors at 7:30 show starts at 8:15.

December 9 (Saturday) The Raging Teens are turning 21 this year.. and that's "Drinkin' Age!" There's releasing a 45 called "Drinkin' Age" on Swelltune Records to celebrate their 21 years as a band! AND that means The Raging Teens Holiday Shindig Record Release! With The Raging Teens, Nate Gibson, Bloodshot Bill, Sean Mencher at Great Scott. FB page

December 9 (Saturday) Radiator Rattlers, Brix'n Mortar,Lipstick Boys, The Grubs at The Chit Chat Lounge in Haverhill FB page

December 10 (Sunday) Loser's Circle and Special Guests are at The Midway 4PM show

December 10 (Sunday) Horton's Holiday Hayride featuring Reverend Horton Heat & Junior Brown with special guests The Blasters & Big Sandy at The Sincalir (7-11PM show)

December 11 (Monday) Rock and Roll Tacos & Trivia at ONCE Lounge 7-10PM...always fun!! FB page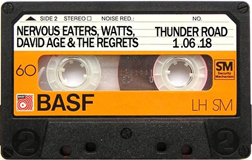 December 14-16 (Thurs-Sat) Bowery Boston presents Street Dogs Wreck the Halls Thursday 12/15- with special guests The New Darkbuster & Taxi Driver at The Sinclair - Proceeds benefit Massachusetts Fallen Heroes
December 14 (Thursday) The Hi-End, The Peasants, Trusty Sidekick at Sally O'Brien's
December 15 (Friday) The Evil Streaks, Muck And The Mires, The Downbeat 5, The Black Cheers at O'Brien's Pub
December 15 (Friday) Tragedy, The Scrooges, Rawstrum at The Middle East Up.
December 15 (Friday) Street Dogs Wreck the Halls with special guests The Pinkerton Thugs & The Abductors at The Sinclair
December 16 (Saturday) Street Dogs Wreck the Halls with special guests A Wilhelm Scream & Michael Kane & the Morning Afters at The Sinclair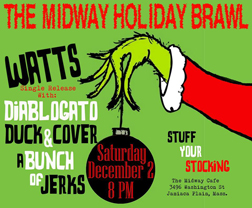 December 16 (Saturday) Bent Shapes with Beware the Dangers of a Ghost Scorpion @ Great Scott- this is Bent Shapes' FINAL SHOW
December 17 (Sunday) Thrash N Bang's Annual Xmas/Pizza Party Show! with Crimespree, CAC, The Grommets, The Sewer Buddies, and Jenn Lombari & special guests (Matinee 4-8PM)
December 30(Saturday) 3 Parts Dead, Z28, Test Meat at Koto in Salem
January 6 (Saturday) Nervous Eaters, Watts and David Age & The Regrets at ThunderRoad FB page
January 6 (Saturday) Fur Purse Album Release Party with Whore Paint, Shepherdess, sister at The Midway
January 13 (Saturday) Lyres, Paul Collins Beat, Boston Cream at Thunder Road FB PAge
January 17 (Saturday) Red Mantis, Silver Screams, Wrought Iron Hex & Greylock at O'Brien's
CONTACT US AT....misslynbgn@yahoo.com -Send us your gig listings, your news and anything else ya got!! You want your CD reviewed?? Contact us for that too.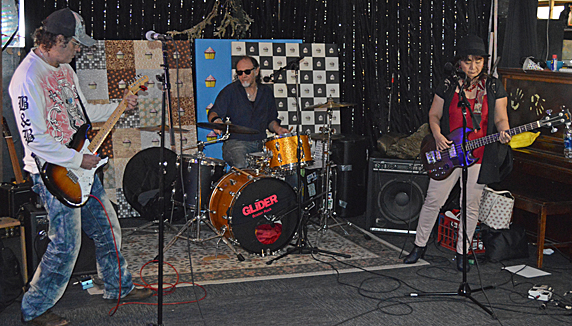 Glider
Photo: Blowfish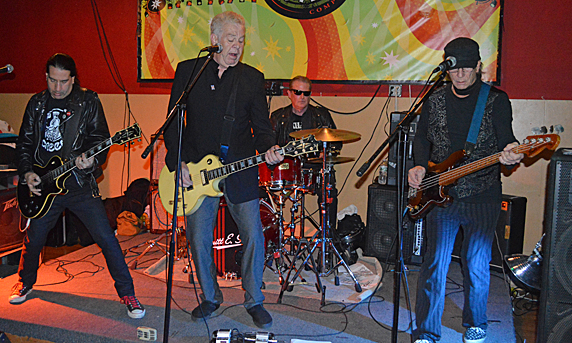 1.4.5.
Photo: Blowfish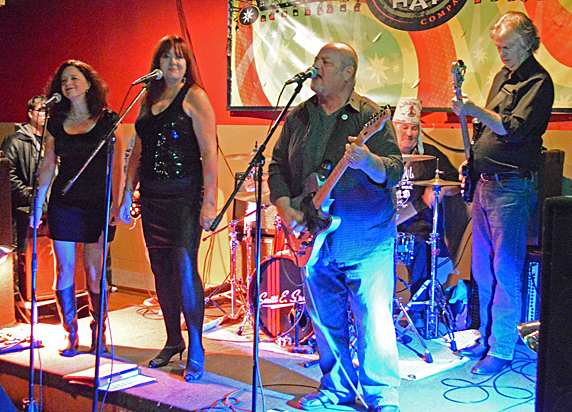 Big City Rock
Photo: Blowfish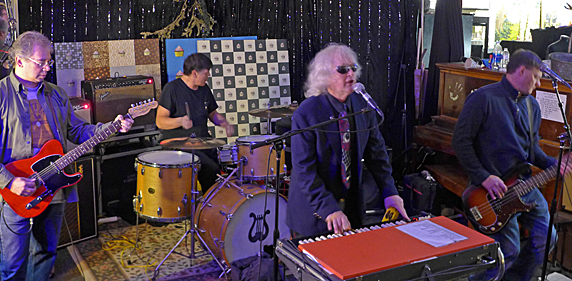 Lyres
Photo: Blowfish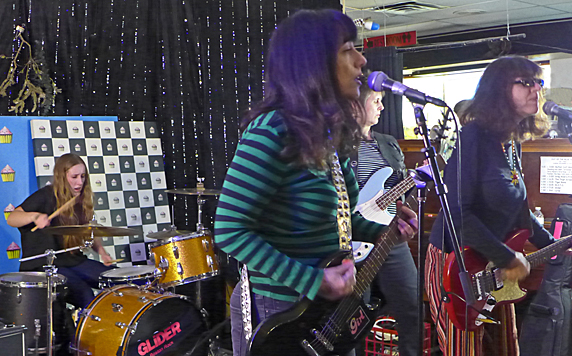 Tiger Bomb
Photo: Blowfish