The BGN News Archive
November 21,2016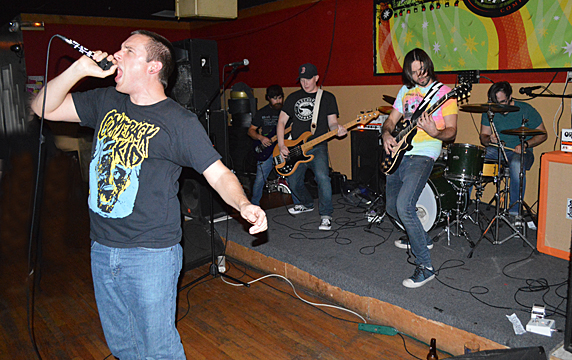 Oh the Humanity
Photo: Blowfish
I was chasing Suburban Samurai at PA's Lounge on Thursday. I was impressed with their show at O'Brien's last August . They have an aggro edge and that's what I'm looking for. They have several styles in their sound; there's a hardcore element along with pop and emo. The guitars can get low and large but then there's some treble string licks that don't usually go with that. The emo is in the vocals but then they throw in some throat singing. It's a mix that works.
Suburban Samurai
Photo: Blowfish
The songs can go for five or six minutes it seems. They're complicated with shifts of rhythm and volume. They must practice a lot because it's all tight. They certainly tour a lot. They're a hard working band that could use some more attention. Check out their Bandcamp page
Oh The Humanity continued the night. The lead singer stayed on the floor and worked his moves there, he's a notable front man. The band was a knock out. They have two guitarists who knew how to complement each other. Sometimes there was a white noise of ringing strings as they intertwined their licks.
Like Samurai they had a few influences they combined. They describe themselves as 'melodic punk'. Mainly it seemed like a hardcore/metal band with an emo singer. But it never got into worn out metal territory. They were stretching and giving it their own twist.
Oh the Humanity
Photo: Blowfish
They had the song of the night called Lola. It seems to be about a boat sinking and the chorus had a haunting lyric, "My eyes were like video cameras". It comes through in the recorded version also. Listen to Lola
| | |
| --- | --- |
| Suburban Samurai | Oh The Humanity |
They played a cover by Save the Day but I think every one of their own songs went over better than that. Here's their Bandcamp page
Saturday it was the Cantab with The Runouts who have Andrew from The Digs and their album sounded like they would be good live.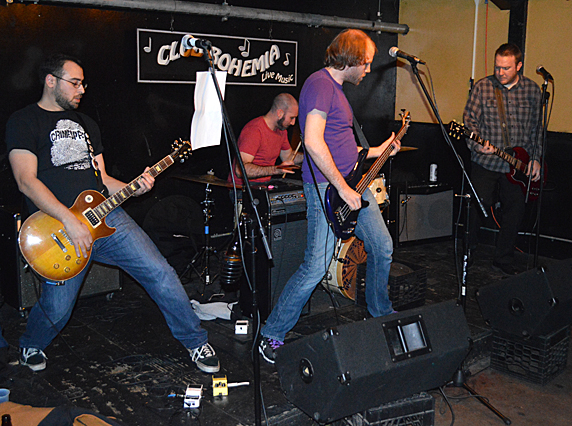 The Runouts
Photo: Blowfish
The Runouts play some punky pop. In their first song (Feculent Creatures) they halted the instruments and sang a very short section with three voices going. It was well done and well thought out. The lesson there was not to think they were without craft in their punk. Here's that song Feculent Creatures on Bandcamp and that moment happens 1:27 into the song.
All during the set I was catching some nice melodies. Andrew was throwing in snappy single line leads. The backup vocals were way above average (they should do more) . They aren't short of things to say with very wordy lyrics. Overall it was a catchy package. They played pretty loose and I would say that's not optimum for what they're doing. If things were in place like in the Bandcamp material the set would have been better yet.
Part of the problem was the drum set. It was used by all the bands and it sucked. It was ¾ sized and sounded like it. The snare was DOA. The Guilloteenagers suffered because of it too.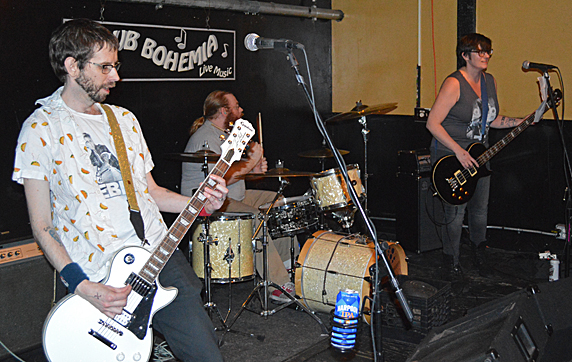 The Guilloteenagers
Photo: Blowfish
We saw the Guilloteenagers back in 2014. They sound so much like a band you would have heard at Cantone's on a Wednesday back in 1977, it's uncanny. I couldn't think of anything else. I kept trying to nail exactly what it was. It's everything; the attitude, the sound, the songs. What a mindbender.

Joe 'The Count' Viglione was there. He helps book the Cantab. He is getting back into booking clubs now and will soon be involved with the Out of the Blue space also. He has lots of plans (always does) and loves bands that network and work in conjunction with the overall shows. Joe has a show at the C Note playing Lou Reed and Velvet material. No one does some of those songs as well as him (and Jon Macey). At that gig he'll have Gary Soprano on guitar. Gary is worth going out of your way for. Gary's subbing for Fred Pineau who has a few health issues he's working though. Fred's got his own long musical history and he's written some of it. Where's the book Fred?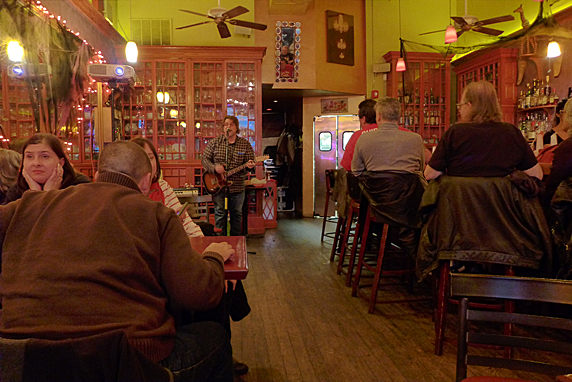 Corin Ashley fuzzing out at Trivia night
Photo: Blowfish
Last week we forgot to mention that we hit the second Rocker Zine Rock'n'Roll Trivia night at Zuzu's, again lots of fun. They put in an extra feature; a live musician. It was Coren Ashley playing a selection of fuzz licks you had to guess. Popmaster Corin has gone through some health problems so it was great to see him out playing. He did In-a-Gadda-Da-Vita – now I want to hear a band do that live. This opens up a whole new area where they could have live musicians doing different routines. Ken Kaiser has an idea or two already. It's an amusing night and a humbling one for those who think they know it all.
And in other news.....
Eric Taros posted a Lou Miami and the Kosmitix video on Facebook from 1979 that was taken at the Space during a music/fashion show. These have not been seen till now!!
Here 's a video of the Kosmetix doing Mary Mary And a short song where Lou does a furious 'swim'. Sad to think that only the drummer Bob McKenzie (hardly seen in the video) is alive. Lou, Kip Korea and Jack Rootoo have all passed. RIP guys!
| | |
| --- | --- |
| Mary, Mary | Doing the Swim |
It's Thanksgiving this week but there are some good shows out there...and thankfully the Thursday Jonathan Richman show is NOT sold out.
Here's some good shows coming up .....
Happy Thanksgiving/Turkey Day folks...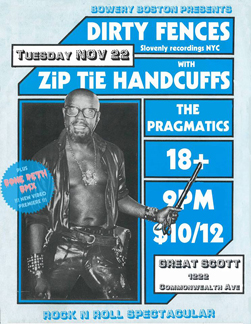 November 22 (Tuesday) Dirty Fences, Zip-Tie Handcuffs, The Pragmatics are at Great Scott
November 23 (Wednesday) It's a special Thanksgiving Eve edition of regular Primitive Sounds night with WMFO's DJ Easy Ed at Brass Union! There'll be sets by DJ Easy Ed and Forrest Plassmann: Vintage R&B, soul, rock 'n' roll. Starts at 8PM.
November 23-26 (Weds-Saturday) 4 Nights! Jonathan Richman featuring Tommy Larkins on the drums at the Middle East Up. FB page It was an amazing night when we went in 2014. And for fun read our 1980 interview with Jonathan
November 26 (Saturday) Frigate are at The Midway for an afternoon show! Also on the bill Thigh Scrapers and State of The Union 4PM show!
And further out......
November 28 (Monday) Bob Colby Presents: Cold Expectations and So Sol at the Upstairs Lounge at Once.
November 30 (Wednesday) The Low Babies, Lost Cosmonauts, Thrust Club, Lockette at The Midway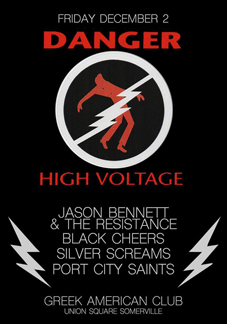 December 1 (Thursday) Humanoids, Mam Ladilla (Spain), Covered in Bees (Maine), Intheshit & Black Friday - O'Brien's
December 2 (Friday) Jason Bennett & Resistance, Black Cheers, Silver Screams, Port City Saints at The Greek
December 2 (Friday) Blood Drive, Sex Orgy Death Crash, Jarva Land and Charlie Don't Surf at PA's FB page
December 2 (Friday) Today Junior, Calico Blue, Spirit Ghost and Brushes at The Midway
December 2 (Friday) Blood Drive, Sex Orgy Death Crash, Jarva Land, Charlie Don't Surf at PA's Lounge
December 2 (Friday) The Dents, Schnockered and Watts at Sally O'Briens
December 3 (Saturday) Muck & The Mires will be on A Crash Course for the Ravers with Brian Young on WMFO 91.5 1-4PM
December 3 (Saturday) Studio Two , The Beatles Tribute w/ Muck and the Mires at The Middle East Up.
December 3 (Saturday) The Forz, Young Bull and others TBA are at Club Boho at The Cantab.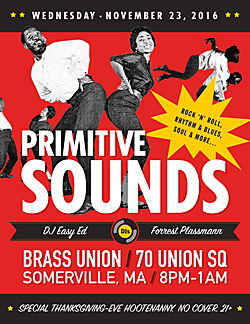 December 3 (Saturday) The Peasants, The Brigands and The Jack Bennies (from NYC) at The Midway this is a 4-8PM early show
December 3 (Saturday) VapoRubs, Psychic Dog, Silver Screams, Tony Jones & the Cretin 3 at AS220 in Provi
December 6 (Tuesday) When Particles Collide are doing a December Residency every Tuesday at Atwood's Tavern, 7PM show
December 9 (Friday) Peter Murphy "Stripped" -This is A rare opportunity to see Peter Murphy performing (with an ensemble - 3 piece in all) semi-acoustic versions of his music from throughout his illustrious career (um, $25 Advance / $35 Day of Show / $30 VIP Early Bird / $35 VIP Advance) 7 PM Doors
December 9- 13 (Fri- Tues) Danny Garcia's Sad Vacation (a film about Sid and Nancy) is showing at The Regent Theater. You can get tix here.
December 9 (Friday) Major Stars, Taiwan Housing Project, Mini Dresses and KSZNK are at O'Brien's
December 10 (Saturday) Charlie Don't Surf will be on A Crash Course for the Ravers with Brian Young on WMFO 91.5 1-4PM
December 10 (Saturday) Thrash'n'Bang Christmas Party at the Midway with The Martians , DestrOi, Crimespree, Pink Parts and Jenn Lombari (of Lucky United) this is a 4-8PM show.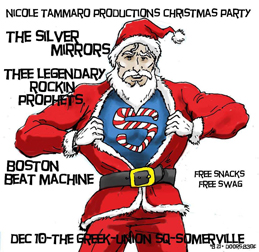 December 10 (Saturday) The Weisstronauts 18th Annual Holiday Jubilee at 4:00 pm at Atwood's
December 10 (Saturday) Nicole Tamaro Productions Christmas Party with The Silver Mirrors, Legendary Rockin Prophets and + free snacks & swag all at the Greek in Union Sq Somerville.
December 10 (Saturday) Psychic TV at Brighton Music Hall
December 11 (Sunday) Boston Hassle's Black Market - perfect for getting holiday gifts!! This one-day event boasts everything from secondhand to handmade: artwork, zines, body care, nail art, records, baked goods, patches, pins, books, T-shirts, leather goods, knits, woodwork, pottery, local honey, vintage clothing, jewelry, tea, haircuts, tarot card readings, face-painting, portraits, & MORE!! at The Elks Hall in Central Square Cambridge 11AM- 5PM Here's the FB page
December 11 (Sunday) X___X, NE Patriots and Shiny Beasts at The Middle East - doors are at 7PM for htis show.
December 13 (Tuesday) When Particles Collide are at Atwood's Tavern, 7PM show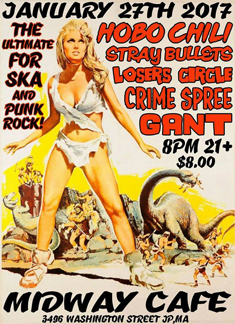 December 13 (Tuesday) Shitted Wizard, Shatner and Petty Morals are at O'Brien's
December 20 (Tuesday) When Particles Collide are at Atwood's Tavern, 7PM show
December 23 (Friday) Raging Teens 20th Anniversary Boston Reunion! at O'Brien's (FB page) also on the bill Roy Sludge, Ten Dollar Mistake and DJ Easy Ed's Record Hop between sets!
December 27 (Tuesday) When Particles Collide are at Atwood's Tavern, 7PM show
January 7 (Saturday) The Johns, The Martians (mems of Bim Skala Bim/Rock Bottom), The Cold Expectations (Album Release) and Medical Maps at The Midway
January 7 (Saturday) The Last Ones, Tsunami of Sound and Stop Calling Me Frank are at Sally O'Briens
January 13 (Friday) Lyres, The Charms, the modifierS at The MIddle East Up.
January 14 (Saturday) Now here's a show you won't want to miss Brian Young's A Crash Course for the Ravers (WMFO 95.1FM 1-4PM) has Andy California as a guest.
January 27 (Friday) Ska and Punk night at the Midway with Hobo Chili, Stray Bullets, Losers Circle, Crime Spree and Gant!
February 10 (Friday) The Upper Crust, Watts and Petty Morals are at great Scott
March 8 (Wednesday) The Sheckies, Mongorellis, The Prozacs, Meat Depressed at Koto in Salem
CONTACT US AT....misslynbgn@yahoo.com - Send us your gig listings, your news and anything else ya got!!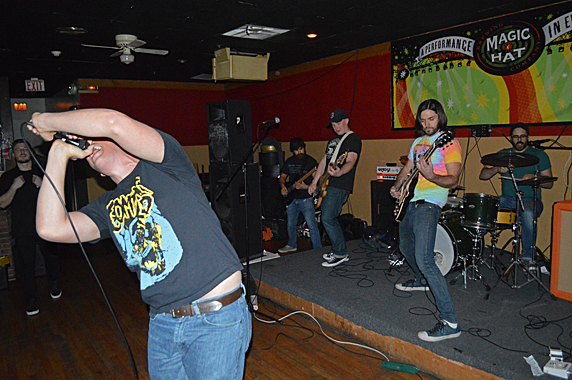 Oh the Humanity
Photo: Blowfish
The Runouts
Photo: Blowfish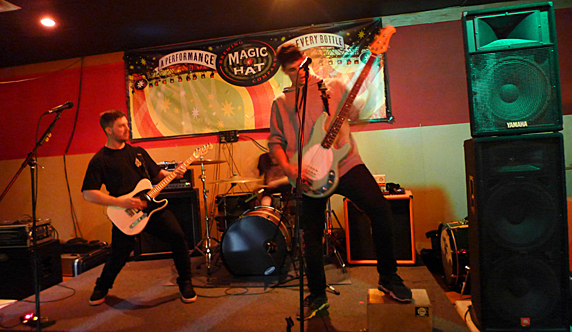 Suburban Samurai
Photo: Blowfish