The BGN News Archive
November 23, 2020
Science comes to the rescue with reports of not one but two Covid 19 vaccines. It'll still be months but a time will come when this nightmare will end. It was good news as the reality of this second wave of the virus is poised to ruin everyone's holiday season. Clubs look they still will not reopen until a good section of people are vaccinated, probably not before spring. But we can make it through!!

Back Porch Carousel
The Back Porch Carousel is one of the new groups that have coalesced during the Covid situation and they look like a solid entity now. It was Randy Black, Linda Viens, Adam Sherman, Eric Martin with moderator Larry Dersch. We only know Larry as a quiet drummer but he's an awesome moderator!! Who knew! This latest Zoom performance was to support Arthur Freedman who has many health problems and needs monetary help. Along with performing they raised a glass in remembrance of Boby Bear.
Randy Black had a great first line of a song with "The bird on the wire, has no thoughts of Leonard Cohen". Randy also played the "Sadness" one of our favorite songs of the decade. When we first heard it at the Rosebud we were floored. It's about depression. You can see in the performance that Randy is absolutely inside that song.
| | |
| --- | --- |
| Adam Sherman | Eric Martin |
Adam Sherman played a song that had another first line grabber: "The last bar in town has just closed, there is nowhere else we can go". The lyrics go on to paint a vivid late night personal drama. He didn't write it but he brought those lyrics to life.
Eric Martin covered a song by Norma Tanega who is known for the one hit "Walking My Cat Named Dog". Eric's deep voice and the way he gives weight to lyrics was as impressive as ever. He followed with a Jane Siberry song.
Linda Viens put her pristine voice to Leonard Cohen's "Dance Me To the End of Love".
There's a nice pace to the show and a warm feeling between the members. It feels like a friendly get together with easy conversations between the songs rather than fostering a forced "show" vibe. Watch the Back porch Carousel here.
Money for Arthur Freedman can go to: Artie VENMO: @Adam-Sherman-51 PAYPAL: ldersch@mac.com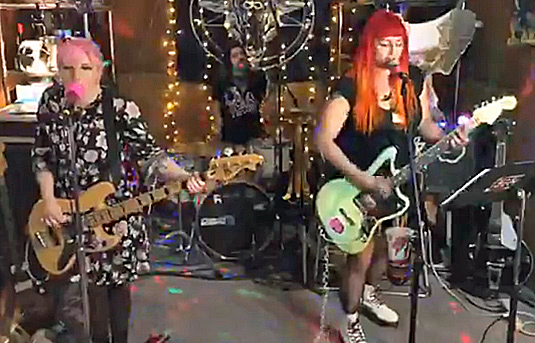 The Knock Ups
The Knock Ups did a live feed on Saturday at 7pm. We forgot how rough and ready they always are. Their sound and energy was bumping up against the limits of the live stream capabilities. That's the way it should be, we think, for a rocking band. They covered "Voices Carry" by Til Tuesday. Why do punks love to cover that song? We'll never understand!
You can see the Facebook live stream here.
The Red on Red label launch party was at 8pm on Saturday.
They started with the "Queen of the Drive In" video. Then Jay Allen and the Archcriminals played "Chopped Liver". It looked like they were in the Bunch of Jerks recording studio.
| | |
| --- | --- |
| Jay Allen & Archcriminals | The Dogmatics |
Dirty Truckers followed with the song "Star in My Dreams" that was filmed at the Rosebud. Gee, we miss that place!!!
There was a video of "Love Doesn't Know a Thing" by Justine and the Unclean. That video was shot at Woolly Mammoth Sound by Duncan Wilder Johnson. He also did the video for "Rock and Roll Blackmail" that was shown later. Wilder brings a lot to the Red on Red game. You can see in "Love Doesn't Know a Thing" how he controls the light to give the video a 'look'.
Cold Expectations did an older song called "When you are a Widow" and the Dogmatics had a video for "The Ballad of Wilber Ross" off their last EP.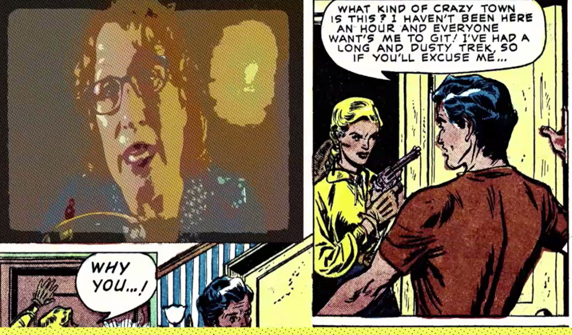 "Forget About Him" by Kid Gulliver
Kid Gulliver did "Forget About Him". Simone is on a creative high. The video was done by her and Daniel Ouellette. Photos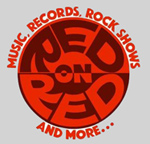 of her were embedded in romantic comic strip to make another unique video that brings the song home. Kid Gulliver are giving all their material another life with these striking vids.
Then it was just a crazy live show of The Neighborhoods shot at The Church in 2008. It was a wild "Roxanne" and the great Pure and Easy". Doesn't get better than that.
Justine is wasting no time in ramping up her new Red on Red record label…and media complex – as we can see. We hope that other artists are looking at what she and Lou over at Rum Bar are doing to get inspiration on how to work during this period of quarantine.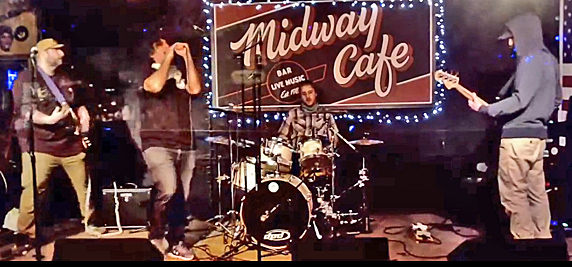 Rawstrum
On the whole most of the live streams from the beginning of the pandemic have been more traditional and acoustic music. That's why it's a relief to get some group rocking out like we did this week. Also in that vein is Rawstrum. They had their record release live stream show for Sun to Moon this past week. Their whole thing is to play off the intensity of their singer doubled over focused on getting the full force into the mic. As if he could jam it in there somehow physically. This music works best when you are being pounded with the music live but in another way the live stream gives you a chance to take the whole thing in a bit better. Sun to Moon is available on Bandcamp. The Midway live stream of Rawstrum is here.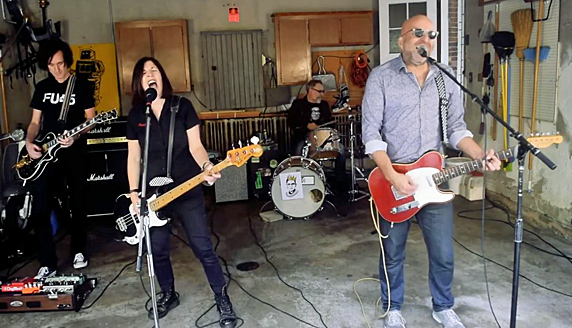 Garagecast
We got our mid-week boost with Linda Bean Pardee's Garagecast on Wednesday. This week the song was the Pixies "Here Comes Your Man" – always a song we want to hear. Her help this week was Will Shelton, Sean Connelly, and Mike Gioscia. Watch it here.
Tom Blanchi who booked the some shows at The Burren just before the coronavirus hit has started 24 Hour Concerts. They have many shows going on and more planned. They are going to have some shows sourcing from Q-Division Studios in Somerville. One of those is with Tanya Donelly Check them out here. and Their Facebook page
One of the more odd things to happen this year of odd happenings was the ascendency of Liquid Death. It's Alpine spring water that's target advertised to Straight Edge punks ... and male straight edge punks at that...and it took off!! I mean, as they say in the article in the Washington Post: "Need to get all up in someone's face about just how much you are completely sober but also kind of thirsty? Do it with a tallboy. Of water. With skulls on it."
Now, Liquid Death has produced an album Greatest Hates Vol. 2 by some well-known punk musicians (from Rise Against, The Lawrence Arms, Alkaline Trio, The Bombpops, Anti-Flag) . The song lyrics are actually the negative comments about Liquid Death ads made by posters on social media. It's hilarious!! Some of the song titles are: "Your Product Is Dumb," "Unnecessary and Unimpressive," "Rather Murder Myself," "I Thought This Was Alcohol".
Theses folks are experts at advertising so it's no surprise that the mock TV ad they have about the album is pretty funny. See video above. You can actually purchase the album AND read the lyrics to the songs on their website. Ha ha ha!!! And you gotta read their About US page too!
Ian MacKaye and Dischord Records are talked up in The Guardian: $5 gigs, not $10m deals: the story of US punk label Dischord Records
There's not a lot new in there but they have some good quotes and it tells the overall story. Dischord is now 40 years old.
PODCASTS.....
Above the Basement Podcast had Clint Conley for a guest this week, it's a 48 minute interview. There's a lot of talk about the early days of the Boston scene and how Clint worked his way into it. To hear hit arrow below.
The Boston Beat podcast has a video component now. They've started posting videos on the Medford cable site. You don't have to be in Medford to access, anyone can go in and view. Check out Tavern Tales: Pet List Show. It's a one hour vid with a variety of acts including Frank Rowe doing his acoustic numbers, Willie Loco, O Positive and The Neighborhoods. Then two 60s groups: The Freeborn and Orpheus. Watch the video here. They'll have 10 more videos posted monthly.
Radio Shows......

Skybar has been back on WMFO for a few weeks now. Things aren't back to normal but it's a sign that people are doing work arounds that brings things closer to normal.
Skybar now records his show from home and sends it to the station. All shows now have to be done like that. With that the station is doing a few things differently. One result is that they are now archiving the show and allowing you to hear it during the week. For Skybar's Rising show go to the schedule page here: https://www.wmfo.org/schedule/ and hit 'Rising' in the schedule and then look for 'archive' on that page and hit.

Also on WMFO (Friday 6 to 7 pm) is Easy Ed. He covers rockabilly, old country and 50s rock and roll and he does it with impeccable taste. The live shows that Easy Ed put on (when that was possible) were some of the most uplifting feel good rocking events ever.
Easy Ed also has his own page with his shows lined up in an easy format to access. As we wait for live shows to kick in again we suggest you click on over and give it a listen at : Easy Ed's Variety Hour
Joanie Lindstrom of WMBR's Late Risers Club played a knock out new track by Australia's The Cavemen. It's called "Over You". It's part of the new 7 inch EP which is on Bandcamp but the "Over You" song is not playable now.

Joanie had a local set dedicated to Jeff Breeze RIP of Pipeline. It included The Jacklights "Productive Member of Society". Jacklights are new and we think they will be getting more known as time goes on. She also played the new Classic Ruins' "Forget About It", A Bunch of Jerks and Von Traps. All great stuff!!
The MBR shows are archived for two weeks and can be accessed here: https://wmbr.org/cgi-bin/arch
CDs/ Music
On the Red on Red label Cold Expectations gets a boost for their new single "Could You Feel the Distance". This single captures the indie/Americana feel they are shooting for. It's a good niche and bodes well for Red on Red as this is one of the first songs to roll out.
A Bunch of Jerks have a great work ethic. They've managed to get some gigs in via live stream and even one live gig these last few months. Now they've put out a three song EP The Dead, on Rum Bar! In the title song "The Dead" the characters talk about what they do at night, hey, why shouldn't they? It's a great Halloween song too that should be brought out every year.
"Chad" sounds like a 50/60's throwback. The lyrics, and it's morphed "Wipe Out" guitar and drums, whip you back to high school. This song along with the Shang Hi Los "Swing Little Player" could be two songs in a punk version of Grease. Then they cover "No More Mr. Nice Guy" by Alice Cooper. That's another in their list of well-done covers. Over time The Bunch of Jerks band sound and Stabatha's voice have become a very identifiable brand.
Adventure Set has a 'west coast remix' of the song "Cleaner" that they put out last year. The new version sounds crisper and makes it's mark faster by cutting a minute off the track. It just adds more luster to their quality output these last few years.
The Runouts have a new single out called "Mr. Born Yesterday". It has shades of the Who as it begins with a fast strumming acoustic guitar that soon enough is replaced with an electric. There's a lot of talent in the Runouts. They are an unassuming bunch and haven't got the attention that they deserve especially for their last album Bohemian Catastrophe.
It's a little bit Irish, it's a little bit Christmas…An Irishman for Christmas .... the new Christmas single by Simone Berk (Kid Gulliver) and Jerry Lehane (Dogmatics) with Billy Loosigian on guitar and you get one of his solos as another Christmas gift – because you have been so nice..
Simone's voice has become so familiar to us over these last two years, it brings a whole load of good associations. The song is warm and clever. It's hard not to like.
This is all part of the new Red on Red label. There's going to be a lot of action from this corner, we can see that.
Coming up.....
Virtual/ Streaming/Online Events.....

Dont forget to check out Linda Bean Pardee's Linda Garagecast every week.
Shows coming up sometime in the future....
Thursday December 17 -7-9:30PM - Talkin' to Dracula and his Crew: Goth subculture and horror, a lecture - Miskatonic Institute of Horror Studies Brooklyn NY FB page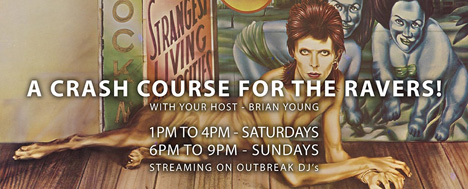 January 16, 2021 (Saturday) New Date - The Schizophonics, Muck and the Mires at ONCE Lounge Early Show: 5:30 PM – 8 PM
February 17, 2021 (Saturday) Rescheduled - Swans w/ Anna von Hausswolff at the Paradise
April 19, 2021 (Monday) Rescheduled - Dead Can Dance at The Wang Theater
April 29, 2021 (Thursday) Circle Jerks Plus Special Guests at the paradise (this is a reskedged show) FB page
CONTACT US AT....misslynbgn@yahoo.com Send us your gig listings, your anything else ya got!! You want your CD reviewed?? Contact us for that too.
---