The BGN News Archive
November 24, 2008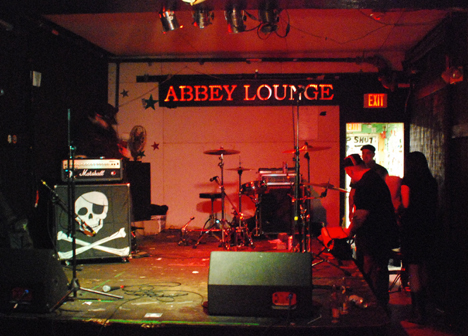 Well it is actually here....
the last week of the Abbey....
They actually did get to the end of the road...
I am bummin' in particular because it was so near my house....
never mind all the awesome shows there have been there over the past several years....
There are many of us who read the BGN that have seen all the best Boston clubs close: The Underground, Cantone's The Club, The Rat, Streets, Storeyville, In Square Men's Bar and more.....its sad... to some of us certain clubs were like our homes!! And I know that The Abbey feels like that to many out there on the scene and its a let down...BUT something always seems to come in its place...of course the dives that we can convert to our own are far and few between these days.
I remember when I first moved into this neighborhood the Abbey SCARED me!! First I tried going there with my very obviously gay friend Walter, we looked in the window, on our tip-toes, and literally RAN down the street after taking a peep.
Then Mark Giroux and I went in there for a drink on a Fourth of July night about 15 years ago...and we were made to feel we were absolutely not welcomed...and left, as they had suggested...
The Abbey has come along way since then!! It was a great place to go to. When it first started having bands everyone , I mean everyone, who had been there said "It's like Cantone's!!" because of the set up.
Well we were sad to see Cantone's go, lots happened there in my personal life that lived on as memories inside that place, I am sure this is true of the Abbey and many of its fans..it is true for me too
Let's hope there'll be another real good one down the road for us to call home...


So here you have it:

THE ABBEY'S LAST BLAST
Wednesday; November 26th
with The Acrobrats,
Jay Allen,
Coffin Lids,
Curses,
Konks,
Muck and the Mires,
Spitzz,
Tampoffs
...and more
all for only $5...
so be there....
it promises to be quite a night!!
There is a reunion of Human Sexual Response in Hudson, NY at.......
Jason's Upstairs Bar
….well ok my friends…until next time…and please do send along a little message to make my day…. ML