The BGN News Archive
November 25, 2013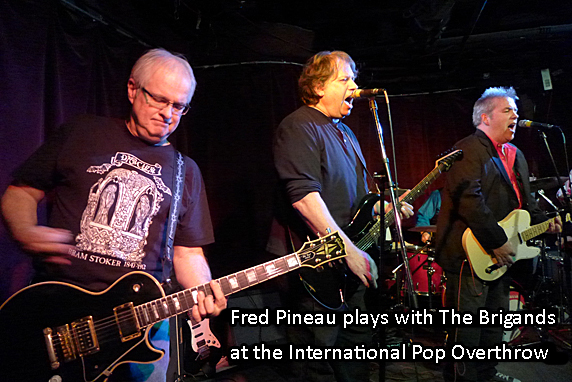 Blowfish was a rockin' maniac this week:
The rocking week started Tuesday at Middle East down with the Young Adults. Here's where I tell you how great they are and you pay no attention. But what can I do? Young Adults' aggro assault is the best around but only me , Mr.B and Chris seem to be at the gigs (of people I know). Their advantage tonight was the ME big sound system that made the drums especially sound thundering. I could also hear the guitar lines clearer, not that they are clear by definition, but I heard more of the single line figures and that was cool. The audience gave them a good listen and reaction although they came to see Beach Fossils a decidedly different style group. This cut Daydream sounds like The Chills a little, they are good at what they do.
I'll give the crowd credit for listening and one hopes a few were converted...now what about you out there?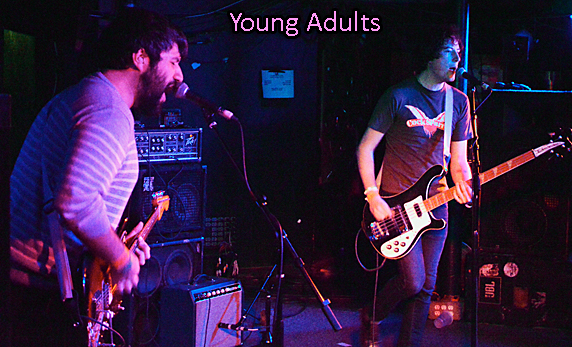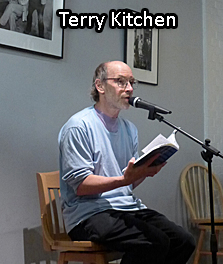 I love the fact that we now have a novel with the Boston music scene as the backdrop. That would be Next Big Thing by Terry Kitchen of course and Thursday he gave a reading at the Trident book store. The audience was small but the reading was very good. Terry is used to a stage and the reading proved the material could stand up to scrutiny. He has some UPCOMMING READINGS Not to forget that it would make a good Christmas present.
I always like to catch at least some of the IPO (International pop Overthrow). This year it was at Precinct last week's host of the kings of Pop the Flaming Groovies.
I hadn't seen Fox Pass in a while so I caught them on Friday. They were playing all older material. They have the luxury of decades of material; how many can say that? They were doing all upbeat songs and the mid-size audience was vocal in response. They were getting the love. Their last song was a medley of three songs; Wanda (a Fox Pass song) into Sister Ray into Roadrunner and back to Sister Ray and Wanda. Purely as a medley it was a tour de force but the true game changer was the Sister Ray section. Jon Macey was jumping and twitching as he channeled energy and passion into the lyrics. It snapped you to attention with the thought that this was special. He was hitting bare nerves in himself and the audience. This was the best celebration of Lou Reed you could want. They have been writing endlessly about Lou on the net and in the music press but nothing comes up to this; the real power of Lou music. After much whooping and whistling by the audience David Bash of the IPO made them do an encore and we got Sweet Jane and that was a powerful punch too. What a great reading of the line. "And that life is just to die" Jon gave. You had to be there for that. Jon's thinking of setting up a gig with all Lou Reed material - great idea.
One more thought, in the early days of Boston punk many groups played Lou Reed in their sets as a matter of course. I think of The Count (who also played Lou at the Rat Beach Party ) and Third Rail who put Sweet Jane on their Rat 45. I'm not hearing it these days.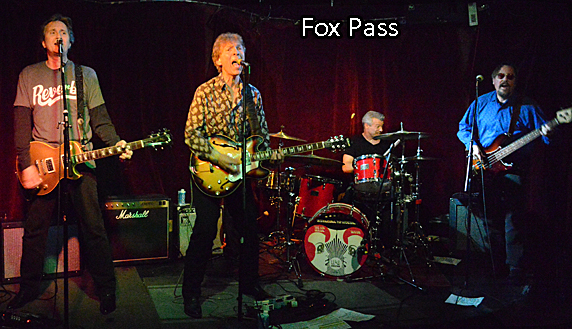 145 stepped up to play a rocking and rollicking set after Fox Pass. 145 have been underappreciated since their heyday in the early eighties. They play power pop with tons of power and a smidgen of pop. It's Johnny Thunders' style bare bones playing with adolescent concerns in the lyrics. The focus is on Paul Armstrong a lot. He's jumping and posing and he considers the guitar a weapon and he's out to kill. Ducky Carlisle a long time rocker with many accomplishments is on drums. Like Fox Pass this was another chance to see a group influenced by pre-punk groups and to see how punk was formed.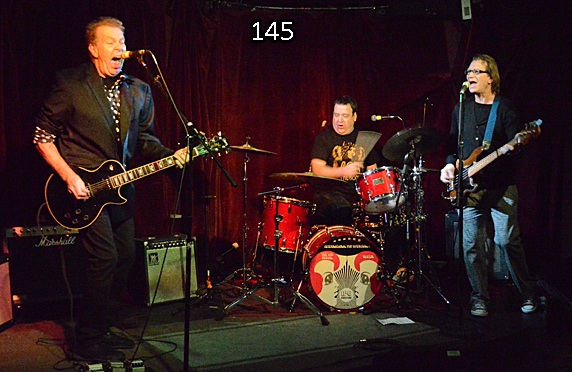 It was back to Precinct on Saturday where the Brigands were going to have Fred Pineau as a guest. I'm late to the Brigands for some reason but they are a true blue Boston band. They have a Boston punk sound although what that is is hard to delineate. They often sing of Boston and they cover other Boston bands like La Peste and The Atlantics. Their new CD has The Atlantics' Teenage Flu as an opener and hence the idea of having Fred Pineau play with them.
The Brigands were sounding fine and I loved their song She's Mine, which I think Triple Thick should cover, when up steps Fred which puts everything into hyper drive. They played three Altantics songs: Teenage Flu, It's Hard When You're Young, and Lonely Hearts. Exciting stuff for a room jammed with Boston pop fans. I think the word should have gotten out more that this would happen. I knew Fred would play but had no idea there would be Atlantics' songs but it was a gem of a moment for the International Pop Overthrow.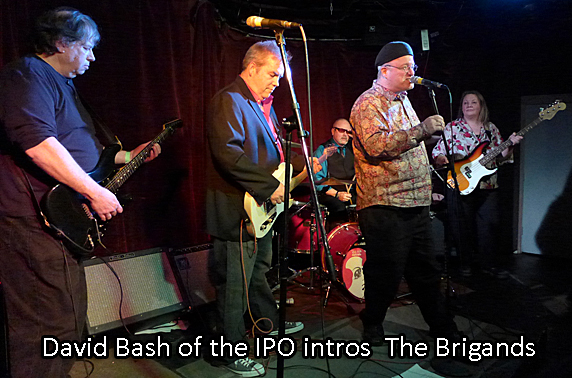 Joanie Lindstrom made it over to Quincy on Friday night and she says:
The legendary (to some) Blowfly played President's Rock Club in Quincy Fri night with the Unnatural Axe opening. Tommy White was in Amsterdam so they got Casey Lindstrom to fill in on guitar. This wasn't his first time, since he grabbed the bass a million years ago at the Rat when something happened with Frank (details are hazy) then filled in a 2nd time when Frank was away. Super fun set with a couple covers thrown in, Ain't Nothing to Do and New Rose (done to varying degrees of success). Richie Parsons was in full beer balancing and spitting mode, Casey added a bit of heaviness to the sound (brother can still wail on guitar) and it all went well- if only the band had monitors.
And if only the stage were 6-10 inches higher cuz it was a lot harder to see when Blowfly played. He came out with a cape and two dancing girls starting with some awesome funky grooves. Once the silly and nasty cover versions started, I lost interest but it was cool. Brother Cleve said he saw him at Rosco's in Dudley Sq in 1982 , that was probably the show to go to.
| | |
| --- | --- |
| Unnatural Axe | Blowfly |
Miss Lyn headed over to Store 54 Saturday night to Asa Brebner's birthday party...also there were Natalie Flanagan, Andrea Gillis, Trick Wallace, Nat Freeberg, Chris Cote, Michele Paulhaus and Jim Janota, old friend Helanie Saad, Steve Morse, Dave Wildman, Linda Viens, Robin Lane and a ton of others. As usual Store 54 has a grat vibe that's homey and fun with lots of people chatting each other up, shopping and listening to the music. It makes for a really nice experience.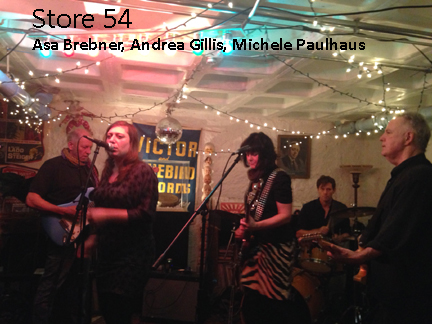 Asa was in great form and I asked him how he felt hitting one of those milestone decade birthdyas nad he said he two little twin boys are helping to keep him feeling young and lively! While I was there Andrea Gillis and her band played with Asa on guitar followed by Linda Viens up for a few songs as well. We wish Asa a great birthday and many more to come!!
| | |
| --- | --- |
| Nat Freedburg and Chris Cote | Asa and Linda Viens, Trick Wallace and Tim Jackson |
Now.....some stuff coming up....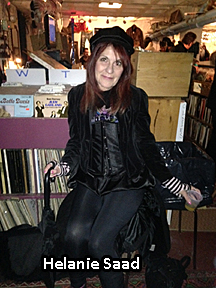 well the big news is this amazing show coming up in December: The Real Kids, The Nervous Eaters and The Connection December 28th at the Middle East and Steve Cataldo says: "this is the first on many Eaters - Real kids shows, we will be shooting for N.H. RI., North Shore, all after the Middle East show takes place" That is most awesome! Can't wait!!!
On November 29 No FX and The FU's are at The House of Blues.
Crash Course for the Ravers 91.5 FM on Sat Nov 30 around 1:15 pm will have a call in interview with Peter Dayton (there is a little action on the La Peste front) also Richie Parsons is calling in as well.
On Sunday December 1 - at Great Scott is The Thalia Zedek Band, Shepherdess, Royal Wedding and Planet Of Adventure
and there's a killer show at The Midway on Friday December 6th- how's this for an awesome line up: start out the night with The Monsieurs then it's Triple Thick, Township, The Other Girls and Upper Crust
Randy Black and the Heathcroppers are having a CD Release Party at TT the Bear's Place in Central Square, Cambridge, on December 7th. It will be an evening event beginning at 6 and going to 10. Randy says "We hope that this time makes it easier for folks to come out and join us at Bonney Bouley's great venue. Sharing the bill with us will be the incomparable Willie Alexander; Kingdom of Love which consists of Rich Lamphear and Randy's dear friend and soul-mate Linda Viens. Performing with us will be special guests Mark Chenevert and Clara Wellons. Mark is a saxophonist extraordinaire and Clara is a singer with talent oozing out her pores. And we are thinking there will be more special guests. Please come to hear us play "the sky goes clear," and many more of Randy's songs." These are such amazing songs that will stick with you for some time to come...should be a great evening!
Saturday December 7th Black Mark Studios presents the HOODRAT HOLIDAY BASH 2013 it's all happening at Radio and features The Sprained Ankles, Duck & Cover, Silver Screams and The Dead Tricks
also on Sat 12/7 at O'Brien's are The Suicide Dolls, Slowdim, Chandeliers and The Nice Guys
Thursday 12/12 Watts are at Precinct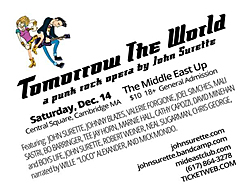 And John Surette's punk opera Tomorrow The World will be performed live at the Middle East, Saturday Dec 14. This is a star studded event not to be missed my friends!!

also on the 14th is a DJ Easy Ed's Yuletide Rockabilly Blowout with Easy Ed's Record Hop, Whiskey Kill, Lynnette and the Longshots, Johnny Carlevale and the Rollin' Pins and Jittery Jack and Miss Amy

Thursday December 19th there's a very interesting show at O'Brien's with The Wrong Shapes, Black Fortress of Opium, Endation and The Easy Reasons

The Upper Crust are at Precinct on the 19th also....

another special Holiday show at the Midway...Saturday 12/21 it's the Weisstronauts' 15th Annual Holiday Jubilee with M.O.T.O., The Weisstronauts, Eddie Japan and Lars Vegas...

Yikes we're getting into the new year...and on Saturday January 4th there's a show at Great Scott's with a brilliant theme..We Got The Beat - A Boston Lady Drummer Showcase with The Monsieurs , Petty Morals, Apple Betty, Post Modern Authors and Thrust Club

EMAIL US AT.......misslynbgn@yahoo.com