The BGN News Archive
November 26, 2012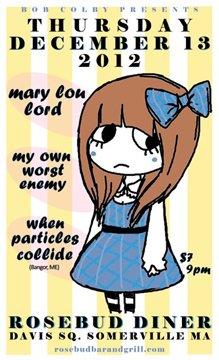 OK folks…December is upon us at the end of the week...to get in the holiday spirit you can go see Rudolph the Red Necked Reindeer with Gene Dante playing both Prancer and Thurston Howell...put on by the prestigious organization - The Ramrod Center for the Performing Arts.....it runs from this Thursday Nov 29 through December 23rd.
And …if you missed it when it aired, like I did, you can still watch the video of Channel 5's (WCVB) Chronicle show as they come to check out Store 54 and talk to our own Wayne Viens
There's some excellent gigs coming up this week: Friday November 30th there's Muck & The Mires, Lyres and Jenny Dee and The Deeliquents at Precinct.
And at Radio - relive the days from The Abbey with The Coffin Lids (who haven't played out in over a year!) and the Tampoffs, Thick Shakes and Jay Allen and the Arch Criminals.
Then on Saturday 12/1 show at Moe's Lounge at Radio with James Straight & The Wide Stance its changed a bit - Dennis McCarthy couldn't make this show so The Port Charles Quintet are unfortunately not playing; but hey Cadillac Heart and James Straight & The Wide Stance are awesome anyway!!
Bob Colby has come through with his promise to start booking gigs with his inaugural Second Thursday at the Rosebud- for his first time he has some great acts: Mary Lou Lord, My Own Worst Enemy and When Particles Collide that's Thursday December 13th
Ok I was in denial about December …so now I am loathe to mention the new year…if we actually get there…here's a bill that makes the fact that we survived worth a trip out: at Radio (down) Saturday January 12 -Psycho, Kilslug, Impenitent Thief, and The Burnouts
EMAIL US AT…….misslynbgn@yahoo.com