The BGN News Archive
November 26, 2018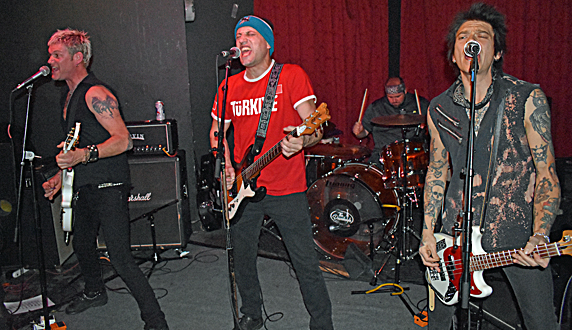 The Von Traps
Photo: Blowfish
It was a post Turkey Day Friendsgiving at O'Brien's. There was food set up for hungry punks. We were hungrier for some punk and we got that. There was a good crowd with lots of familiar faces. They were also playing 80s hits on the PA which led to a group sing of some Tears for Fears and head bobbing to A-Ha's "Take On Me".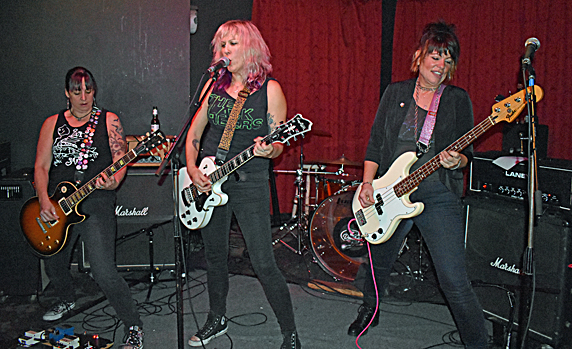 The Downhauls
Photo: Blowfish
There was a lot of interest in The Downhauls (great name).Members are Chrissy, Ivahna Rock and LoWreck from Petty Morals and Kristin from Stars Like Ours. In this incarnation they were intent on cranking it up and rocking out. Even though this was their first show they are all familiar to the stage and did a confident set.
They had a complimentary set of strengths that they brought to the group; Chrissy had the gritty vocals, Kristin the Les Paul crunch, Ivahna had a smooth tone and ear catching bass figures and LoWreck was kicking it hard. Kristin had a few short lead riffs that added a lot to some of the songs. We only wanted to hear more of that. More than a few times we could hear Ivahna's bass lines giving the songs their shape. That was some great bass playing.
We realize that everyone in the band has another band or two but we hope they keep this going strong. We need all the punk we can get.
The Von Traps
Photo: Blowfish
For too long we've been seeing the Von Traps playing Salem and curse our bad luck. People have been talking up this band for months. In fact our John Keegan raved about them earlier this year when he caught them at Koto. Finally we get to see them in town!!
All the hype was true. These guys shout punk from every pore. It's like they live to be on stage. They had energy to burn and the music and the stage talk was all bursting with the love of playing punk.
They were loud in a way that seemed like they would be loud even if they were unplugged, there is a rumble in their sound that comes from the collective playing. Some of that may come from the fact that they play their instruments hard. Those drums got a horrible beating. The drummer would raise his hands way over his head as if the longer the distance from the drum the higher the velocity of the hit. Our ears said maybe that was true.
The songs were as punk as the group looked, which is pretty punk! They covered "Someone's Gonna Get Their Head Kicked In Tonight" that got the entire crowd fist pumping. Video above. They also covered "What A Way To Die" ( by the Pleasure Seekers). Here it on Bandcamp. Those covers reveal that their garage roots are a strong influence in the way they sound.
They don't have an album yet but do have seven songs on their Bandcamp page. We heard that maybe they are going to give Salem a rest and that might mean more Boston shows. We're ready for that.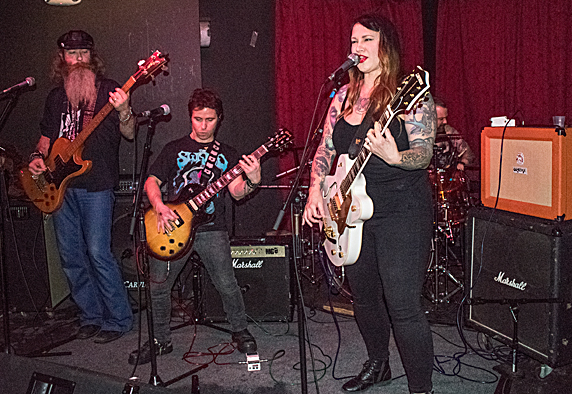 The Skeleton Beats
Photo: Blowfish
The Skeleton Beats hadn't played for seven months they claimed but they sounded rehearsed and tight to us. It was 2014 that we last saw them. They always seemed to have a wide range of influences starting from fifties music and maybe a rockabilly core. At O'Brien's they were much more punk than we remembered, that fit into the night just fine.
Lead singer Amy has a clear voice with lots of control. It's reveling to hear what a voice like that can do with punk material. There were too many good leads to count by the lead guitarist. One song called "Bury You Deep" was very memorable. Video above. They did a cover of "All This and More" by the Dead Boys. Video above. We've been missing out not having this band around.
By this time O'Brien's was reaching a hot sauna bombogenesis of some kind. We fled to the cool night before Artic Horror.
More band photos below the show listings.
---
And in other news.....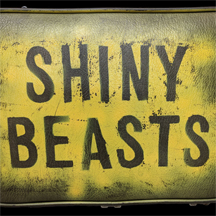 We are glad to hear that Jim Seery is back drumming with Mitch Murphy...does that make them Shiny Beasts or Triple Thick now??
Give a listen to their lsttest album - here.
The next Buy Me Boston book event is at the Boston Public Library on January 17
Richie Parson's new CD Black Throated Blue has been mailed out to his pledge drive supporters. He's got that Richard Llyod cover of Blue & Grey on it along with 11 new original songs.
The Rum Bar train rolls along. This week it's a new CD by Justine and the Unclean called Heartaches and Hot Problems
---
Here's some good shows coming up this week.....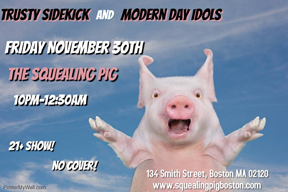 November 28 (Wednesday) Deathrock Bat Cave Party at Once FB Page
November 30 (Friday) Trusty Sidekick and Modern Day Idols at Squealing Pig
December 1 (Saturday) A Crash Course For The Ravers 1pm to 4pm at http://www.wmfo.org/popout_player.php?bitrate=256 and transmits on 91.5FM Medford. This week Brian Young hosts have Charlie Don't Surf!
December 1 (Saturday) Cranktones and Sax Gordon, Two Fathoms Down, Easy Ed's Record Hop! at The MIdway for a Matinee 4-8PM show
December 1 (Saturday) America's Hardcore Fest: W/ Ecostrike, Abuse of Power, Fiddlehead, Magnitude, Restraining Order, Deflect, Sleight of Hand, Dominant Force, Result of Choice this show starts at Noon. Middle east Up
December 1 (Saturday) The fifth annual State Of The Union Xmas/Holiday Extravaganza (with VERY special guets) at Thirsty Firat Tavern in Lowell. FB page.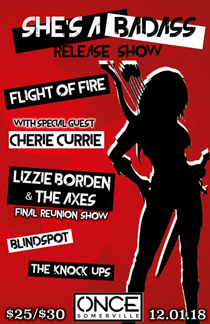 December 1 (Saturday) Cherie Currie and Flight of Fire (She's A Badass Release Show) Lizzie Borden & The Axes final reunion show. at Once
December 1 (Saturday) The Feldons, Tiger Bomb, Justine & The Unclean, Thee Sonomatics at Ralph's Rock Diner in Worcester.
---
And further out we have......
December 4 (Tuesday) Rock N Roll Trivia with Erin & Brett at it's a Santa Edition tonight- at the Sinclair- 8-11 PM
December 7 (Friday) Hi-End, Modern Day Idols, The Maxims at Koto Salem
December 8 (Saturday) A Crash Course for the Ravers on WMFO 91.50 1-4PM has Stop Calling Me Frank.
December 8 (Saturday) Roy Sludge with Jim Scoppa & Johnny Sciascia at Atwoods for a 4PM show. $10 suggested donation when the tip bucket comes around.
December 8 (Saturday) 2nd Annual Tunes For Tots show with Stray Bullets, Loser's Circle, The Black Cheers, Coffin Salesman, Blame It On Whitman for a 4-8PM matinee show at The Midway And then there's.....
December 8 (Saturday) Pinkerton Thugs, OC45, MK & Morning Afters , the Lot at The Midway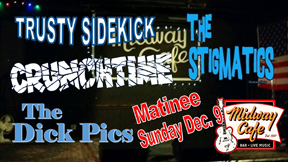 December 8 (Saturday) The Dents, Diablogato, Tom Baker & The Snakes at Sally O'Brien's ,
December 8 (Saturday) Hambone Skinny, A Bunch of Jerks, The Guilloteenagers at The Plough & Stars
December 9 (Sunday) Trusty Sidekick, Stigmatics, Crunchtime. Dick Pics do a Matinee 4-8 show at The Midway
December 9 (Sunday) Acoustic Sessions featuring Gene Dante, Pink (Demons Alley), Lily Black at Koto Salem 7-9:30PM
December 13 (Thursday) Baabes, The Maxims, Labor Hex, Sticker Shock at O'Brien's Pub
December 14 (Friday) Red Invasion with Funeral Cone and Brix N' Mortar and EVERT at O'Brien's
December 14 (Friday) Street Dogs: 13th Annual Wreck The Halls at Brighton Music Hall
December 14 (Friday) Kid Gulliver, State of the Union, ,Thee Fightin' Fish, TogetherOnTwo at the Worthen Attic in Lowell.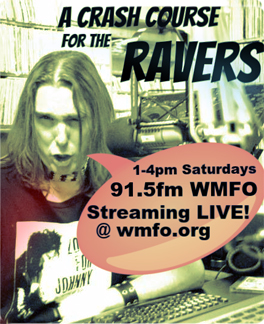 December 15 (Saturday) A Crash Course for the Ravers on WMFO 91.50 1-4PM has The Fringe.
December 15 (Saturday) Duck & Cover, Stop Calling Me Frank (Album Release), State of The Union, The Angel Martins Early Show 4-8PM at The Midway
December 15 (Saturday) The Swelltune Records Holiday Shindig! with Jimmy Dale (OK), The Susquehanna Industrial Tool & Die Co (NY), Jittery Jack and Miss Amy and DJ Easy Ed. at O'Brien's the night ends with the Swelltune Jamboree!
December 20 (Thursday) 7th annual Spectacular Gift Drive for DCF Wonderfund! In support of foster families in the Boston area, let's spread good cheer with this holiday celebration. with Hail Santa- Boston Rock's holiday season super group featuring Michelle Paulhus (Stars Like Ours), Ali McGuirk, Bice Nathan (Hey Zeus), Chip Nicolai (Goddamn Draculas), Peter Moore (Count Zero) also on the bill When Particles Collide and Salem Wolves- NOTE: Please bring unwrapped gifts for children of all ages—toys, books, art supplies, electronics, musical instruments, clothing, hats, coats, sporting goods, gift cards (older kids like these)...this is an 8-Midnight show at Once Somerville.
December 22 (Saturday) A Crash Course for the Ravers on WMFO 91.50 1-4PM has Smitt E. Smitty.
December 22 (Saturday) Greg Allen's Fringe Religion, Classic Ruins, 1.4.5, Fireking - Early Show 4-8 at The Midway
December 22 (Saturday) Hardcore Stadium presents The A-Team w/ Last In Line, Down But Not Out, Rampage, MFP, Restraining Order at an early show at Middle East Up 4:30 doors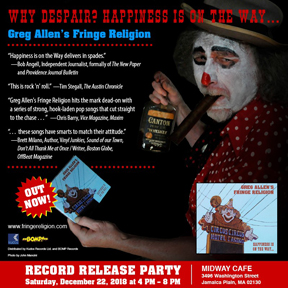 December 22 (Saturday) Jingle Punk! A Lily Black Holiday Special! with Lily Black, The Knock Ups, Happy Little Clouds at Sally O'Brien's

December 23 (Sunday) Thrash N Bang's Annual Xmas Punk Pizza Party! with Neighborhood Shit, Revilers, The Hangovers, Sewer Buddies, Coffin Salesman and Jake Tringale. 4-8PM at The Midway
December 29 (Saturday) The McGunks, Scotty Saints & True Believers, Steal Reserve, COB at The Midwayt for a 4-8PM show.
January 4 (Friday) OC45, The Dents, Duck & Cover, Blame It On Whitman at O'Brien's Pub
January 4 (Friday) 61 Ghosts, Little Billy Lost, JonesCreek, Thee Fightin' Fish at Koto Salem
January 11 (Friday) Red Arlington w/ A Bunch of Jerks, HIXX and Ski Bunny
January 12 (Saturday) IL Mostro (CD release) w/ Cortez, Scuzzy Yeti & Wrought Iron Hex at O'Brien's
January 12 (Saturday) Gene Dante And The Future Starlets, The Gala, Tiger Bomb, Smitt E. Smitty at Once Somerville.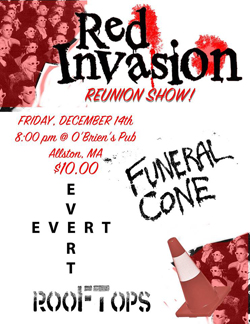 January 12 (Saturday) Restraining Order, Envision, Antagonize, Brother, Pummel at AS220 Provi RI
January 17 (Thursday) Boston Emissions presents: PowerSlut, Stars Like Ours, Dark Wheels at Once Somerville.
January 19 (Saturday) The Gobshites, Time Out Timmy, Mongorellis, Punk Band, Jimmy Jacked at the Midway for a 3-7PM show.
January 19 (Saturday) Nat Freedberg, Watts, Justine and the Unclean, Duck & Cover at Once Somerville
February 8 (Friday) Hey Zeus Record Release & Listening Party (Argonauta Records) with Motherboar, Cocked N Loaded, Labor Hex at Once Somerville.
CONTACT US AT....misslynbgn@yahoo.com Send us your gig listings, your news and anything else ya got!! You want your CD reviewed?? Contact us for that too.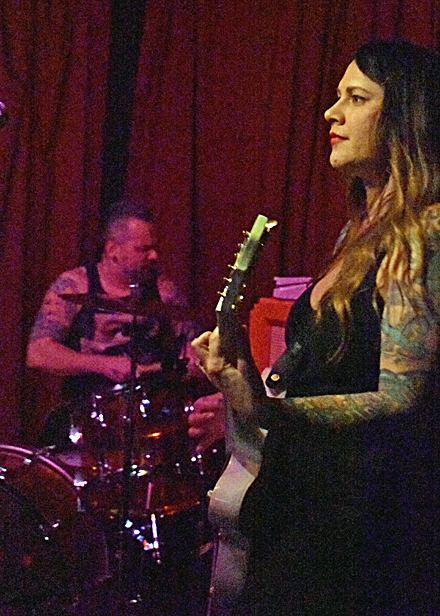 The Skeleton Beats
Photo: Blowfish
The Downhauls
Photo: Blowfish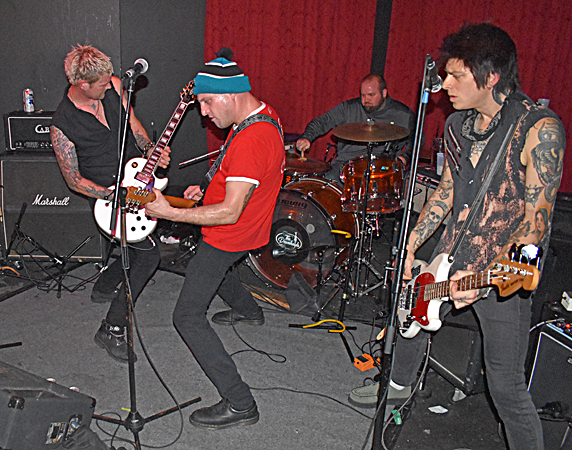 Von Traps
Photo: Blowfish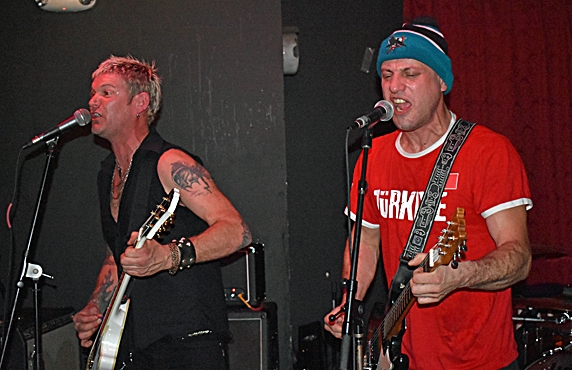 Von Traps
Photo: Blowfish