The BGN News Archive
November 27, 2017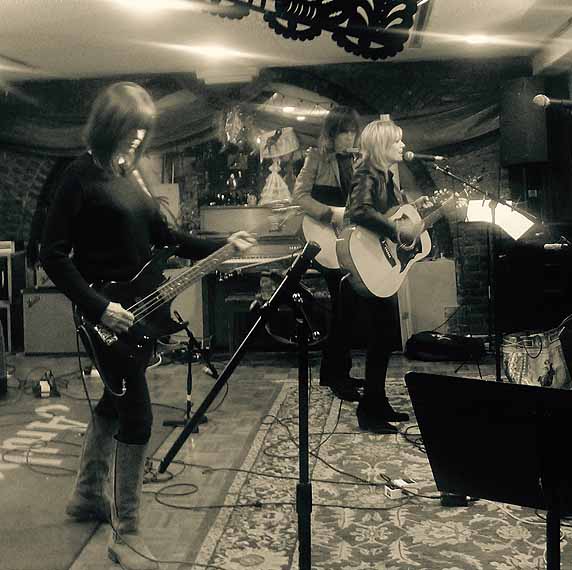 Kimberleigh Ernst, Simon Ritt and Kelly Knapp
Photo: Mark Davis
This thing where we get hit with bad news of multiple deaths is disturbing.
Last week Malcolm Young of AC/DC died. He was described as the 'engine that powered' the band. AC/DC have always been loved by punks. They were one of few non-punk groups that got played on punk radio when there wasn't enough new punk to fill a show.
Soon after that it was David Cassidy. In all the tributes we haven't seen one mention of his voice. To us that warm voice had lots of character and was responsible for all those sweet pop songs hitting their target. Not to forget Boston had a fun band for a while that played the Partridge Family and other bubblegum groups - Sticky Business.
Then we got hit with the third one – Tommy Keene. He had just played Brighton Music Hall on September 16. He played classy power pop. His songwriting was superior; he put intelligence into the pop. Way back his name was getting tossed around before we got to hear him. He was getting attention in the DC area. We saw him at Storyville in Kenmore Square in the early eighties. We think that was before his first fantastic EP Places That Are Gone. It didn't take long to know how good he was. With his clean tone he would slowly pick chords with open strings that resonated like crazy. For power pop fans it was pure gold.
You think these people will always be there. Now we just have the recorded material.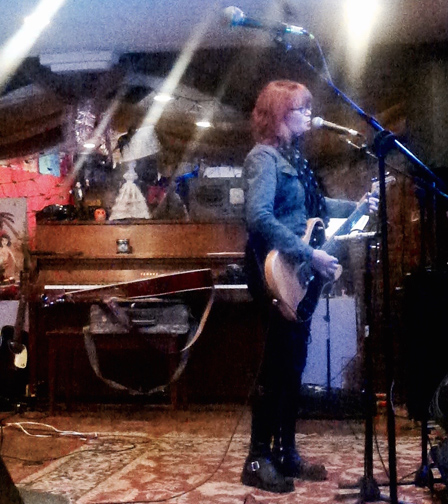 Justine Covault
Photo: Mark Davis
Was it really on October 3, 2016 that the first Mess-Around happened? John Keegan was there for that one at the Plough and Stars and a few weeks later on October 16 for another. This is the brain child of Jay Allen. It gives a chance for musicians to do solo sets or stripped down ones and to go in a different direction if they want. There was one last Monday at the Once Ballroom. Soundboard superman Mark Davis sent us some photos. There was Justine Covault, Eric Martin (Neats) and Kimberleigh Ernst and Kelly Knapp (Bristols). Tom Baker and Jay Allen were also there but no photos. Click the picture below to see the photos.
John Keegan was in NYC for a John Cale concert and then up to New Hampshire for a Ian Hunter show. For photos and review click the picture below.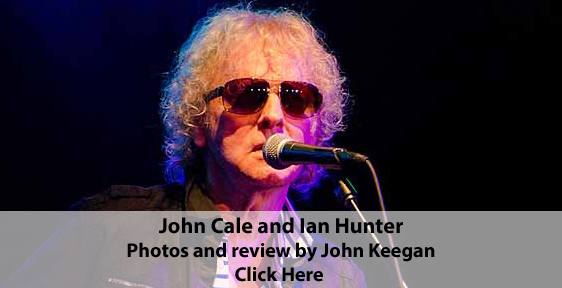 ---
The big Rat Suite DVD Release Party last week was really about the Commonwealth Hotel publicizing their Rat Suite with a CD and DVD with material recorded in the room itself. The DVD was playing on screens during the party. We saw lots of Robin Lane and the Chartbusters and Oedipus.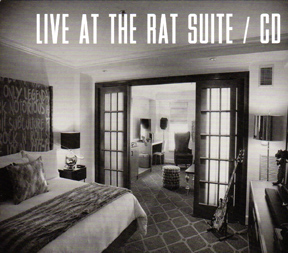 The CD was given to the party guests. It has twelve songs. First it's Willie Loco doing "Let's Go to the Rat" with just him and the piano. John Felice does "No Fun, No More" with just an electric guitar and Billy Cole on acoustic. The Dogmatics have a full band doing "Saturday Night Again". Later they back Richie Parsons as he plays the Axe's "Summertime
'. It's full band for both Robin Lane and the Chartbusters ("Don't Cry") and Emily Grogan ("Weathervane"). 21CF, the youngest band to play the Rumble, covers "Spymaster". Billy Connors plays an old Boize song "Limousine Jean". The Nervous Eaters do up "Loretta" and "After Your Goodtimes Gone" with Rob Skeen on bass. It ends with the acoustic Dropkick Murphys playing "Citizen C.I.A." and "Bar Room Hero". The idea is that people who book the room will get the CD and DVD as a perk.
---
Two weeks ago when the Human Sexual Response played the House of Blues we saw that they had played the same venue almost 5 years ago to the week. That got us thinking about what happened 5, 10 or 40 years ago this week? Hence the following:
The Punk Past
The week of Nov. 26 – Dec. 2

5 years ago 2012

Precinct in Union Sq.- 11/30-Lyres, Mucks and Jenny Dee
Radio- 12/1 Cadillac Heart and James and Straight & The Wide Stance

9 Years Ago

The Abbey Closed on November 26, 2008 BGN page

20 years ago – 1997

The Rat closed in November.

30 years ago – 1987

Channel – 11/28 New Man, Beat Surrender, The Shivers, Reel To Reel and Future Past
Channel – 11/29 Lizzy Borden (all ages 3 pm), Shok, Paris, X-Cape, dj John Marino

40 years ago – 1977

The Rat - 11/27 - Fox Pass and Third Rail.
Cantone's – 11/ 25-26 The Feelies (from NYC)
The Rat - Nov28 Mon (ALL WEEK- SPECIAL RECORDING OF LIVE AT THE RAT II …Special Guests Each Night) The Count, Harlequin
The Rat – 11/29 Balloon, Hard Core
The Rat – 11/30 Johnny Barnes Group, Neighborhoods
The Rat – 12/1 The Molls, The Lazers
The Rat – 12/ 2 Slash, Fighter
Cantone's – 11/28 Mechanics, Fighter
Cantone's- 11/29-30 Mechanics
Cantone's – 12/1 Shane Champagne Band
Cantone's – 12/ 2 Shane Champagne Band, Inflicktors
Wire on 11/28 release the classic first LP called Pink Flag
"Ca Plane Pour Moi" by Plastic Bertrand released this week
The Rezillos release "My Baby Does Good Sculptures" single.
---
And in other news.....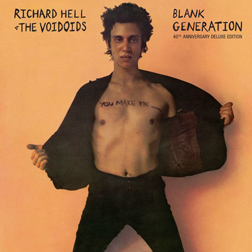 To celebrate the 40th Anniversary of The Voidoids' Blank Generation album, Rhino Records is issuing a Deluxe edition. It has 12 extra cuts. Check it out and order here.
This week in Facebook…we posted a photo of The Damned on stage singing with Peter Dayton at The Space….a photo of Miriam Linna and the Zantees at the Rat….and a photo of Marshall Simpkins who was the owner of the Inn-Square Men's Bar….to see those go to the BGN Facebook page…
For those that remember Mark Morrisroe (Dirt Magazine) here is a page on an exhibit held in 2011 in Zurich! There are many photos of his and a good amount of text about his art. Check it out here
Robert Gordon is back! He's on tour and playing at the Bowery Electric on Dec 22. FB events page with links
Super fun band Hixx is seeking a new bassist. You got some Hick in ya?? Well get in touch then ......Prospective players could send them a message at the Hixx Facebook page.
---
Here's some good shows coming up .....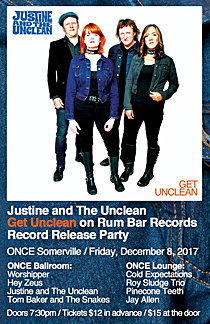 December 1 (Friday) The Monsieurs (LP Release Show), Nice Guys, Earthquake Party at Great Scott's FB page
December 1-3 (Fri/Sat/Sun) D.O.A. – A Rite of Passage the classic punk movie at the Brattle. 9:30 pm shows.
December 1 (Friday) The Dream Syndicate, The Richard Lloyd Group and DJ Carbo at Once
December 2 (Saturday) DJ Easy Ed presents: The Cranktones plus Easy Ed's Record Hop! 4-8PM matinee at The Midway...followed by......
December 2 (Saturday) Watts (45 Release), Diablogato, Duck & Cover, A Bunch of Jerks at The Midway
And further out we have...
December 8 (Friday) Rumbar records is throwing a HUGE record release party of the new Justine and the Unclean record Get Unclean....It's at Once and there will be bands in the ballroom and in the Lounge. Check out this list!: In the Ballroom- The Upper Crust, Hey Zeus, Tom Baker and the Snakes, Justine and the Unclean ....In the Lounge - Cold Expectations, Roy Sludge Trio, Pinecone Teeth and Jay Allen - doors at 7:30 show starts at 8:15.
December 9 (Saturday) The Raging Teens are turning 21 this year.. and that's "Drinkin' Age!" There's releasing a 45 called "Drinkin' Age" on Swelltune Records to celebrate their 21 years as a band! AND that means The Raging Teens Holiday Shindig Record Release! With The Raging Teens, Nate Gibson, Bloodshot Bill, Sean Mencher at Great Scott. FB page
December 9 (Saturday) Radiator Rattlers, Brix'n Mortar, Lipstick Boys, The Grubs at The Chit Chat Lounge in Haverhill FB page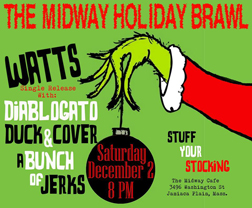 December 10 (Sunday) It's time for the Annual Rockin Holiday Flea Market and Bloody Mary Bash- 11AM-5PM at Once Ballroom. Since it's always FREE ADMISSION they ask that you bring a small toiletry (shampoo, razors, toothbrushes, etc) to donate to the residents of ROSIE'S PLACE if you can. Not required but it would be nice if you did. Checkl out the FB page for more info.

December 10 (Sunday) The Boston Hassle and Ignore Rock'n'Roll Heroes present their joint effort, Black Market a bi-monthly one-day flea market featuring handmade artwork, prints, patches, records, tees, pins, ceramics, jewelry, zines, body care, tea, macrame; vintage clothing, accessories, books, as well as tarot readings, haircuts, live drawings, and more! 12-6PM at The Massasoit Elks Lodge
55 Bishop Allen Dr, Cambridge, Massachusetts 02139 Here the FB page for vendor lists etc. $1 entry fee!!

December 10 (Sunday) Loser's Circle and Special Guests are at The Midway 4PM show

December 10 (Sunday) Horton's Holiday Hayride featuring Reverend Horton Heat & Junior Brown with special guests The Blasters & Big Sandy at The Sinclair (7-11PM show)

December 11 (Monday) Rock and Roll Tacos & Trivia at ONCE Lounge 7-10PM...always fun!! FB page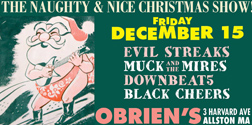 December 14-16 (Thurs-Sat) Bowery Boston presents Street Dogs Wreck the Halls Thursday 12/15- with special guests The New Darkbuster & Taxi Driver at The Sinclair - Proceeds benefit Massachusetts Fallen Heroes
December 14 (Thursday) The Hi-End, The Peasants, Trusty Sidekick at Sally O'Brien's
December 15 (Friday) The Evil Streaks, Muck And The Mires, The Downbeat 5, The Black Cheers at O'Brien's Pub
December 15 (Friday) Tragedy, The Scrooges, Rawstrum at The Middle East Up.
December 15 (Friday) Street Dogs Wreck the Halls with special guests The Pinkerton Thugs & The Abductors at The Sinclair
December 16 (Saturday) Street Dogs Wreck the Halls with special guests A Wilhelm Scream & Michael Kane & the Morning Afters at The Sinclair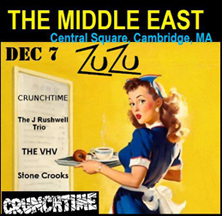 December 16 (Saturday) Bent Shapes with Beware the Dangers of a Ghost Scorpion @ Great Scott- this is Bent Shapes' FINAL SHOW
December 17 (Sunday) Thrash N Bang's Annual Xmas/Pizza Party Show! with Crimespree, CAC, The Grommets, The Sewer Buddies, and Jenn Lombari & special guests (Matinee 4-8PM)
December 17 (Sunday) The Dazies, Hallelujah the Hills, The Knock Ups, Courters at Koto in Salem
December 20 (Wednesday) Crimespree, Worm, Parkinglot at the C Note in Hull
December 26 (Tuesday) KCUF, Loser's Circle, The Essays at O'Brien's Pub
December 28 (Thursday) The Knock Ups, Gene Dante And The Future Starlets, Godmouth, Set Fire at O'Brien's Pub
December 30 (Saturday) When Particles Collide, Old Jack, Petty Morals at The Lizard Lounge
December 30 (Saturday) 3 Parts Dead, Z28, Test Meat at Koto in Salem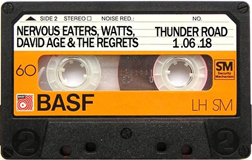 January 6 (Saturday) Nervous Eaters, Watts and David Age & The Regrets at ThunderRoad FB page
January 6 (Saturday) Fur Purse Album Release Party with Whore Paint, Shepherdess, sister at The Midway
January 13 (Saturday) Lyres, Paul Collins Beat, Boston Cream at Thunder Road FB PAge
January 17 (Saturday) Red Mantis, Silver Screams, Wrought Iron Hex & Greylock at O'Brien's
b>January 20 (Monday) U.S. Bombs, Wimpy Rutherford & The Cryptics, The FUs - at the Dover Brickhouse Dover, NH - Here's the FB page
CONTACT US AT....misslynbgn@yahoo.com -Send us your gig listings, your news and anything else ya got!! You want your CD reviewed?? Contact us for that too.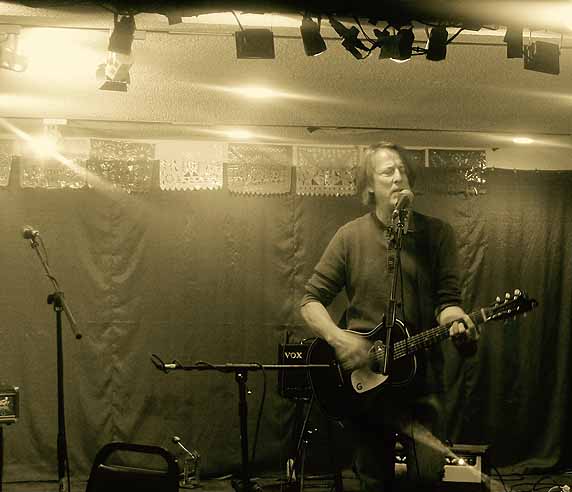 Eric Martin
Photo: Mark Davis