The BGN News Archive
November 28, 2011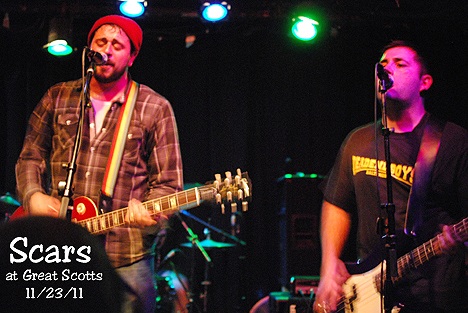 Blowfish hit the clubs again this week:
Wednesday before Thanksgiving and the roads going out of town were jammed all day so by night time, the city was half empty. Perfect, I thought, there will be less people out clubbing and I can get a parking space in impossible area of Comm Ave , which I did. I've had to call it quits a few times here because of the lack of parking.
I wanted to catch someone at Great Scotts. I didn't care who: Scars, Welch Boys, Mark Lind and the Unloved or the Blue Bloods. I know people are supposed to be focused on food at this time, but me, I want the rock.
The club was full, almost crowded. On stage was The Scars. I liked their CD. All the qualities I liked on that came out on stage and most importantly they rocked. They were nice and LOUD. Loud like in Les Paul through a Marshall amp loud. I had a dose of the same at the Neighborhoods gig two weeks ago.
On stage they are no frills just like the music. The lead singer talked a lot to the crowd of regulars he knew. The crowd sang along on many of the choruses. One guy (Joe) helped to sing a song. A few of the songs were REAL catchy. All in all just what I was hoping to hear.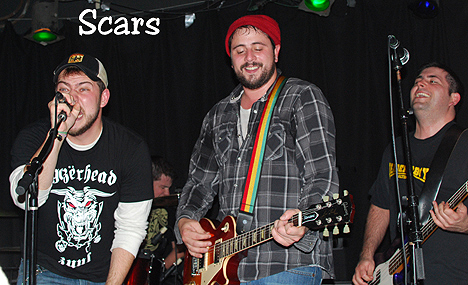 So coming up this weekend are some really good shows, its gonna be tough to decide where to go!!!: Wednesday Nov 30th at The Midway is a cool show The Midway Massacre it's going to be a live rock web and video cast, so you could stay home and watch/listen but being there would be so much better - either way it's: Jay Allen & The Archcriminals, The Pity Whores, Blue Collar Convicts and Triple Thick
If you do stay home just go to the Midway's website and click on the link to watch (this is a very cool idea!!)
On Friday, December 2nd there are two really good shows: the awesome Nervous Eaters and Barrence Whitfield and The Savages show at The Middle East Remember to check out the new CD: Savage Kings (which you can purchase at Shake It Records). AND Peter Greenberg is playing with Barrence in Boston for the first time since 1986! It's gonna be a hell of a night I can just tell!
But also on Friday, over at Radio in Somerville you can catch Township, Oldjack and Muck & the Mires
Then on Saturday, December 3rd - The Rosebud - with the Lyres, Watts, My Own Worst Enemy and The New Frustrations....and its sponsored by Narragansett as well.
At The Cantab is James Straight and The Wide Stance - but they go on at 9 so you could catch their set then run to the Rosebud!
Over at Church on 12/3 is a killer line up of fun and fab voices with The Winter Soul Review featuring Miss Fairchild, Jordan Valentine and the Sunday Saints and Jenny Dee and the Delinquents.....you got some tough choices my friends!
Now if you are up on the North Shore you can head over to A Pig's Eye in Salem for The Darlings
Coming up on Dec 8-10 at The Lizard Lounge is Kingsley Flood doing a CD release .... click here
And on Sunday Dec 11th (11AM - 4PM) there s The Rock'n'Roll Flea Market Part II (The Bad Santa edition!) at TT's- what a perfect way to find something cool for holiday gifts!! Vintage Clothing & Knick Knacks, Tons of Vinyl, Collectables & Kitsch, Handcrafted GIft Items, Jewelry, Rock and Roll memorabilia, Musical Items & more! I mean really is there any other choice!? Check out the link to their FB page with info and pics of some of the stuff available!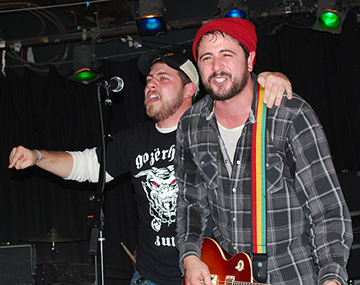 Oh oh oh!! Here's a killer Ho Ho Ho show not to be missed: A Beantown Holiday Bop on Friday, Dec 16 at TT's- with The Raging Teens, Port Charles Quintet and The Roy Sludge Trio- wow, that's a great line up!!
down the street that night the 16th is also a Heavy Sirip show at The Cantab!
Alas there is also a cool Cal Cali Show at Rosebud the same night: Titanics, Jetset and Cal Cali's New Experience with The Hartt Attack GoGo Chicks, Doug MacDonald Band
And really is it that time already??? The Upper Crust bless us all with a royal evening to usher in a new year at Church.....yup it's that time and this year's show is a spectacular line up with The Upper Crust, Sidewalk Driver and Gene Dante & the Future Starlets - wow!!
But the Middle East is giving them a run for their money this NYE with an awesome show downstairs: Mellow Bravo, Township, Planetoid, Cocked N Loaded and The Grinds - and this show is 12 bucks instead of a hefty and hoggish $25 you'll have to cough up yet again at Church
I'm sorry I don't want to even get in to next year yet except to say: two night of MOB at The Brighton Music Hall in January (20 & 21st)....whew!!
And folks we have a new Rick Coraccio Journal Entry for your reading pleasure (and I do mean pleasure because this one is the best yet!!) it's all about the Lyres gig in San Francisco....just scroll down to the box under the news...
And here one last plea for John Nikolai's awesome project on KickStart - He's only got until this Wednesday the 30th to get to gather the bucks her needs so -Please go pledge some dough!!!: NEVERMIND NOSTALGIA: The Last Book On Punk Rock (Part One)
Email us with your latest news, opinions and all that kinda stuff....misslynbgn@yahoo.com