The BGN News Archive
November 28,2016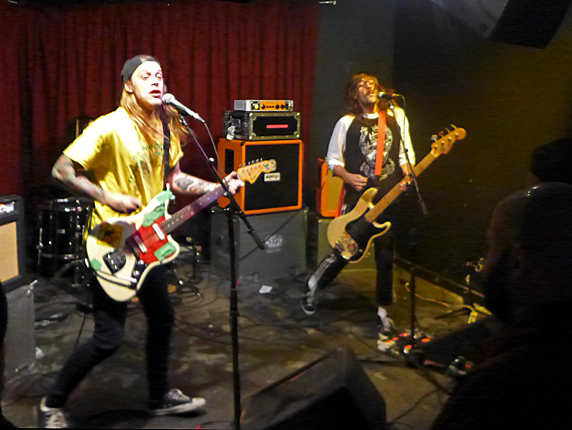 The Dune Rats
Photo: Blowfish
There was a good line up of bands at Great Scott's on Tuesday but I didn't catch the small print and that was the premiere of a new movie by Bone Death BMX. So instead of seeing a set of music I saw over an hour of BMX action. It was entertaining enough in the end and the cool punk soundtrack had Dirty Fences (playing later) and even "America First" by The Gizmos. There's a generous trailer on their site. Check it out here.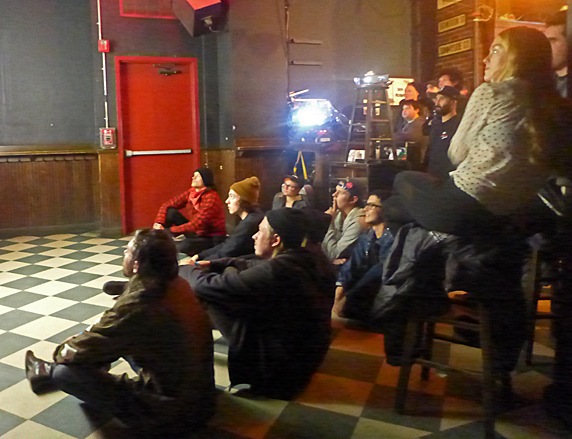 Looking at BMX action at Great Scott's
Photo: Blowfish
It was a different look with people on the floor viewing the movie. Dirty Fences (headliners) fan Joanie Lindstrom showed up and couldn't believe that not one band had gone on by 10:30.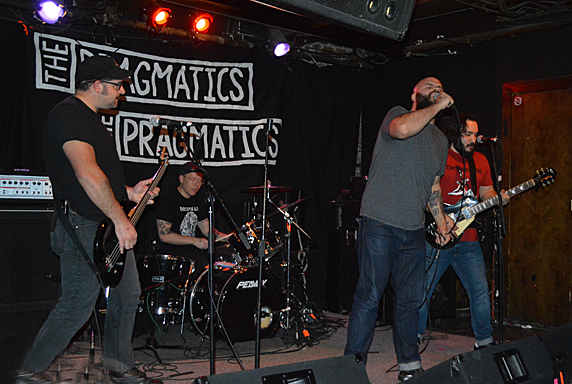 The Pragmatics
Photo: Blowfish
She saw the first band on the bill, The Pragmatics at Once for the Proletariat show. I hadn't. They were a punk band. The lead singer jumped off the stage right at the beginning for a song. Their overall sound was good but they weren't tight enough at the beginning. As the set went on they got better and better. And wouldn't you know it their last song was a solid killer, a whole set of that would have been something to hear. They come over well in the video below. Here's their Bandcamp page.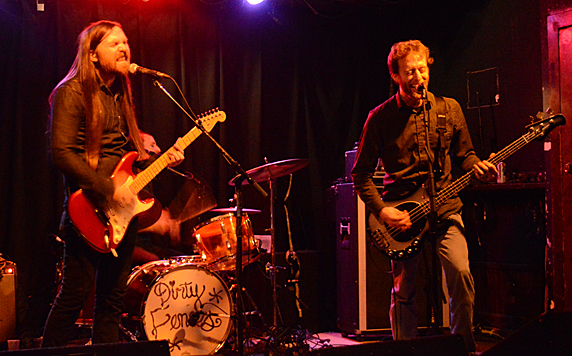 Zip Tie Handcuffs
Photo: Blowfish
Zip Tie Handcuffs seemingly need no time to warm up. Which probably helped them win that 2015 Rumble. They play fast and it appears chaotic but that's not the case. They have a center that all three are plugged into, the sound and the power issue from their combined efforts. All groups should do this but when you hear Zip Tie you can hear the difference right away. The guitarist plays a noisy guitar and that along with busy drums gives that chaotic feel which is also exciting. The bass player nails things down. Overall the songs have a light tone. They're not griping or moaning about anything. They sing about a hole that goes through the earth - funny things like that.
| | | |
| --- | --- | --- |
| The Pragmatics | Zip Tie Handcuffs | Zip Tie Handcuffs |
Then there's the vocals, they sing in a high falsetto much of the time. Since I've seen them last I think they have even doubled down on that. One song they stopped the instruments and just let the high vocals shine. This separates them from absolutely everybody else out there. The bass player contributed that to a liking for the Beach Boys. That goes along with other current groups that take from Surf music generally. I'm thinking now of locals like Black Beach, Today Junior and The Beach Toys. This was a high energy set that never let up. They got a good response but it was obvious that the crowd had come for Dirty Fences. I was getting weary having sat through the movie even before the first group so I hit the road.
The only show on Thanksgiving was Jonathan Richman at the Middle East but there were plenty of shows on Thanksgiving eve. After looking at a few band sites for info I came across the Dune Rats from Australia who were playing O'Brien's and they seemed interesting. That turned out to be an understatement. O'Brien's was over half filled which is better than I've seen it lately.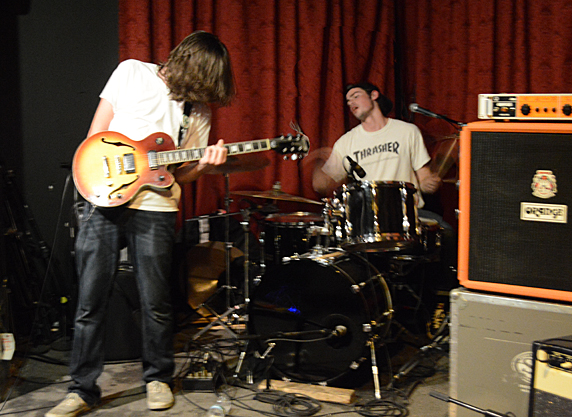 The Bruvs
Photo: Blowfish
A duo called the Bruvs were playing. I always say I don't like duos but I keep finding exceptions and this was another. They had exuberant energy and enough chops to make it work. It was the songs that really won me over. I kept hearing lines that resonated along with melodies that were distinctive and the singing that delivered them. It's a winning combo of noise and melody. I want to see them again. Some of their songs are short - like 36 seconds short. Check out their latest effort is on Bandcamp and cassette. They do a fine version of Moonage Daydream.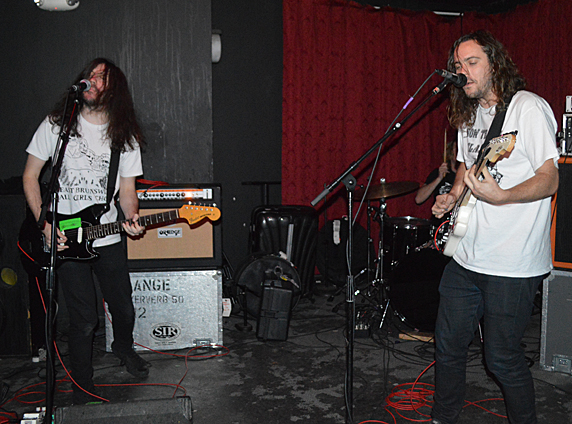 DZ Deathrays
Photo: Blowfish
The DZ Deathrays were a trio. One guitarist had some electronics that made his regular six string guitar have the punch of a bass. It worked well. Also from Australia they were some form of metal. They played well but I didn't abide by the genre and couldn't get involved. The audience though was thoroughly into it. They were up front and engaged. I stuck around because the Dune Rats seemed like they could be worth it.
Dune Rats who love the marijuana
Photo: Blowfish
I'd never heard of the Dune Rats but they have 84,000 fans on their Facebook page, so something's cookin'. Even as the Rats were walking to the stage they were hitting and tripping each other, just pranking around. You could see that they were going to have a good time if it killed them - or you.
After a greeting with those Aussie accents they launched into a song about marijuana. The lyrics were something like "gimme more marijuana". Then I could see why they tag themselves as 'stoner pop'.
| | |
| --- | --- |
| The Bruvs | Blister in the Sun |
I'll tell you some of what happened but it's a case of you had to be there. It was indeed like a crazy party where some of the drunk guys get out of hand, but not just that because the music was an element that needed attention.
There were a series of wild garagy songs with the band bounding all over the stage. At one point they did some new songs where they stopped the antics and the material was well done pop. They covered Blisters in the Sun by the Violent Femmes. Then back into the party groove but the songs were all worthy of a good listen.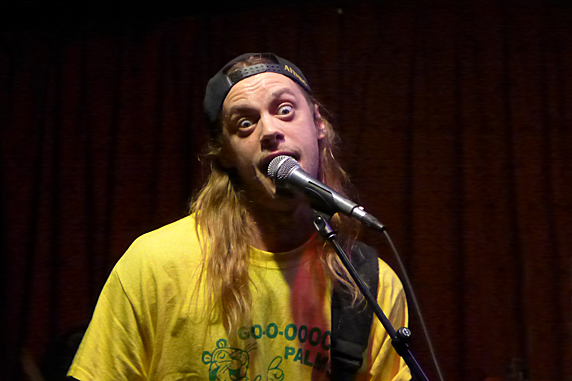 Dune Rats
Photo: Blowfish
On stage they were always interacting with the crowd that was pressed up front. At one point they separated the crowd and said at the cue for everyone on the right to run into everyone on the left and vice versa. Up to this point no one was moshing at all. They did the deed and it was crazy. See the video below. They asked a guy if he was thirsty and then brought him up on stage and they poured beer into his shoe and he drank it. Gross. One band member and the camera guy with the band exchanged a bout of spitting into each other's face. Gross again. The singer spit his gum into the air and caught it back in his mouth. This was Aussie antics like we never see.
| | | |
| --- | --- | --- |
| Crazy moshing | Shoe drinking | Song |
Overall the set was the craziest I've ever seen at O'Brien's hands down. That the music was worthy made it all the better. Outside was a huge bus that they are touring in. The 50 or so people at attendance couldn't have paid for that expense. I dont get the economics of that. But who does it for money, we sure don't.
Thanksgiving week continued with good rock all over the place it seemed. There were big acts in the area like Jonathan Richman, King Khan, Alejandro Escovedo, Jesse Malin, Dinosaur Jr., Buffalo Tom, and Peter Hook . We hit a smaller show at Midway headlined by Frigate who we caught at the Abbey Reunion this year.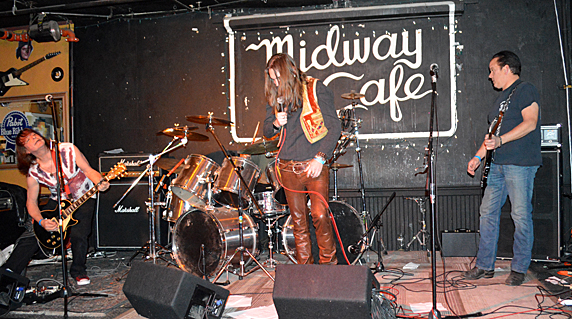 Thigh Scrapers
Photo: Blowfish
Walked in we hear the Thigh Scrapers covering "I Meet Her At The Rat" by The Queers and it was pretty good too. Brian Young was dressed in leather, "like Jim Morrison at the Hollywood Bowl 1968" (he was right). Just before we got there Jimmie James the guitarist had taken a spill but he says he's done that before, at the Channel for one. He was maybe a bit shook up but continued to play. They were doing some covers from Johnny Thunders and Stones and had a few flubs. Then they played an original called "On the Radio" and that had a killer riff that is still ringing in my head. That was so on the money it seemed like 'screw the covers do more originals like that'. They ended with an on the nose cover of Being with You Girl, Is like Being Stoned from Cracker.
The Thigh Scrapers covers were the same songs Brian plays on his Crash Couse for the Ravers on WMFO (which has the Boston Groupie News concert report at 3:45 pm ).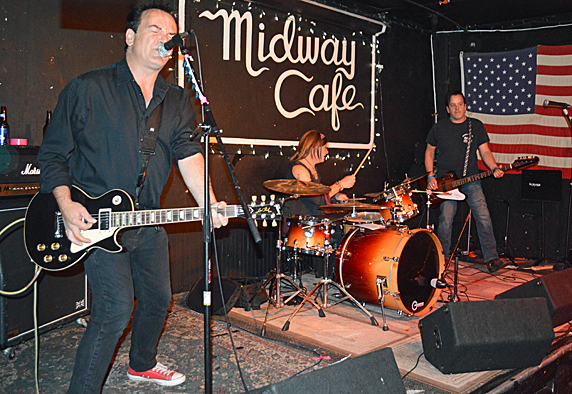 State of the Union
Photo: Blowfish
He also plays the band up next; State of the Union a lot. That's how I knew of them. Their songs always caught my ear. That's how it was live also with the extra perk of hearing their punk attack. They don't play fast, everything is mid-tempo and measured. A lot of the time the lyrics will come one word per beat. They do it so often that it's sort of the thing that marks them. It's a cool trick that lends emphasis to what they are singing about and they manage to make it catchy too.
The guitarist Joe Perry had a punk buzz and Joe Moir the bassist (who is also in the Thigh Scrapres) was minimalist while the drummer Sandy Juneau Summer was filling in with all sorts of rolls with arms flailing windmill style. They played a cover of Fast Cars by the Buzzcocks and then a pumped up No Place Like Home by the Neighborhoods. You can hear them on Bandcamp and definitely put them on your list of bands to see live!! We were happy to finally catch them live and you will be too!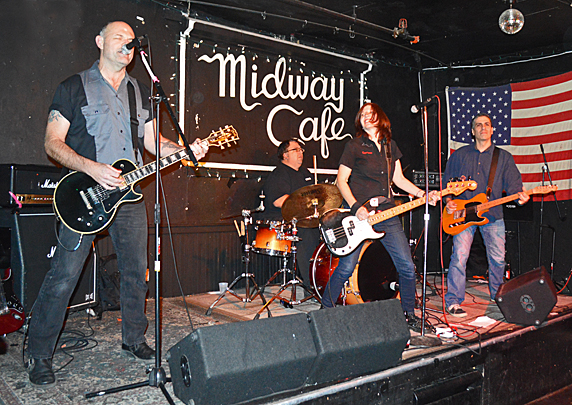 Frigate
Photo: Blowfish
Even though Frigate played the Abbey a lot and we went to the Abbey a lot it wasn't until they played the reunion that we got to hear them and love them.
They play the punk we search for all the time and that's getting harder to find. They have a good time on stage as they do it too. There's a lot of personality on display with the banter between the songs. Linda Bean Pardee is a powerhouse! They also played a Buzzcocks cover with Harmony in My Head. The guitarists Tim & Chris, gave everything a hard sonic wall of attack. The drummer, John Bean, was doing a bang up job with a perfectly minimal drum set (the way they should be!).
| | | |
| --- | --- | --- |
| State of the Union | Frigate - Harmony | Frigate |
They benefited from having a combo of male/female voices which sometimes brought X to mind. And it's that punk era of X that they brought to mind also. It's not that we want to perpetually live in 1977, but just because it's 2016 that doesn't mean we want to hear Beyoncé or Kanye. We like and want the punk!! We're lucky groups like Frigate are out there playing live. You can't gripe the music is horrible these days when there are groups like this out there!!
And that's what we had to be thankful for in this Thanksgiving rocking week.
And in other news.....
Nancy Neon is busy busy busy. She's now spotlighting music videos into a website called www.Awaken.com that is run by Jimmy Webb's son, Christian . It concentrates on positive stories and ideas in the era of stress and negativity. I think we need this. She put in this video of The Woolly Bandits. You can check that out here.
Here's some good shows coming up .....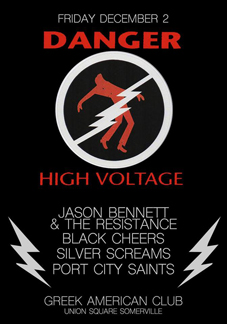 November 28 (Monday) Bob Colby Presents: Cold Expectations and So Sol at the Upstairs Lounge at Once.
November 30 (Wednesday) The Low Babies, Lost Cosmonauts, Thrust Club, Lockette at The Midway
December 1 (Thursday) Humanoids, Mam Ladilla (Spain), Covered in Bees (Maine), Intheshit & Black Friday - O'Brien's
December 2 (Friday) Jason Bennett & Resistance, Black Cheers, Silver Screams, Port City Saints at The Greek
December 2 (Friday) Blood Drive, Sex Orgy Death Crash, Jarva Land and Charlie Don't Surf at PA's FB page
December 2 (Friday) Today Junior, Calico Blue, Spirit Ghost and Brushes at The Midway
December 2 (Friday) Blood Drive, Sex Orgy Death Crash, Jarva Land, Charlie Don't Surf at PA's Lounge
December 2 (Friday) The Dents, Schnockered and Watts at Sally O'Briens
December 3 (Saturday) Muck & The Mires will be on A Crash Course for the Ravers with Brian Young on WMFO 91.5 1-4PM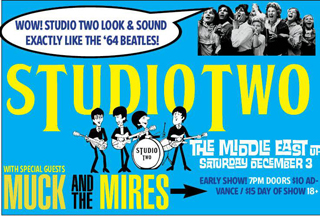 December 3 (Saturday) Studio Two , The Beatles Tribute w/ Muck and the Mires at The Middle East Up.
December 3 (Saturday) The Forz, Young Bull and others TBA are at Club Boho at The Cantab.
December 3 (Saturday) The Peasants, The Brigands and The Jack Bennies (from NYC) at The Midway this is a 4-8PM early show
December 3 (Saturday) VapoRubs, Psychic Dog, Silver Screams, Tony Jones & the Cretin 3 at AS220 in Provi
December 3 & 4 (Sat & Sun) The New England ComicCon is happening in Wilmington, MA. "The Holiday Shopping Show for nerds and the people who love them" and we know there a bunch of you out there...so check out their website for more info: NE ComicCon There's a lot of bands playing too like Tsunami of Sound, Fantastic Plastics, Charlie Farren and a ton of others also Gerald Cassale from Devo, Cherie Curry from the Runaways.
And further out......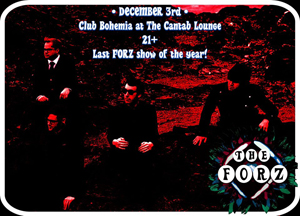 December 6 (Tuesday) When Particles Collide are doing a December Residency every Tuesday at Atwood's Tavern, 7PM show
December 9 (Friday) Peter Murphy "Stripped" -This is A rare opportunity to see Peter Murphy performing (with an ensemble - 3 piece in all) semi-acoustic versions of his music from throughout his illustrious career (um, $25 Advance / $35 Day of Show / $30 VIP Early Bird / $35 VIP Advance) 7 PM Doors
December 9- 13 (Fri- Tues) Danny Garcia's Sad Vacation (a film about Sid and Nancy) is showing at The Regent Theater. You can get tix here.
December 9 (Friday) Major Stars, Taiwan Housing Project, Mini Dresses and KSZNK are at O'Brien's
December 10 (Saturday) Charlie Don't Surf will be on A Crash Course for the Ravers with Brian Young on WMFO 91.5 1-4PM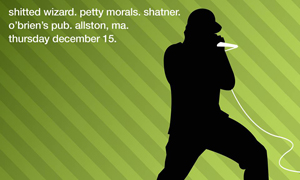 December 10 (Saturday) Thrash'n'Bang Christmas Party at the Midway with The Martians , DestrOi, Crimespree, Pink Parts and Jenn Lombari (of Lucky United) this is a 4-8PM show.
December 10 (Saturday) The Weisstronauts 18th Annual Holiday Jubilee at 4:00 pm at Atwood's
December 10 (Saturday) Nicole Tamaro Productions Christmas Party with The Silver Mirrors, Legendary Rockin Prophets and + free snacks & swag all at the Greek in Union Sq Somerville.
December 10 (Saturday) Psychic TV at Brighton Music Hall
December 11 (Sunday) Boston Hassle's Black Market - perfect for getting holiday gifts!! This one-day event boasts everything from secondhand to handmade: artwork, zines, body care, nail art, records, baked goods, patches, pins, books, T-shirts, leather goods, knits, woodwork, pottery, local honey, vintage clothing, jewelry, tea, haircuts, tarot card readings, face-painting, portraits, & MORE!! at The Elks Hall in Central Square Cambridge 11AM- 5PM Here's the FB page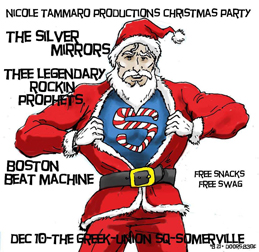 December 11 (Sunday) X___X, NE Patriots and Shiny Beasts at The Middle East - doors are at 7PM for this show. Check out the write up and vids from when we saw them in 2014
December 13 (Tuesday) When Particles Collide are at Atwood's Tavern, 7PM show
December 13 (Tuesday) Shitted Wizard, Shatner and Petty Morals are at O'Brien's
December 20 (Tuesday) When Particles Collide are at Atwood's Tavern, 7PM show
December 23 (Friday) Raging Teens 20th Anniversary Boston Reunion! at O'Brien's (FB page) also on the bill Roy Sludge, Ten Dollar Mistake and DJ Easy Ed's Record Hop between sets!
December 27 (Tuesday) When Particles Collide are at Atwood's Tavern, 7PM show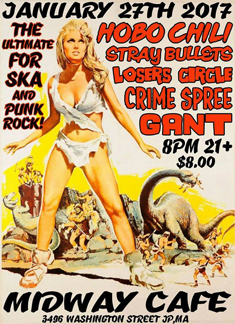 January 7 (Saturday) The Johns, The Martians (mems of Bim Skala Bim/Rock Bottom), The Cold Expectations (Album Release) and Medical Maps at The Midway
January 7 (Saturday) The Last Ones, Tsunami of Sound and Stop Calling Me Frank are at Sally O'Briens
January 13 (Friday) Lyres, The Charms, the modifierS at The MIddle East Up.
January 14 (Saturday) Now here's a show you won't want to miss Brian Young's A Crash Course for the Ravers (WMFO 95.1FM 1-4PM) has Andy California as a guest.
January 27 (Friday) Ska and Punk night at the Midway with Hobo Chili, Stray Bullets, Losers Circle, Crime Spree and Gant!
February 10 (Friday) The Upper Crust, Watts and Petty Morals are at great Scott
March 8 (Wednesday) The Sheckies, Mongorellis, The Prozacs, Meat Depressed at Koto in Salem
CONTACT US AT....misslynbgn@yahoo.com - Send us your gig listings, your news and anything else ya got!!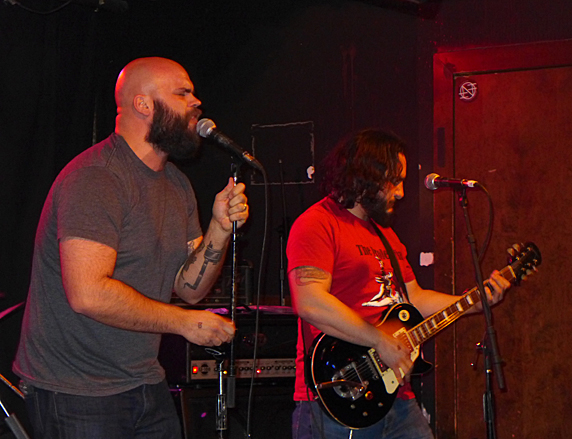 The Pragmatics
Photo: Blowfish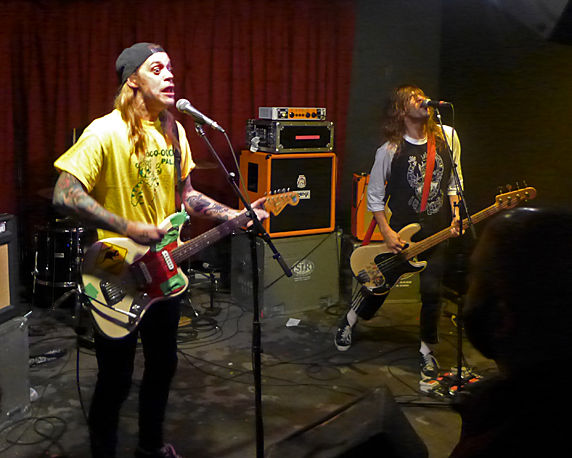 Dune Rats
Photo: Blowfish
The Bruvs
Photo: Blowfish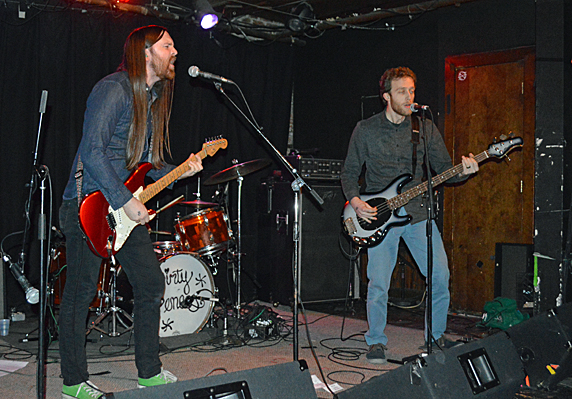 Zip Tie Handcuffs
Photo: Blowfish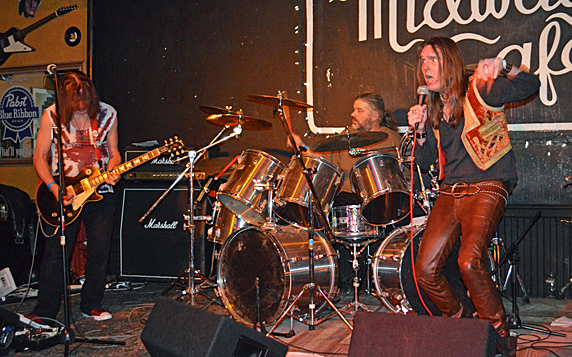 Thigh Scrapers
Photo: Blowfish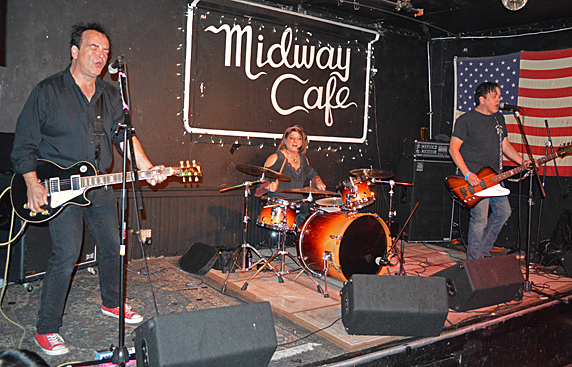 State of the Union
Photo: Blowfish
Frigate
Photo: Blowfish