The BGN News Archive
November 30, 2009
Ok my friends…I guess everyone is Turkey'd up and or out and had a great holiday week…. And again I must say… how can it be going on December ??? well here we are damn it so….
Might as well make the best of it and there's a good start to the month at TT's The Bear's Place Friday Dec 4 are The Queers (doing their Pop stuff) , The Leftover and Killer Abs…
Also on Saturday at "The Armory " in Somerville it's the Devilish December Dance Party with none other than the most fabulous Wayne Viens as host, DJ and Birthday celebrant for the evening. Also on the bill are the infamous Satanics (members of the Upper Crust, Titanics, Bags)…. this is also and Benefit for the Mark Sandman Project… this should be an excellent party my friends and your cover $$ goes to a really wonderful cause!!!
then the next night at TT's again, there's Preacher Jack, Wicked Whiskey, The Swindells and The Raging Teens Holiday Hoedown…whew!...
on into the month….. Saturday 12/12 is another new and fab Nancy Neon Nite at the Cantab with The Varmints, Classic Ruins, The Greg Allen Group and Red Invasion…YEAH!
Monday Dec 14th is The Curses, The Egos and The Mess Me Ups at Charlie's Kitchen…. Monday, December 28th is Razors In The Night and Hate & War at Charlie's Kitchen…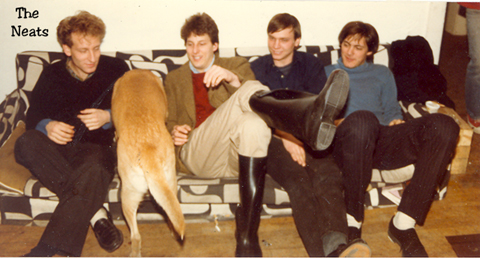 And get your tix now folks because First Night , First off: The Neats reunite in support of the recent reissue of almost their early recordings on Neats 1981-84, and play at the Orpheum along with Buffalo Tom and The Lyres. Then over at The Parkman Bandstand features Jordan Valentine and the Sunday Saints, with The Fatal Flaw. Jenny Dee and the Deelinquents bring their girl group sound to The Park Plaza. The Painted Lights, Walter Sickert and the Army of Broken Toys and Cirkestra play at the Hynes, and Emmanuel Church features a triple bill of Drew O'Doherty, Kristin Hersh and Chris Brokaw and Geoff Farina performing pre-WWII country blues. WOW!!!
alrighty folks I gotta run….have a good week and email me please!!!