The BGN News Archive
November 30,2015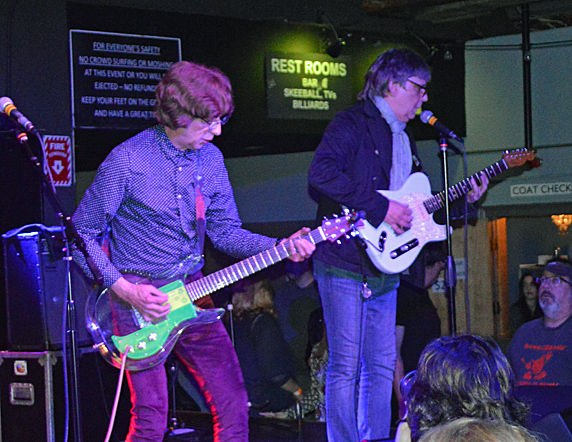 Cyril Jordan and Chris Wilson
of The Flaming Groovies
It was appropriate that near Thanksgiving we have a feast of music. That would be Wednesday's Brighton Music Hall bill of Fireking/The Connection/Muck and the Mires/Flaming Groovies. That bill brought out all the faithful. The club eventually filled up with familiar faces. A lot of people travel for Thanksgiving but not our crowd; without even considering the music that was pretty nice.
We missed Fireking, who we love, but talking to people it seemed many came early so as to see the whole bill. You could see Smitt E. Smitty's distinctive drum kit on stage all night. Fireking are always so generous in sharing their equipment for the back line.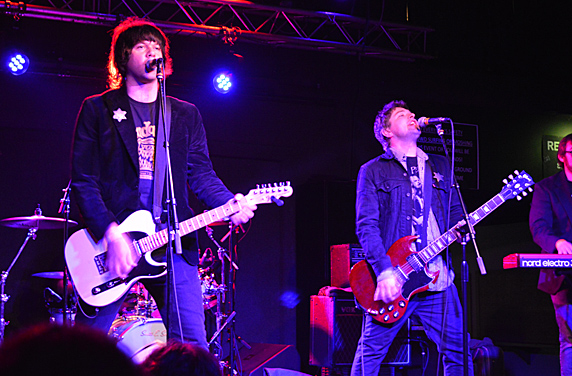 The Connection
The Connection opened for the Groovies last time at Precinct and that was a whole story that includes the closing of Radio...moment of silence here. It's about time we stop thinking of them as the 'new guys'. They have proved themselves multiple times on stages big and small. This night again they were the toppest of the poppest. It was full throttle the whole way with several highlights coming from their latest release - Labor of Love. Seven Nights to Rock leaves one breathless. They are a marvel. How do guys so young learn all the tricks of song craft, their instruments and performance like these guys? Tonight they set the bar high for the bands behind them.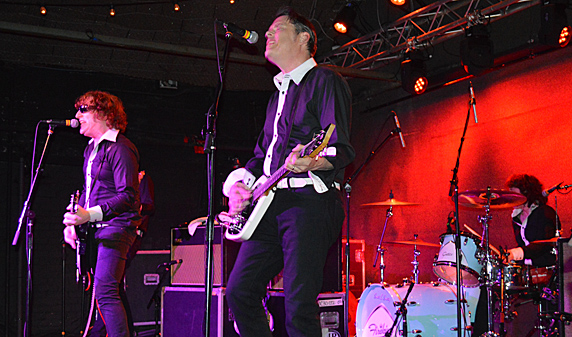 Muck and the Mires
Muck and the Mires managed to keep it going with their high energy act. We just saw them last Thursday but this was a whole different set of songs. How many groups have two sets of gems? A highlight for me was Saturday Let Me Down Again and Hypnotic. They cover (Just Like) Romeo and Juliet that captured the 60's garage spirit in spades. A week ago it was a small bar, this week it was a big stage and they handle it with no difference. They just rock through the set.

The Flaming Groovies
Expectations were high for the Flaming Groovies. They played Boston twice before; the Paradise around 1978 and then The Precinct last year. They have such a long history and there are times on stage when it infused the music. It gives them qualities most groups will never have. They started with I'll Feel A Whole Lot Better by the Byrds - with a Fender Telecaster 12 string ringing, it was gorgeous. They followed with an all-time great - You Tore Me Down . That song is one of their best originals and the performance was everything that makes the Groovies great. The two guitars intertwining as they both pick out the chords almost in sync just enough difference to add depth, the two combining voices are mid tone and distinctive, the rhythm section carrying it all along without being heavy handed.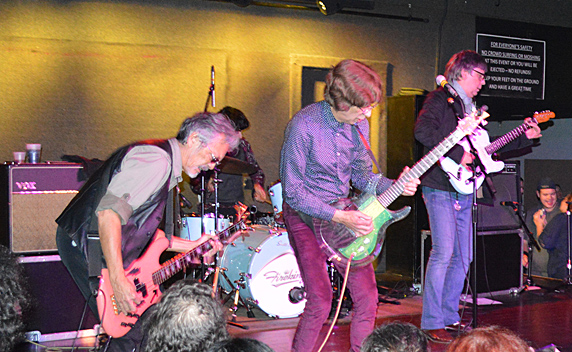 The Flaming Groovies
They pull out another gem from the Shake Some Action LP, I Can't Hide. It seemed like heaven. Then they broke a string. Chris Wilson and Cyril Jordan left the stage and the bass player did some fill up talking. That broke the spell for me. They came back and cranked up again. Now they played older style songs that they described as their "rock section'. Here was where they showed their long years of playing together. They reminded me of bands I saw in the late sixties that had those influences that led back to the fifties.
The songs went by however and I didn't recognize many and none were the later period of Groovies that I know. Then it became obvious that Chris Wilson was getting plastered. The voice and guitar playing was suffering. When they finally got to Shake Some Action Chris was just not in the condition to deliver. What should have been a culmination was a wreck. Talking to people after some seemed to see that and other didn't notice or didn't mind. I felt like I got half a great set. Hey, Chris was celebrating. I'd still check them out next time they come around.
Blowfish got out for a while on Saturday. The young punks were out for Negative Approach and they filled up the Middle East Up. He caught Casanovas In Heat and they are his new faves:
Casanovas In Heat
It was a high octane set with excellent playing. Overall they reminded me of Husker Du with a wall of guitar and the lean songs. The Casanovas had an extra sharp metallic edge to their sound that came from a trebly tone and the two guitars playing different things. They also play full chords, thereís no two-string chunking power chords.
Along with this the bass player was a phenom. He was a busy player that worked every nook and cranny of the song. All his playing accented the features of the song by enhancing the melody or rhythm. One felt like the wall of guitar sound was a canvas he was painting. He had complete control of the songs. His playing dictated the way you would hear the overall song. I was much impressed. The recorded material has some of the features Iím talking about but canít compare to the live show: Casanovaís In Heat Bandcamp
The whole set was non-stop energy. The crowd seemed much too sedate for what was happening on stage but Iíve seen this at other hard core shows where they save it all for the headliners.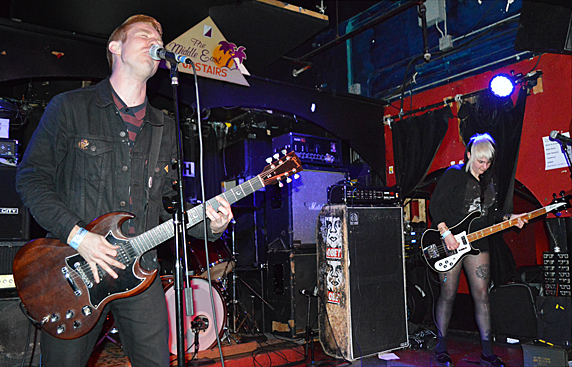 Dark Thoughts
Dark Thoughts from NY seemed too raw and messy next to the tight Casanovas but after a few songs I liked their punk attack. The lead singer was giving it all. He broke a string on the last song and didn't even flinch, he just kept the song going full bore.
These days there seems to be everything except punk out there. I was happy to get a dose from Dark Thoughts. On their Bandcamp page they describe themselves in one word ... punk.
Again the crowd was laid back. I felt like I was missing a lot by leaving before Negative Approach because the feeling I got was that everyone would go crazy for them. But it was Thanksgiving weekend and I had obligations.
In other news.....
On Facebook from Janine, Allan Devine's wife: "a tribute concert for Allen is most likely going to take place at the Lizard Lounge in Cambridge, MA, on Saturday, January 16th, 2016. Please save the date."
Johnny Angel has a new song out Run Away With Me - check it out here He's putting together a CD for 2016 and this song is one of the songs oon the CD. "Most Thrills-like" he declares! Excellent!!
If you saw them you remember them The Drunk Nuns...well they broke up and but you can't keep a good man like Joe T- Barron down so now there is The Dead Nuns. Listen to 'em here Let It Be...Naked (and its a FREE download) ...hopefully we'll have some gig listings of theirs soon!!
From Please Kill Me site here's an interesting read about Miss Lyn's favorite guitarist Rowland S. Howard who was in the Birthday Party and the most awesome early Crime & The City Solution. Someone finally giving him the tribute he so righteously deserves!!
Also from Please Kill Me here's a great write up of the Sparks 40th Anniversary concert in London.
And here's a1977 interview with X Ray Spex's Poly Styrene Besides being in a great band and being a fab front person ans singer - She was so cute. I saw her at CBGBs and pinched her cheek and told her she was adorable back in 1977!
Here's some good shows coming up this week.....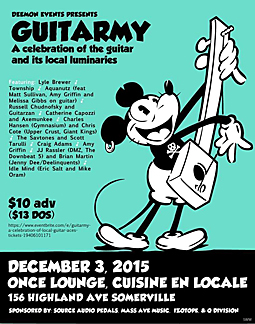 December 2 (Wednesday) at Great Scott - Brian Carpenter & The Confessions, Thalia Zedek Band, The Wrong Shapes
December 3 (Thursday) at ONCE - Guitarmy - a celebration of the guitar and its local luminaries - A night of guitar players, vendors, gear raffles, featuring - Lyle Brewer, Marc Pinansky, Alejandro Necochea, Matt Sullivan, Amy Griffin, Russell Chudnofsky, Catherine Capozzi, Charles Hansen, Chris Cote, JJ Rassler, Brian Martin, Tony Savarino, Scott Tarulli, Craig Adams, Eric Salt, and Mike Oram, Melissa Gibbs, Mass Ave Music, Q Division Studios, iZotope and Source Audio LLC. - 20 minutes sets focusing on guitar playing, raffles and more Tix here Starts at 7PM. More info here
December 4 (Friday) Kermit's Finger, Penis Fly Trap, Padded Hell and The Unstables at O'Brien's
December 4 (Friday) Day One of the America's Hardcore Fest 2015 - at the Hardcore Stadium -The Elks Hall in CAmbridge - its sold out- sorry
December 5 (Saturday) Day Two of the America's Hardcore Fest 2015 - Matinee Show at The Middle East Noon - 4:30PM with Freedom, Red Death, Intent, Big Contest, Clear, BArge, Demolition and Wild Side.
December 5 (Saturday) Stingray Body Art is having its 10th Annniversary Holiday Art Show! Featuring works by Walter Sickert, Kristilyn Zombie Romance and Tara Ozella, Sponsored by PBR with beer& wine and DJLotusound. 7-10Pm.
December 5 (Saturday) Day Two of the America's Hardcore Fest 2015 Evening Show (Starts at 5PM!!) at Hardcore Stadium /Elks Hall with Stick Together, Fury, peacebreakers, Chain Rank, Leather Daddy, Pure Disgust, Protester, Hard Stripes and other.... check out the other info here.
December 5 (Saturday) Corrosion of Conformity with Brant Bjork, Saviours, Mothership at The Brighton Music Hall
December 5 (Saturday) it's the Weisstronauts' Holiday Show with The Weisstronauts, Tsunami of Sound and special guests at the Midway
And out in the the future we have.....
December 7 (Monday) Zip-Tie Handcuffs, Marianne Toilet and the Runs, Mike Woo's Raging Bone and Power Animal at Opus Underground Salem.
December 8 (Tuesday) Rocket From the Tombs is at the Brighton Music Hall!
December 8 (Tuesday) The Modern Voice, VAT, Baylies Band and The Korps featuring Ken Kaiser and Kenne Highland at The Midway
December 10 (Thursday) Warren Zanes is at Store 54!!!!
December 11 (Friday) Excellent show with Black Cheers, Silver Screams, and Darker Hues at the Greeks in Union Sq Somerville. FB Page here.
December 12 (Saturday) its the 4th Annual Punks for Tots show at the Dover Brickhouse in Dover, NH. Bring an unwrapped toy or 2 canned goods and you get in for free! The Guts (reunion), Genuine Rust, Whiskey Kill, Jimmy Jacked, Diablogato FB event page
December 12 (Saturday) Fireking and John Powhida at Store 54
December 12 (Saturday) The Neighborhoods are down in RI again, this time at The Met in Pawtucket. (Here;s the fb page) (Buy tix here)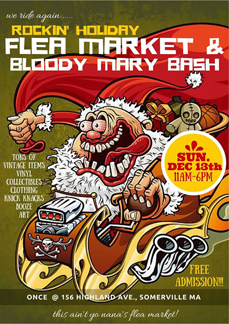 December 13 (Sunday) The Rockin' Holiday Flea Market and Bloody Mary Bash (formerly at TT's) is now at Once (Cuisine en Locale) There'll be Vintage clothing + Collectibles, Tons of rare vinyl records, Knick Knacks, Jewelry, Homemade snacks, Music Memorabilia, Cool Holiday Gift Ideas, If you're looking for it, chances are you'll find it there. ...and of course the Bloody Marys!! It all takes place from 11AM to 6PM
December 13 (Sunday) and then there were two!! another Holiday Flea Market - this one Black Market, is by Boston Hassle: everything from secondhand to handmade including artwork, zines, records, body care, baked goods, books, patches, pins, T-shirts, leather goods, knits, woodwork, pottery, vintage clothing, jewelry, tea, astrology readings & MORE!! 11AM- 5PM at the Cambridge Community Center. More info here.
December 16 (Wednesday) at Once Lounge in Somerville there's a festive night of music and merriment. They are collecting unwrapped gifts for children currently in foster care. They're looking for range from toys, books, art supplies, sporting goods, electronics, personal care items, clothing, coats, gloves, hats, and gift cards. Please enjoy the bands and bring a gift: Walter Sickert & the Army of Broken Toys, Lemon Merchant Allstars, Goddamn Glenn and His Red Cup Ensemble, Parlour Bells, Johnny Blazes and the Pretty Boys, The Static Dynamic, Los Texicanos, Axemunkee and The Knock Ups
December 18 (Friday) The Rationales, When Particles Collide, The Static Dynamic and Stars Like Ours are at Great Scott
December 18 (Friday) Diablogato's CD Release Party at Opus Underground Salem also on the bill The Devil's Twins and Salem Wolves - and its FREE!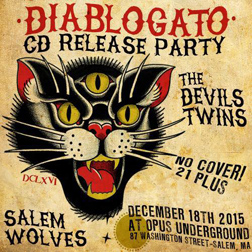 December 19 (Saturday) A Crash Course For The Ravers featuring DiabloGato. That's 1-4PM WMFO 95.1 on your radio dial.
December 19 (Saturday) The Figgs and The Upper Crust are at Great Scott
This year the Might Mighty Bosstones have decided their shows should feature all old school Boston garage and punk bands!! This is a AWESOME and most wonderful idea!! Here are the line ups:
December 26 (Saturday) Hometown Throw Down with the Mighty Mighty Bosstones, The Neighborhoods and The Upper Crust at the House of Blues
December 27 (Sunday) Hometown Throw Down with the Mighty Mighty Bosstones, The Real Kids and The Queers at the House of Blues
December 28 (Monday) Hometown Throw Down with the Mighty Mighty Bosstones, The Outlets and Stranglehold at the House of Blues
December 28 (Monday) Shiny Beasts, Dippin' Sauce and Classic Ruins are at The Midway
January 2 (Saturday) The Petty Morals celebrate their newly released EP Marked Women at Great Scott along with The Organ Beats, Watts, and Stars Like Ours
January 7 (Thursday) It's a Book Release Party for Brett Milano's Don't Thank Me All at Once (The Lost Pop Genius of Scott Miller), at Store 54. If you';d liek to grab a copy before hand you can do so here Amazon.com
January 16 (Saturday) The Fathoms, Tsunami of Sound and Richie Parsons at the Midway
January 16 (Saturday) OC45, Point Blank, Meat Depressed, The FUs at Koto in Salem.
January 29 (Friday) The Dictators - NATUR - Neutral Nation are at The Parlor Newport, Newport RI (FB page for mroe info)
January 30 (Saturday) The Dictators - Lenny Lashley's Gang of One - Nick and the Adversaries - Neutral Nation are at Great Scotts
January 30 (Saturday) Lyres, The Paul Collins Beat and the modifierS are at The Middle East Up.
CONTACT US AT....misslynbgn@yahoo.com - Send us your gig listings, your news and anything else ya got!!
At the Flaming Groovies show
John Doherty, Tim Carey and Smitt E. Smitty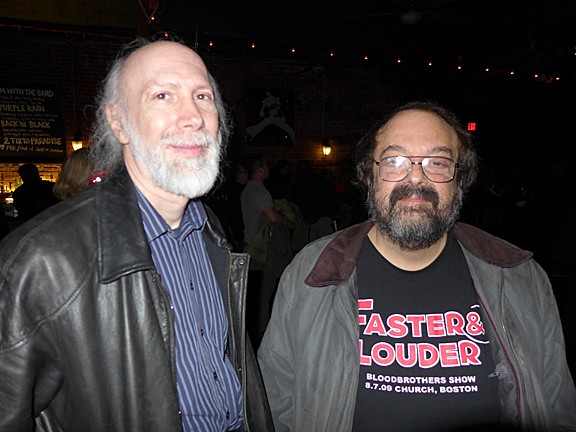 At the Flaming Groovies show
A visting Roy Rubinstein and Perry Adler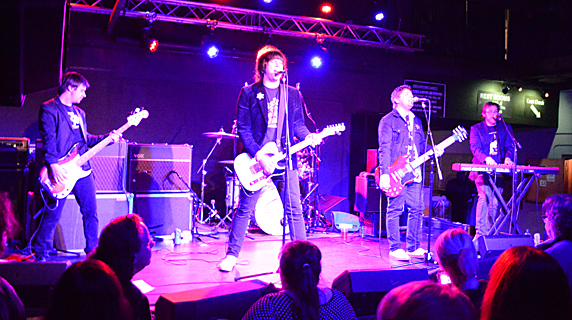 The Connection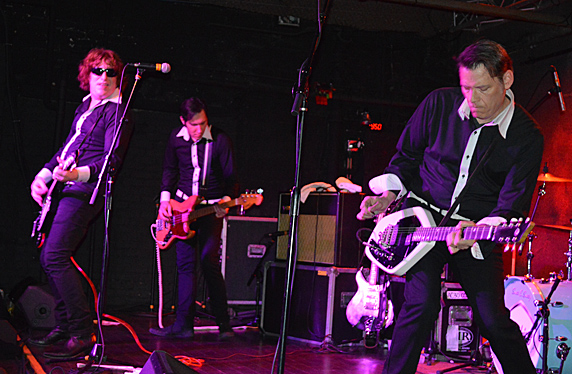 Muck and the Mires