The BGN News Archive
December 1, 2014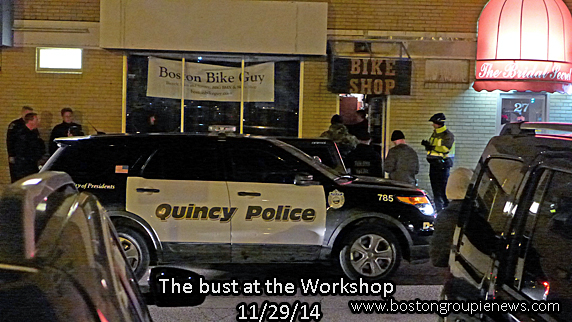 Blowfish was in the middle of a police bust Saturday night!….He tells us how it went down: The Workshop in Quincy put on a gig, a benefit actually. Since it was close to home I thought I'd hit it and check out this new independent space.
The only way to get the address was from someone, of a band, who already knew it, via Facebook. As I walked up to the rear entrance not far from the Granite Rail I saw a few people go to a door, so that's where I went. There were no lights outside or inside. In the dark a guy took money and gave me a hand stamp. The music was playing downstairs but you could hardly hear it. I went down a very narrow staircase to a cellar space which was predictably humid. There were maybe 50 people there. The band finished their set immediately; I missed them.
One of the guys running it came up to me and asked how I found out about the gig and did I know anybody. He thought I was a cop! The joke is I'm not only too old to be a typical hardcore fan I'm probably too old to be a police man: I'd be retired. I said I found out about the gig on Facebook and maybe the guy in Honest John, who was playing, would know me because I talked to him once and I've seen him many other times at core shows and I figure he's seen me. We go up and ask and he doesn't recognize me. Now, what do I do? I said I write for the Boston Groupie News and pull out a card. Well, that seems to quell the fires of suspicion immediately; the BGN to the rescue again. They didn't know the BGN but that I would be involved with something so ridiculous gave me credibility. We posted a flyer for this gig last week, but hey guys, please, don't thank me.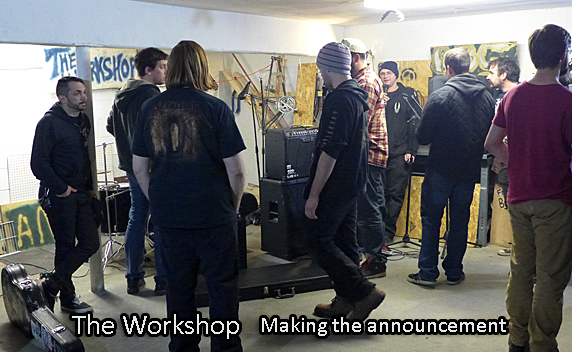 Ten minutes later I'm waiting for the next band to set up and the guy who questioned me tells the crowd to quiet down because there's a cop right outside. Um, I'm thinking: If we can't talk how can a band play? Another few minutes go by and another person in charge goes to the microphone and says that the police are telling them they have no license for a performance and that they won't do anything if everyone leaves right now. No one in the crowd moves. He says it again. I look around...It's a basement with one exit, if the police come down and there is a panic this could be ugly. I head upstairs.
Up there, a man is posted at the door. I can see one policeman outside. They want to keep the policeman outside so he doesn't want to let me go out yet. I move back into the room. Now another police car pulls up with lights going. They have a discussion at the door. The Workshop guy says he knows his rights and they can't come in without a warrant. The police say you are operating without a license and starts aggressively pushing the door. It's getting heated. Another police car pulls up. They go through this again and the door gets pushed open. There was a little milling around and then people started to leave. I headed out too. I walked right in front of the police car being cool, like nothing is wrong. When I was a little away I snapped a quick photo. The police hate that, so I snapped fast and moved on.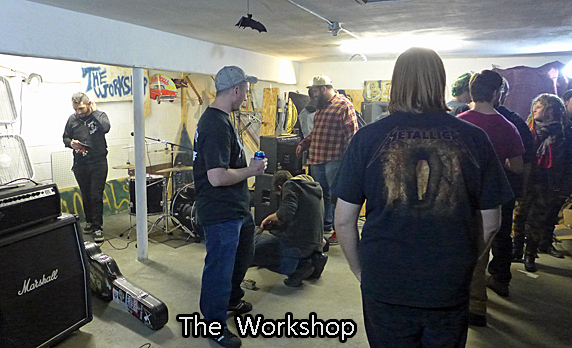 That was exciting but hey, I didn't get any music!! The Workshop has posted a few statements, such as this one, on their Facebook page: "This page is getting deleted as there will be no more benefits due to license issue. Sprinkler system is needed for basement or possible license for any more benefits to ever happen. I'm sure worse things happen elsewhere. But now business license could be taken away if I do anymore shows there. The Workshop will no longer have live music, but it will hold Flea Markets and other events like them. Keep your eyes peeled. The Workshop Team thanks you for all your support over the last 6 months! Keep it strong and keep it underground."
That was hot news but now let's go back to a week ago Sunday at the Midway. I checked out two bands I saw before; Cooling Towers and ZL.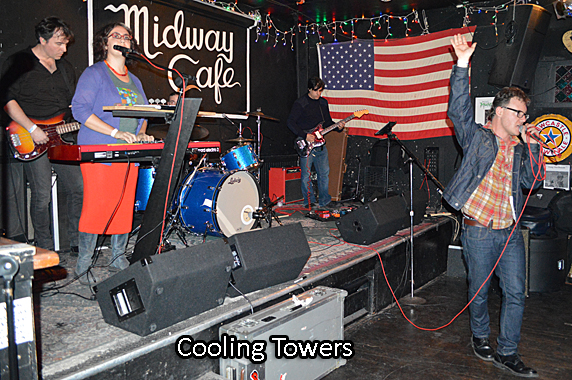 Cooling Towers were as good as or better than when I saw them at the Davis Square Theatre. First you have to realign yourself into an 80's music mode because that's where they are, then you can enjoy the show. Focus is on lead singer Commodore Vic with his swooping arms and his large movements on and off the stage. His persona has echoes of Morrissey in it. He gets inside the lyrics and delivers them with emotion. He was on and off the stage a few times and once walked up to a line of women and sang to them close up. It was a wonderful moment. He slouched up to an electric fan and sang into it, sounds odd and it was but it was very Morrissey.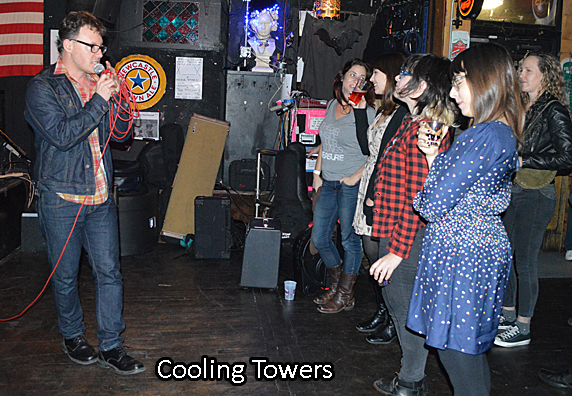 The band gives him perfect back up for all this and then there's guitarist Tony Savarino who plays the perfect complement to the song and vocals. All the songs are well written especially the words. There isn't a weak one in the bunch. Kill Yourself (with kindness) was especially memorable.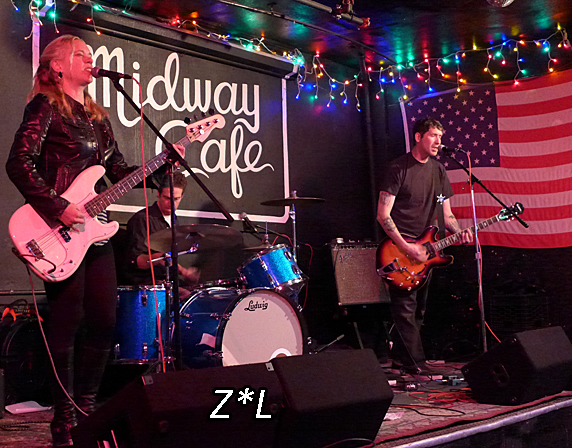 Z*L also lived up to a previous listening. I was taken in even more by their T Rex sounding song (Lord of the Thighs?). This is the best song Marc Bolan never wrote. They seem to have wide ranging influences. Much of their material harkens back to the 50's. Haunted Heart is slow and spooky with a 50's chord progression. Much of their playing has that swamp rock feel of early rock. That comes through on the guitar playing most prominently.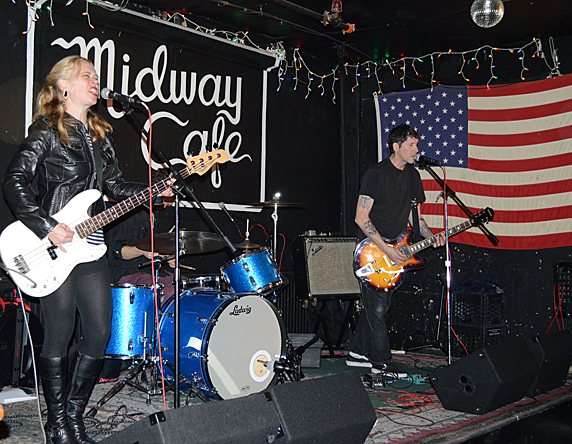 Then they threw in a cover of Sugar Kisses by Echo and the Bunnymen that locks into a groove thanks to the bass and drums and you want the song to go longer. They hit that groove a few times during the night and that is one of their strengths. This was an early Midway show that was over by 8pm.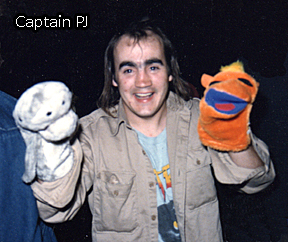 In other news: You probably know but Joseph and Nabil (Slater) bought the building!! YAY. Congrats guys, long live the Middle East up and down!! Read the news on Vanyaland
The Cal Cali Band has a 2 song original release coming soon ! "Child Abuse" / "Suburbs" -Recorded @ Massachusetts Institute of Art - - produced by Igor Lopes da Silva
And Yee Yee folks, Captain PJ the infamous mental puppeteer to Ham Ham and mascot for the Worcester something or other sports team had a mild stroke. But he's in rehab now and is doing well. Send him some get well soon wishes.
Mr. Airplane Man is doing a one time reunion show on Dec 11th (read about it below)
OK so what's coming up for shows?? We're into December and the end of the year! ......
Wednesday December 3rd- This Wednesday, (and every Wednesday,) it's Primitive Sounds night at River Gods, just outside of Central Sq Cambridge. DJ Easy Ed and Alex Piandes are spinning 50's R&B and Rock'n'Roll and Rockabilly. It's all starts at 8PM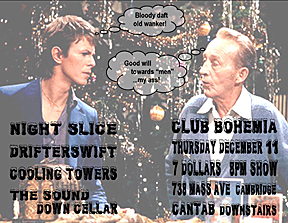 Friday December 5th - Petty Morals, When Particles Collide, The Static Dynamic and Pocket Tanya are at Opus Underground (87 Washington St, Salem,) This may be the new club to replace the idiots who canceled that awesome Eaters, Kids, WA show a few weeks back.
Friday December 5th (and Saturday Dec 6th) - It's a two day Hardcore Fest!! America's Hardcore Fest Presents:
Friday 12/5: Supertouch, Self Defense Family, Dead End Path, Give, Caught in a Crowd, Ancient Heads, Fiddlehead, Death Injection, Westpoint, and I am become Death - All Ages NOTE: 5 PM Doors
Saturday 12/6: Rotting Out (Exclusive Show) New Brigade, Hard Stripes, Barge, Red Death, Stand United, Violence To Fade, Violent Situation - All Ages NOTE: 12 PM Doors
it doesn't stop there though because later on
Saturday, December 6: Uzuhi, Stray Bullets, Empty Vessels, and Red Line Rebels - NOTE: 7 PM Doors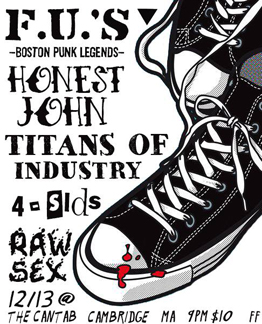 Saturday December 6th - The Midway has two great shows: Daytime show (4-8:30PM) with The Tenafly Vipers, Silver Screams, Quiggs and Give Up! then a night show presented by Boston Hassle with X _ X, The Major Stars, Corn Mo and the Gondoliers are at the Midway
Saturday December 6th has Love and Flame, Melt, and The Liz Borden Band (looks like Liz is in better health we are so glad to hear that!!) are at TT The Bear's for an EARLY show starting at 5:30PM.
Saturday December 6th - Down in Providence, RI Filthy Still, Johnny Carlevale and the Rollin' Pins, Yankee Cockfight, and Taillight Rebellion are at Firehouse 13.
Monday Dec 8th - there's punk rock burlesque at The Midway with Dinah DeVille, Hellbent Hussy, The Bloodstains and a bunch of hot babes invite you to join us for an evening of studded leathers and ostrich feathers, and everything in between. I have a feeling this one will have a Christmas theme...should be quite entertaining!!
Monday Dec 8th - in Salem at Opus Underground - Bloodshot Bill, Jittery Jack and The Radiator Rattlers.
Weds., Dec 10th - A Keep Safe Boston event is a benefit for Planned Parenthood League of Massachusetts and features 2014 Boston Music Award nominees Parlour Bells and The Color and Sound, Corin Ashley (of The Pills!), The Rationales. It's a Brighton Music Hall and ity is an early show starting at 6PM.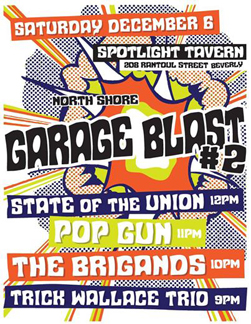 Thursday, Dec 11th - Mr. Airplane Man is reuniting for one show at Cuisine en Locale. Also on the bill are Triple Thick and The Good Time Boys - a good night for dinner and some music as the localvore dinner starts at 6PM. You can get tickets here.
Friday, December 12th: The Real Kids , The Titanics, and The Nectarines (Rough Francis had to cancel) - at The Midway
Also on Dec 12th its Dial M for MUCK at Church - It's a Muck & The Mires Record Launch Party!! Also on the bill are Daddy Long Legs (Norton Records -NYC), The Dogmatics and Thee Itchies.
Saturday, Dec 13 - Don't miss A Very Fuzzy Christmas at The Midway - this is a Girls Rock Campaign Boston Fundraiser with tons of special guests all doing xmas songs! For example Thalia Zedick with Heather Kapplow, Greg Allen's Fringe Religion, Love Love and Hilken Mancini sharing the stage with a couple of friends...and lots more.
Saturday, Dec 13 -The Radiator Rattlers, The Skeleton Beats, Cactus Attack and Nick the Barbarian are at The Quiet Man Pub (27 LaFayette Sq, Haverhill, MA) This is a cool show its a Toy Drive and a Can Food Drive sponsored by Washington Square Tattoo and The Kingpins Car Club- here's the deal The Toy Drive is from Noon - 8PM at Washington Square Tattoo you can get a palm sized tattoo for only $50 PLUS an unopened new toy of at least $5.00 value. Then bring a can of food to The Quiet Man Pub and its only $3 cover charge to see the bands. Great idea!!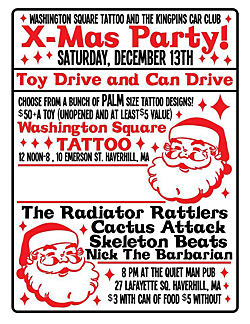 Also on Sat. Dec 13th - James Straight and the Wide Stance have a NYC gig at the Alternarock Festival - check it out here
Sunday Dec 14th - Roy Sludge Trio are at The Midway for a daytime show 5-8:30PM. Always a great show!!
Before Sludging it up you can go to TT's!!
Sunday Dec 14th - It's TT's annual Rockin Holiday Flea Market & Bloody Mary Bash from 11AM- 6PM. They are saying it 's back and it's bigger and there'll be tons of awesome vendors selling vintage, vinyl records, music memorabilia, handcrafted jewelry, art, collectibles clothing AND there's killer bloody mary's and hot dogs and a visit from Santa!! Get yourt cool holiday Gifts here. ,Mars Man and Eric Law will be there selling vinyl too and Andrea Gillis will be proffering Gilly's Throwback Snack! And this year's Flea is supporting the MSPCA and they are asking that though the Flea is Free bring an item that's on their wish list (you can see that here)...you know, dog treats, cat treats, Feliway, cat beds, toys etc.....it's gonna be a fun day!
December 19th (Friday) there's a exciting show at TT's first off SPiTZZ are playing their first show in 2.5 years!!!, also on the bill are the Blue Bloods, Duck & Cover (having their vinyl release celebration), Quiggs, and Silver Screams - this will be a great show folks!!
December 20th (Saturday) Jittery Jack and Bloodshot Bill are s at Atwoods Tavern on Cambridge St. in Cambridge (near Lechmere). It's a Rockin' Holiday celebration--and you'll be able to pick up a copy of Jittery Jack's new 45 "Something Wicked This Way Comes" and Bloodshot Bills "Stuffin Her Stocking" at the show. As an added treat - Easy Ed spins the platters early, late, and on the breaks.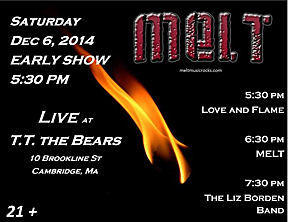 December 20th (Saturday) - It's Thrash'n'Bang's Third Annual Christmas Pizza Party withThe Pity Whores, The Radicals, Lucky United, Fast Times and Phil McCaffery. it's all happening between 4pm- 8pm at The Midway plus there's Free pizza all day long! and only a $5 cover. (All-ages) Buy Slimedog a beer to go with his pizza!!
December 27th (Saturday) - Charlie Don't Surf, Grenades In The Archives and Garbage Point are doing an afternoon show at The Midway (4-8PM)
Yikes now we're into the new year here
Friday January 5th - Sasquatch & The Sick-a-billys, The Radiator Rattlers and Diablogato are up in Salem at Opus Underground
Friday Feb 13th- Nice Friday the thirteenth show!!: The Cretins, Duck and Cover, Scrapes, and The Quins are at The Middle East Up
Friday Feb 13th - Tim Catz' 50th Birthday Party featuring White Dynomite, The Humanoids, Muck And The Mires, Worshipper and DJ sets by DJ Slim Jim at Great Scott's
CONTACT US AT.......misslynbgn @ yahoo.com - Send us your gig listings, your news and anything else ya got!!