The BGN News Archive
December 2, 2013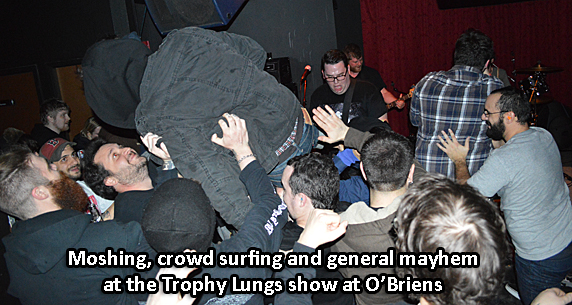 O'Brien's had a nice line up of Pop Punk bands, this past Saturday night. Trophy Lungs who I have seen before was also having a CD Release party. This wasn't the first and won't the last CD party without the CD. They had a board explaining the situation and offering to send the CD out to any who signed up (and giving out free tee shirts). These are nice guys.
Rebuilder were nearing the end of their set when I got there. They were not bad at all. The songs held up and they got the energy going. They had keyboards that gave them a pleasant group sound. Their EP on Bandcamp shows what they can do.
In front of the stage was a lineup of ladies (girlfriends?) that were acting like they were the newest music phenom, a little over the top and unnecessary.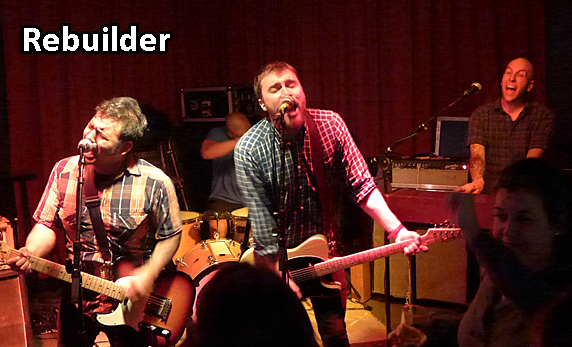 I listened to Offseason's version of Pet Cemetery on line and thought that was a worthy cover. Live they went from hard pop/punk to harder pop/punk. The harder stuff initiated some random moshing.
They did a good job with Pet Cemetery live; giving it the emotion and power mix it needs. (One word to all bands covering Ramones: DOWNSTROKE. No up and down strumming, it's all downstrokes. OK?) The singer held the stage and when the band got loud they delivered.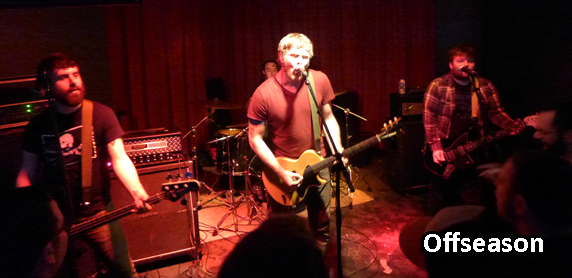 The club was about three quarters full and the audience was excited as Trophy Lungs took the stage. They've have been putting in hard work touring almost constantly. Their stage presence is strong as a consequence; lots of natural patter and barbs fly out between songs. The singer banters with people in the audience and he knows most of them personally. This is another small sub group in our variegated scene.
The unique thing with Trophy Lungs is the two lead singers that divvy up the songs and most times will sing alternate verses within a song. I can't recall any group I've ever seen having that equality. The lead singer complains that he has drunk a little and the playing isn't as sharp as last time I saw them until the last three songs which were real powerful and triggered full scale moshing and even crowd surfing which seemed logistically improbable but somehow there was a big guy aloft.
They end with Dad's Away on Business and then it was all unleashed. Moshing like crazy, people on the stage, beer cans flying through the air and the singer yelling the chorus, "this is all I ever wanted." It was all the spirit of rock and roll on display and why I love going out to see groups.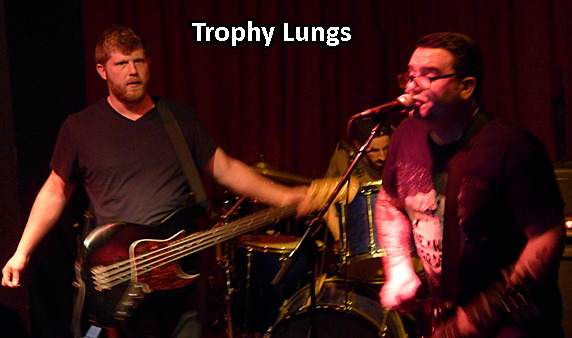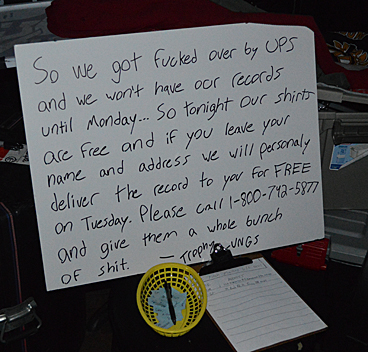 In other news...Artie Freedman has given his really really VAST collection of live video recordings of all our favorite bands through these many years to the Harvard Film Archive...smart move Artie!! and Thanks! You can read about it here...you can really view any of the videos at this time but man, I hope we will be able to at some point...
Now.....some stuff coming up....
well the new big news is that the new awesome group (which still remains nameless at this time, ) .consisting of Cam Ackland, Johnny Black, Carl Biancucci and Judd Williams are playing their first gig this Friday night, Dec 6th at The Cantab's Club Bohemia (they go on at Midnight) ...also on the bill are My Own Worst Enemy( its their CD release party!) When Particles Collide and The Liz Borden Band.....
and there's a killer show at The Midway on Friday December 6th- how's this for an awesome line up: start out the night with The Monsieurs then it's Triple Thick, Township, The Other Girls and Upper Crust
Saturday 12/7 afternoon 1-4 PM air waves have WMFO 91.5 FM Crash Course for Ravers with guests Jittery Jack and State of The Union...
Randy Black and the Heathcroppers are having a CD Release Party at TT the Bear's Place in Central Square, Cambridge, on Saturday December 7th. It will be an evening event beginning at 6 and going to 10. Sharing the bill will be Willie Alexander; Kingdom of Love which consists of Rich Lamphear and the lovely Linda Viens. Performing with Randy will be special guests Mark Chenevert and Clara Wellons. And there will also be more special guests.
Also on Sat 12/7 is Moose & The Mudbugs - Films and Music at Store 54.... Ed Moose Savage is celebrating his 40th Anniversary of his business Picture Paradise which was located in Allston under the Allston Mall on Cambridge Street for quite a while. So Ed is showing films and the Mudbugs will play as well! Fun night will be had by all we are sure!
Saturday December 7th Black Mark Studios presents the HOODRAT HOLIDAY BASH 2013 it's all happening at Radio and features The Sprained Ankles, Duck & Cover, Silver Screams and The Dead Tricks
also on Sat 12/7 at O'Brien's are The Suicide Dolls, Slowdim, Chandeliers and The Nice Guys
Thursday 12/12, Watts are at Precinct ...that's an early show from 8 to 10:30 PM and FREE...I say, FREE.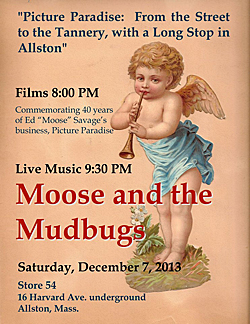 Saturday 12/14 afternoon 1-4 PM air waves have WMFO 91.5 FM Crash Course for Ravers with special guest Carl Biancucci...and others.
And John Surette's punk opera Tomorrow The World will be performed live at the Middle East, Saturday Dec 14. This is a star studded event not to be missed my friends!!
also on Dec 14th is a DJ Easy Ed's Yuletide Rockabilly Blowout with Easy Ed's Record Hop, Whiskey Kill, Lynnette and the Longshots, Johnny Carlevale and the Rollin' Pins and Jittery Jack and Miss Amy
And up in Salem, on Saturday the 14th our pal Terry Brenner has the Asa Brebner Band playing at Murphy's Pub
Thursday December 19th there's a very interesting show at O'Brien's with The Wrong Shapes, Black Fortress of Opium, Endation and The Easy Reasons
The Upper Crust are at Precinct on the 19th also....
another special Holiday show at the Midway...Saturday 12/21 it's the Weisstronauts' 15th Annual Holiday Jubilee with M.O.T.O., The Weisstronauts, Eddie Japan and Lars Vegas....
The Real Kids, The Nervous Eaters and The Connection December 28th at the Middle East
I pity the poor fools who book a show anywhere else on 12/28 but since its just down the street maybe you can get in two shows this night coz at the Cantab's Club Bohemia there's The Swindlers, The Kenne Highland Clan, Greg Allen's Fringe Religion and Curtis Suburban (featuring members of The Waldos and Suicide Kings from NYC)
Yikes we're getting into the new year...and on Saturday January 4th there's a show at Great Scott's with a brilliant theme..We Got The Beat - A Boston Lady Drummer Showcase with The Monsieurs , Petty Morals, Apple Betty, Post Modern Authors and Thrust Club
EMAIL US AT.......misslynbgn@yahoo.com