The BGN News Archive
December 3, 2012
Precinct beckoned us with its triple good bill of Lyres/Mucks/Jenny Dee.
The backdrop of the Lyres set was the fact that Rick Coraccio was missing. That was a shocker to us. We did not know he had quit the band! They have a new bass player. Connolly seemed a bit edgy but they proceeded to play a good set of songs I didn't know. Obscurities brought alive one assumes. I liked it. They could bang out a set of hits, no problem, but they took on new numbers and that's cool. I liked them especially the last one where Aquino on guitar played a mock sitar lead punctuated with a solid rock riff at the end with rough tone on his Telecaster.
And one can't go on without mentioning Paul Murphy on drums - FANTASTIC. He was MVP of the night. What a player. After all these years he's better than ever with a rock solid beat and tasty fills. He's the man.
The bass player was understandably a bit at sea…I thought he got more in the groove as the night went on and by the last number he was there. He can play, it's a matter of getting used to the other players. He says he has a thick skin - well here's hoping coz he's gonna need it! Jeff did his usual ranting. He ranted at the sound man and the bass player mainly. He stopped a few numbers at the beginning and started anew. Lots of tension up there on stage. Then an abrupt ending that left everyone a bit mystified.
The perfect way to wash away the tension? A Muck and the Mires set. They are joy personified. Tension? Not in their vocabulary. They create excitement with their sense of urgency. They rush on stage and they rush though the songs as if to say "let's all have fun NOW, after were off the stage we can't guarantee the fun will continue but RIGHT NOW - Let's dance." To this they succeed every time. The songs are gems and they too seem to have new songs tucked all through the set. They seem to have a winning formula for songwriting and performing. I know it can't be simple but it SEEMS simple and that makes it plain fun. Again we have to mention the drummer, Linda Shore, she's much of what make the Mires tick.
Those two groups were good enough for a night but Jenny Dee and the Deelinquents are up next. People always mention Jen's voice but it's the three women singing together that really makes the sweet sound of this group. The instrumentalists are fine players. There is no punk about them, they draw from soul mostly. They all have a subtle touch on their instruments. Time after time it's not just the riff but the sound they imbue it with. The attention to tone and timbre helps elevate the group above others. It's hard to believe that some of the songs are written by the group because they sound like soul and girl group classics from the 60's. There is a big appetite for this now and one hopes they can get attention outside of Boston from that. They deserve it.
It was a night of excellent music.
Check this out!!!! Peter Rining from QRST's is teaming up with Jim Harold to get the Live at The Rat album on CD!!!! GO HERE to check out the Kickstarter page!!
After we heard that we contacted QRST and found out this..... The Double Cd of the Live at The Rat album WILL happen- The original tapes have already been digitally transferred and digitally remastered all from the original master tapes!. Peter R from QRST says "I have a CD and it sounds awesome!!!". The art work from the album is bring worked on for the double CD. Everything should be completed by Jan or Feb at the latest. The initial run will only be 1000 so check the Kickstarter project and DONATE to get your copy of the CD....It will also be available from QRST's online store when it is ready.
Now let's see what's coming up: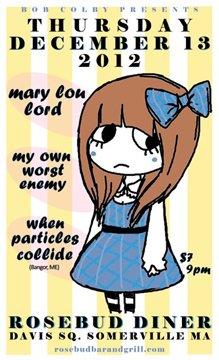 Well it's the holidays so we got some celebrations coming up: The Weisstronauts 14th Annual Holiday Jubilee is at the Midway this Friday 12/7 with of course The Weisstronauts along with The Derangers, Tsunami of Sound and Preacher Jack. And to get you in the mood here 's the Weisstronauts doing God Rest Ye Merry Gentlemen
also on the 7th....Billy Rath Returns! We talked about that last gig at the Rosebud...RATH GIG...This time Rath and his Street Pirates are at The C-Note in Hull and Cal Cali Experience is playing along side. Check out the info here.
And the Midway's got two shows on Saturday the 8th: 4PM Early Show is The Juicebox Birthday Jamboree with The Pity Whores, Old Edison and others…then at 8 doors open for another awesome DJ Easy Ed show- this one has The Barley Hoppers, The Fearless Leaders and Easy Ed spinning awesome tunes…
TT's has their Rockin' Holiday Flea Market Sunday Dec 9th - it's a killer mix of vintage, modern, handmade items, jewelry, rock memorabilia, vinyl and kitschy-kool collectables. It runs Sunday 10Am to 4PM….they are serving up some fab Bloody Mary's to boot!
This weekend just keeps going!!: Monday, Dec 10 at Charlie's Kitchen is a great show: Triple Thick is having their Release Party for their CD Dark Knight (see Blowie's review) with Black Helicopter, Love Up Time and You People.
On Tuesday, the 11th at 6PM at the Flora Restaurant, 190 Massachusetts Avenue in Arlington, MA has Brett Milano and Clea Simon reading their entries from Tales From the House Band which is a collection of short stories from many authors.

Bob Colby has come through with his promise to start booking gigs with his inaugural Second Thursday at the Rosebud- for his first time he has some great acts: Mary Lou Lord, My Own Worst Enemy and When Particles Collide that's Thursday December 13th
Friday Dec 14 is The Boston Band Crush Holiday Spectacular! With Freezepop, the most awesome Sidewalk Driver, The Field Effect, and Emily Peal at the Brighton Music Hall. Also on the 14th is Cal Cali at the Rosebud with The FU's….
Saturday the 15th there's a Hurricane Sandy Fundraiser at the Midway with the Morgan Knockers, Live Fast Die Fast, Energy, The Old Edison and Mark Lind.
Saturday Dec 22nd there a great night of rockabilly at the Rosebud with Jittery Jack and Leah and Her J-Walkers…
the new year…if we actually get there…: here'a a good show and a good cause on Saturday January 5th at Brighton Music Hall there's a Benefit for Brenda Wynne featuring Matalon, Raging Teens, Johnny Carvale and the Rolling Pins, Skeleton Beats, Razors in the Night, Cradle to the Grave, OC5, Never Been Caught - tickets are only $12 for all those bands and its to Benefit Brenda who was struck by a van in a hit and run accident in Allston. Brenda has other health issues as well and this just makes everything worse - get on down there and start the new year out right by doing good for someone else!!
Then at Radio (down) Saturday January 12 -Psycho, Kilslug, Impenitent Thief, and The Burnouts
Check out this neat video from Big Dipper. It's from their new CD "Big Dipper Crashes On The Platinum Planet" - first new album from 80's Indie Rock supergroup Big Dipper in 20 years. It's sooo good.
John Surette still has his rock opera in the works. He filmed an interesting 7 minute update with David Minehan talking from the recording board.
Rick Ocasek now has a book of his lyrics...ponder that people...ponder that.
EMAIL US AT…….misslynbgn@yahoo.com